ICYMI, Etihad Stadium is being renamed Marvel Stadium. And it turns out that while you were sleeping, Melbourne-based touring and events agency, Novel, decided to transform its underground car park into a full-on rave space. Huh?
If you're not familiar with Novel, they're the crew responsible for iconic day parties and camping festivals like Pitch Music and Arts Festival and Let Them Eat Cake.
And now, together with the team at Etihad Stadium, they're gifting us smalltown At B3, a world-class disco arena, hidden in the stadium's concrete underground.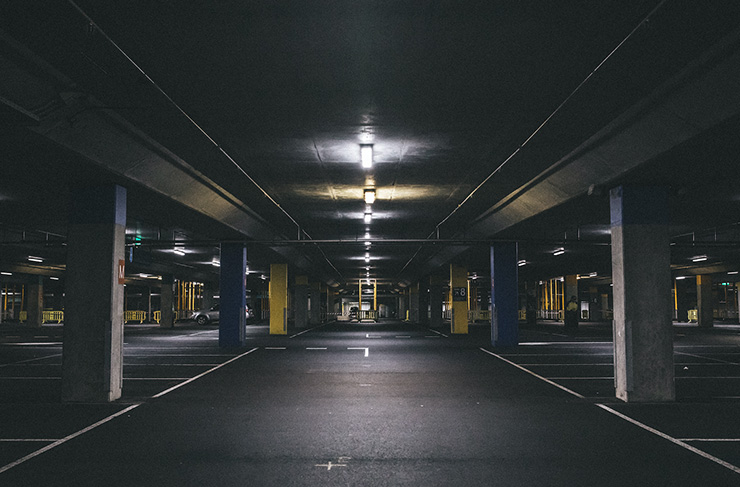 To kick thing's off, Novel's cult fave rave, smalltown will be the first event to christen the new space. We're talking a complete sensory experience, with art installations, interactive activations and top of the line facilities.
With just under a month to go, we spoke to Novel's director, Daniel Teuma, about this epic shake-up that's got us frothin' at the mouth.
So...why a carpark?
It has been a while since Melbourne has experienced a good underground carpark rave. The whole process, from securing the venue to ensuring the right production team, has been tough work.
The guys at Etihad Stadium have been a dream to work with and very supportive along the whole journey. They've been quite receptive to our vision and are looking forward to the event as much as we are.
Any challenges along the way?
Hosting events in a public space does bring its own set of challenges, but it's something we've dealt with through events we've previously hosted on St Kilda Foreshore, Werribee Mansion, Mafeking and Caulfield Racecourse.
This venue poses many logistical and production issues, but for us, part of the challenge is to overcome those and turn that space into something that punters will never forget.
What sound system are you using?
Sound wise we have the country's best sound engineers on the case—the team behind Full Throttle Entertainment. They're responsible for the sound at Australia's most significant electronic music events, like Rainbow Serpent Festival.
They'll be installing a full Funktion One sound system, which is basically the gold standard in global electronic music events. The ceiling and walls of the venue will also be plied with sound panels to absorb and stop the sound bouncing from wall to wall.
What's the carpark gonna look like?
As much as the night will be about the music and incredible international DJs, we'll aim to provide an experience which is as much a visual treat as it is aural.
We've commissioned the crew from John Fish Creative Studios to collaborate with us on stage design and lighting. Their concept designs are fantastic, and the way they're using the venue's natural layout is going to blow everyone away.
We're also collaborating with the Office of Culture, Technology and Architecture (OCTA) team to provide an immersive environmental integration, which you'll notice the moment you walk into the venue. OCTA's work includes built architecture, temporary structures and exhibitions. It's the point where architecture, society and culture meet.
What can people expect if they've never been to smalltown?
Great music, excellent vibe, a friendly crowd and the best production Melbourne can offer.
For those looking for some respite during the night, there'll be food stalls and chill out areas, all of which will be easily accessible. In other words, we don't want to spoil the surprise, so come and join us to see exactly what we are talking about.
The Details
What: smalltown at B3
Where: Etihad Stadium Carpark B3, Docklands
When: 27 September, 9pm-5am
To buy tickets, click here.
More good news: Melbourne's getting a new summer hip hop festival.
Image credit: Duncographic | Instagram