Did you accidentally snooze through your 8:53am alarm and miss out on Falls Festival? Did you put the wrong address on your letter to Aunty Meredith begging for a bite of the ballot? Did you spend your hundred bucks on a present for your cat (panda onesies are expensive you know) instead of securing your spot in the mosh pit at Future? Were you too busy buying protein powder to remember to save for Stereo?
Don't cry, all is not lost. Melbourne has plenty of rad festivals kicking around this Summer that have tickets available, so forget sifting through ticket scalpers on Gumtree and book one of these! That way, you still have the opportunity to break out the Bintang singlets and enjoy some funky fresh festival beats. Happy days!
Organised by 23 year old Andre Hillas who whilst working full time as a labourer, decided that it would be a sweet idea to organise a huge three day festival with the creme de la creme of new Australian music. Paradise is popping it's cherry this year as it takes over Lake Mountain from November 29th to December 1st, so make sure you're one of the people that can say they went before it went global. Highlights from the audio factory are headliners Glass Towers, elegant electronica from Elizabeth Rose, Friendships, NO ZU, Client Liason, Oisima and Millions. Joining the big names will be stacks of Melbourne talent for good measure. If that wasn't enough, it's BYO - so time to revive the fruity lexia my friends (it makes you sexier).
Paradise Music Festival | November 29th - December 1st 2013 | Purchase tickets here
If the names in Paradise aren't your cuppa, then you have the option of packing your paddy wagon and driving to Ballarat for some festival fever at Inca Roads. Now in it's third year, Inca just gets bigger and better but remembers its roots by endorsing a 'no-egos' policy for three days of camping, BYO drinks and good times. This will be their biggest year yet with over 45 acts planned, including the glittery Gold Fields, roof raisers Northeast Party House, the ambient Willow Beats, Neighbourhood Youth, Lurch and Chief, Bored Nothing and many, many more.
Inca Roads | November 29th - December 1st 2013 | Purchase tickets here
Combine crispy, sun drenched beats with beautiful forest and friendly faces and you've got Festival of the Sun, or FOTSUN, one of the most anticipated festivals of the Summer calendar. We're promised two days of fun over December 13th and 14th, and word on the grapevine is that this year will be better than ever before with a wicked Aussie line up including The Rubens, Stonefield, Kingswood, Spit Syndicate and more. If you're one of those festival goers that likes to dress up, this is the one you should be hitting up as this year FOTSUN's theme is "Black Friday", and the encouragement to dress up like a fiesta-loving Day of the Dead skeleton is too enticing to ignore. If you're scary enough, they'll give you a prize for it.
Festival of the Sun | December 13th - 14th 2013 | Purchase tickets here
Fun fact: Werribee is part of Australia's fastest growing municipality. Another fun fact: They have the big old Werribee mansion there. Last fun fact: On January 12th 2014, everyone will be at said mansion for some fun in the sun care of "Wezza's" most European affair - So Frenchy So Chic. This is the day you bring your picnic rug and lounge in the Mansion Gardens with a gourmet hamper (provided by the festival), baguette in hand and beret in the other. Performing this year is Jane Birkin's daughter, Lou Doillon, along with Lilly Wood & the Prick, Fefe and ten piece ska band Babylon Circus. There'll be food stalls and craft stalls as well to accompany the barefoot dancing in the grass. Good news for those with tots – children under 12 can come for free!
So Frenchy So Chic | January 12th 2014 | Purchase tickets here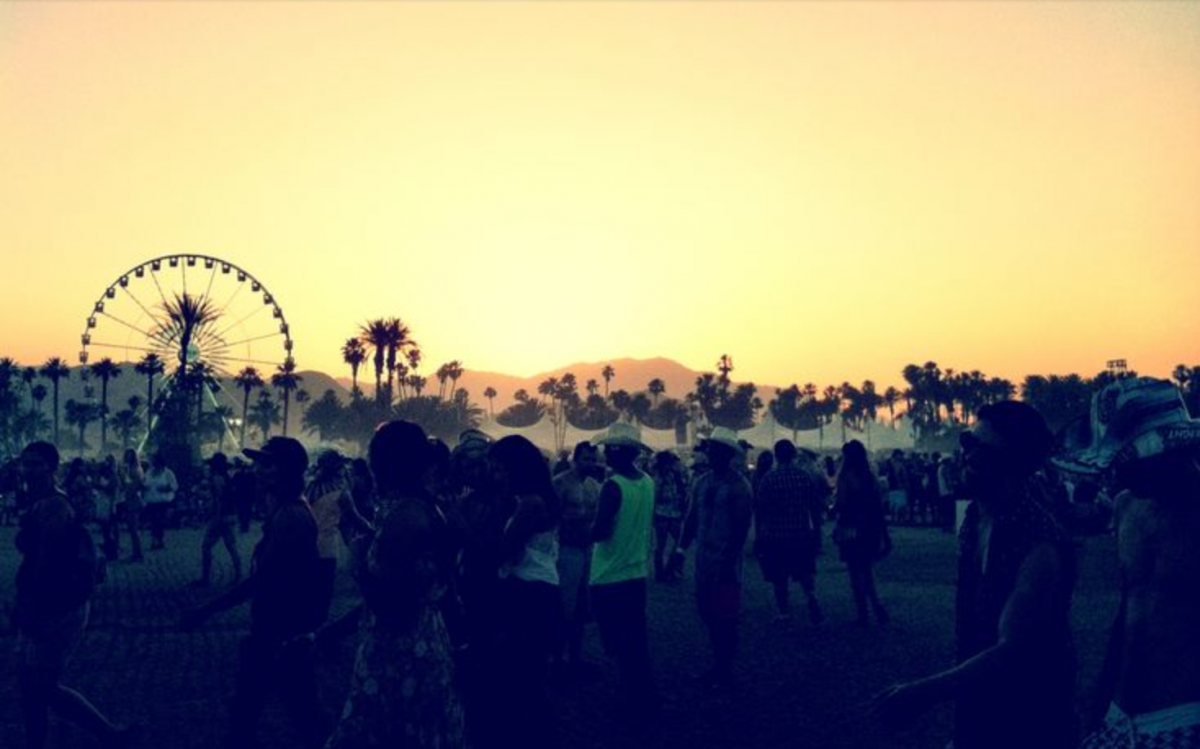 Image Credit: Pinterest.
If you don't mind taking a trip south of the border, then head to MONA FOMA (or MOFO) in Hobart, where the kookiest of museums, famous for their brand of freaky fresh art, brings you five days, two stages, three orchestras and over 200 artists. We can't guarantee you'll know everyone on the lineup, but you've got to be able to trust a festival curated by ex Violent Femmes legend Brian Ritchie as well as the Museum of Old and New Art's personal curators. It's going to be all sound, noise, dance, theatre, visual art, performance and new media, so avoid a case of FOMO and book tickets for FOMA.
MONA FOMA | January 15th - 19th 2014 | Purchase tickets here
Once solely an electronic festival, Rainbow Serpent has evolved into the festival for the committed and the place to embrace your inner spirit animal. It's notorious for its escapism vibe with thousands of punters camping out for four days in the bush for endless music and art, plus even pop-up events like yoga, massage tents and live speakers. With this exotic mix, you're in for some serious stimulatory sensations, so book your ticket and embrace the most spiritualistic festival on the summer calendar.
Rainbow Serpent | January 24th - 27th 2014 | Purchase tickets here
If the idea of getting sweaty with your favourite Gen Ys seems quite distasteful, then A Day on the Green might be your kind of festival. Quoted as the festival for grown ups, A Day on the Green has had thirteen seasons of taking over wineries to bring festival goers a day of good food, good wine and fantastic music. Though it's hosted in wineries all over Australia, Melbourne sippers and groovers can cart their picnic baskets to The Hill in Geelong for a day with Hunters and Collectors, Something for Kate, You Am I and British India. Bottoms up!
A Day on the Green | January 25th 2014 | Purchase tickets here
ST JEROME'S LANEWAY FESTIVAL
Quite simply - get a Laneway ticket and get it quick. This bad boy is like Glastonbury, Woodstock and Coachella rolled into one day of the best music the world's got on offer. Rocking the western suburbs at the Footscray Community Arts Centre, you can expect to see HUGE acts like Lorde, CHVRCHES, Danny Brown, Earl Sweatshirt, Haim, King Krule, XXYYXX, Warpaint Kirin J Callinan – the list goes on and I'm sweaty with anticipation just thinking about how good it's going to be.
St Jerome's Laneway Festival | February 1st 2014 | Purchase tickets here
Aunty Meredith may have dished out the last of her tickets for Meredith Festival, but the lineup for Golden Plains was announced last week and it is looking sultry in all its hip hopping finery. Held annually at the Meredith Supernatural Amphitheatre in Victoria, Golden Plains is a BYO, limited-capacity outdoor camping festival that makes me full of excitement induced nausea at the thought of all fun we're going to have. There's Public Enemy, Flying Lotus, Fat Freddy's Drop, Cut Copy, Chet Faker, Seekae, King Gizzard and the Lizard Wizard, Hiatus Kaiyote, Tornado Wallace and more joining the prestigious musical ranks at Golden Plains this year – yes, you read right. Tickets sell like a barefoot jackrabbit down a greasy lane so get on the website to find out which stores you're going to queue outside of for tickets.
Golden Plains Festival | March 8th - 10th 2014 | Ticket information here
Image Credit: Pinterest.