Above a 24/7 bottle-o is not ordinarily where you'd expect to find a restaurant toting a chef's hat—but that's exactly where Highline Restaurant calls home.
Wedged into the top floor of the building, Highline Restaurant is nestled away from The Railway Hotel's cheerful post-work crowd. Look for The Railway Windsor (why yes, there is a theme) bottle shop, and follow the narrow, stealthy stairwell up to the restaurant.
The majority of produce is sourced from the restaurant's regional 2000-acre farm. Foraged wild mushrooms, homegrown cattle and honey from beehives are a handful of ingredients championed throughout the menu.
Everything down to and including PINE CONES are hauled over 130 kilometres to feed your sweet mouth, so you can bet that these ingredients are treated with the utmost care and respect.
Hailing from London restaurants including Gordon Ramsey's Maze, head chef Simon Tarlington presents both an a la carte and degustation menu. The degustation changes on a regular basis, depending on the season and what's available at Oak Valley farm.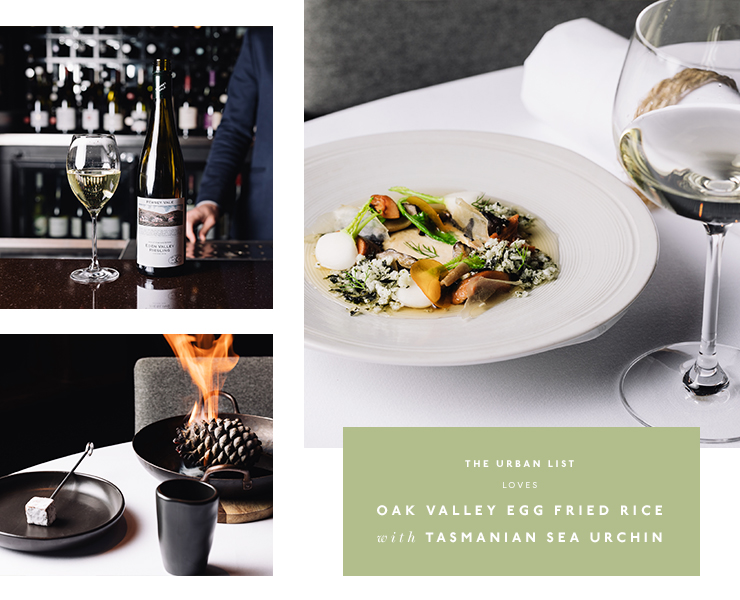 At the moment, you'll find Oak Valley egg fried rice with Tasmanian sea urchin and mushroom. It's a surprisingly gentle (and warm) start to the menu, with puffed, crisp fried rice mingling with earthy mushroom and sea urchin. It's also not at all similar to an oyster, mussel, or any other miscellaneous seafood you have in mind, so you can wave goodbye to that thought.
The degustation menu includes Oak Valley Beef (rare, of course) served on Jerusalem artichoke puree, burnt onion and dusted with mussel powder (why NOT?!). The optional extra course on Highline Restaurant's degustation journey involves a whipped cheese, so it is in fact not very optional for any self-claimed foodie. A Le Rouge mousse sits on top of a hay drunken apple (aka the best apple pie you've ever had the pleasure of eating) and served with Australian pepper grissini. Cheese heaven is real and it's above a bottle-o.
Theatrics aren't lost at Highline Restaurant, as dinner is finished with a DIY campfire (remember those pine cones we talked about?!). Doused in rum (bloody good rum, actually, whatawaste), pine cones are lit to form crackling orange fires. Toast your chocolate marshmallows over the flame but don't get over-excited and burn it to a sad, sad crisp (which definitely did not happen to us, no it did not).
Hop onto the Highline. It's one of the finest, authentic farm-to-dining experiences in Melbourne so you'll be in for a ride.
Image credit: Griffin Simm for The Urban List
Editor's note: This article is proudly sponsored by Pewsey Vale Vineyard and endorsed by The Urban List. Thank you for supporting the sponsors who make The Urban List possible. Click here for more information on our editorial policy. When we joined forces with Pewsey Vale Vineyard and asked you to visit your fave spot in Melbourne to enjoy one (or several) of their rieslings, Highline Restaurant was numero uno.