The search for Melbourne's best burger is never finished. The same way fashion is never finished. We've got our favourites around town—Rocomamas and St Burgs are killing it right now—but there's a new burger bar in Ascot Vale that's giving them one hell of a shake.
Its name is The Pickle & The Patty.
It doesn't look like much from the outside. Just a glass-fronted cube inside The Ascot Lot carpark, a handful of bench seats up at the window. Inside though, this place is a well-oiled, yellow-tiled, burger-making machine.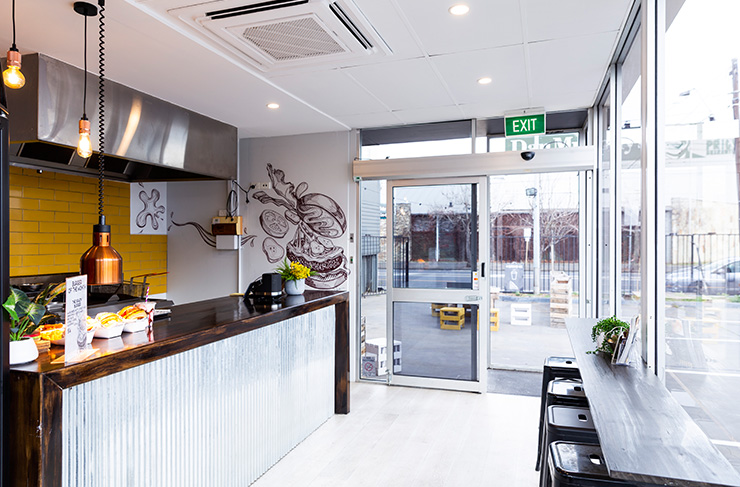 Lyndal & Laura run the show here. For years they've been zooming 'round Melbourne in the Dr. Sous food van, but this is their first bricks and mortar foray into the cut-throat burger game. And if you're gonna start a new burger bar in Melbourne, circa 2018, you have to bring the ruckus.
The menu is actually pretty tight. There's just eight burgers and three sides on there. No messing about. The milk buns are pillowy soft, toasted on the inside. The beef is cooked gnarly brown, smashed, with slightly thinner patties than the competitors.
Laura and Lyndal source everything from local butchers and bakers in the northwest (apart from the tongue-tickling pickles—they make them themselves). There's a big focus on sourcing the good stuff, sticking with sustainable and ethical suppliers, and letting the meat do the talking.
We're all ears.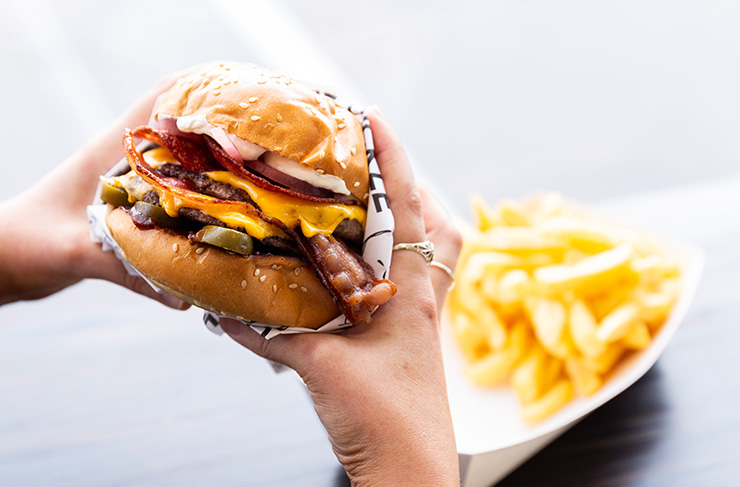 If it's your first time at The Pickle & The Patty, start with something like the Pickle Classic: free-range, grass-fed beef patty, cheese, sliced tomato, pickles and purple onion. It's an almost perfect cheeseburger, and has been getting some high kudos with burger bloggers around town.
When you come back for a second vitis (and you will be back), kick things up a notch with The Inbetweener. This is Pickle & Patty's riff on the Big Mac. There's a few burger bars around town that have started doing this (check out St Burgs in Maribyrnong for another smashing example). Here it's a triple stack milk bun, with double beef, double cheese, lettuce and dill pickle. One hell of a burger right there...
Sides are deliberately choosey. You've got thick-cut chips (cooked a little softer than we're used to, but that's kind of how we like it), battered onions rings, which creep into some of the burgers, and the "Mac Project"—mac n' cheese doughnuts with rotating signature flavours. This month it's bacon, but we're begging the guys to whip up a jalapeno version soon.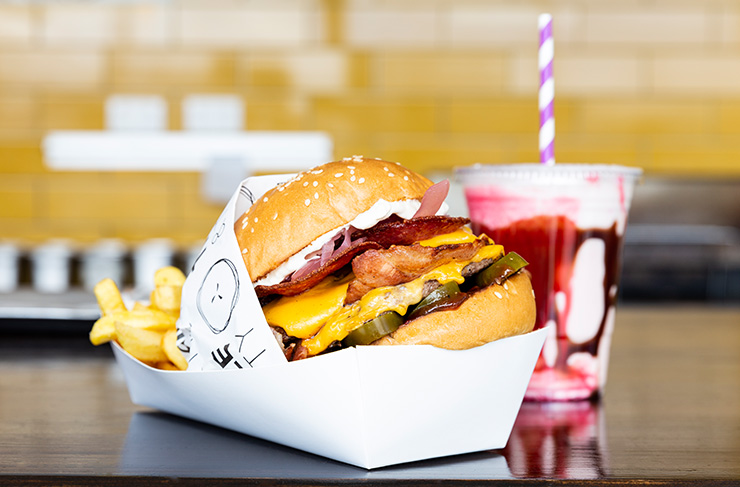 For dessert? Well you've already tanked the diet, right? No harm in adding two fried jam doughnuts, dusted with sugar, fluffy on the outside and steel-meltingly hot on the inside.
Drinks-wise, it's nice to see the guys actually stocking the Coca-Cola range (Coke, Solo, Lemonade etc). A lot of places are switching to organic sodas, which is fine, but not exactly what you're craving on a Saturday night.
If you are looking to shave off a few calories, the guys do stock Calm And Stormy mineral water, as well as bottled kombucha.
One last thing—don't visit without checking Pickle & The Patty's FB page. The team run weekly specials, often on Wednesdays, where any burger on the menu is $10. That's bloody good value for a double stack monster these days.
Westside Melbournians, you're gonna want to check out the new player on your patch. Anyone on the eastside, grab the car keys and Google Map your way to Ascot Vale. This one's worth the trek.
Want to learn more about The Pickle & The Patty? Check out our Directory page.
Image credit: Sammy Green