Popping onto the Melbourne food scene in 2012 as an iconic bakery, Rustica Sourdough has since risen (pardon the pun) to become one of Melbourne's most iconic eatery brands. Starting out five years ago as a single Fitzroy-based cafe, famous for its fresh sweet and sour[dough] goodies, the brand now lays claim to two canteens in the CBD and Richmond, in addition to **drumroll please** a brand new cafe location in Hawthorn!
After hopping off the tram at stop 27 across the road, you'll instantly notice that this contemporary eatery on Power Street has got the Melbourne food scene aesthetic down pat. From floor to ceiling tinted windows with matte black framing outside, to its carefully considered and ultra modern finishings inside, you know no budget was spared in the designing of this bad boy.
Once you step over the threshold, you'll instantly feel like you're at a room inspection on The Block. Pastel blue subway tiles cover the sprawling countertop, while exposed timber beams creep across the ceiling and down the windows, and even the floor staff look like they stepped out of a magazine. But enough about appearances—let's talk food.
At first glance, the menu is packed with some Melbourne brunch favourites such as eggs benny and scrambled eggs, but open closer inspection you'll see that the eggs benedict is served with pulled pork, Tabasco hollandaise, and fennel and red radish salad on pumpkin sourdough, while the chili scrambled eggs are served with bacon, spring onion and manchego cheese on sourdough.
Other uniquely 'Rustica' dishes include the baba ganoush with grilled halloumi, Roma tomatoes, poached eggs, greens and sumac salt on quinoa, soy and linseed sourdough, and the wholemeal waffle with chai poached apples, salted caramel mascarpone, persiancandied puffed quinoa and flaked almonds.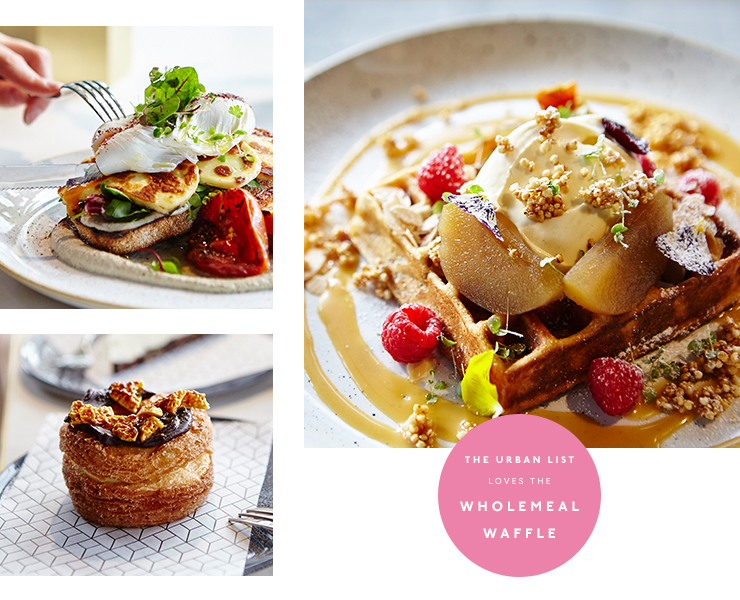 But the menu doesn't stop there. Aside from glammed up classics, the eating options include gourmet sandwiches from 11am, such as free range smoked chicken, brie cheese, pickled red onion, seeded mustard aioli and mixed greens on sourdough, and the slow roasted lamb shoulder with rosemary garlic cumin yoghurt, red onion, iceberg lettuce and lemon sumac salt on a demi baguette.
Also kicking off at 11am is their lavish salad menu, which includes their must-mention roasted butternut pumpkin salad with your choice of meat, shaved fennel, rPersianfeta, and kale and walnut pesto. Plus, just when you think it's time for a breather, you'll notice their pastry cabinet full of honeycomb and chocolate cronuts, creme brulee donuts, vanilla slice and almond croissants.
In terms of quality Melbourne cafes, Rustica has done it again. The venue is stunning, the menu is a stand out and the service is second to none. The only downside is perhaps taking a solid blow to your life expectancy with half a dozen honeycomb cronuts, but that's a sacrifice we're willing to make.
Whether you're grabbing a gourmet sammich on the run, picking up an afternoon treat for your hungry tum or just sitting down for a fully-loaded brunch, dining at Rustica is a dangerous game because it's impossible to only visit once.
Image credit: Michelle Jarni