Wanting to be in Europe 24/7 is absolutely a big, big mood. Unfortunately, as much as we try to accept Melbourne's sometimes Arctic-level freezing conditions, it's just not happening, and the puffer jacket is staying out, people. But, we've out found where Victoria is hiding all their warm, European weather—and it's not Melbourne, obviously. So, if you're perpetually chasing those #EuroSummer vibes, you're best off getting there right now.
With temperatures sitting at a balmy 28 degrees on average all season long, Swan Hill is your next Victorian getaway this summer—and you can road trip there. Trust us when we say that guaranteed sunny skies are only just the beginning.
So, if you're that person who's easily excited at the prospect of snapping a FOMO-inducing sunset Insta story after a long day of sipping premium wines, consider it fate that you clicked here because Swan Hill has your name written alllll over it.
Where To Eat & Drink
Boo's Place Café and Provedore
If you ask the locals where to grab breakfast, they'll tell you Boo's Place Café and Provedore. Boo's Place is chef-owned and supports a paddock to plate ethos, serving up dishes created with locally grown ingredients wherever possible—it's a delicious celebration of the region. It's never easy to play favourites with a menu like this, but you can't go wrong with the Moroccan eggs, zucchini, carrot and corn fritters and the Robinvale "Liv & Luv" granola.
Andrew Peace Wines
Wine fact: Andrew Peace Wines are listed among the top 20 family-owned wine companies in Australia—which is low-key impressive considering they're a third-generation business.
Located just off the Murray Valley Highway, you'll find their pristine winery set up. Yes, while it's kind of a big deal that they have over 40 wine styles on offer, we're equally impressed by their commitment to the environment; having planted more than 15,000 trees in the last 25 years, something that speaks highly of their mission to be as kind as possible to the environment.
Along with their many accolades over the mantle, Andrew Peace Wines hold the title for the largest planting of Sagrantino grapes in Australia (*wine snobs rejoice*). Sagrantino is a full-bodied wine with a mellow yet warm and spicy taste. It's best paired with roasted meats, piquant cheese and bruschetta, you know all the good stuff. You'll want to stay a while.
Spoons Riverside
Three words: prime real estate. This café and restaurant serving up breakfast, lunch, and dinner is located on the backdrop of the Little Murray River. You'll easily be blown away by the stunning scenery of the river flowing by. Their seasonal menu focuses on fresh and regional produce, with a wine list to match—so what you're served depends on the season, which we love.
Our hot tip is grab a seat out on the deck for peak river views (and peak IG content, let's be real). Among the many gems across their menu, a true standout is the Spoons Thai chicken burger. Loaded with Asian coleslaw, lettuce, tomato and their special mayo sauce all stacked gloriously into a golden brioche bun—along with the killer view, you've got yourself a match made in heaven.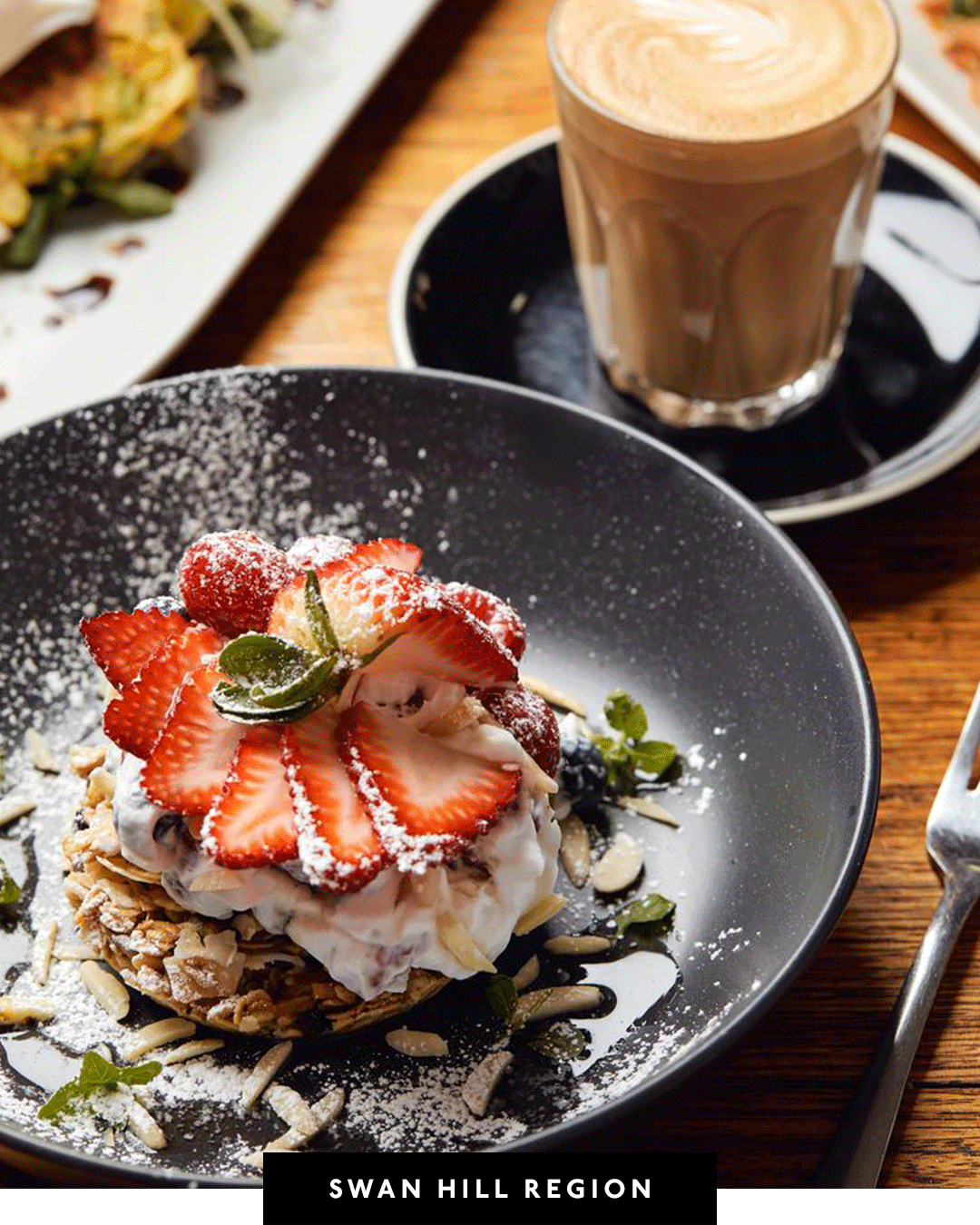 What To Do
Pioneer Settlement
Warning: major Sovereign Hill throwback vibes. But before we get you jumping to any gold-leaf infused conclusions, there's a whole lot more to the Pioneer Settlement than meets the eye. And we did the digging for you.
Sure, by day this re-creation of the old Mallee Township looks like it hails from yesteryear, but at night the Pioneer Settlement truly comes alive with their spectacular Heartbeat of the Murray light show. It's a world-class 360-degree multi-media display designed to take you back through the ages and tell the incredible story of the Murray Rivers. Ooh yeah it's lit.
If you've got time, we recommend sniffing out where they've hidden the Kaiser Stereoscopic Theatre—an intricate early cinema system where photographs constantly rotate around the theatre in order to show those who were unable to travel at the time, other places around the world. And get this, it's one of only two in the world. You don't need to be a photography fanatic to get crazy about this.
Sunset at Lake Tyrell
If you only do one thing (yes, very doubtful), you absolutely have to catch sunset at the iconic Lake Tyrell. It's Victoria's largest inland salt lake and all we can say is prepare to be mesmerised. As with anything worth checking out, early arrival for sunrises and sunsets is highly recommended. Instagram at the ready.
Giant Murray Cod
Swan Hill is home to one seriously big fish. And his name is Arnold. This insanely larger-than-life replica of the Murray Cod species measures at a whopping fourteen metres long by five metres tall. We'll let you do the visualisation. Arnold was created back in 1991 and is probably one of the town's biggest characters. You won't need to Google Maps this one, he's already staring at you. Trust us—this is a Murray region must-do.
Where To Stay
Glamping at Big4 Riverside
This caravanning and cabining hot-spot is situated right on the banks of the Murray River, and have recently upped their game with their Glamping Safari Tent. The tent is fully self-contained with kitchenette and bathroom facilities and is decked out with a bed fit for a king, and lil' fairy lights to perfectly set that glamping mood. There's so much luxury you'll totally forget you're technically camping. Just try not to sleep in or you'll miss that Swan Hill sunrise that's happening right outside your tent. And in case you don't hear the alarm, you can rent out some bikes and cycle around Swan Hill at your leisure.
And if glamping's not your thing, they've got a stack of our accommodation options such as the Luxury River Edge Cabin, how's fancy's that?
If you're ready to soak up all of those Euro vibes, find out more info here.
Editor's note: this article was produced in partnership with Murrary Region Tourism, click here to see our editorial policy.
Image credit: Griffin Simm