Some people are frightened by the concept of a market. Not because of anything traditionally frightening, like carnies or over zealous thrift shoppers with a penchant for a hairy eyeball, but because of the sheer amount of choice of where to give up some hard earned pennies. The Big Design Market is even more confronting, what with hundreds of stalls all selling unique and exceptional wares – it's like having to choose which end of a Maxibon to eat first.
Melburnians may find decision making a much more arduous task given our city's tendency to flip itself on its lid (see Melbourne daily weather forecast), so our daily quota of rationality may be somewhat compromised by having to change from cardigan to singlet seventy-four times a day… So, to make your Big Design Market day a lot easier, we've sourced some of the best stalls so you won't be so overwhelmed by the choices you face upon arrival. You'll have three days to navigate this list, as well as discover some fantastic designers yourself, so make sure you pop down from Friday 6th December to Sunday 8th December, for some Christmas shopping and aesthetic stimulation.
Two Melbourne sisters are the brains behind geo-loving jewellery label, AACUTE. They use unusual materials for their bracelets, earrings and necklaces, from their signature cut polymer clay, to weathered leather (try saying that ten times fast) to grainy wood, making their wares look vintage, but also decidedly contemporary. They also make organic soy candles with a delicious aroma. You can find their goodies at Footscray's Sweat Shop Studio, but grab the limited edition stuff from the market so you can say you had it first.
Image Credit: AACUTE Facebook
There's always something you wish you'd invented at these sorts of things, and American cup maker JOCO falls in that category of clever. They make reusable glass keep cups, which can hold anything hot and anything cold, and unlike many a sports event thermos, they actually look classy. You can get them in a bunch of colours, from teal to coral, and by buying one you're helping save some of the 50,000,000 trees that are cut down in for the sake of a paper cup coffee.
Able and Game made us reconsider whether posting on someone's Facebook was enough to pass as a birthday card. The duo (Anna Blandford and Gareth Meney) get creative from their Brunswick studio, drawing innocent yet totally culturally relevant illustrations detailing every occasion worth recognition, from Christmas to "Thanks for cooking me dinner". The thing that sets them apart from the rest is their way with a snappy slogan, such as "If you ran a kissing booth, I'd be broke", or the "I touched a cat and I liked it", or the fat cat on the couch saying "I love you just the way I am". Because of their huge success, they also print on tea towels, mugs and other homewares, so you don't have to justify sending all of their cards to your home address!
Image Credit: Able and Game Facebook
If you're one of those people that buys bottled water instead of tap water because you insist it tastes better, then this is the product that will make your life a heap more convenient, and less expensive. 321 Water is a portable tap water filter – all you have to do is add your water of choice, plunge and voila, the cleanest mountain spring is right there in your reusable bottle. Blue is the colour of choice, but I dig it in pink.
How incredible is the feeling of new sheets? Well, treat yourself with some fresh linen from Kip & Co, though we can't guarantee you won't want to eat your sheets shortly afterwards. With everything from pretzels, to matchsticks to swirly hallucinogenic prints, their sheets are nothing short of a necessity for your bedroom fitout. All of their products are inspired by Melbourne, but made in India with 100% cotton and a 300-thread count. Mmmm. Sweet dreams.
Image Credit: Kip & Co Facebook
Forget that it's December, Days of August is the only month and stall to be a part of. Pioneer of the upcycling phenomenon, Marie-Pier Labelle is all about using materials that are either vintage, broken or even discarded, to make some of the most unique and totally cute jewellery around. Labelle crafts everything from rings, brooches and even detachable lapels in her Adelaide studio all by herself, so you can be assured that anything you pick up from her stall is one of a kind. We personally want to pick up some of the house rings!
Drugstore is Melbourne fashion designer and RMIT university teacher, Pooja's handpicked collection of artisan and hard to find products of amazement. This incredible woman utilises her extensive knowledge of the industry to fill her crazy apothecary of wonders with things like Egyptian Magic All Purpose cream, Wormwood Absinthium spray and incredible candle combos like mint and geranium, cypress and cassis and fir and blue sage. We'll be hanging around the stall for her Towel Tablets though, just add water to the Panadol sized discs and you have yourself a fully sized hand towel. Sham-what
Image Credit: Drugstore Facebook
Isn't it annoying when you rock up to uni and you see that everyone's been to the same Kikki K stocktake sale and you're all rocking the same notebooks? Forget accidentally picking up Jane from accounting's dream diary, and get yourself some Write to Me stationery. Anna and Nicoletta have been working together since 2009 making letters, journals, diaries and planners, but what sets them apart is their passion for using the oldest forms of printing – like handmade stamps and a Chandler & Price printing press – but also incorporating an eco friendly message – only recycled paper here! Forget a world of virtual text; harness your gift of dexterity and get writing!
If you're a Melbourne local there's no doubt you would've seen some of Douglas & Hope's designs floating around in homewares shops around town. Making the coolest crockery since 1999, D&H are Big Design Market regulars, and are especially famous for their funny plates. Once you've ingested your three meat and veg you'll be delighted to see greetings or statements on colourful backgrounds like "Hola Amigo Taco", or a melted budgie face. Though probably not suitable for your grandma, cheeky punters eat your heart out.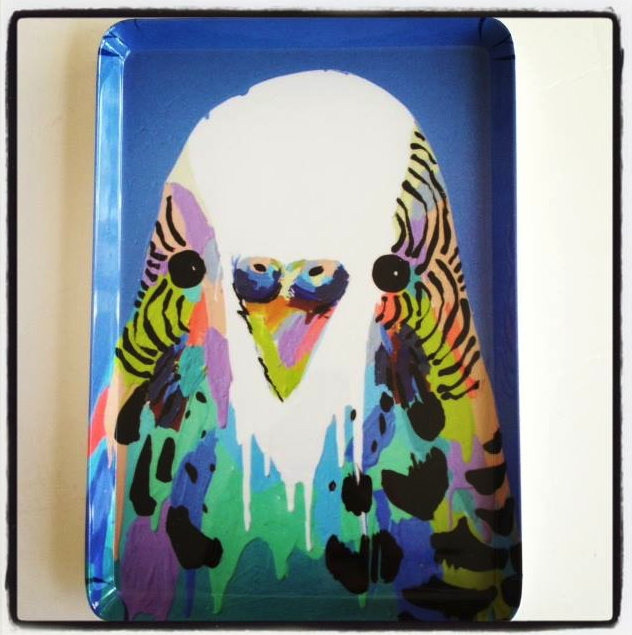 Image Credit: Douglas & Hope Facebook
If you can't go past giving someone socks and jocks this Christmas, make sure you spice up your annual Bonds run by hitting up Stonemen. The story behind Stonemen goes that three lads who took some hella landscape photos decided that they wanted to make the perfect man undie – and with their unique prints featuring natural landscapes, earthy tones and images that make you feel totally sexy underneath all that, I'm guessing they succeeded. So successful in fact that they've started making "hers" as well! If you miss 'em at the market, make sure you peruse some of those bums on their website...
Being able to build is something that has previously eluded me, and after seeing the Like Butter collection that is heading to the Big Design Market, I can safely say I will leave it to the experts. Specialising in plywood, Like Butter crafts everything from incredible bookshelves, to chairs, tables and even light-hearted sculptures, that make any room look instantly cooler and give you some industrial design street cred.
Image Credit: Like Butter Facebook
Forget last minute body scrubs from The Body Shop (although, not going to lie, I love those too), Leif is the best place to buy all things body-love related at The Big Design Market. Leif draws inspiration from the rainforest to the outback, extracting the best smells and sensations for their exclusive range of balms, cleansers and washes that will soothe your mind and your calloused hands. Expect a lot of Australian bush smells like lemon myrtle, Kakadu plum and wild rosella, but the best part is the sexy packaging, a complement to anyone's bathroom.
Noooope. The terrarium trend is not over yet, and Petite Green is making sure that we never get sick of it with their fabulously green glass bowls of moss and happiness. These are less terrariums and more tiny recreations of real life scenarios, so instead of your standard succulent selection (though they have those too!), you can gaze upon their "Life's a Beach" terrarium which is filled with sand, tiny tiny beach umbrellas and itty bitty people swimming in the ocean. You can commission them to make your own fantasy mini reality too, so get them to recreate your office in a bowl and totally give yourself a God complex.
Image Credit: Petite Green Facebook
I don't know how people source beautiful fabrics, but I'm glad there are folks like Kambamboo who do it for me. Bringing together a love of design, illustration, art and textiles, their pillows, tablecloths and bags make a welcome addition for any cool, conscious cat. Most of their wares are made from organic cotton and hemp, giving them an earthy, natural aesthetic that appeals to most navigating the designer realm.
Oh, what I would give to be able to own all of LoveHate's collection of things you never see together – hoisery, bags, jewellery and homewares. Their handcrafted items ooze good taste, with a focus on leather work and using semi-precious and totally not precious materials together to make things look effortlessly chic. Their catalogue bursts at the seams with things like convertible backpacks, ceramic plant holders and the cutest ever icypole earrings, so you'll be hard pressed making a decision on what to purchase from this stall.
Injecting humour into the utterly terrifying job of raising an infant human (guess who's never had a kid) is Turd Circus, with their endless array of baby paraphernalia, homewares and hilarious zines on offer. If your child has a penchant for swallowing things they shouldn't, may we suggest the vacuum baby onesie, or if you're frustrated at a housemate who leaves dirty tea towels around get them a "Let Them F*****g Drip Dry" towel. You'll be giggling and quietly cringing the whole way to the Eftpos machine.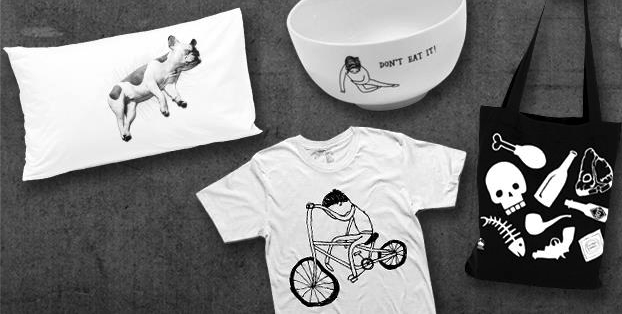 Image Credit: Turd Circus Facebook
The Big Design Market | 6th, 7th and 8th December
Royal Exhibition Building | 9 Nicholson Street in Carlton
Open Fri 10:00am – 9:00pm and Sat/Sun 10:00am – 5:00pm
To read more, click here
Main Image Credit: The Big Design Market Facebook