Let's be real, travel is no longer just about ticking boxes and snapping 'Grams. These days we're looking to spend our annual leave more thoughtfully, seeking purposeful escapes that are not only good for the soul but the region, communities and environment we're visiting too.
Enter ecotourism, a growing trend that is set to define the way we approach travelling in the future. It's all about conserving the environments we visit, making conscious and sustainable choices, and minimising our impact on the destination.
First stop, the dreamy Whitsundays. This local tropical paradise boasts a series of eco-friendly accommodation, low-carbon outdoor adventures and many ECO Certified operators. And the best part? It's only a short flight from Brisbane, Sydney or Melbourne with Virgin Australia. Here's how to nail an eco escape in the magical Whitsundays.
Jump On ECO Certified Adventures
Boasting the orange check of approval, ECO Certified operators are identified by Eco Tourism Australia for having a commitment to sustainable practices, minimal environmental impact and in some cases, even contributing to conservation. Take to the sky for an unforgettable flight over magnificent beaches, secluded islands and intricate coral reefs with Air Whitsunday Seaplanes who have been awarded an Advanced Ecotourism Certification for their practices—pilots even spend time collecting rubbish during their Whitehaven Beach excursions. Alternatively, plan some high-speed time at sea with Ocean Rafting, who in amongst carving out some waves have been awarded a slew of eco accolades over the years.
Go Slow
Alongside ecotourism, slow travel is a massive trend for 2020, encouraging wanderlusters to really connect with a destination and explore it on a local level. Taking the time to discover the road less 'Grammed means you'll escape the crowds and uncover hidden gems while supporting businesses and communities beyond the 'top ten' lists. Get started by chartering an overnight boat and hopping around some of the less-frequented islands in the Whitsundays. Hit up Hook Island for wilderness adventures and a unique insight into Ngaro culture and heritage at Nara Inlet. Alternatively, day trip to South Molle Island for fewer crowds, relaxing vibes and a next-level view from the Spion Kop lookout.
Invest In Conscious Travel
Flying is essential for getting around, but it's important we try to offset the impact on our environment where possible. Step one: opt for local destinations. Holidaying here in Australia will reduce your carbon emissions by taking shorter flights, and support local destinations, businesses and economies to grow. Next, invest in conscious travel by offsetting your carbon emissions—Fly Carbon Neutral with Virgin Australia and your coin will fund carbon offsetting projects like the New Leaf Project which protects 12,000 hectares of native Tasmanian forest. After that, it's just about savvy planning—download your airline's app to avoid printing tickets, pack lighter and BYO reusable water bottle and coffee cup.
Book In At Eco-Friendly Accommodation
Put your dollars where it matters and support accommodation operators that are doing their part for the environment. Our pick for a secluded, luxurious and feel-good stay in the Whitsundays goes to Elysian Eco Retreat, a picturesque escape located on the southern point of Long Island. It's the first 100 per cent solar-powered resort on the Great Barrier Reef dedicated to sustainable practices, organic spa treatments and locally-sourced food offerings. Plus, they only accommodate up to 20 guests on the island at one time—this truly is eco-luxury at its finest. Should you wish to take to the sea overnight, you can't miss bareboating. Charter your vessel of choice from Cumberland Charter Yachts, Queensland Yacht Charters or Charter Yachts Australia, which are all ECO Certified.
Opt For Off-Peak Travel
One of the best ways to tackle 'overtourism' is by opting for off-peak travel. While your mates are battling the blistering heat and crowds on their Euro summer vacay, choose a destination like the Whitsundays from May to July for blissful beaches, perfect weather and little rainfall. Plus, when you strike-out on the off-peak season, you can expect to score some serious savings on flights and accommodation—leaving more coin for delicious food and adventures.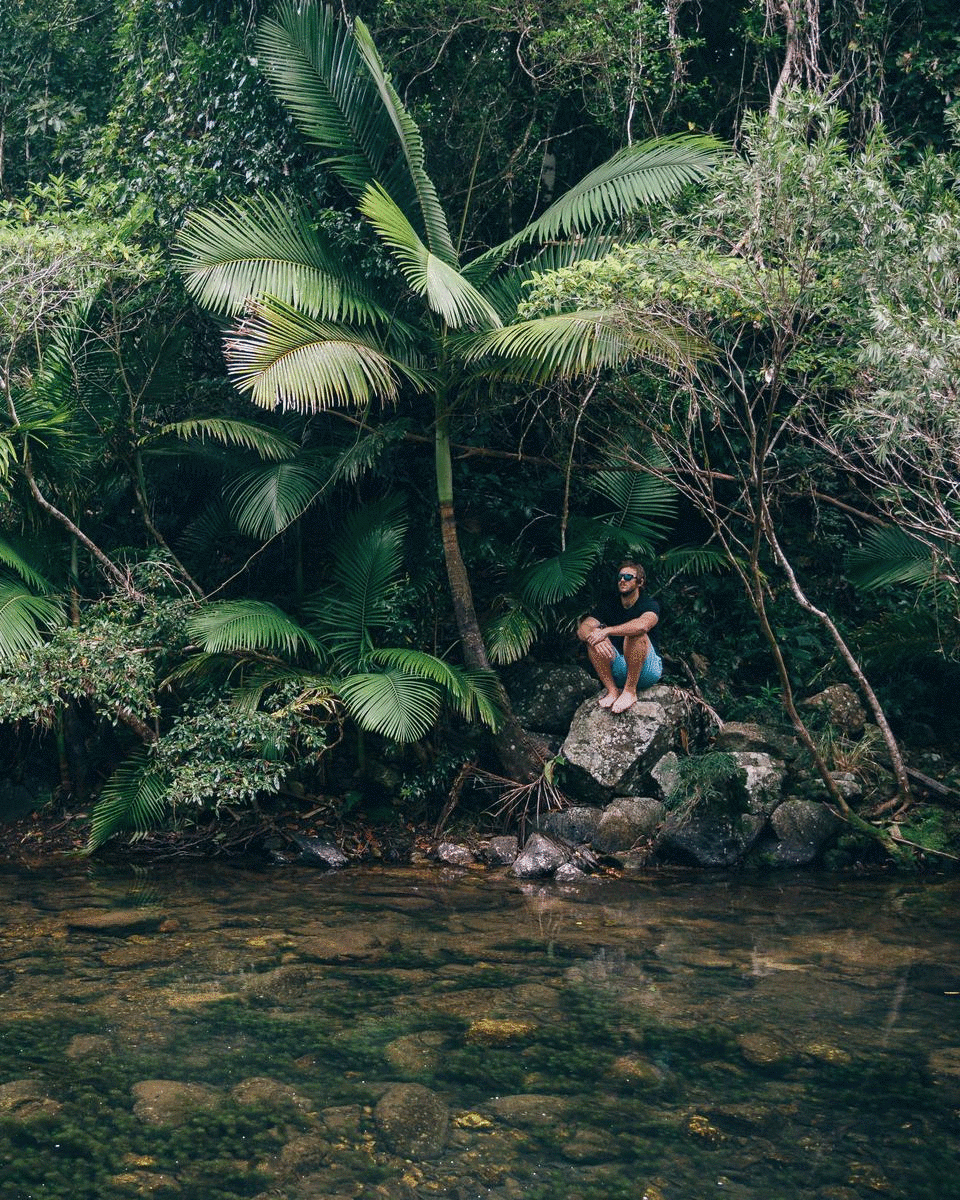 Get Around Low-Carbon Activities
Reduce your carbon footprint by opting for activities that have a minimal environmental impact. The Whitsundays is a playground for nature-lovers, so there's no shortage of options here. Splash out on a kayaking adventure and take to the sea with just your paddle, or set out on one of the many scenic walking tracks around—we recommend the Honeyeater Lookout Walk at Conway National Park. Alternatively, if you're wanting to up the adrenaline, grab your mountain bike and cycle the Conway Circuit. Just remember that when you're aiming to be low-impact with your activities, it's all about leaving the environment how you found it (read: take your trash home people).
Consider Zero-Waste Swaps
While 'zero-waste' might seem a bit out of reach, starting small with easy swaps will help get you on the pathway to a sustainable sojourn. Begin with BYO—we're talking reusable water bottles, Keep Cups, cutlery, canvas bags and so on. When it comes to accommodation, hang your towels up and request no room cleans. And ditch those tempting mini toiletries in the hotel—instead, bring your own from home decanted into travel bottles or even better, no packaging at all.
Get Informed About Local Initiatives
Slap on some sustainable sunscreen and grab your bucket hat because, in the true fashion of ecotourism, it's only right to get out there and get informed about the local initiatives underway to help conserve and regenerate the environment. Home to the UNESCO World Heritage-listed Great Barrier Reef, it's no surprise the Whitsundays is one of the leaders in Australia when it comes to sustainable tourism. Local operators are trained and encouraged to educate their guests on the marine park, reef management and protection practices, and there is a slew of clean sea and marine life initiatives underway to enable long-term protection of this majestic natural wonder.
Set out on a holiday with a difference this year and make your next sustainable sojourn destination the Whitsundays. Virgin Australia flies daily to the Whitsunday Coast from Brisbane, Sydney and Melbourne, so add those carbon offsets to cart and consider your eco escape sorted.
Editor's note: This article is sponsored by Virgin Australia and proudly endorsed by The Urban List. To find out more about who we work with and why read our editorial policy here.
Image Credit: Tourism and Events Queensland, Elysian Eco Retreat