Melbourne's a sucker for a secret entrance. It appeals to our slightly obnoxious, inner tour guide.
You grab a sceptical Sydney mate, lead them down a dark alley, knock thrice on a mysterious grey door and...welcome to the world's most liveable city.
Well there's a new speakeasy cocktail bar in the CBD, and its entrance is right up there with your Jungle Boys, Fall From Graces, Above Boards and Hihous. In fact it probably out-dazzles them all. It's called Trinket. There's a pretty good chance you've seen it flooding your feed lately.
The entrance to Trinket works like this: push through a door off Flinders Lane and you're confronted with a giant, 7-foot ballerina figurine. Think of the world's biggest, creepiest music box doll. This is 'Gem', Trinket's unofficial mascot.
You'll notice a key in Gem's base. Go ahead and give that a crank. The twinkly, music box jingle starts up, and Gem revolves slowly like some freaky gothic nightmare. Then...voila! A secret door opens in the wall and you can walk through to a green velvet, exposed brick, brass-popping Art Deco cocktail lounge.
Trinket sits inside the old Terra Rossa building on Flinders Lane. Which, as secret hideouts go, isn't exactly up there with Area 51. But there's more to this bar than meets the eye. It cost the owners $1.6m to build FFS.
See that old wardrobe toward the back? That's another secret entrance, this time to a blue-velour underground cocktail bar. You open the door like you're entering Narnia, push through the coats, then head downstairs. Honestly, our inner 12-year-old was backflipping with happiness at this point. It looks like this: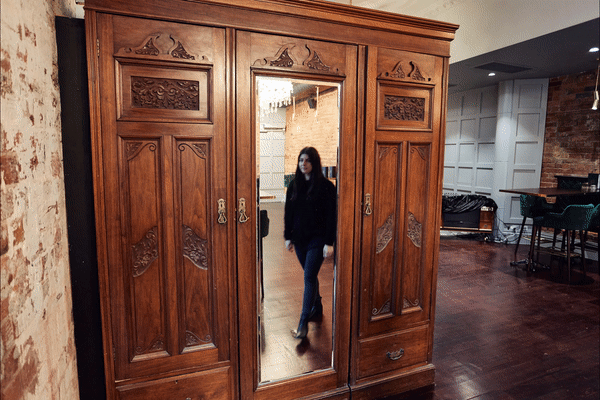 But we're skipping ahead. That's what Trinket does to you. It's easy to get swept up in the whole 'jewellery box' vibe. Technically you'd call this a 'theme bar', but that doesn't really do it justice.
The crew spared no expense on the fit-out, and it shows. The walls are decked out in vintage bits and bobs: ornate candle holders, candle-lit sculptures, vintage books, whisky decanters and rotary telephones.
Flow through to the main bar. This is Trinket's mainframe. The mixologists are dishing up five "classic" cocktails, mostly of the 1920s "Drink up, old sport" variety. Think fuzzy pineapple daiquiris with lime and coconut syrup, orange blossom gin fizzes shaken with vanilla bitters, or a wicked Jack Rose with Applejack, lime juice and house grenadine. All very glam.
You can get a few craft beers on tap, and there's Kirin, James Boags, Little Creatures and La Sirene in the fridge, but really you're here for the cocktails. The 'Twisted Cordials' are a good move for first-timers. You "pick your poison" (fruity cordial flavours like blackberry & basil), then "pick your antidote" (a swizzle of bourbon, rum, gin or brandy). They're freaking delicious, and pair nicely with the nibbly menu.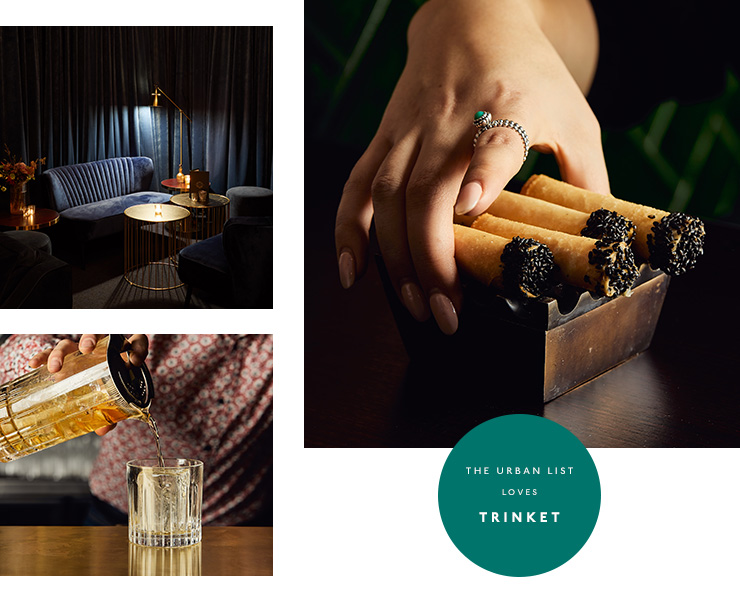 Executive chef Telina Menzies hasn't gone crazy here. She's built an interesting mix of bar bites and flat-breads for sophisticated cocktail grazing. "Trinket is all about simple dishes that are packed full of flavour. Tasty morsels designed to enjoy over conversation and a boozy cocktail or two," she says.
It's probably best to start with the triple cheese cigars with smoked ash aioli and honey pearls. These are defs going to become Menzies' signature dish (even if they look weirdly realistic from a distance—giant cheesy cigarette butts, resting in a fancy ashtray).
Other menu highlights are the crumbed mussels (given a retro kick with pickled fennel and orange jam), the fermented fries with black garlic and truffle mayo, and the Aperol Spritz kingfish, topped with pomegranate seeds. Upstairs you order at the bar—downstairs they're running table service.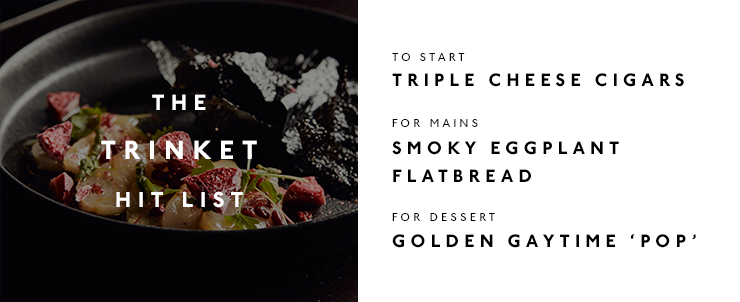 TBH, it's hard to think of a 2018 opening with more potential. If you're worried about the crowds (and there will be crowds right now), swing by mid-week (Trinket's open till 1am every night) or wait a couple of months for the Melbourne frenzy to die down.
Oh, and if you've been here before, make sure you grab a sneaky video of your mates' reactions to Gem, the creepy, gothic ballerina. Endless late night entertainment right there.
Want to learn more about Trinket? Check out our Directory page.
Image credit: Griffin Simm