Gypsy & The Cat's two main men - Lionel Towers (left) and Xavier Bacash (right).
This Sunday, at the Ben & Jerry's Sundae Sessions Charity Launch, Melburnians will be treated to the sweet sounds of Gypsy & The Cat, along with a screening of About Time and plenty of ice cream, glorious ice cream.
With a collection of charming summer ballads and eclectic psychedelic sounds, Gypsy & The Cat will have you dancing to the beat in no time. We sat down with one of the master-musicians behind the indie-pop outfit, Lionel Towers, about their huge success with their two albums Gilgamesh and The Late Blue, as well as what to expect this Sunday on the Sunset Stage at St Kilda's South Beach Reserve. Oh and you'd never expect what ice cream flavour they think best describes their sound...I'm salivating to say the least!
TUL: You have released two very successful albums in the past couple of years – Gilgamesh and The Late Blue. What can we expect from album number three and when can we expect to see it on shelves?
We are currently working on our third album and it's sounding really great. We hope to release it in the first half of 2014.
TUL: Do you feel there is more pressure with this album?
We felt the pressure more with the second album. Historically, second albums are difficult for fans to accept because if you try to do something different people get upset, and if you do something the same people get upset because it's no different to the first, so either way you are losing. Now that we have got that out of the way, I think it's much easier for fans to accept the direction you take on the third album, so we feel very optimistic.
TUL: You both lived in London for much of 2010. Can you tell us what you enjoyed most of all about living in this city?
There is a great arts culture in London and historically it's very beautiful. The routine of getting toasted cheese sandwiches from the Borough market most weekends was something I recommend to anyone who travels to London.
TUL: You have toured extensively around the globe performing across Europe and Hong Kong. What's been your most memorable gig outside of Australia?
Summer Sonic festival in Japan was definitely a highlight gig for us. The audience were so amazing and so different to any other audience we have played to. Between each song there was dead silence, and this was contrasted in the more energetic parts of the set by perfectly synced moshing and clapping. There is another level of respect and enthusiasm that comes from Japanese audiences.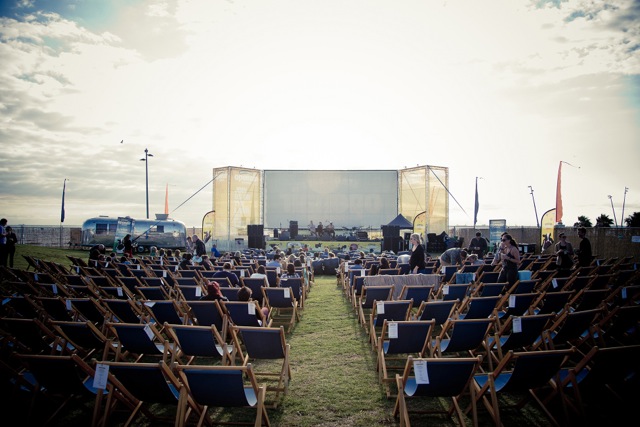 TUL: What can attendees and fans expect from the Ben & Jerry Sundae Sessions Charity Launch this Sunday?
Fans can expect to relax and enjoy the music with some quality Ben & Jerry's ice cream!
TUL: If your music were an ice cream flavour, what would it be and how would you describe it?
Our music would involve a variety of flavours because we fuse so many genres and sounds together, we couldn't just be one flavour. Chocolate fudge mixed with raspberry mixed with rainbow mixed with pistachio mixed with honeycomb…that might just scrape the surface of our music.
TUL: Speaking of cinema, what are the best films you've seen recently?
I went and saw 'Bad Grandpa' recently and it was hilarious.
TUL: What can we expect from you guys in the coming year or so?
We plan to release a couple of singles early next year and then release the album after that, so we will be touring and promoting it in the first half of 2014. We are very excited by our new songs and think they are only getting better.
TUL: Where are your fave spots for a sunday session around Melbourne?
I love going to the cinemas for my typical Sunday sessions.
(Editor's note: If you prefer a tipple, or two, then check out our list of the Melbourne's best Sunday sessions)
TUL: And the local spots that most inspire you?
I enjoy going to parks and taking the dogs for a walk. The Fitzroy Gardens in East Melbourne, Carlton Gardens where IMAX is, and Rathdowne Village in Carlton North would be my favourite local spots.
TUL: What's your latest Melbourne discovery?
Having spent a quarter of a century in Melbourne, I think I have discovered almost everything there is to do here. I am going skydiving in St Kilda soon for the first time and I am s*** scared!
TUL: Where will you head to grab a bite and a drink before/after your gig this Sunday?
That is a secret. I wouldn't mind some Ben & Jerry's ice cream after the show though
TUL: So, who is the gypsy and where is the cat?
That, too, is a secret.
Ben & Jerry's Openair Cinemas | 1st December – 22nd December
South Beach Reserve in St Kilda
For tickets and program information, visit the website
Image Credits: Altsounds (main) and Ben & Jerry's Openair Cinema.