Meet Matt "Jon-Z" John, the man at the helm of The Anatomy – the creative agency behind the fitouts, logos and design of some of our favourite local businesses. From forging the brand identities of some of Melbourne's most notable establishments – St Ali, Mörk Chocolate, Kings Domain and even fast-food fave, Schnitz – to owning his own eateries – Shawcross Pizza and the now-closed Phat Brats – Matt is the undisputed monarch of the food and design merger. We spoke to him for a couple of minutes about his life, his brand, and how this busy man likes to chill out.
TUL: So, where did you start?
St Ali. That's where I cut my teeth, but before that I was in advertising. After three months in the industry, I came to hate it and was quick to move off and start my own thing.
TUL: How did you make the move?
I taught myself some Photoshop, InDesign etc. and started a website. Then Sal (Salvatore Malatesta – owner of St Ali) approached me after seeing my work and said that he wanted me to be the brand champion for the St Ali corporation. The Anatomy came after that.
TUL: So what are you working on at the moment?
Right now, it's some cool new stuff for American Crew hair products. I just finished the barber shop down the road as well, Kings Domain, which has been a huge success.
TUL: What do you use as inspiration for your design ideas?
I'm obsessed with that American industrial style. That kind of American Rag vintage-type era has always appealed to me, well before it became Melbourne's new look. I travel for inspiration, too.
TUL: Where do you travel to?
Mostly America and South East Asia. That said, I've also found a lot of love in India as well.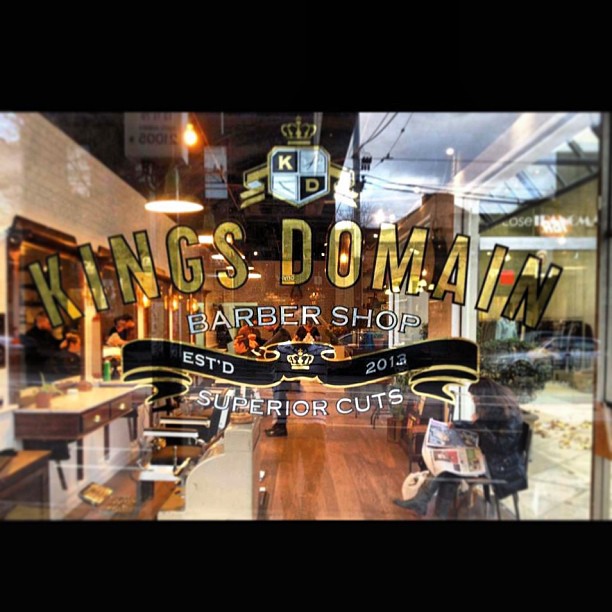 Recent work included Kings Domain on Toorak Road in South Yarra.
TUL: What keeps you doing what you do?
Knowing that my best work is yet to come.
TUL: What is the most rewarding part of the job?
Well, the look on the client's face when we show them the finished product. One in six cry. Part of our job is guiding them through that start-up process. It's stressful, it's emotional, but when the curtain opens and you see their face, that's the best part.
TUL: I'm sure working in hospitality there are delicious perks as well?
Lots of perks. Free coffee, great service. It's the best industry to be in.
TUL: Where do you see your brand going in the future?
Well, I own two other businesses – Phat Brats and Shawcross Pizza – and we're about to do a huge rehaul, on Phat Brats especially. We're going to expand it.
TUL: What made you want to start Phat Brats and Shawcross?
It all started when I was in America – I drew so much inspiration from their culture and thought that we could do it so much better in Australia.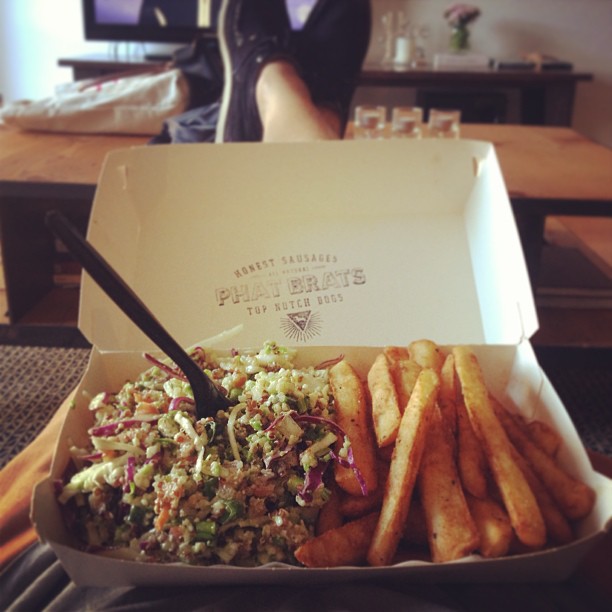 Take it from us, there's no hangover a Phat Brats meal can't fix!
TUL: I tried to convince my friends to do the Shawcross challenge the other day. . .
Yeah, no one looks good after attempting to eat a 22" pizza as fast as they can! Doesn't work. People call for mum. You can try folding it but you just can't get the thing inside you!
TUL: Where are you heading for knock-off drinks these days?
I love the Black Pearl. Their cocktails are incredible and it's just such a chilled out place – no bullshit. You get what you pay for.
TUL: Where do you think is the best place for breakfast?
Bluebird. The guy who owns it, Anthony – if I was gay he'd be my boyfriend. Also, their smashed avocado is the best in Melbourne. I've been there from day one and I love it.
TUL: What are you listening to at the moment?
I'm pumping the Kanye and Jay-Z album non-stop. Done it to death. I love old-school hip hop, but am loving their album at the moment for the gym and the office.
The Anatomy | 2A, 101 Toorak Road in South Yarra
0432 394 212 | Email | Facebook | Twitter
Image Credit: The Anatomy.