Melbourne, Melbourne, Melbourne – what a fine city you are! With Good Food Month and Movember underway, there has been no shortage of fabulous events and happenings around town for people to get involved in.
This week is no different with the Spring Racing Carnival ramping up. But it's not all about horses you know – there's plenty more going on, from markets to art fairs, and plenty more.
Here's our wrap-up of what's happening in our fine city this week…
Monday 4th November
The fabulous surrounds of Eureka 89. Image Credit: Eureka 89.
Unless you've been living under a rock, the Melbourne Cup is happening TOMORROW! Toast the race that stops the nation at Eureka 89's Cup Eve Cocktail Party, held in conjunction with Laurent Perrier, whilst dancing to the Misfits of Disco and enjoying the spectacular 360 degree views. Tickets are still available so don't miss out!
Cup Eve Cocktail Party | 7:00pm – 9:00pm
Eureka 89 | Level 89, Eureka Tower, 7 Riverside Quay in Southbank
Tickets $95 each | To book call 03 9693 8889 or email
Famous for their intricate, elegant and feminine jewellery, Edenborough Evans are holding a pop-up shop in Rose Street, Armadale for the month of November (squeal!). Stock up on all the bracelets, necklaces and earrings you could possible want for the remaining race days plus the party season ahead – with such a fabulous selection on offer, how can you refuse?
Edenborough Evans Pop-Up Shop | 1A Rose Street in Armadale
Running for the entire month of November | For more information please visit their website
Tuesday 5th November
Giddy up...the Melbourne Cup is here! Image Credit: Virgin Australia.
Ladies and gentlemen, it's Melbourne Cup Day! Hooray for public holidays…oh yeah, and horses and all that stuff. If you happen to be attending the great race and somehow left your outfit to the last minute (whoops), then make sure you get up to speed with our Cup Day guide.
Giving Flemington a miss but still want to watch the race? Read all about the best places to watch the Cup here.
Wednesday 6th November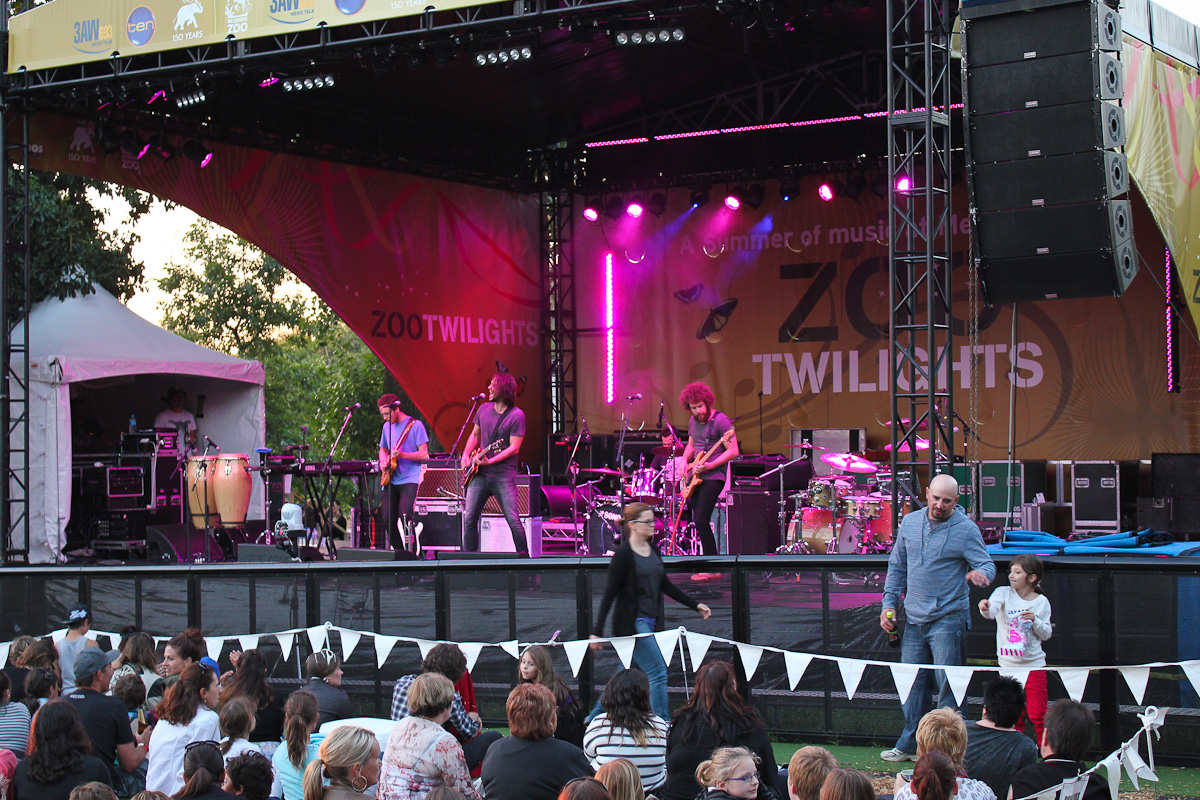 Tickets to the Zoo Twilights are on sale now! Don't miss out! Image Credit: Zoophyte.
Some of you may be feeling pretty rusty today after all your Melbourne Cup celebrations, however you need to snap to it because tickets to the Melbourne Zoo Twilights are now on sale! Running from January 24th – March 8th 2014, the Zoo Twilights concert series will feature the likes of Katie Noonan, Xavier Rudd and Something For Kate set in the grounds of the Melbourne Zoo. Each year tickets get snapped up pretty darn quickly so hurry up and get booking!
The Melbourne Zoo Twilights | Melbourne Zoo, Elliott Avenue in Parkville
January 24th – March 8th 2014 | For tickets please visit the website
Thursday 7th November
Today sees the running of the Crown Oaks, which many refer to as Ladies Day, or more cheekily, Blokes Day. A day celebrating the ladies both on and off the field, Ladies Day is the perfect excuse to dress up in your prettiest, most feminine outfit and hit the track. Read all about our Oaks Day style inspiration here.
A scene from Christoforos Papakaliatis' romantic drama What If... Image Credit: Greek Film Festival.
In other news, you better watch out – the Greeks are coming! The Delphi Bank 20th Greek Film Festival, presented by the Greek Orthodox Community of Melbourne & Victoria, kicks off today and promises to be a cracker. The opening night party will feature a screening of Christoforos Papakaliatis' romantic drama What If..., which was a huge hit back in Greece, followed by drinks and nibblies.
The remaining festival includes films from both Greek and Greek-Australian filmmakers that run the gamut of romance, comedy, drama, and everything in between, so get online and purchase your tickets today!
Delphi Bank 20th Greek Film Festival | November 7th – 24th
Palace Cinema Como | Corner Toorak Road and Chapel Street in South Yarra
To view the program and purchase tickets, please visit the website
Do you have a passion for design, architecture and....Instagram? Then the Neometro and Open Journal Instagram Exhibition is something you just can't miss. The creation of Jeff Provan, founder of property design firm Neometro, Open Journal is an Instagram hub of creative inspiration, cutting edge design and amazing architectural prowess. With over 1000 followers after just six months online, you know that Open Journal is onto a good thing! Head to the Neometro and Open Journal exhibition in Collingwood to see some of the shots up close - you'll be blown away.
Neometro and Open Journal Instagram Exhbition | Nine Smith Street in Collingwood
6:30pm – 8:30pm | Free entry
Saturday 9th November
Commonly known as Family Day, Stakes Day is the final race meet of the Spring Racing Carnival. It's much more of a relaxed vibe at Flemington on Stakes so take this opportunity to relax with family and friends and toast what has been a brilliant few weeks of racing! Wondering what to wear though? Then our Stakes Day guide is just for you.
BOLDtalks will present a series of thought provoking speeches. Image Credit: Facebook.
Billed as an informative 'edutainment' event, BOLDtalks brings together leaders across the fields of science, medicine, technology, film and more, to present all manner of talks that will really make you think. The Malthouse Theatre will host the event with barrister and human rights advocate Julian Burnside QC, 'starship' builder Dr Andreas Tziolas and documentary maker Dai Le amongst the many fascinating speakers. If you're looking for something that will get your brain jogging, then make sure you book your spot at BOLDtalks.
BOLDtalks | 10:00am – 4:00pm
Malthouse Theatre | 113 Sturt Street in Southbank
Tickets $49.95 each plus booking fee | To book please visit the Malthouse Theatre website
Sunday 10th November
Elsje Jordan and Stephanie Malatino, creators of the POP IT market. Image Credit: POP IT.
If you're a fan of markets, then a trip to the one-day-only POP IT markets is an absolute must! Held at the Seventh Gallery in Fitzroy, POP IT will be overflowing with the best local, underground and student designers and artists in Melbourne. Stock up on unique design finds and standout art, whilst getting your digits painted by the crew at Critter Claws and listening to cool tunes. Sounds like a pretty sweet Sunday to us!
POP IT Markets | 11:00am – 9:00pm
Seventh Gallery | 155 Gertrude Street in Fitzroy
For more information please visit POP IT on Facebook
Arriving at the Royal Exhibition Building in Carlton in February, SUPERGRAPH is the place to go for everything graphic art, design, print and illustration related. This three day event includes original and limited edition artworks for sale, design master classes and much more. Are you an artist or design superstar yourself? Why not show your wares to the world by applying for an exhibitor spot? The Round Two deadline for submissions is TODAY so don't be that person that misses out; apply NOW!
SUPERGRAPH Contemporary Graphic Art Fair | Royal Exhibition Building, Nicholson Street in Carlton
February 14th – 16th 2014 | To apply please visit the website