Can you hear that noise? It's Christmas bells and activity aplenty – that's right, Christmas is a-coming and Melbourne is gearing up for a big one!
This week sees the start of the QV Dream Tent, The Langham's Scones, Joy & Love high tea, and Simon Johnson's pop-up shop (amongst maaaany others!) plus a heap of music, art, and design events.
Oh Melbourne, you continue to win us over!
Monday 2nd December
A welcome respite from the Christmas madness that engulfs Melbourne, the QV Dream Tent is the place to be this December! Starting today and running until the 22nd, the pop-up tent at QV Melbourne will be home to market stalls, craft workshops, and various pamper stations. The dreamlike space is the perfect spot to do your Christmas shopping, treat yourself and hang out with friends.
QV Melbourne 'Dream Tent' | 2nd – 22nd December
Corner of Lonsdale and Swanston Streets in Melbourne
Read more about the QV Dream Tent here
Scones, Joy & Love high tea at The Langham. Image Credit: The Langham.
It's no secret that The Langham offers one of Melbourne's best high teas, so with Christmas on its way, they've decided to turn it up a notch! Scones, Joy & Love is putting on the ultimate festive spread with candy cane and red velvet trifle, gingerbread cheesecake, Christmas brand buttercream cupcakes and plenty more on offer. So good that you'll want to go more than once!
Scones, Joy & Love | Daily until 24th December
The Langham | 1 Southgate Avenue in Southbank
Tickets are $54 per person or $65 with a glass of sparkling
For bookings, please call 1800 641 107
Tuesday 3rd December
This Christmas, help StreetSmart raise money to support the homeless by participating in their DineSmart initiative. Simply dine at any one of the partner restaurants – Cutler & Co. (who are now open daily for lunch!), Chin Chin, Mamasita and Gingerboy are among the list – in December and say YES when staff ask if you want to add $2 to your final bill. Why? That $2 will go towards local homeless refuges and will help add to the $2.4 MILLION raised since DineSmart started in 2003. A very worthy cause indeed!
DineSmart | Daily until 31st December
For a full list of participating restaurants, please visit the website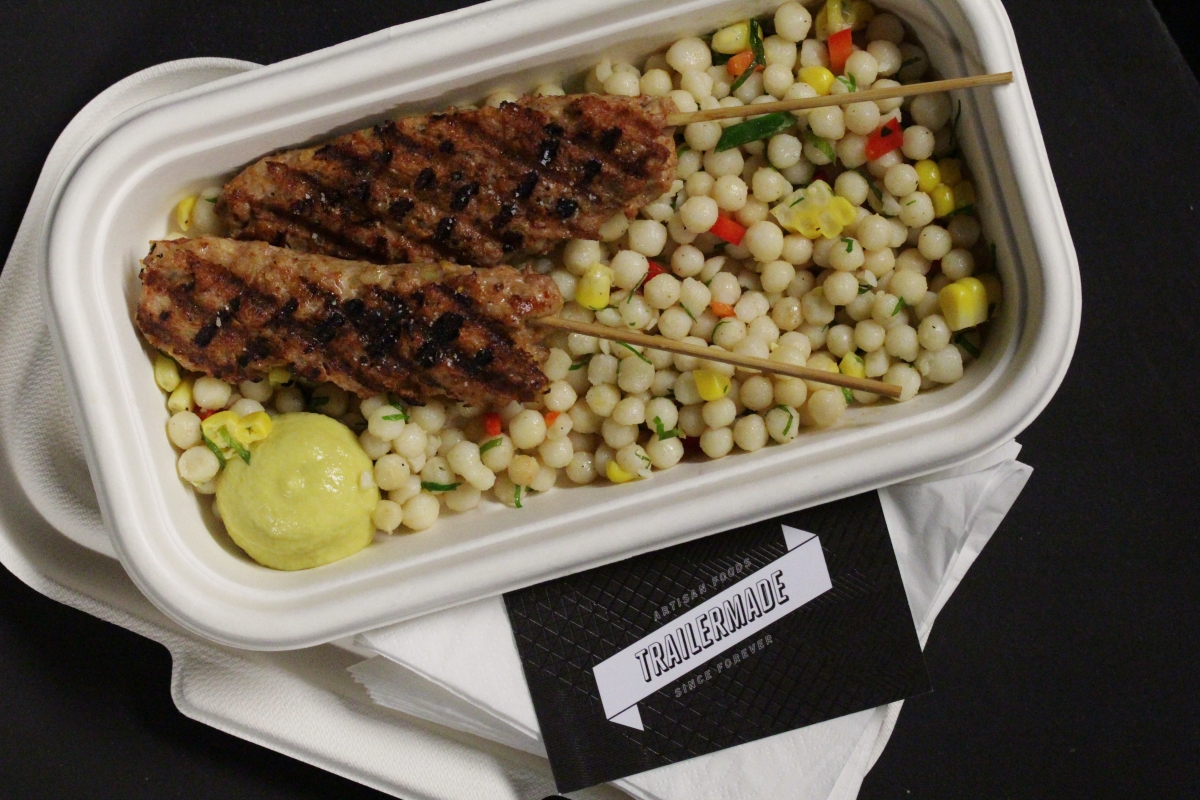 Delicious Trailer Made chicken skewers. Image Credit: Trailer Made.
We are a food truck obsessed bunch at The Urban List so we were beside ourselves to hear that Trailer Made have released their new menu! Famous for their super fresh and super delicious street food, the new menu is full of Eastern European deliciousness. Make sure you follow Trailer Made on social media to find out where they'll be next!
Trailer Made | Various locations
Follow them on Facebook, Twitter and Instagram
Wednesday 4th December
Yep, the Comedy Allstars Supershow will be pretty hilarious. Image Credit: Caters New Agency.
Apart from Christmas, the Melbourne International Comedy Festival is one of our FAVOURITE times of the year! Getting things started is the Opening Night Comedy Allstars Supershow – there'll be 20 Australian and International acts on hand to make you laugh your a** off. Yes, it's next March but can you blame us for getting excited? Tickets are now on sale, and are selling quick, so book now!
Opening Night Comedy Allstars Supershow | 26th March 2014
Palais Theatre | Lower Esplanade in St Kilda
Tickets from $50 | For bookings, please visit Ticketmaster
Thursday 5th December
It ain't Christmas without the carols, and it ain't carols without the candlelight! If you prefer your carols to be more intimate then make sure you book in for Grossi Florentino's 11th Annual Carols by Candlelight. Held upstairs at Grossi, there'll be four courses and wine a-plenty from Domain Chandon to have you carolling all night long.
11th Annual Carols by Candlelight | 6:30pm 'til late
Grossi Florentino | 80 Bourke Street in Melbourne
Four courses plus wine from Domain Chandon | $155 per person
For bookings, please call 03 9662 1811
Heck yes, the Moonlight Cinema is back! Image Credit: Moonlight Cinema Facebook.
Earlier this week saw the launch of the Ben & Jerry's Openair Cinema and now we're really being spoiled for choice with the launch of two more! The Maltesers Moonlight Cinema and Rooftop Cinema, held in the Royal Botanic Gardens and on the roof of Curtin House respectively, both start today and have a hell of a line-up in store for the summer months. Everything from rom-coms, arthouse, drama, action, and more is on offer. Just think …warm summer nights + drinks with friends + laidback atmosphere = bliss!
Maltesers Moonlight Cinema | 5th December 2013 – 31st January 2014
Royal Botanic Gardens Central Lawn | Birdwood Avenue in South Yarra
For program information and to buy tickets, visit the website
Rooftop Cinema | 5th December 2013 – April 2014 (end date TBC)
Curtin House | 252 Swanston Street in Victoria
For program information and to buy tickets, visit the website
Friday 6th December
If you love your bike and all the paraphernalia that goes with it, then you won't want to miss Knog's Moving Sale! Held at their current Richmond store, Knog will be offering up to 70% off bicycle lights, locks, bags, and various other accessories. Rapha will also be there to caffeinate you whilst you pick up bike bargains from as little as $5 – shhhhhweeet!
Knog Moving Sale | 453 Church Street in Richmond | 10:00am – 5:00pm
Hip-hop fans listen up – the Red Bull Music Academy is in town and tonight, they're holding the FREE Red Bull Club Night at Revolver Bandroom! American-based DJs/MCs/producers Exile and Choosey will be headlining with Julien Dyne, Winters and DJ Geezy locked in as support acts. It's gonna be a Friday night to remember so best you get yourself there!
Red Bull Club Night | 9:00pm till late
Revolver Bandroom | 229 Chapel Street in Prahran
Entry is free however bookings are essential | RSVP here
Emily Green will be at The Big Design Market starting Friday! Image credit: Facebook.
Melbourne is one heck of an art and design minefield, so it goes as no surprise that for the new three days the city will play host to The Big Design Market at the Royal Exhibition Building. The event's name doesn't lie; it's damn big – there will be 220 creatives from around Australia and overseas showing off their wares – and it's all about great design – everything from art and homewares, to clothing and accessories will be there. Get your credit cards out because we predict you'll be leaving with A LOT of shopping!
The Big Design Market | 6th, 7th and 8th December
Royal Exhibition Building | 9 Nicholson Street in Carlton
Open Fri 10:00am – 9:00pm and Sat/Sun 10:00am – 5:00pm
For more information, visit the website
Saturday 7th December
Christmas shopping sorted at the Simon Johnson pop-up store. Image Credit: Simon Johnson.
Christmas shopping is about to get a lot easier now that Simon Johnson has opened up a pop-up shop in Armadale! Synonymous with gourmet food, incredible ingredients and bountiful hampers, Simon Johnson is the place to go for Chrissie gifts for the food lover. The High Street, Armadale pop-up is open now (another in Collins Square in the CBD opens next week) and stocks a huge range of great gift options including sweet, savoury, and cocktail hampers. Christmas shopping sorted!
Simon Johnson Pop-Up | 1119 High Street in Armadale
Now open until late January | Monday – Sunday
Simon Johnson Pop-Up | Collins Square, Collins Street in Melbourne
9th – 20th December | Monday – Friday only
Sunday 8th December
Now in its 38th year, the Port Fairy Folk Festival brings together some of the best Australian and International artists for four days of folk music fun. With acts such as John Patrick & The Keepers, Oh Pep!, Tom Richardson, and a slew of others, the festival will be one not to miss! Tickets are now on sale, and will sell out, so make sure you and your friends get booking!
Port Fairy Folk Festival | 7th – 10th March 2014
Tickets are now on sale | To book, click here