Little did we know that the nation of Russia has been leading us all astray. Sipping vodka does absolutely nothing to ward off winter chills. The conspiracy runs even deeper; heroic St. Bernards never carried miniature barrels of brandy to those stricken on the Alps (Beethoven, why must you betray us so?). In fact, drinking alcohol lowers body temperature, so it's a pretty poor excuse for a seasonal tipple.
However the below concoctions are so delicious, we won't tell anybody it's a myth if you don't. Raise a glass to our round up of Melbourne's best winter cocktails.
(Hot Forest Cocktail at Lily Blacks)
Gluhwein
Gluhwein is the Germanic version of mulled wine, spiked with citrus and spices (and it's much more fun to say). The name roughly translates to 'glow-wine' which is appropriate since, after a few toasty cupfuls, your cheeks will do just that. It's not hard to find jazzed-up red around Melbourne in winter, so why does Milk the Cow's version make the list? The licensed fromagerie gets bonus points for giving punters easy access to gooey individual-serve fondue pots to go alongside their warming brew.
Where: Milk the Cow | 1/157 Fitzroy Street in St Kilda
Contact: 03 9537 2225
T-Rubble
We can't cover mulled wine without giving a nod to Melbourne's more recent affection for mulled cider. In the 'T-Rubble' cocktail, the Albert Park Hotel supercharges their warmed orchard-crushed cider with a few things to put hair on your chest and a fire in your belly: Drambuie, whiskey and winter spices.
Where: Albert Park Hotel | Corner Montague Street & Dundas Place in Albert Park
Contact: 03 9690 5459
Hot Buttered Rum
Adding butter to anything is always a good idea, which The Meatball and Wine Bar proves by serving up a Southern American version of that old classic 'Hot Buttered Rum'. Their 'Hot Buttered Bourbon', made with cider and maple butter, becomes even better with the addition of a ginger cookie. Be warned, a few too many of these and your new winter layers won't only be made up of wool.
Where: The Meatball & Wine Bar | 135 Finders Lane in Melbourne and 105 Swan Street in Richmond
Contact: 03 9654 7545 or 03 9428 3339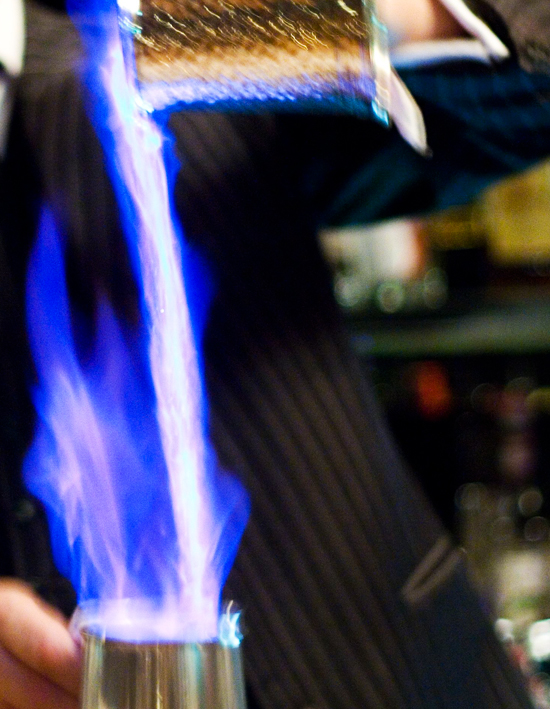 (Blue Blazer at 1806)
Blue Blazer
If you're going to play with actual fire, you'd better call in the experts. 1806's take on a 'Blue Blazer' is Talisker whisky, gomme syrup, Angostura bitters and hot water set ablaze and poured from jug to jug. This dare-devilish drink was traditionally thought up as a remedy to cold and flu and was only meant to be served when the thermostat fell to single digits.
Where: 1806 | 169 Exhibition Street in Melbourne
Contact: 03 03 9663 7722
Hot Forest
Speaking of remedies, doesn't a steamy mug of bourbon, maple and lemon sound like just the thing to soothe a pesky sore throat? This trio of ingredients appears in countless cocktail recipes, but Lily Blacks' addition of charred Cedar to the mix elevates their 'Hot Forest' above the rest. Better start drinking these as a preventative measure.
Where: Lily Blacks | 12 Meyers Place in Melbourne
Contact: 03 9654 4887
Cocktail X
'Cocktail X' from New Gold Mountain is actually a lot more like a warm hug than its badass-sounding ingredient list suggests. Fireball cinnamon whisky and Kraken rum are tempered somewhat with house-made Horchata (a nutty Latin drink) and festive nutmeg.
Where: New Gold Mountain | 21 Liverpool Street in Melbourne
Contact: 03 9650 8859
Warm Tequila Soufflé
Can't decide between an after-dinner tipple or dessert on a cold winter's night? Have both! Kid Boston's 'Warm Tequila Soufflé' (you can switch the Tromba Silver up for rum or brandy if preferred, but we like the original just fine) is a tangy concoction you may be forced to 'drink' with a spoon.
Where: Kid Boston | 44 Chapel Street in Windsor
Contact: 03 9939 5256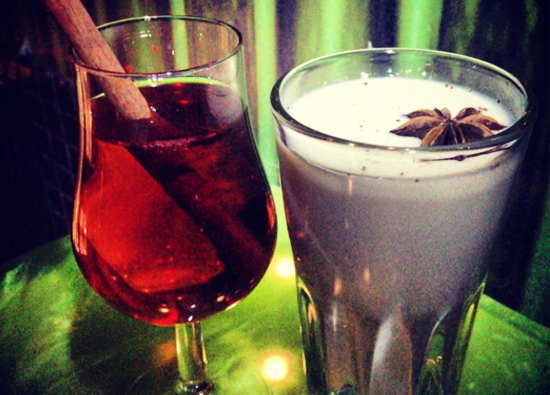 (Cocktail X at New Gold Mountain)