You're staring at the ruins of a flaming city, then a little mic crackles in your ear. "Cssshhh...you've gotta make it to the Drop Ship. But watch out, there's undead everywhere..." You and your mates fan out, guns up. There's burned-out cars up ahead. It all feels bloody real.
The only thing is...it isn't. It's not real at all. You're with a group of friends in a warehouse in North Melbourne, playing 'Zombie Outbreak', a VR game from the guys at Zero Latency.
You might twig on the name. Zero Latency were the same guys who brought that 'real life' zombie shooter to Melbourne like 10 years ago. Remember? With the actors in the warehouse? Well that was before VR technology boomed. Co-founders Scott Vandonkelaar, Tim Ruse and Kyel Smith ditched the zombie make-up and pivoted the business—now they're Australia's biggest provider of free-roaming VR games.
"We've got a warehouse in Brisbane too," says Game Master Chloe Ho, "Plus 19 other sites around the world. People can't get enough."
We can see why. The original Zero Latency 'real life' shooter game was fun, but you were always aware that the zombies running at you were people, probably out-of-work actors who moonlighted as Top Paddock baristas and had names like Kevin. This VR stuff feels way more real.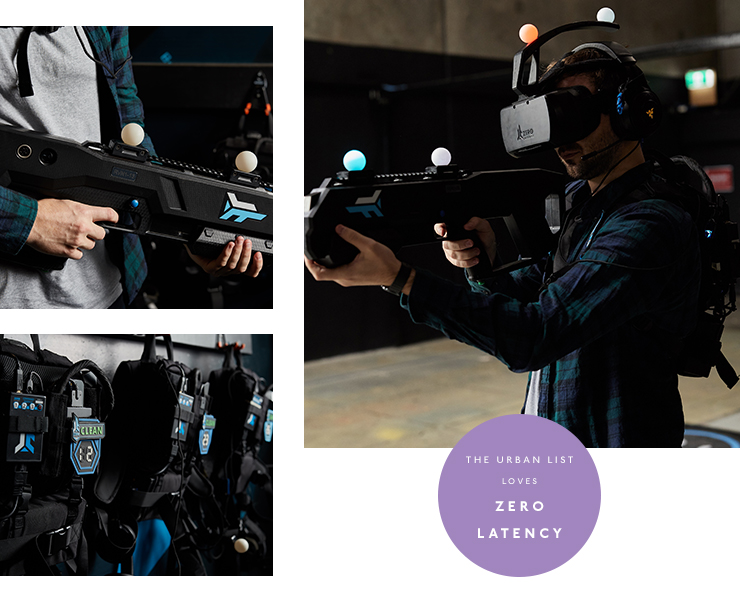 Part of your brain knows that you're standing in the middle of a big concrete hanger. That outside there's the Melbourne sunshine and coffee and your regular life. But in here...when the goggles go on...it's weird how easily your brain gets tricked. Within five minutes you're saying things like "Watch your six!" and "I'm covering you!" unironically.
And when the zombies sprint at you, eyes wild, arms flailing, it's hard to remain the composed, head-shotting badass you always assumed you'd be in these situations.
"We have had people freak out," Chloe says. "People often scream. Some people cry. We've had a few be like 'F*ck this' and just run for their lives. The weirdest was this one couple: in the game, his avatar fell off a bridge, and she just started crying."
Oh god, the bridge. So you've zombie-slayed your way to the top of a high-rise, and you need to cross a narrow metal gangplank to another building, where there's a helicopter. The wind whips at your shirt as you look down—literally, Zero Latency have installed fans in the warehouse. Even though you know it's impossible to fall, you find yourself hesitant, edging out slowly, arms spread for balance. It's trippy shit.
You can also upgrade your weapon. Hidden throughout the map are sniper rifles and rocket launchers. Players can also alternate between the assault rifle (easy, good for beginners) and the shotgun (more stopping power, but less range).
At the moment there are a few different games you can play at Zero Latency. We'd highly recommend starting with Zombie Outbreak. It's the most popular, and you can play it with up to seven mates. The other games are Singularity (an alien space shooter) and Engineerium, a free-world building program ("It's like a cross between Minecraft and VR," says Chloe). There's plans to launch a new game soon (and it sounds fkn sweeeeet), but we can't reveal that one yet. Watch this space.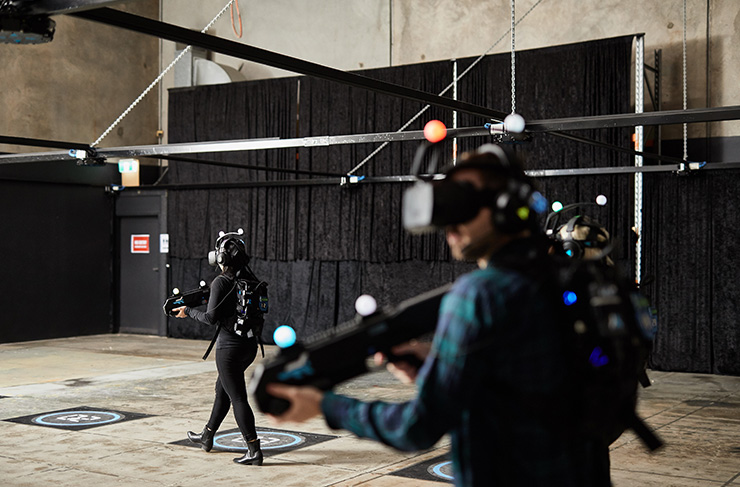 A few rules. You can't run (in case you run into a wall or a friend). You can't pistol-whip the zombies or flail around with your gun (in case you pistol-whip a wall...or a friend). And friendly fire is switched off...although that rule does glitch from time to time. Screaming, "Oh god, oh god no, they're everywhere!" in a hysterical voice is totally fine.
We were sceptical of VR tech before we gave this a go, but the technology has come a long way in the last few years. It's still a little janky around the edges, but you get the feeling what we're playing now is the VR equivalent of 1980s Super Nintendo. Just imagine what this shit will look like in 10 years...
Zero Latency is open for corporate bookings during the week, or you can lock in a session with your mates on weekends. Can't stress enough how fun this is to play—it's about as close to The Walking Dead as you're gonna get in Melbourne. Outside the Boxing Day sales, anyway...
Want to learn more about Zero Latency? Check out our Directory page.
Image credit: Griffin Simm