Pentolina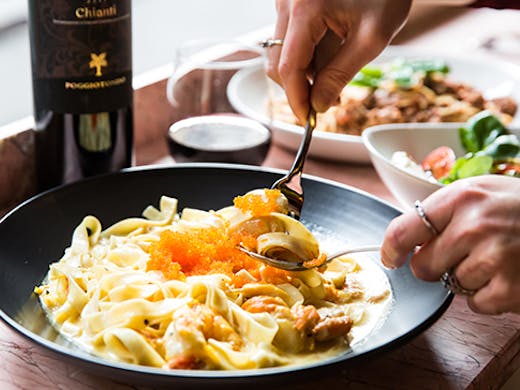 The Verdict
There's more than a touch of Pellegrini's about Pentolina, Melbourne's new CBD pasta temple. Which makes sense, really—chef Matt Picone has been dishing up big bowls of spaghetti there for the last 21 years.
"It was 1997. I loved my visit to Pellegrini's so much that I went up to the boss, and said here's my number if you're ever looking for someone," Matt says. He started his first shift the following night.
Pentolina is a vegan-friendly pasta joint, just off Little Collins St, between Queen and Elizabeth. It's a passion project from Matt and his wife Julia. Matt handles the kitchen, Julia runs the business—with their powers combined, you're in for one hell of a meal.
The pasta here is all vegan, made fresh each morning on-premises (you can substitute gluten-free pasta for an extra $2). The toppings are a compromise between old-school Italiano flavours (classic Spag Bol, Rigatoni with eggplant and Napoli, Amatriciana topped with big hunks of smoked pancetta) and Matt's own special concoctions. We've never seen fettuccini with prawns, scallops, saffron, brandy and Berocca-orange salmon roe before, but damn if it's not good.
Pasta is the big drawcard at Pentolina (Italian for 'saucepan', in case you were wondering), but there's also a range of yummy small plates: crispy calamari, dusted in flour, the chef's daily pick of crudo misto, a herby Insalata Caprese with Buffalo mozzarella, tomato and fresh basil. Good wholesome flavours, just like Nonna used to make.
That traditional edge definitely reminds us of Pellegrini's, but the fit-out from design firm Biasol is anything but conservative (these guys are really raising the bar for interior design—check out Hinoak for another great example).
Pentolina's design is all burgundy and brass, hand-rendered concrete walls, curved pink marble and a Euro diner feel. The best seats in the house are up by the window, looking out onto Collins Way. Perch up there with a Kahlua-spiked tiramisu, cheeky aperitif and a big bowl of pasta—you're untouchable.
Vegans, gluten intolerants and hungry people everywhere, check this place out ASAP.
Image credit: Jenna Fahey-White
---
You May Also Like