Upstate Studios | Balaclava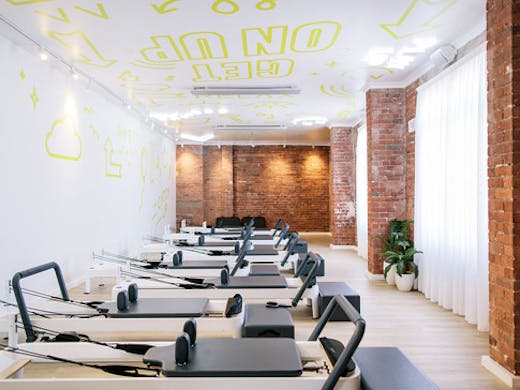 The Verdict
It's no lie that the demands of everyday life are becoming increasingly difficult to manage, so what better way to re-energise or wind down then through Upstate Yoga's new Yoga and Pilates studio located in Balaclava?
Opened in 2018, Upstate Balaclava was founded by Lululemon Ambassador Gail Asbell, alongside sister Charelle Cuolahan. This modern enterprise has been incredibly successful, with studios already located in Geelong and Torquay. The aim of Upstate Yoga is to help clients focus on their mindfulness by building positive mindsets and good experiences.
Upstate Balaclava provides unique experiences by delivering practices and styles that suit the differing needs and demands of the everyday. Ranging from traditional styles of Hot Power Yoga and Reformer Pilates to the coming of age cardio reformers, Hot Pilates and sound bath meditation, Balaclava is taking Pilates and Yoga practices to a whole new level. Their classes cater for all individuals, no matter what your experience level, so even those of you who can't touch your toes any longer have an excuse.
Like their practices, the Balaclava studio is the perfect mix between contemporary and traditional. The timber flooring, original period windows and brick walls mixed with the bright yellow staircase, positive affirmations neon installations and lounge areas help to make the studio a unique, friendly and happy place.
Too good to be true? Go try it out for yourself by booking online, and make sure to check out their introductory offers for new clients while you're there.
Image credit: Supplied
---