A taste of the Pacific has hit the CBD! Say hello to new kid on the block, Ika Bowl, the new poké bar serving up a taste of Polynesian cuisine.
Brought to us by Navi Lavulavu, Hutu Harris, and Rakai Heka-Beazley this gem can be on Fort Lane, at the entrance of the bustling Snickle Lane. Decked out with a massive mural by Askew1, you'll find yourself face to face with the poké bar jam-packed with fresh ingredients, ready to go to create your bowl of awesome.
The small but mighty menu showcases a range of unique flavours that you won't find anywhere else. Navi's favourite, the Koko Loko is inspired by traditional favourite Ika Mata. A culmination of yellowfin tuna, cucumber, sweet red onion, shallots, seasonal fruits drenched in coco citrus sauce topped with toasted coconut flakes this bad boy is not one you want to miss.
Or, if you fancy a little something that's sure to put a spring in your step, check out the Fiery Irie. Jam-packed with king salmon, pink radish, edamame, coriander, green chilli, spicy sriracha aioli and topped with kumara chips. Nom.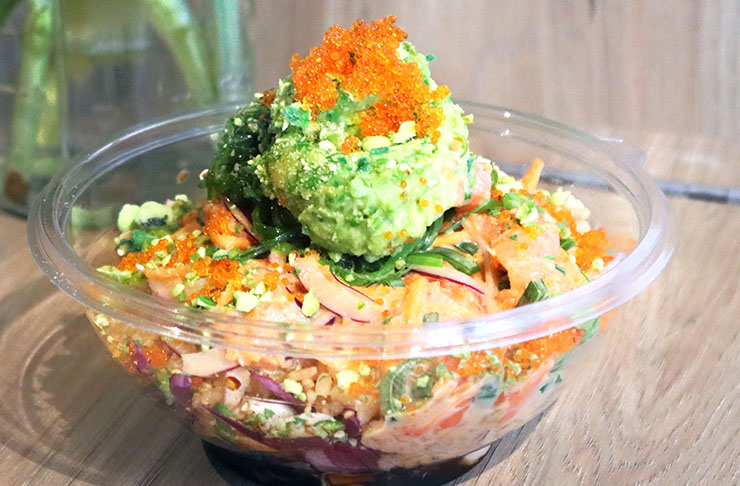 A bit of a fussy eater? Opt for the build your own bowl, and choose from an epic spread that will leave you spoilt for choice.
Just when you think it couldn't get any better, the friendly team will also be serving up house-made soda's! With a range including blood orange lemon lime and bitters, as well as a blackcurrant pomegranate creation, they're sure to have you coming back for more.
Set to be a new hotspot on the daily hustle, there's no denying Ika Bowl is going to be a massive hit. Don't just take our word for it, head on down and see what all the fuss is about!
For more information about Ika Bowl, including opening hours click here.
Image Credit: Jaiden Bhaga