With a hop, skip and burst of colour, Auckland's an epic new cafe has arrived to the foodie scene.
Say hello to Wake Up, the new eatery that's set to have the whole town going absolutely bonkers. Bold, brilliant and with a heavy dose of pop culture, there's no missing this bad boy. A visual feast from start to finish, look out for David Owley, a magnificent sculpture greeting visitors. A step inside will have you engulfed in a wizz-bang of colour, from the vintage combi van to the surrounding murals. And, art the space is a masterpiece in itself!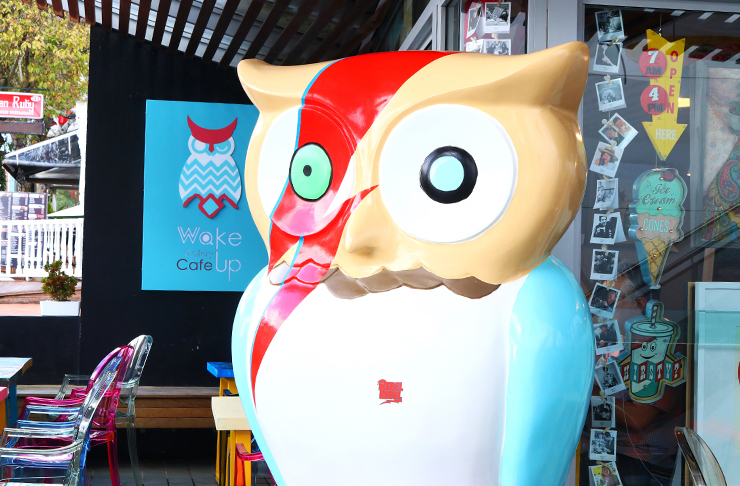 From pillows featuring Hugh Jackman to table tops featuring David Bowie, it takes the look and find to a whole new level. From owner Robin Sun and manager Aimee Perrin, the space also doubles as an art gallery. Featuring exhibitions from local up and coming artists and work from in-house artist Chen Leng throughout, who knows what whacky and wonderful creations you'll find!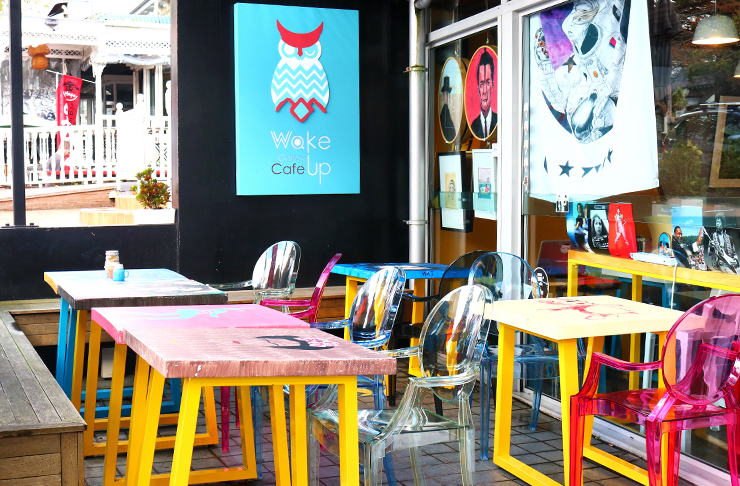 As delicious as the surroundings, the menu features a stellar line-up of heartwarming comfort-classics we all know and love.
Our top pick is the out-of-this-world buttermilk fried chicken burger. Think tangy golden and crunch buttermilk fried chicken, bacon crisped to perfection, avocado, lettuce and tomato drizzled with aioli, all encased in a toasted brioche bun. If you aren't drooling already, this beast comes with a side of chunky hand cut fries. Yum!
A stack of delicious, the birds nest is not one to miss. It stars a crispy hash brown bowl encasing a shoot and sprout salad, roasted beetroot and avocado topped with a poached egg smothered in their addictive hollandaise sauce.
For those with a sweet tooth, look no further tan the french toast brioche. The generous serving features slices of golden crispy brioche stacked with grilled banana, crispy bacon and served with 'real' maple syrup.
For dessert look no further than the in house gelato cart. To enjoy by the scoop or in a shake, you won't be able to stop at just one lick!
Just in time for winter, the deluxe hot chocolate has us wondering how we've done without. Choose from either peppermint or caramel and let the team work their magic to serve you the perfect bevvy to warm your cockles.
In all aspects and artistic adventure, this new Parnell treasure is one worth waking up for.
For more information about Wake Up, including opening hours, click here.
Image Credit: Jaiden Bhaga