After a two-year hiatus, we're bursting at the seams with excitement to get back to everyone's beloved tropical paradise. The Bintangs are cheap, the people are super friendly and there's bucket loads to do, so we thought we'd help kick off your itinerary with some of the best eating, relaxing and exploring around Indonesia's favourite holiday destination.
Head over here for the latest on international travel restrictions.
Read on for the best things to do in Bali.
Where To Eat In Bali
The Cave
Lush beachside dining gems may be a dime a dozen in Bali, but there's only one subterranean restaurant. Located within a 25,000 year-old cave, this moody new 22-seater from Chef Ryan Clift is serving up a jaw-dropping seven-course degustation that you'll definitely want to charge your phone up for—it's a constant battle for attention between those striking stalagtites and the edible plates of art that arrive promptly at your table.
The Suku Bali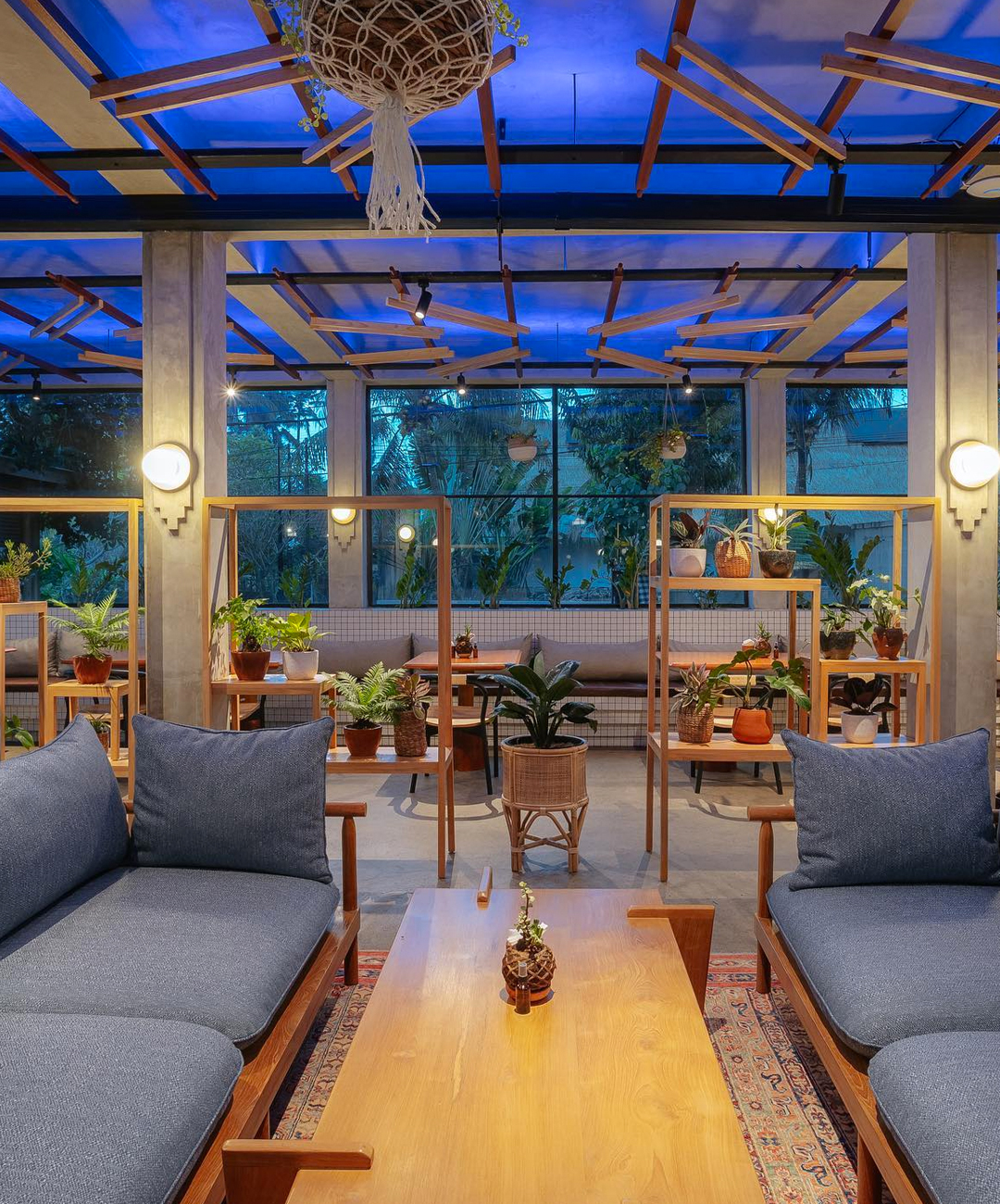 Suku is Bahasa Indonesian for people sharing a common root. This farm-to-table experience emphasises not only the importance of knowing the origin of your ingredients but celebrating the beauty of the local produce. Everything here is ethically sourced, devoid of nasties and simply elegant and delicious. We can't get enough.
Tanaman
Our beloved friends at Potato Head in Seminyak opened this plant-powered vegan restaurant that allows the flavours of the regions to sparkle right before the pandemic and are raring to welcome you back. This team has created a thoughtful multi-course tasting menu emulating the quaint family kitchens of Indonesians, street vendors and warungs. We can guarantee you'll be blown away by their sticky, sweet and spicy dishes without giving a second thought to the meat or dairy you're missing.
Yuki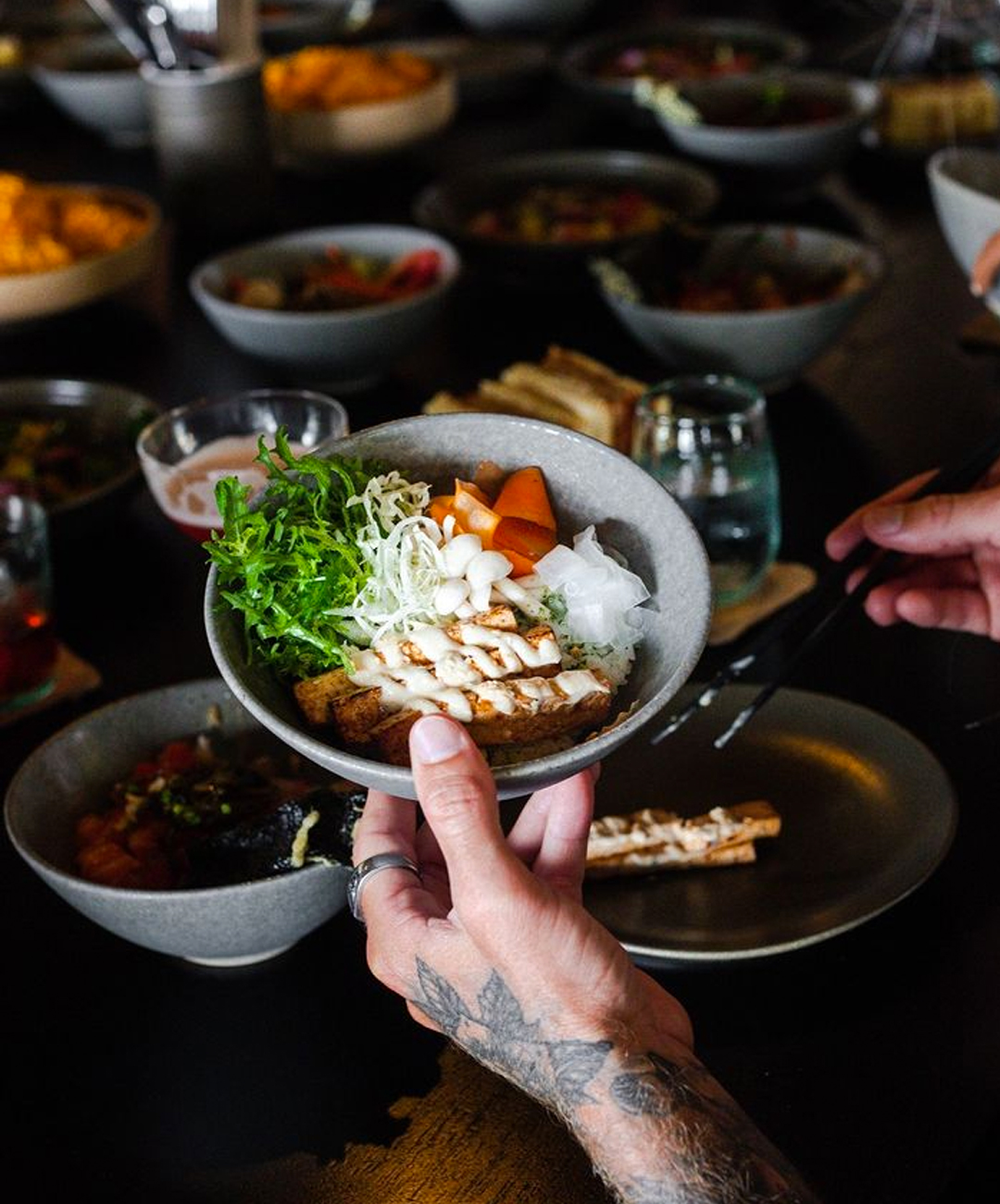 Another brand spankin' new beachside spot boasting incredible contemporary Japanese izakaya that pushes the limits right on the Batu Bolong beachfront. With some big hospitality names around town responsible, you just know you're in for a night of fine dining and spectacularly-presented dishes – make sure you try our favourite tuna truffle sushi.
Woods
This earthy ethereal spot is quickly becoming loved for its casual treehouse vibes and gorgeous plating of all-day fine delight. The gang behind Woods favours nutritious fresh cuisine locally sourced from their neighbours, served amongst the twinkling chandeliers and leafy palms of Pererenan.
Shotgun Social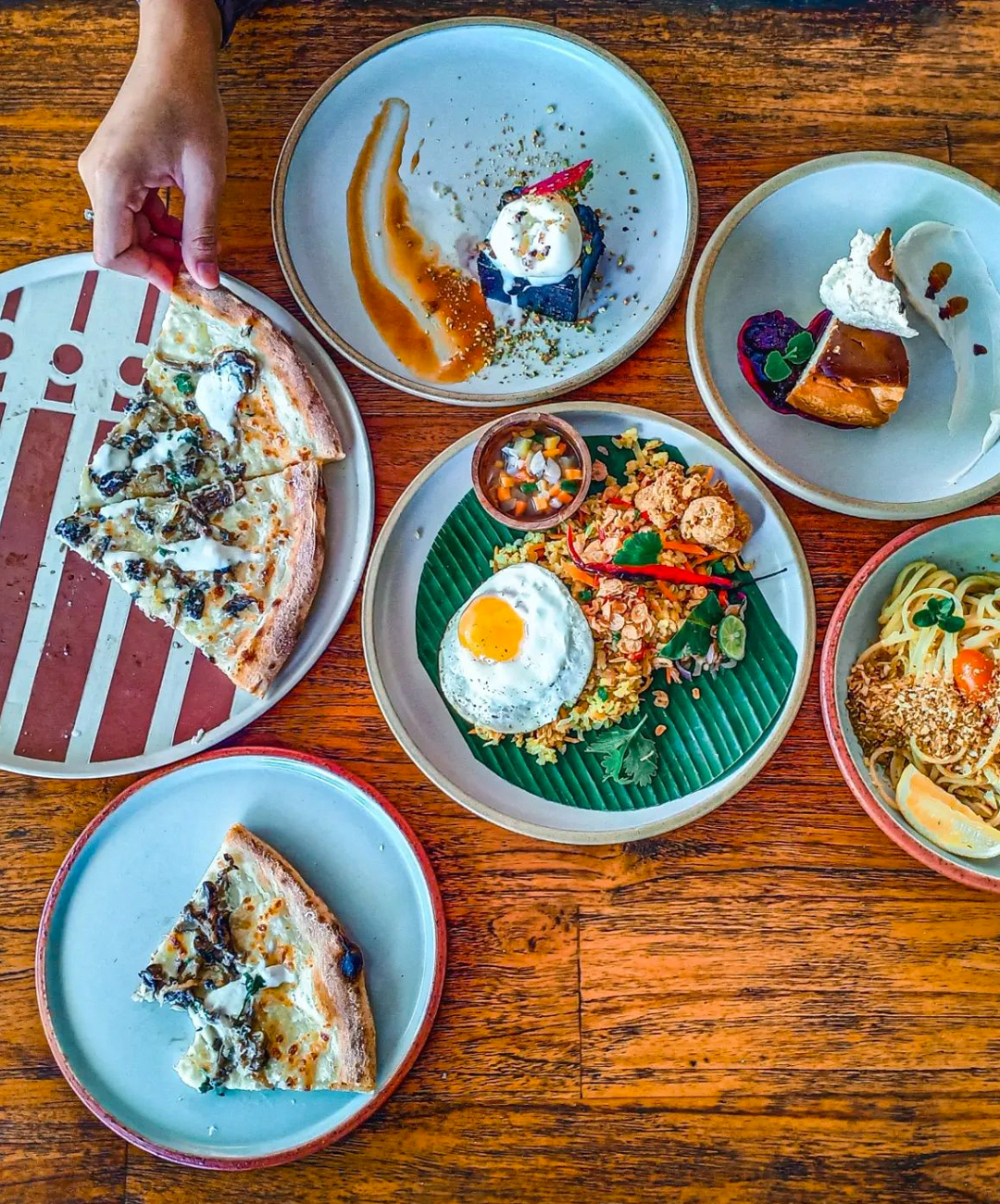 Sanur is another previously humble area of Bali now infested with a stunning burst of bars and restaurants; one of our unmissables is Shotgun Social. The moody interiors of this brewhouse are the perfect location for a relaxed unassuming afternoon with 16 craft beers on tap and a classic gastropub menu to please the entire family. There's even a huge outdoor garden to soak in the sunshine.
Skool Kitchen
If Canggu wasn't already bursting with new life post-pandemic, this modern dining experience set amongst the palm trees just cements the fact that this once-sleepy surfing town is quickly becoming the culinary hotspot of Bali. With a big focus on local meat and fish, the menu is gutsy with a valiant cocktail list of classics and tropical twists.
The Best Accommodation Bali
Meliá
Nusa Dua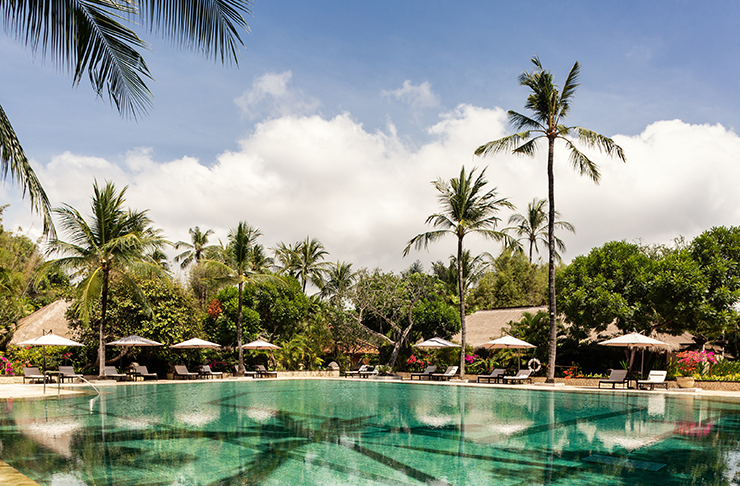 Meliá in Nusa Dua truly sets a new standard for resort-style getaways. The five-star beachside locale ticks off all the boxes one could want, where you'll find the essentials and plenty, plenty more: get started in one of the several pools dotted across the sprawling oasis before meandering into YHI Spa for the likes of a Balinese massage, reflexology treatments, or luxury pedicures and manicures. There are several restaurants on-site that you should explore to their fullest, though for a true Balinese dining experience you can't go past Lotus, a heritage-style pavilion with a thatched alang-alang roof. Work your way through the Pan-Asian menu and if you're there on the right evening, enjoy a traditional Balinese dance while you dine, too.
There's plenty to see and do around the Nusa Dua area, but once you arrive at Meliá you won't feel the need to leave. Those who really want to lean into the locale can tap into The Level, a premium service giving guests access to a private pool, exclusive dining areas, discounts on YHI spa treatments and a private beach—it's a true VIP experience. There are plenty of room options, all stunning and fit out with the essential modern sensibilities in their own right, but the lagoon room which comes as part of The Level experience should be top priority. Direct access to Meiiá's lagoon is a real drawcard, though the private terrace overlooking the calm and pristine pool says it all, really.
Villa Mimpi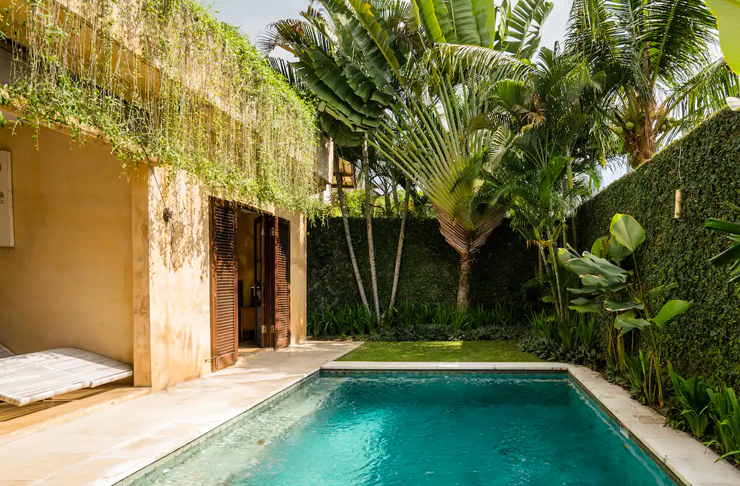 You're not imagining it, Villa Mimpi is a very real place you can stay in. You enter through green hand-carved (let that sink in for a hot second) into a private oasis centred on one of the most beautiful pools you'll probably ever be privy to. Everything about this stay just makes sense, including its affordable price. Book your stay here.
Mamaka By Ovolo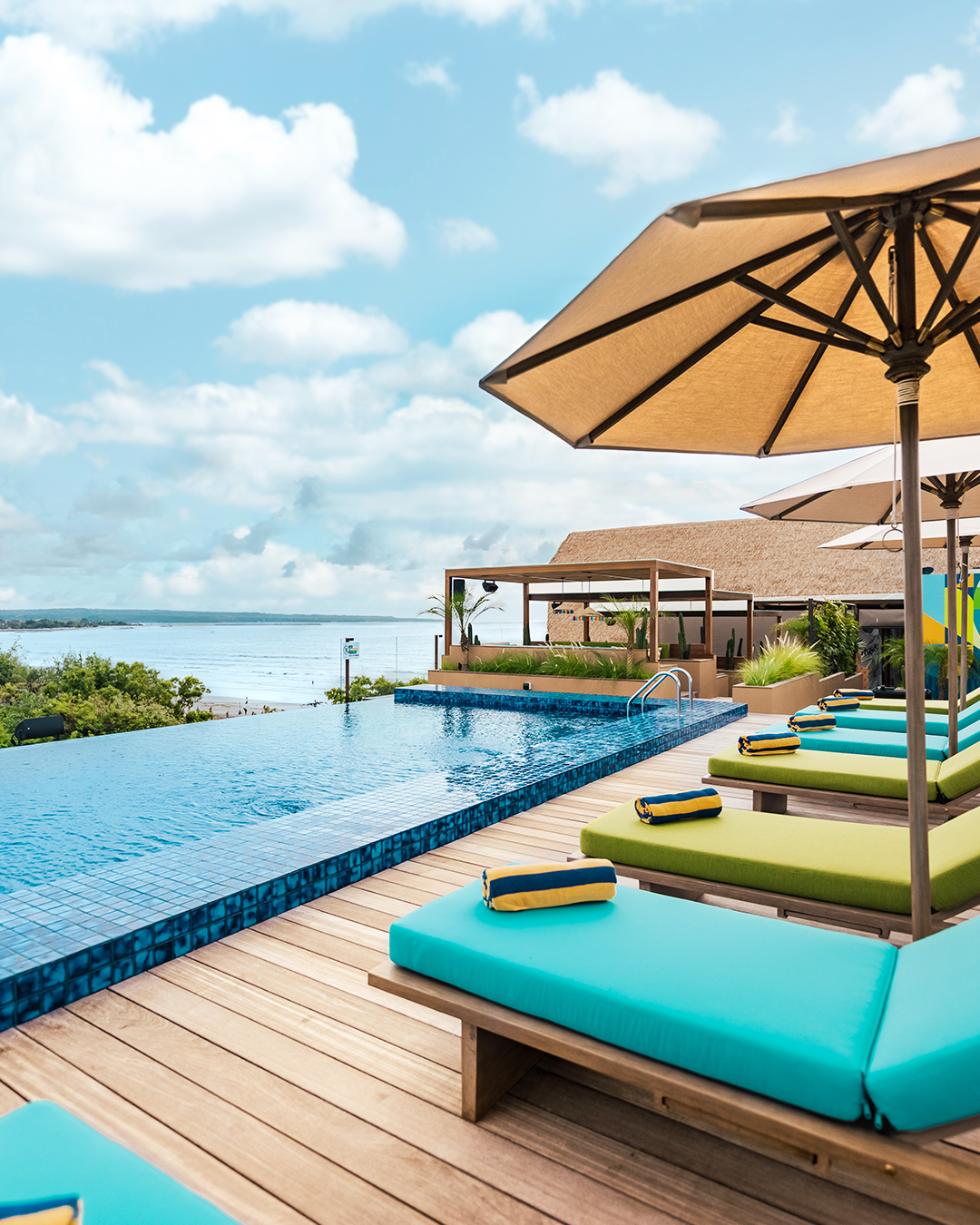 While Kuta beach once wore the badge of party capital, rowdy tourists have since relocated to the likes of Canggu, leaving Kuta to enjoy a slightly slower pace, creating room for the new lifestyle-orientated boutique hotel Mamaka by Ovolo to move in. The first Ovolo property in Indonesia and the first outside of Hong Kong and Australia, Mamaka boats an inviting rooftop infinity pool with a 270-degree view of the ocean and Kuta. As for the suites and rooms, you can expect a mix of tropical sophistication, contemporary artworks, deep egg-shaped bathtubs and lush rain-like showerheads. Combined with Ovolo's impeccable hospitality and complimentary wellness classes, the hotel really does deliver on its 'good vibrations' guarantee—and hey, nothing beats room service with a view. Book your stay here.
Hideout Eco Bamboo Home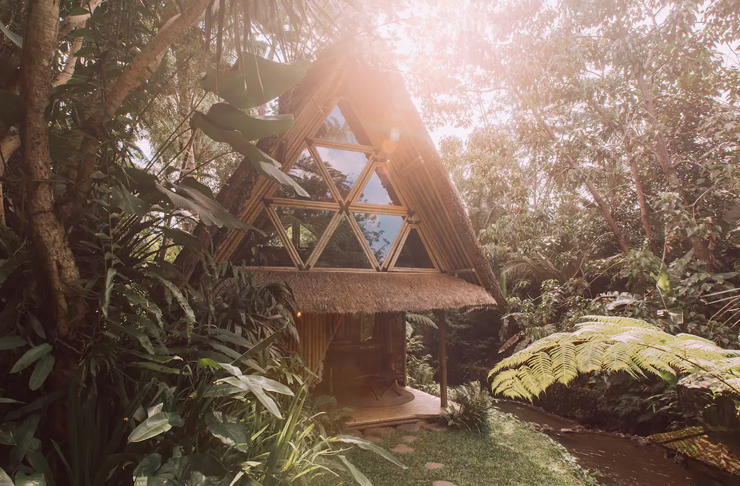 In Bali, it seems you can either enjoy magnificent waterfront views with sea breeze or hide in the depths of tropical rainforest in sustainably built eco huts. For the latter, consider this two-storey home in the mountains of the Gunung Agung volcano. The bamboo hideout sits on a river, completely in touch with nature. The main bedroom is a dream, with giant windows letting in the morning sun through the surrounding treescape. You can even book in packages for dinner, massages and an evening visit from the village shaman. Book your stay here.
Aura House Eco Bambo House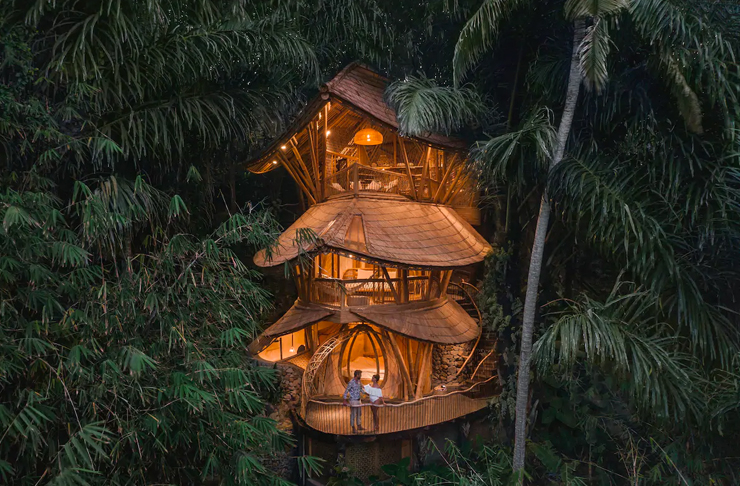 Some of these bamboo eco houses are just too pretty for words. If you're looking to get high up into the Bali forest, book this multi-levelled accommodation perched on the Ayung River in Abiansemal. The almost entirely bamboo built getaway offers the ideal inside-outside vibes to soak up the beautiful weather along with a private pool. Hop in the hammock and forget about your problems to the sounds of secluded nature. Book your stay here.
Hideout Beehive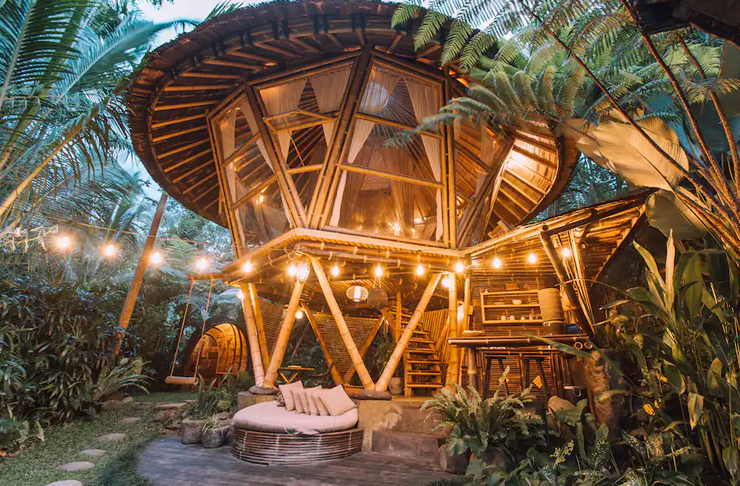 Bali is teaching us a thing or two about beautiful, creative, architecturally-designed bamboo eco-homes. Again, we're generally blown away by this Selat home–with its amazing structure, mood-setting outdoor pendant lighting, swing, indoor-outdoor kitchen and bathroom, outdoor spa, riverside location, and rainforest surroundings. Throw in some free brekkie, a fridge full of Bintang and access to a scooter–holiday stay well and truly sorted. Book your stay here.
Head over here for more of the best Airbnbs in Bali.
The Best Beach Clubs In Bali
Sundays Beach Club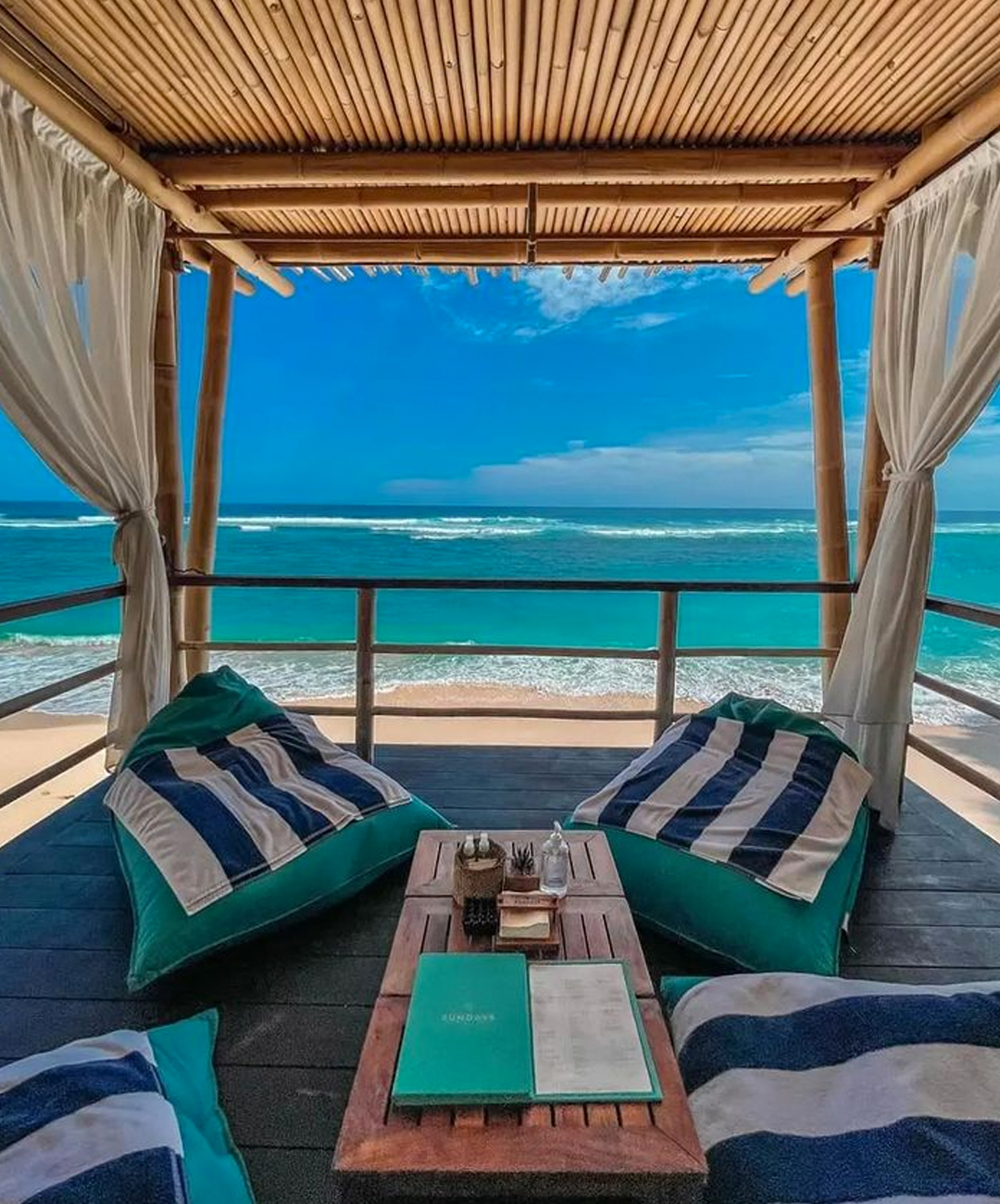 As the weather gets cooler, we can't help dreaming of Sunday Beach Club's white sand, azure water and seaside bungalows sipping bottle service in the Uluwatu breeze. This gorgeous very instagrammable spot even has a luxe spa you can book in advance to give you the full VIP experience. Go early, stay late.
The Shady Pig
You'll need to follow The Shady Pig's socials just to get the daily password to enter this prohibition style bar nestled in the heart of Canggu. This sophisticated sexy space pays homage to all things decadent from the roaring '20s with an experimental cocktail list that you'll be desperate to work your way through. Cheers darlings.
Savaya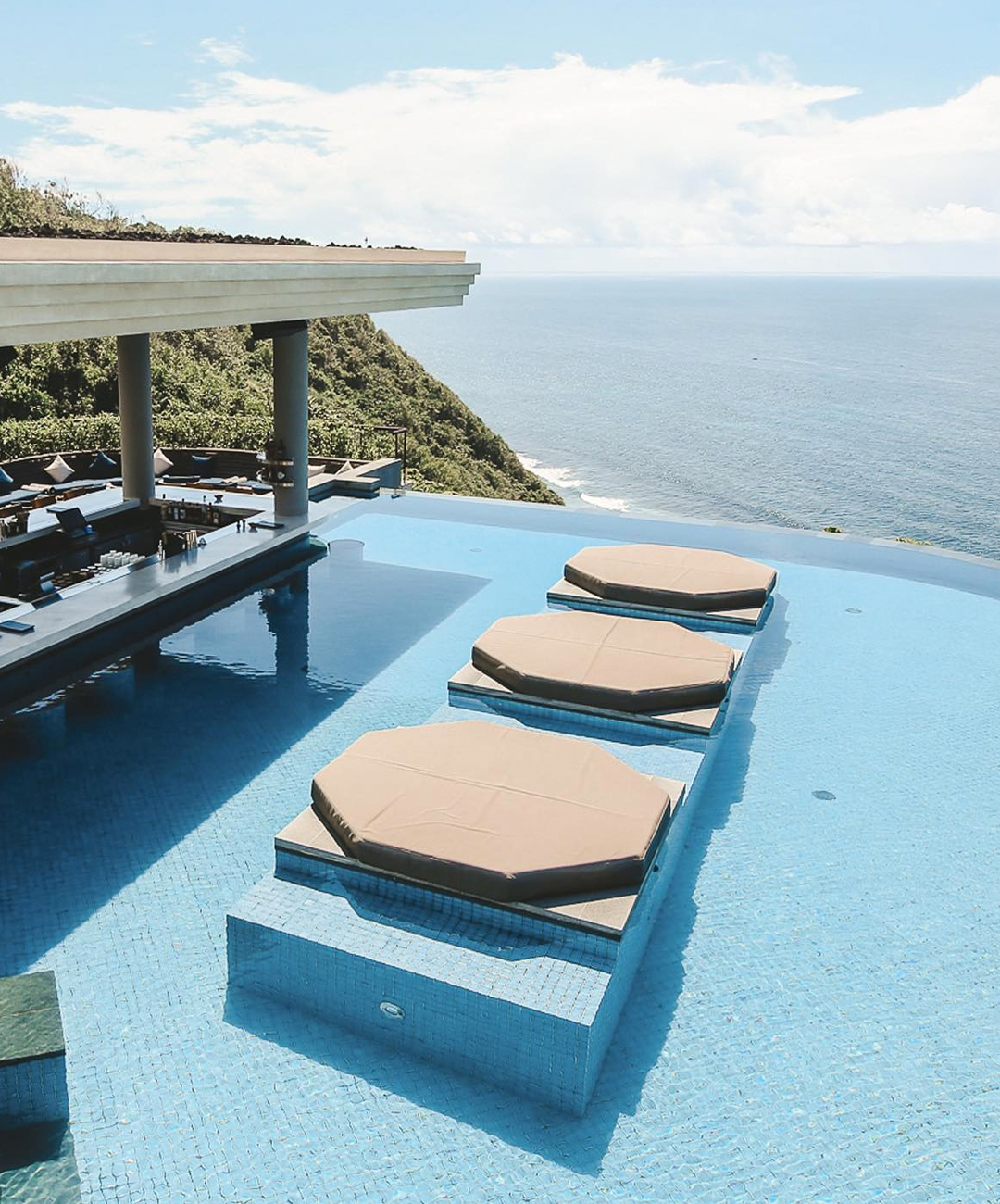 Previously known as Omnia Beach Club, the recently opened sky-high Savaya promises unbelievable views, jaw-dropping architecture (Google it) and some big-name DJs dropping in to spin the decks. Known as Bali's 'luxury playground', this spot is definitely for the fabulous and those seeking a more up-market chic party club.
La Brisa
For those of us looking for a more boho, laidback vibe then there's no comparison to La Brisa. This place is more of a relaxed wonderland or something out of Alice in Wonderland with hidden corners, hanging coloured lanterns and magic everywhere around you. With some of the best sunset views in Canggu, we suggest you settle in early and take advantage of their delicious all day menu with a big fruity cocktail in hand.
Café Del Mar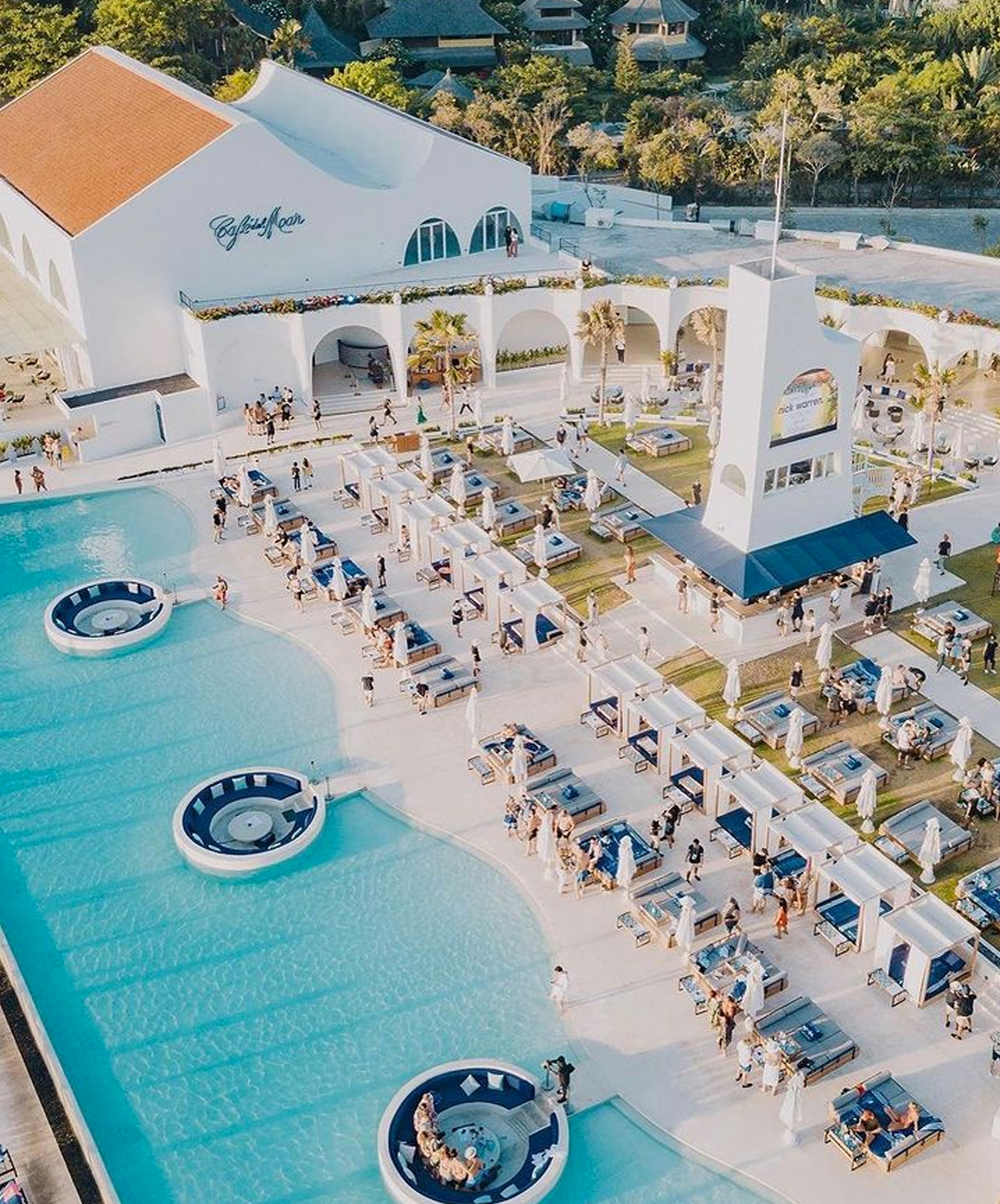 If you can't get to Ibiza quite yet, then Café Del Mar is 100% the next best option. Think beautiful cocktails, multiple swim-up bars, infinity views over the ocean and Grecian-inspired white and blue interiors to really transport you to the Mediterranean. You'll never want to leave.
Where To Relax In Bali
Yoga Barn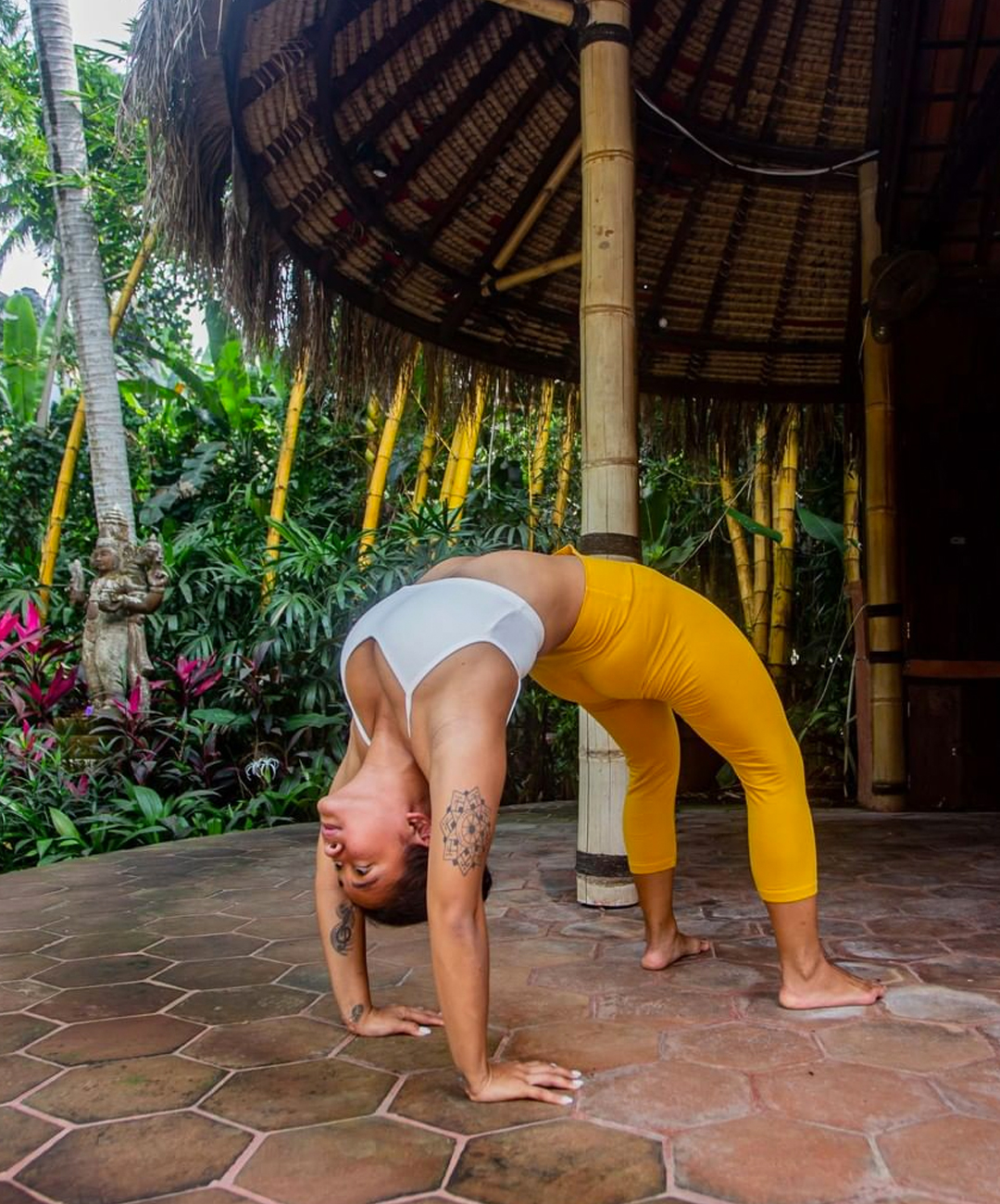 It's not hard to find a brilliant yoga class in Ubud, but this spot nestled amongst the luscious rice paddies creates a sense of whimsy that first-time visitors to Bali can only dream of. The Yoga Barn offers retreats, classes, detoxes and a range of divine events to help you channel your inner zen in the middle of paradise.
TERRA
While we love a cheap sidewalk massage, sometimes it's nice to really spoil yourself. TERRA team has created a soft calming space in the middle of busy Seminyak, focusing not only on incredible massage but also a range of holistic touch-based treatment such as acupuncture, reiki and 'intuitive guidance' that promises healing and release from anxiety. Sign us up.
The Power Of Now Oasis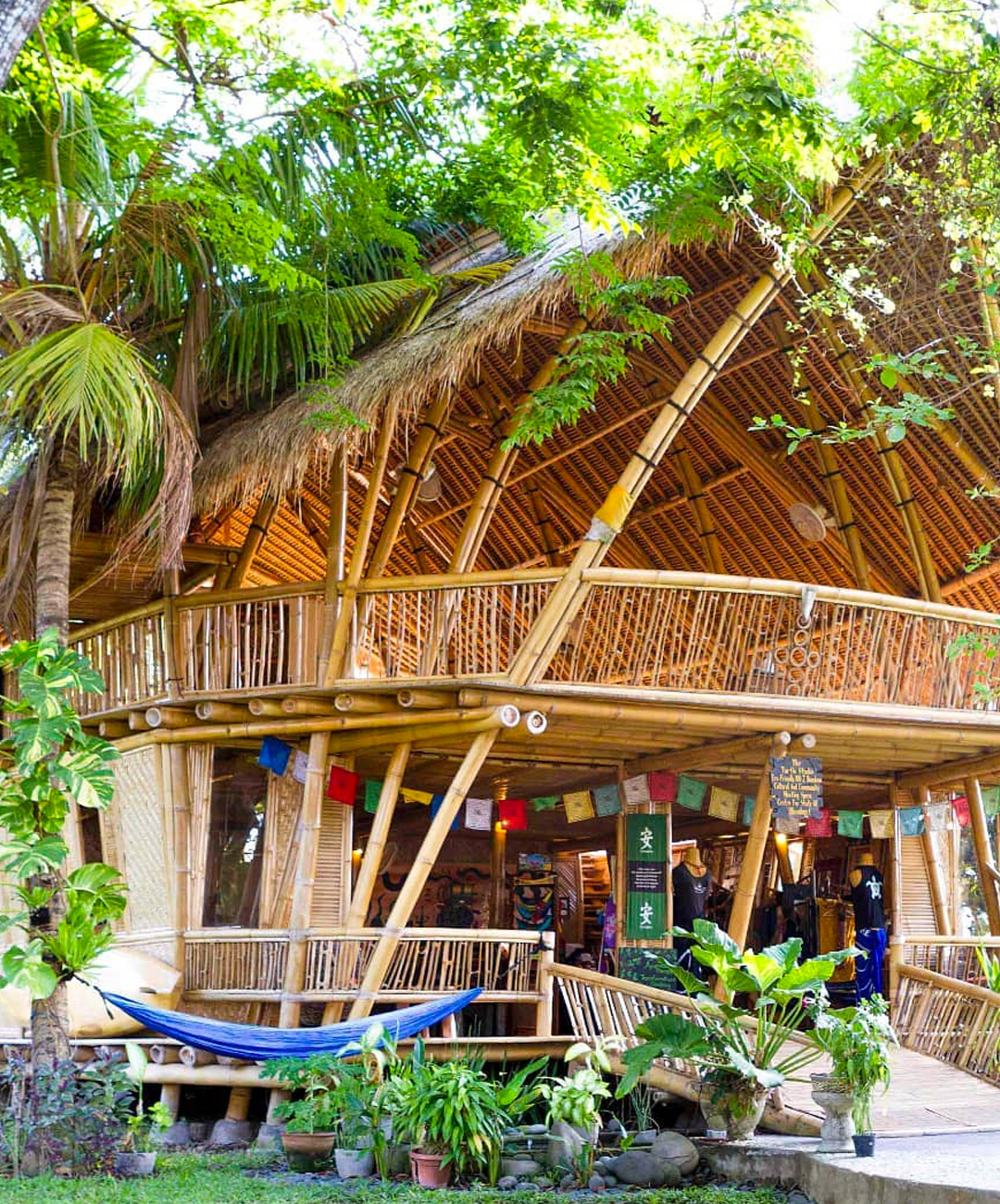 This Sanur hub has become an institution for expats and travellers alike now offering drop-in yoga classes, short health retreats and yoga teacher training. Unwind to the sounds of the quiet beaches nearby, and stay around in their chill-out area that includes an organic juice bar, teahouse and library for a lazy afternoon read.
Bodyworks Spa
Arguably one of the most instagrammable spots in Bali, you may have seen pictures on your grid of dusty pink Moroccan arches and floating orange marigolds. Bodyworks has been around since 1994 and has a long-standing reputation of blissful treatments and stellar service, using only the highest quality products and offering an extensive range of body and skin pampering that will leave you absolutely glowing.
Merapu Svaasthya At Desi Seni
This Canggu spa tucked into traditional Balinese thatched cottages transports you into a Bali before the chaos, and allows your mind to wander into a state of complete tranquility. Alongside their divine therapeutic offerings, there's a massive menu of teas and health tonics to ensure you a complex detox from the inside out before you head back to your villa.
The Best Things To Do In Bali
Y Retreats
We mean, if you didn't come to Bali to work on your breathwork...did you really do Bali right? Now, there are plenty of yoga studios and healing workshops to get into when you're around these parts but choosing the right one for you can prove to be well, difficult. We thought we'd take the guess work out for you though—enter Y Retreats. This all encompassing retreat isn't your average 'sit in a circle and sing kumbaya' affair—there are all kinds of getaways which are conventiently based in a beachfront pavilion in Bali's very lush Tabanan Regency. Retreats span a very timely 'reset and recharge' practice which takes place in January and April so you can start the new year right or an adventure-steeped retreat focussed on personal development through physically challenging activities.
Pending what retreat you choose, you'll take part in breathwork, yoga, life coaching, leadership, mental and physical challenges, stress management, emotional mastery, cold exposure, journalling and a heap of staple Bali activities too. Book your stay here.
Island Hopping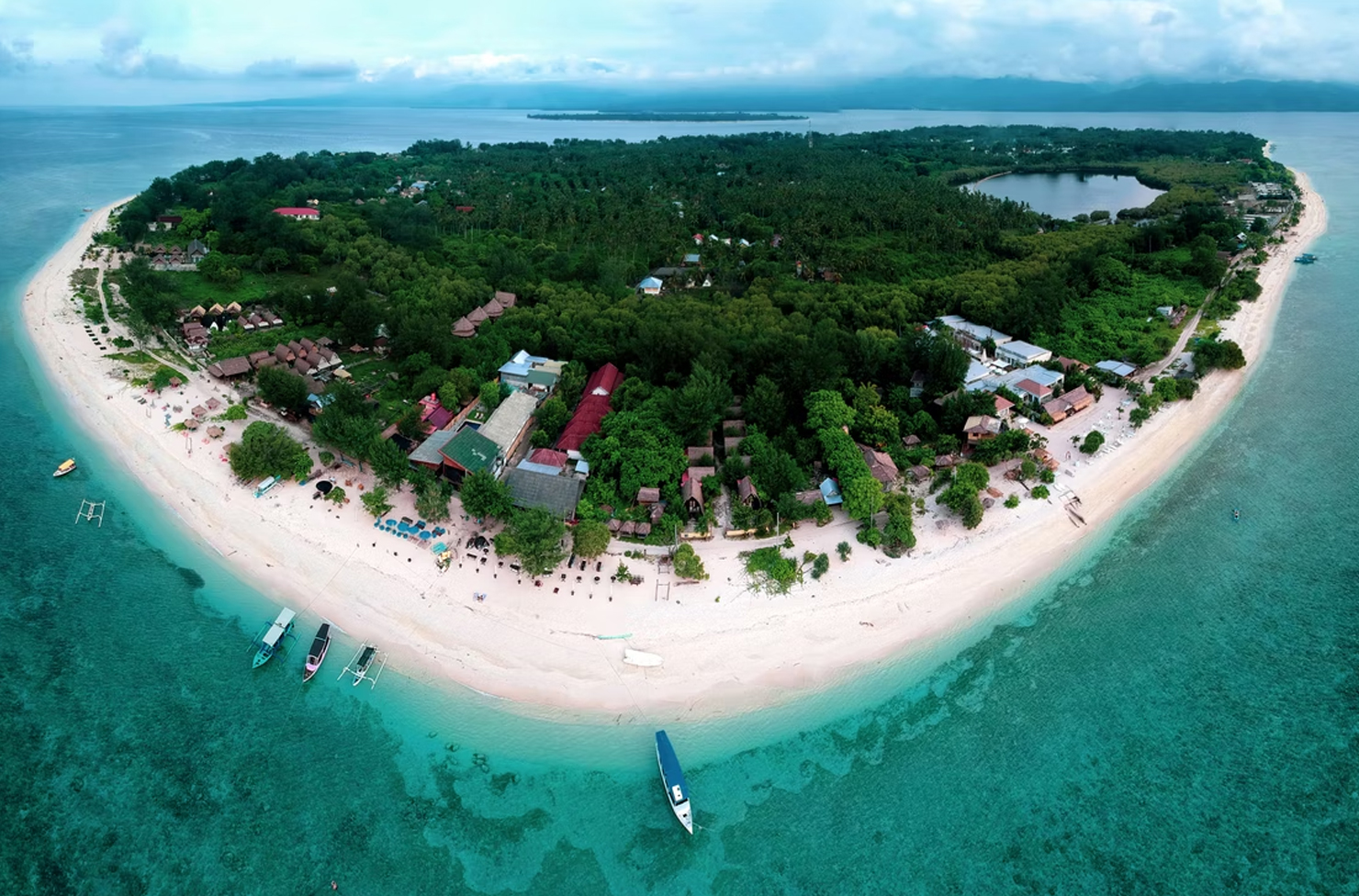 Seeing you're so close, you may as well hop on a boat and spend a day or two visiting some of the local palm tree lined islands still vastly untouched by civilisation. Whether it's snorkeling in Nusa Lembongan, partying in Gili Trawangan or sunbathing in Nusa Penida, each of these little gems are within a few hour's ride of the mainland, and are absolutely worth a few waves on the journey.
Waterfall Chasing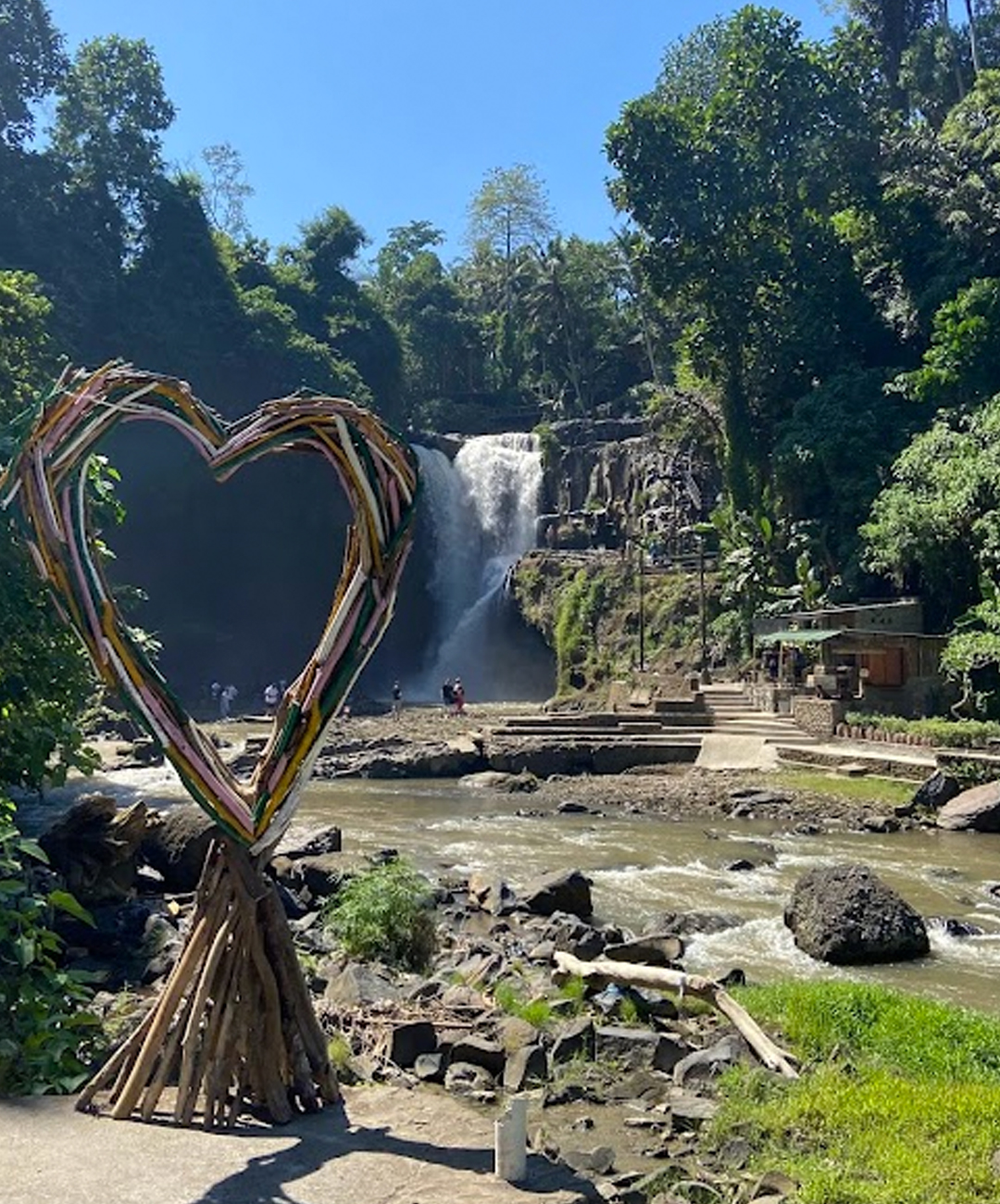 If you're searching for a break from the city's hustle, grab a driver, pack the repellent and head out to some of Bali's most stunning hidden waterfalls less than an hour or so from town. Our picks close by are Suwat or Tibumana Waterfalls, both beautifully hidden not far from Ubud up in the mountains, or head south to the quiet Tegenugan Waterfall for a mystical afternoon.
Become A Balinese Chef (Or At Least Try)
Bali is inundated with such fresh exotic local produce, so why not take advantage and learn how to create some of those most-loved dishes that you can make to impress friends back home? We're obsessed with The Bali Farm Cooking School, a local community farming village that allows you to pick your ingredients directly from their farm on-site, or the Casa Luna Cooking School who take you perusing through the local markets before heading back to sizzle up some Balinese delicacies.
Surf Lessons
Echo Beach in Canggu is known globally for its serious barrels. Whether you're a pro or absolute beginner, the chilled local experts at Canggu Surf Lessons offer a range of private and group lessons that will have you surfing the breaks seamlessly in no time.
Fine Dining In A Cave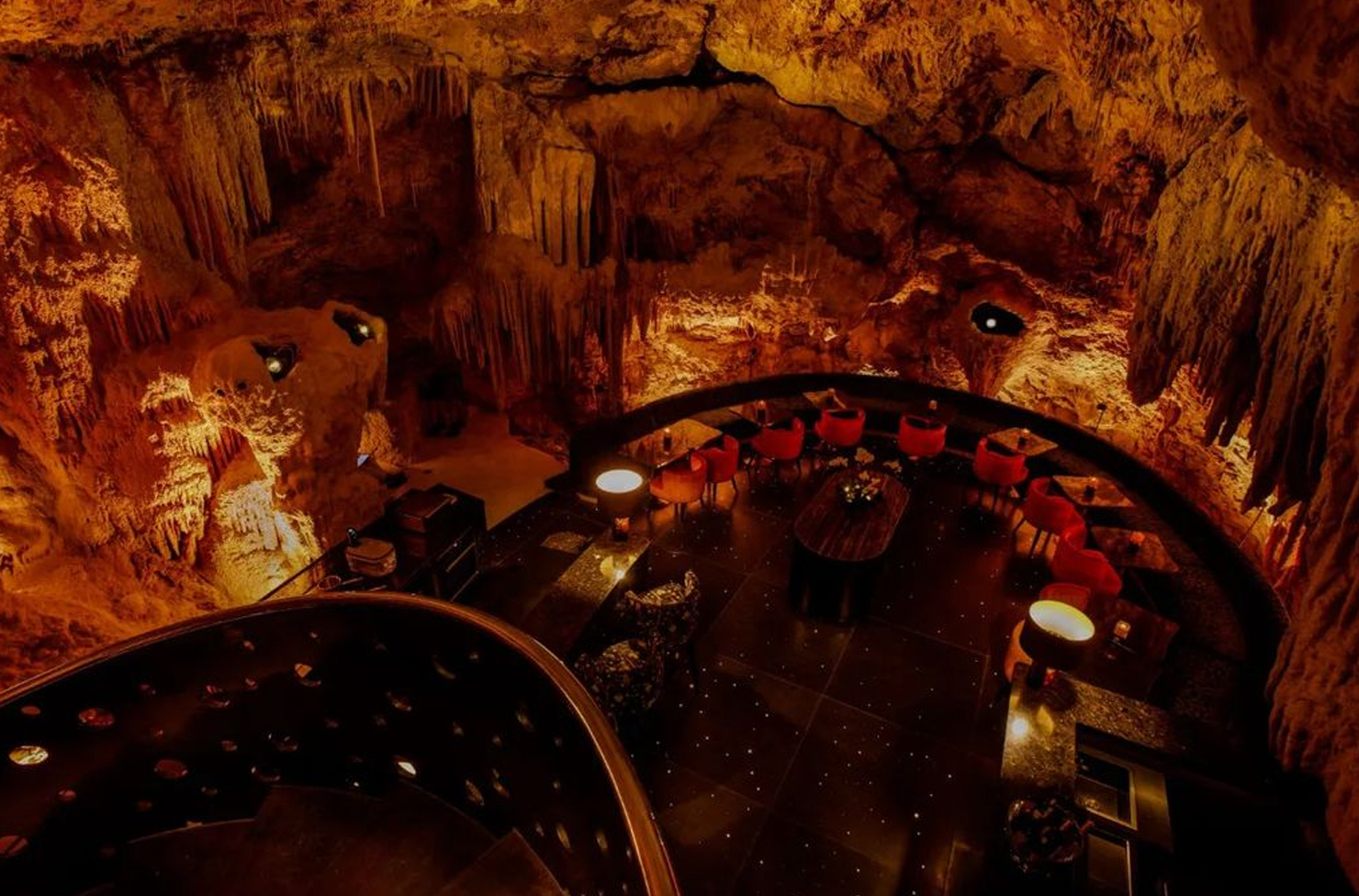 Okay so we know that we've already recommended some brilliant places, but this dining experience is an adventure you can't miss. The Cave Bali, an underground cave restaurant sits only 22 guests per sitting 6.5 meters underground and is a site you have to see to believe with over 25,000 years of history behind it. Culinary Director and Executive Chef Ryan Clift has been critically acclaimed for his gastronomy around the world, so ensure you book in advance to nab a table and soak in the majesty.
Read on for the best hikes in Bali.
Image credit: Urban List, Mathis Jrdl, Oliver Sjöström
Editor's note: Urban List editors independently select and write about stuff we love and think you'll like too. Urban List has affiliate partnerships, so we get revenue from your purchase.