It's easy to write off Los Angeles as a short stopover on the way to your final destination but we're here to convince you otherwise. It's the city of dreams and land of the rich and famous, but there's so much more to LA than just celebrities and scandals. Not many destinations can deliver arts, culture, a world-class dining scene, sun, surf and sand all in one—but LA really pulls it off.
From hipster cafes and rooftop bars to wacky museums and 'Gram-worthy hotels, here's everything you need to eat, see and do in LA.
WHAT TO DO
Santa Monica
Santa Monica is a coastal pocket found west of downtown LA known for its chilled-out surf culture and slow living. Head here to swim and soak up the California sun and check out the famous Venice Muscle Beach, an outdoor gym built in the 1930s and a regular backdrop to your favourite movies. Cap off the day at Santa Monica Pier, skipping between the Ferris wheel, carousel, roller coaster and countless bars and eateries.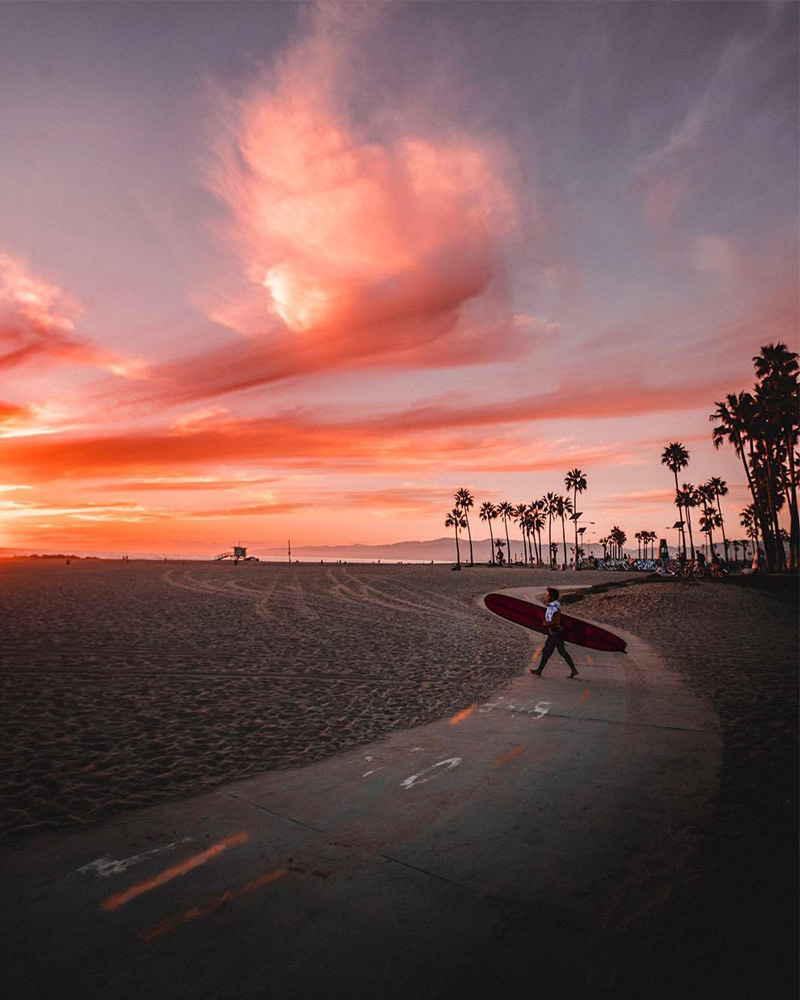 Joshua Tree
Hire a car and road trip two hours east to magical Joshua Tree. Known for its dusty desert landscapes and twisted Joshua Trees, this is a top spot for your next travel 'Gram. Lace-up the hiking boots and check out the Cholla Cactus Garden and Ocotillo Patch just off Pinto Basin Road, and hike the out-and-back trail to Fortynine Palms Oasis.
Silver Lake
A hipster suburb on the eastern side of LA, Silver Lake is damn cool. Here you can catch an up-and-coming indie band at The Satellite, stroll along the Silver Lake Reservoir, go boutique hopping along Sunset Junction, see an exhibition at the LA County Museum of Art and grab tickets to a baseball game at Dodger Stadium. There's plenty of cafes and bars worth checking out like Roo, a cafe owned by Aussie expats slinging great coffee, avo on toast and fairy bread. For cocktails, bar hop along Sunset Boulevard from Kettle Black all the way up to Akbar. Honestly, wherever you find yourself in Silver Lake, it's going to be a darn good time.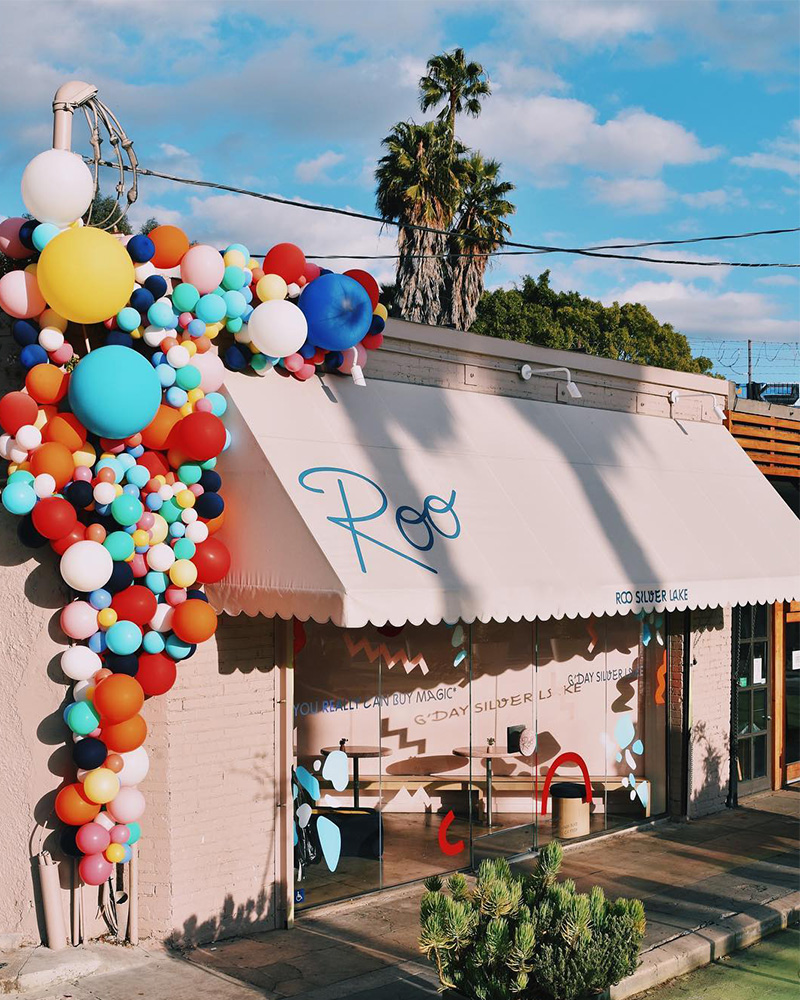 Hollywood
Steeped in the history of the rich and famous, you can't visit LA without stepping foot in Hollywood. There are the classic things to do like walking the glamorous star-studded Walk of Fame, touring Paramount Studios, snapping a photo with a celebrity at the Hollywood Wax Museum, and of course, hike Runyon Canyon in Hollywood Hills. For something a little different, rub shoulders with the locals at the Hollywood Bowl, a beautiful amphitheatre with a regular rotation of amazing concerts and acts. And for a taste of old-world Hollywood glamour, head to The Spare Room, a gaming parlour with two vintage bowling lanes, located in the historic Roosevelt Hotel. There's a lot going on here, so plan accordingly.
WHERE TO EAT
Bavel
A trendy haunt for middle eastern cuisine, Bavel is well-touted as one of the best restaurants in LA. The vibe is bright and fresh and the food is world-class. Housed within a brick warehouse, the space is spectacular, featuring sawtooth skylights and hanging vines, brass finishes and clerestory windows that bathe patrons in natural light. Located in the arts district, head here for dinner once you've explored all the galleries (The Institute of Contemporary Art, A+D Architecture and Design Museum, The Main Museum, and for something a little wacky, get to the Disgusting Food Museum).
Destroyer
This restaurant brings plant-based cooking to another level. It's a tiny, modest cafe where the menu really is the star. Destroyer has an all sleek Scandi design with wooden tables and polished concrete floors. It's only open during the day, so pop in for a life-changing breakfast, brunch or lunch—just be sure to order the Icelandic rye bread with sour butter and preserved citrus. Snap a story for the 'Gram before tucking in because the plating game at Destroyer is out of this world.
Felix Trattoria
This restaurant is proof that LA has climbed the ladder of the world's gastronomic scene. Located in Venice on Abbot Kinney Boulevard, Felix is an Italian restaurant using ingredients grown by California's greatest family farmers and the pasta is made in-house. Order the legendary bigoli di farro with duck ragu and piave vecchio and once you've wrapped dinner, cap off the night with a stroll along Venice Beach.
WHERE TO DRINK
Break Room 86
Located in Koreatown, Break Room 86 is, you guessed it, all about the 80s. It's a lively and popular karaoke bar found behind a loading dock within The Line Hotel. The venue features art deco tiling, a wall covered in cassette tapes, arcade games in the corner, and a bar built from old-school speakers. Come for the cocktails and stay until late when the dancefloor really kicks off.
Élephante Beach House
The food and cocktail menus at Élephante are incredible but the vibe is even better. This rooftop Santa Monica bar serves light, coastal, Italian cuisine which transcends to the decor and atmosphere—step through the restaurant doors to the rooftop and you'll feel like you're in southern Italy. Just be sure to book a reservation at this hot spot well in advance.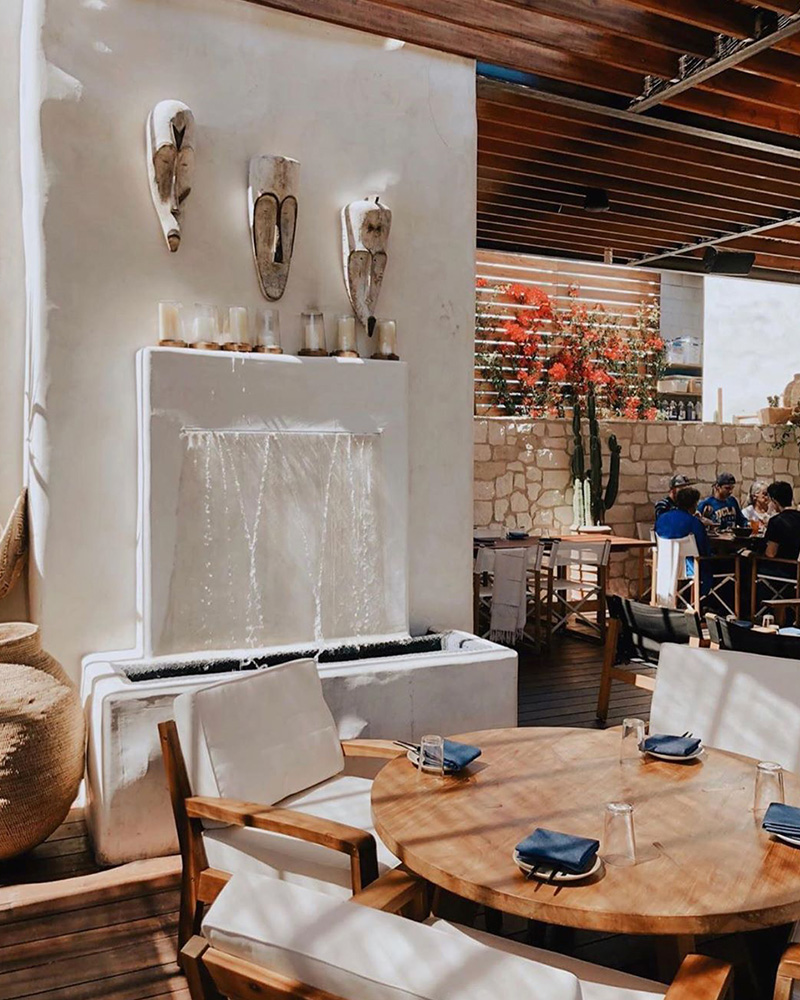 Bar Caló
Drawing inspiration from Mexico, Bar Caló is the subtropical oasis calling your name. The venue features a polished concrete bar, brass stools with red velvet seating, dusty blush hues and mirrored splashback. As for the drinks list, it's short and refined, featuring Mexican wines and zesty cocktails like the La Paloma (all served with a metal straw, of course). The kitchen cooks up small share plates focusing on Californian produce including herbs, chillies and vegetables picked straight from Caló's own garden.
WHERE TO STAY
The NoMad Hotel
Located in downtown Los Angeles within the historic Giannini Place (originally built in the 1920s as the headquarters for The Bank of Italy), The NoMad Hotel is dripping in lavish grandeur. Looking to Italy for inspiration, the hotel is soaked in a soft, yet colourful, palette and every room comes with custom-designed furnishings and original artwork curated by Paris-based design studio, be-poles. It's also got one of the best poolside bars with sweeping views of downtown LA.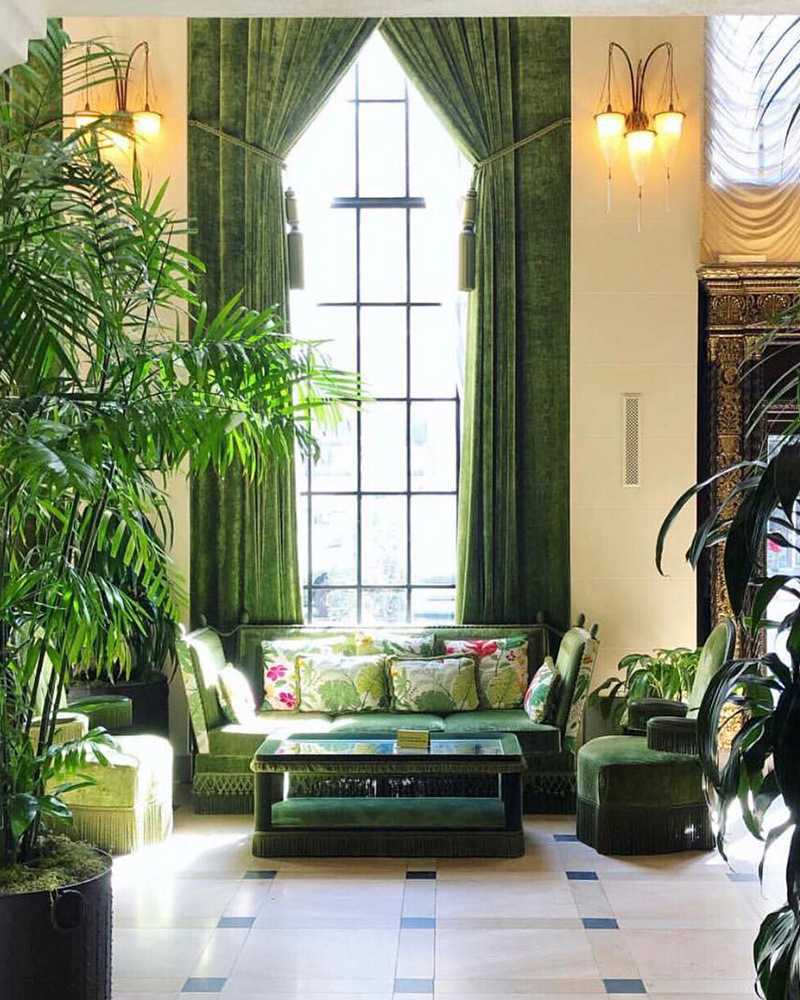 The LINE Hotel
Tucked between Hollywood and downtown LA on Wilshire Boulevard in Koreatown, The LINE Hotel is a totally unique experience. K-Town is LA's only 24-hour neighbourhood bursting with creativity, excellent Korean barbeque, hip speakeasies and karaoke nightclubs (just like Break Room 86 located within the hotel itself). The rooms are sleek with textured concrete walls covered with local artworks, floor-to-ceiling windows offering views of downtown LA, and plush handmade furnishings. Check-in, and trust us, you'll never want to check out.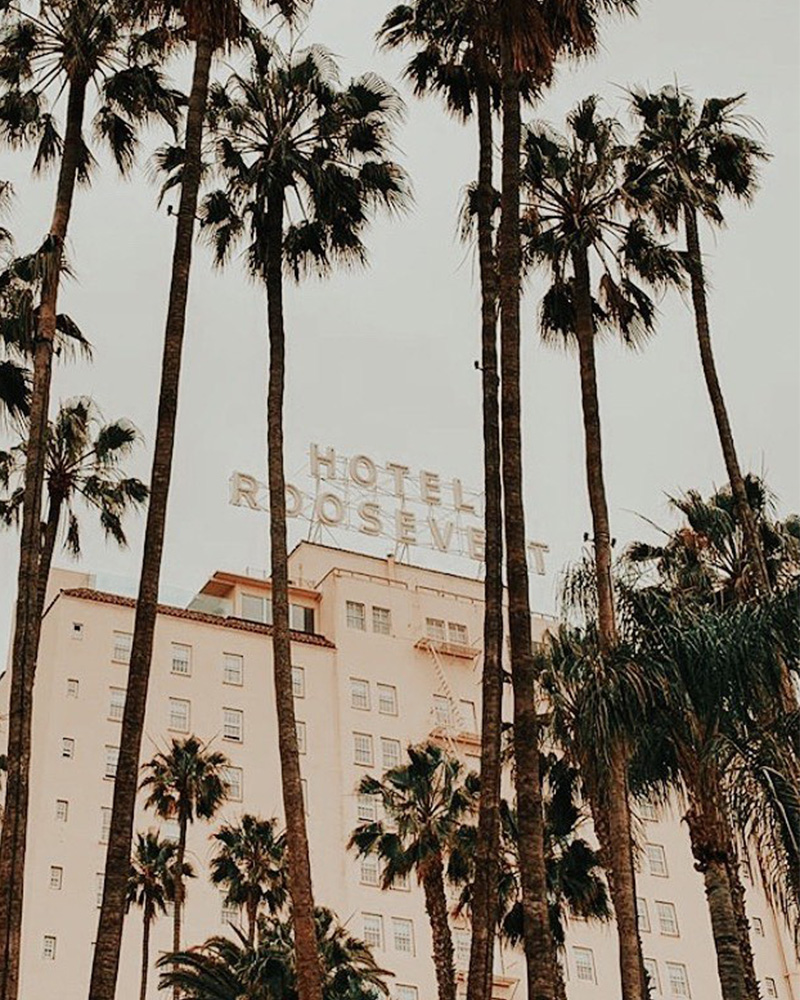 The Hollywood Roosevelt
For a quintessential LA stay, you can't go past The Hollywood Roosevelt. Built in 1926, in what is known as the Golden Era of LA architecture, the hotel quickly became a famous landmark. Step into the hotel and you're immediately surrounded by Hollywood history (the first Academy Awards were presented at a private dinner in the ballroom and Marilyn Monroe lived in the hotel for two years just as her modelling career began to take off). Beyond the hotel's rich history, there's plenty to entertain you here, like the six eateries and bars (including a 24-hour burger joint and game parlour with vintage bowling lanes) and the amazing David Hockney-painted pool. A welcomed tropical retreat in the centre of Tinstletown, the pool is lined with palm trees, lush foliage, and exclusive cabanas.
Once you've tackled this list, be sure to check out these under the radar LA neighbourhoods.
Image Credit: Discover LA, Roo Coffee, Bavel, Felix, Elephante, NoMad, The Hollywood Roosevelt, Sterling Davis