Viet Flames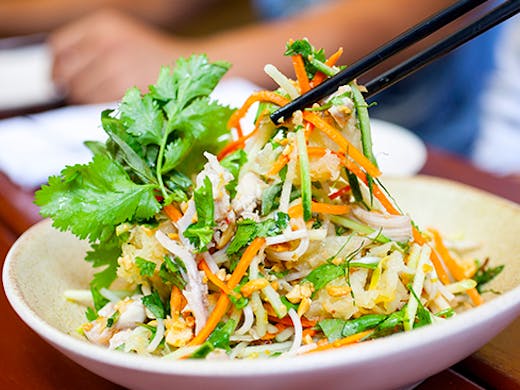 The Verdict
Vietnamese cuisine is all about two things: fresh ingredients and vibrant flavours. Think moreish summer rolls, fragrant salads and comforting bowls of pho, packed with mint, ginger, lemongrass and chilli. Sound like a bit of you? Treat your taste buds to all of this (and more) at Auckland's Viet Flames.
Tucked away in Victoria Park Market, the casual restaurant is all about authentic Vietnamese cuisine. The space is decked out with dark woods, ambient lighting and pieces of Vietnamese art. There's a small courtyard offering al fresco dining, while the interior is spacious and immaculate. However, it's the attentive service that really sets this eatery apart—you'll be treated like the king or queen you were born to be.
Visit over lunch and you'll discover an express menu that's not only delicious, but also easy on the wallet—it's a win-win! There are fresh summer rolls packed with pork, prawns and herbs, as well as crispy deep fried rolls served with nuoc cham dipping sauce.
If you're after something comforting, the chicken or vegetable curry will warm you from the inside out. Alternatively, slurp your way through a flavoursome beef pho—it's perfect on those cooler days.
When dinner rolls around, you'll discover dishes that are best shared—just like traditional Vietnamese dining. Start with crab and pork dumplings, chicken skewers or Viet Flames' much-loved pork buns. Starring a steamed bun, these delights are packed with crispy pork belly, pickled carrot, coriander and shallot—and they're as delicious as they sound!
The larger plates are all about bun cha (grilled pork with noodles), king prawns flavoured with coconut and a not-to-be-missed pork belly with Vietnamese slaw. If you're visiting with your squad, we highly suggest you try the whole snapper flavoured with ginger and pineapple sauce—it's one mouth-watering feast!
There's also an array of salads to choose from including green papaya with beef, coconut and kaffir lime chicken, as well as our fave: mango and prawn. Made with fresh, seasonal ingredients, the flavoursome salads are brimming with sprouts, ginger, cucumber, carrot and fragrant herbs sourced from the owner's garden.
Viet Flames advises that "life's too short to skip dessert" and we couldn't agree more! Choose between coconut tapioca, crispy banana or panna cotta flavoured with a fusion of ginger and chilli.
Wash it all down with a wine, beer or cocktail. Viet Flames' mojito is a crowd favourite starring refreshing lime, mint and lemongrass. Those familiar with Vietnamese bevvies will be pleased to see Saigon, Hanoi and 333 beer on the menu. For the ultimate Vietnam experience, opt for a Vietnamese coffee made with thick condensed milk.
There's no doubt about it: this is Vietnamese cuisine at its finest. Visit Viet Flames for an un-pho-gettable meal to remember!
Image credit: Kellie Blizard
---
You May Also Like