If you're itching for a va-cay that involves great eats, drinks, entertainment and adventure, Sydney is your one-stop holiday spot! You can go from hitting up beaches in the morn to feasting on ALL the seafood at lunch and watching the theatre come to life at night. Needless to say, Sydney is one awesome holiday hub.
So, when Destination NSW invited us to party it up in Sydney for the weekend, we leapt at the chance—tough gig, huh? Here's what went down when we recently jetted to Sydney-town.

7pm
Once you touch down in Sydney, make your way to Ovolo in Woolloomooloo (that's a suburb FYI). The contemporary hotel is located in a heritage-listed building on a pier and it's supeeer quirky. Adorned with modern art, the industrial-style rooms come with all the trimmings: Apple TV, a free (yes, free) in-room mini bar, a loot bag of edible treats and complimentary chocolates on arrival.
Chances are you're pretty tired from the week it was, so we suggest putting on your white fluffy robe and ordering room service. Make sure you get a good night's sleep because the weekend is gonna be jam-packed with fun!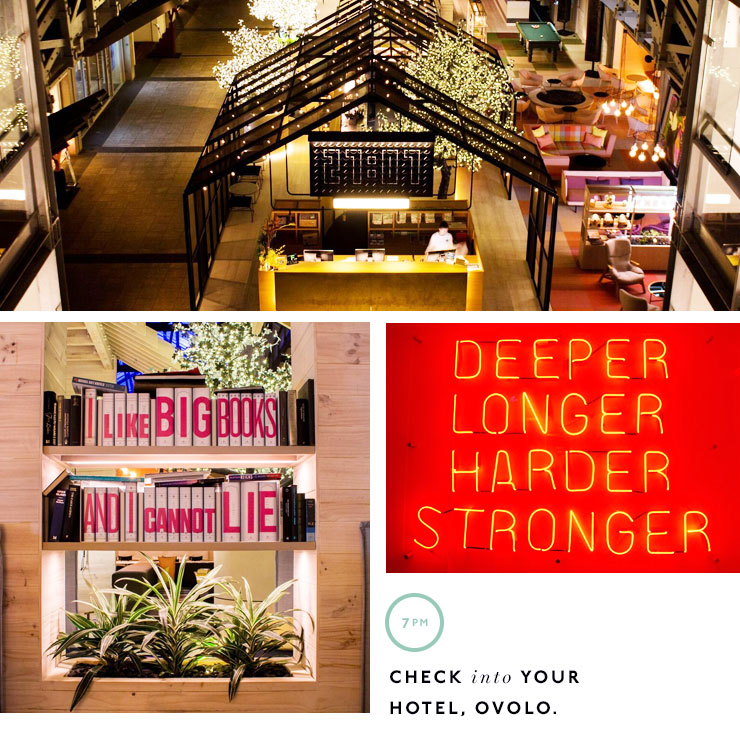 9am
Enjoy a sleep-in before eating your way through the breakfast buffet. You'll then need to lace up your comfy shoes because you're going to cover some serious mileage today.
Wander through the Royal Botanic Garden, enjoying the flora and fauna along the way. Keep an eye out for wildlife—we were lucky enough to find a friendly lizard and several bats on our multiple journeys through the scenic garden.
10am
Arrive at the Art Gallery of NSW and brace yourself for a whooole lot of art. Established in 1871, the stunning gallery boasts artworks from Australia and beyond.
We were there to see the exhibition 'Nude' that displays, err, nude art. The human bod was presented in spectacular paintings, sculptures and photographs from artists such as Pablo Picasso (fan girl moment), Lucian Freud and Henri Matisse.
11.30am
The art doesn't end there—no siree! Sydney has one strong art game and it's time to make your way to the Museum of Contemporary Art. Situated in Circular Quay, the museum is all about diverse and engaging modern art.
We were delighted by Japanese artist Tatsuo Miyajima's current exhibition 'Connect With Everything'. Featuring light and numbers, the room-scale installations were nothing short of fascinating.
1.30pm
Is that your tummy we hear rumbling? Feed your hunger with mouth-watering fare from the gallery's on-site restaurant: Graze MCA. Overlooking the bustling Circular Quay harbour, the outdoor pozzy is all sorts of delightful.
Our advice? Opt for one of their aptly named grazing boards and snack away on the likes of buttermilk fried chicken, mushroom arancini and Australia's signature seafood delicacy: Moreton Bay Bugs. Watch the coming and goings of the harbour as you wash your meal down with a glass of rosé or refreshing cider.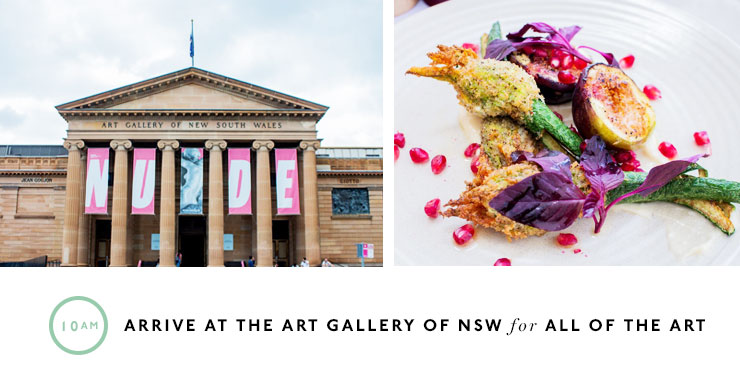 3pm
With a belly full of delicious eats and drinks, taxi back to Ovolo to freshen up. If time allows, have a cheeky game of pool in the hotel's lobby and raid the free-for-all candy buffet (!).
4.30pm
Swap those comfy shoes for heels and hail down a taxi—it's time to get fan-caaay at cocktail lounge Henry Deane. Set on the rooftop of Hotel Palisade, the lounge showcases 360-degree views of Sydney. Have your phone at the ready because you're going to want to gram your frozé with the iconic Harbour Bridge in the background. Work your way through the cocktail menu (the blended frosty fruity is particularly delightful) and make an afternoon of it.
6pm
All that eating is sure to make one hungry! Make a beeline for Spice Alley where you'll find hawker-style food stalls under glowing lantern ceilings. Asian cuisine is served in glorious fashion with everything from Singaporean laksa and Thai pad see ew to Japanese ramen and Cantonese dim sum.
We worked our way through Alex Lee Kitchen's roti that was served with curry dips and spicy sambal sauce before hitting up Hong Kong Diner. From here, we ordered their tender beef brisket noodles and our fave dish of the night—prawn and chive dumplings (can't go wrong with a classic, huh?). Never one to say no to dessert, I finished things off with a dessert roti filled with pandan and coconut—it was finger lickin' delicious!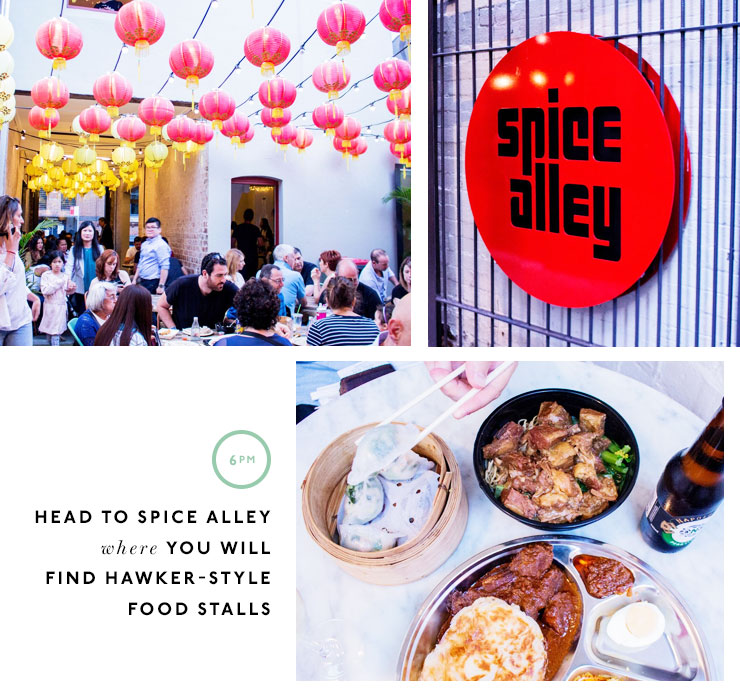 8pm
The night's not over yet! Stroll on down to Capitol Theatre where musicals, ballet and concerts take the stage in exceptional style.
We were treated to a vibrant, high-energy performance of the childhood classic, Aladdin. It's a big call but the musical was EVEN better than the film. Witnessing Aladdin and Princess Jasmine sing 'A Whole New World' while flying on their magic carpet was truly magical—and yes, the carpet DID fly.

8am
Ease into the day with breakfast in bed—go on, you deserve it—before heading to Circular Quay's ferry terminal. Jump on board a ferry and take a picturesque half-hour cruise to the northern beach-side suburb of Manly.
9.30am
Back on mainland, it's time to work those glutes and test your biking skills. Manly Bike Tour will hook you up with a pair of wheels to cruise around on. Take in views of the golden sand beach as your bike along the ocean promenade or go further afield and explore the Sydney Harbour National Park.
12pm
Having worked up an appetite, Papi Chulo is your lunchtime go-to. Sitting pretty on the Manly Wharf, the restaurant is known for mouth-watering smokehouse meats and fresh seafood—could you get a better combo?!
On our visit, we started with the yellowfin tuna poke salad, jumbo king prawns and a tropical taro salad with smoked kingfish—a personal fave. We then moved on to their signature burger starring a beef patty, crispy bacon and American-style cheese, which was served with the all-important side of gherkin.
As mentioned, there's always ALWAYS room for dessert and Papi Chulo delivered with a lychee granita served with taro ice cream and a peanut butter slice topped with banana mousse. As a peanut butter nutter, this dish was literally heaven on a plate—I haven't stopped thinking about it since!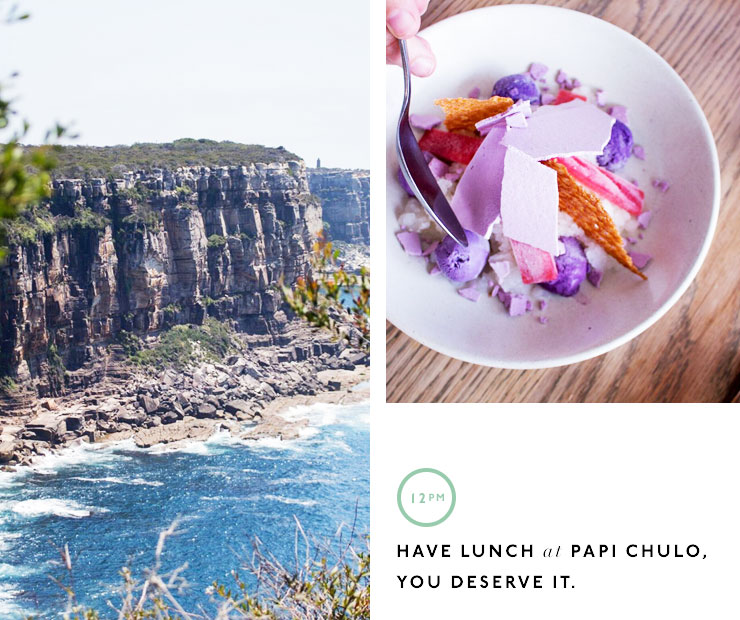 1.45pm
You have two options here: hit the beach or, do as we did, and cruise back to the city for a spot of shopping. No trip to Sydney is complete without the latter and there's an abundance of department stores and boutiques alike in this buzzing city. Hellooo new wardrobe.
5pm
Before you do too much damage to your credit card, head back to Circular Quay and take a water taxi to Fort Denison. Smack-bang in the middle of the harbour, the tiny island is a former military site with a small defensive fort and restaurant perched upon it. On Friday and Sunday nights during summer, Fort Denison hosts sunset sessions with live music and delish eats.
Here, I opted for an entrée of roasted pork belly with a main of barramundi (Aussie's equivalent of snapper). My partner went for the kingfish carpaccio followed by grilled duck breast. While the food was amazing (shout-out to the crispy, buttery skin on the fish), the real standout of the evening was the spectacular view of the harbour as the sun set over the city—looking good, Sydney!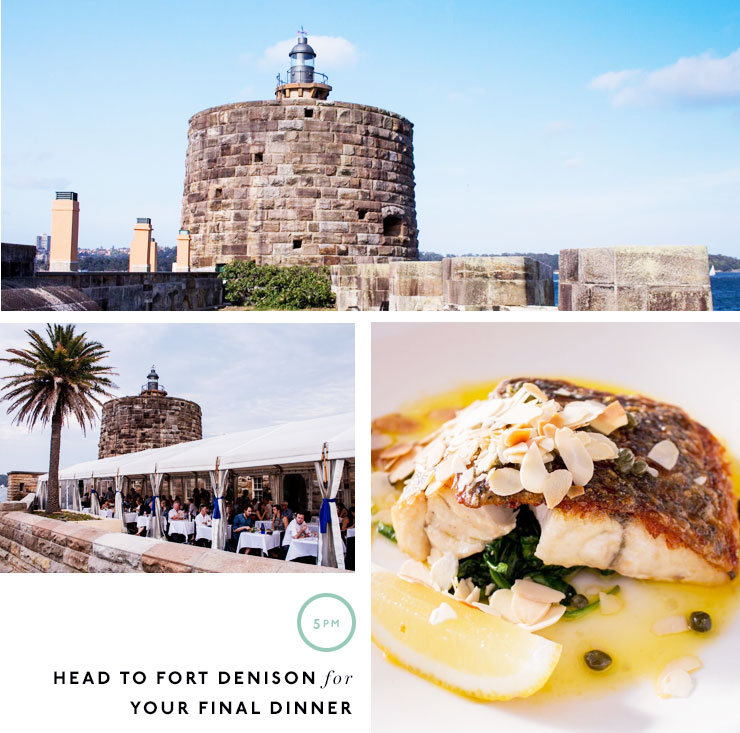 8pm
Return to the city and, if you're lucky, head back to the hotel for your final night's sleep. Otherwise, it's off to the airport for you—there's a plane calling your name!

If you're as spoilt as we were and have one last day on your side, make tracks for Coogee Beach and embark on the coastal walk to Bondi. The 6km clifftop walk features beaches, parks, bays and—of course—marvellous views. Have a swim along the way and refuel at Bondi's Speedo's Café on arrival.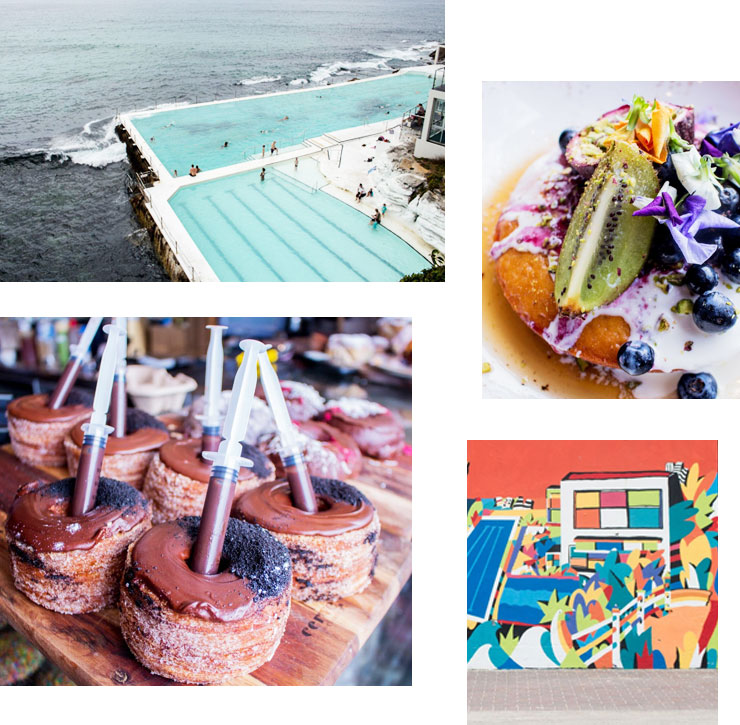 Image credit: Warren Nicholson and Natasha van der Laan