I have a bone to pick with the Reserve Bank, and it's about the fugly new $5 note we're all about to be subjected to in a couple of months time. Srsly tho guys, how many free design interns did you allocate to that one?
It's legit so bad, that I thought it was a prank. I had to ask several people around me if it was for real. I even went to the RBA website (for the first time ever blergh), just to confirm that you guys over the Reserve Bank weren't taking the piss. Which, tbh, would have been more Australian of you than slapping a few banksias that look like flu germs down the middle of the note.
Even the interwebz couldn't take you seriously. But on the upside, at least they gave you some much more design-savvy options. Take the 'Shane Warne sinking mad piss' fiver, for instance: truly timeless. Or the 'Tony Abbott in speed dealer sunnies' version—it even has an onion on it. Now that's an eye for design detail.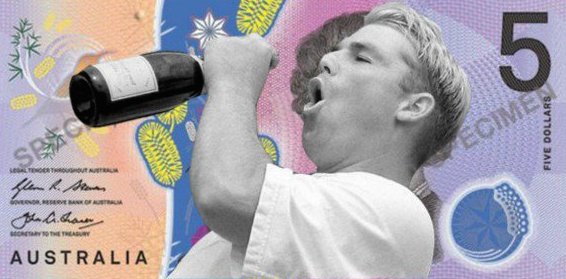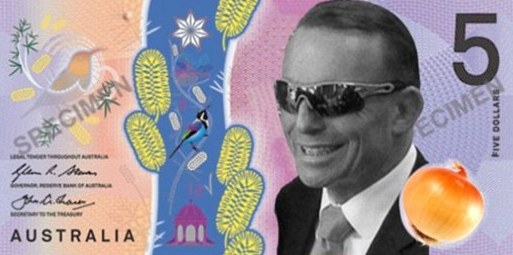 I'm sure all of us can agree, we'd probably rather either of these options than the first-year-design-student version you've put forth. I mean, even the Queen looks unhappy now. Probably because she's worried she's about to catch Zika from those sus looking "banksias".
The world laughs at our Monopoly money enough, guys—and now you go and do this. But, ok, fine, I'm on board you guys, #STRAYA. So here are a few suggestions for the upcoming (inevitable) other-denomination note redesigns.
$10 note: If Mary Gilmore were alive today, I have no doubt that her poetry would be unfairly pushed upon all her school friends and work colleagues via Facebook—plus, the note is the perfect colour for Facebook branding. We call this #synergy. So here's a version of Mark Zuckerberg being super chuffed he's on the $10 note with Mazza, holding a Facebook logo sign.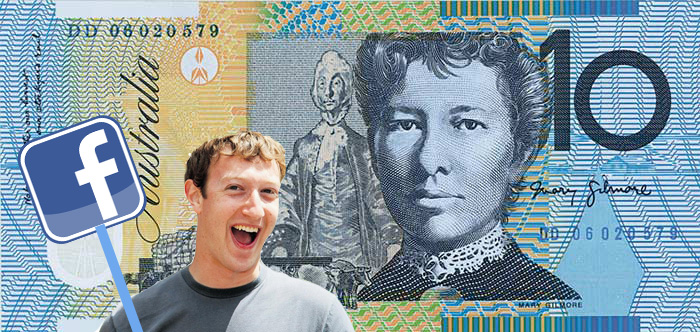 $20 note: 'Lobbys' are a delightful vomit colour, so why not celebrate our drinking culture by replacing one of the geeky looking white guys with a goon bag? It's the cornerstone of our vibrant cultural heritage.
$50 note: The ever-loved 'piney' is called thus due to its yellow pineapple colour. And let's be honest, the best 'big thing' we have is the Big Pineapple. Or the Big Banana. Why not slap both of them onto it? The banana would make for a great hat, as some pixelated, anonymous hands offer us a pineapple. Classic.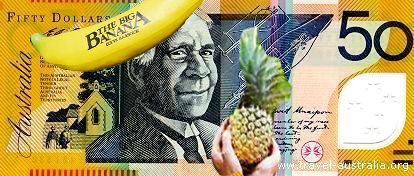 $100 note: Jk, who ever has a $100 note, LOL. I'm pretty sure they're an urban myth?
Boom. You can thank me later, RBA. Pls send my huge cheque c/o The Urban List.
Photo credit: RBA