We don't need to sell Bali as a holiday destination. The Indonesian island province has been a getaway favourite for many and for good reason too.
Bali boasts an ideal climate, rich culture, wonderful and hospitable locals, gorgeous beaches, and naturally picturesque lands. It also doesn't hurt that it's close and on the cheaper side of luxe holidaying.
If you're looking to book a relaxing stay, soak up some sun and recharge in Bali, you'll want the perfect accommodation. To help you, we've rounded up some of the best Airbnbs available to book, from ultra-luxurious villas and hidden eco huts to bamboo treehouses and affordable beachside gems.
For your full rundown on Bali reopening, head over here.
Read on for the best Airbnbs in Bali.
Hideout Beehive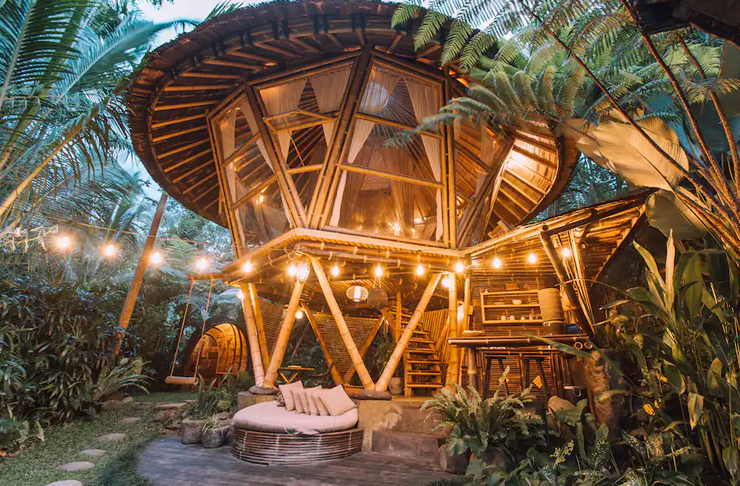 Bali is teaching us a thing or two about beautiful, creative, architecturally-designed bamboo eco-homes. Again, we're generally blown away by this Selat home–with its amazing structure, mood-setting outdoor pendant lighting, swing, indoor-outdoor kitchen and bathroom, outdoor spa, riverside location, and rainforest surroundings. Throw in some free brekkie, a fridge full of Bintang and access to a scooter–holiday stay well and truly sorted. Book your stay here.
Cliff Front Luxury Beach Villa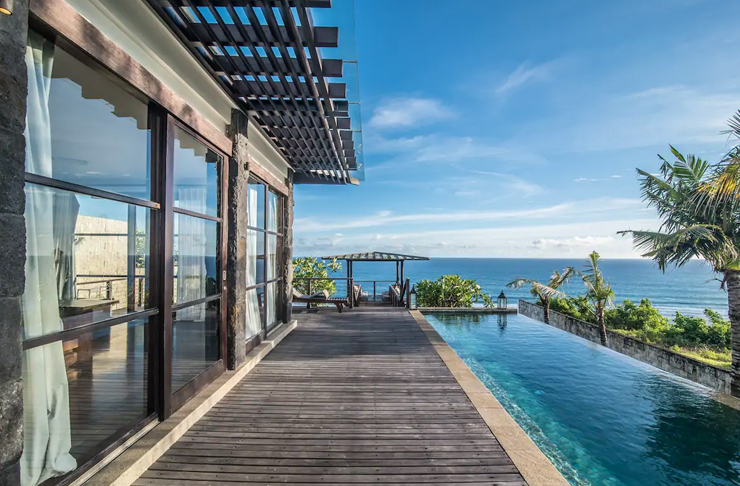 This luxury villa isn't messing around with big boujee ticks. Not only is it located on a cliff front overlooking the Indian Ocean in south Bali's Kuta, but it also boasts two private swimming pools if you feel like mixing up your swims. The three-bedroom villa offers a chef, butler and driver service, a huge deck and plenty of daybeds for laying around, ocean views from every angle and almost every room, and access to your own private beach. Book your stay here.
Hideout Eco Bamboo Home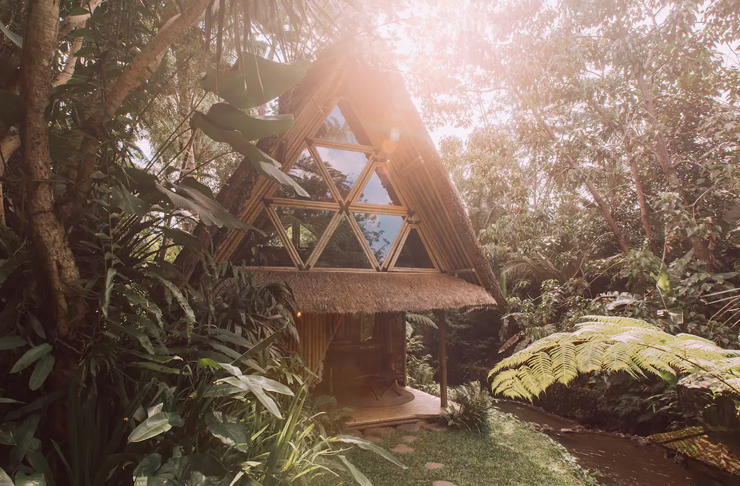 In Bali, it seems you can either enjoy magnificent waterfront views with sea breeze or hide in the depths of tropical rainforest in sustainably built eco huts. For the latter, consider this two-storey home in the mountains of the Gunung Agung volcano. The bamboo hideout sits on a river, completely in touch with nature. The main bedroom is a dream, with giant windows letting in the morning sun through the surrounding treescape. You can even book in packages for dinner, massages and an evening visit from the village shaman. Book your stay here.
Aura House Eco Bambo House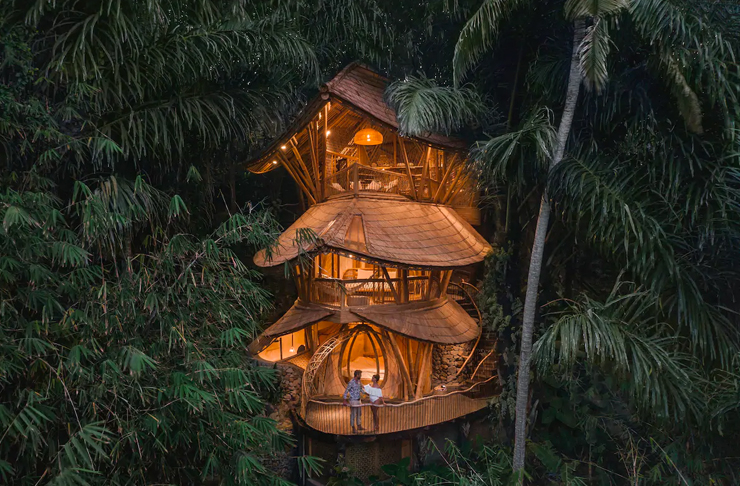 Some of these bamboo eco houses are just too pretty for words. If you're looking to get high up into the Bali forest, book this multi-levelled accommodation perched on the Ayung River in Abiansemal. The almost entirely bamboo built getaway offers the ideal inside-outside vibes to soak up the beautiful weather along with a private pool. Hop in the hammock and forget about your problems to the sounds of secluded nature. Book your stay here.
Villa Semarapura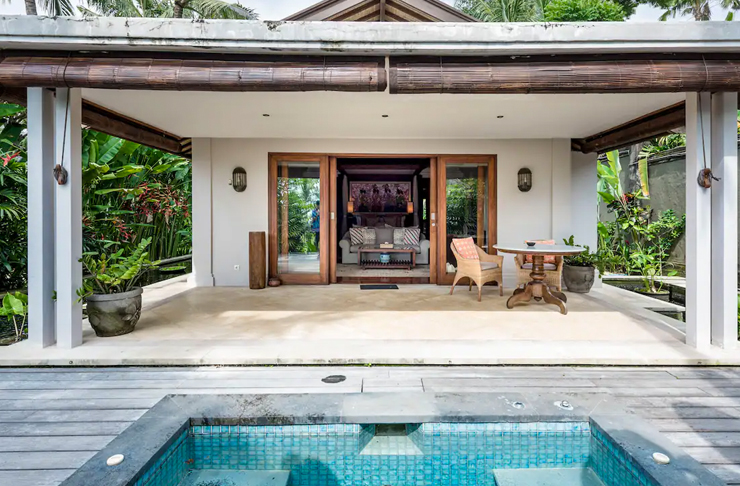 This is definitely one for the boujee-inclined folks and for those travelling as a group. Villa Semarapura is a five-bedroom (and five-and-a-half bathroom) home in Seseh-Tanah. Outside, you'll find the picturesque beachfront, a swimming pool, plenty of outdoor deck to laze and BBQ, an alfresco bar and a shared tennis court. Inside has legit mansion vibes, with traditional and modern furnishing, luxe bedrooms, a card table and a pool table. Not to mention that every single bedroom comes with an ensuite bathroom, its own bath and an alfresco shower. Book your stay here.
Camaya Bali Suboya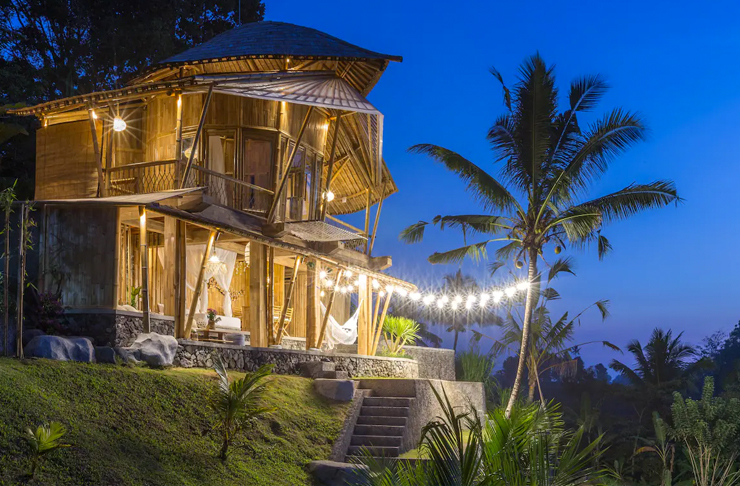 There's definitely something in the air in Selat, because this remote bamboo house is another must-look when considering your Bali accommodation. Rather than overlooking water, this home is privy to the vast and picturesque sights of rice terraces, with valleys and the peak of Mount Agung in the distance. Rest easy amongst local farms, with an outdoor hammock and a second level hanging net perfect for taking in the surrounding serenity. Enquire about local activities like rice terrace hiking, white water rafting, massage, yoga and palace visits. Book your stay here.
Megananda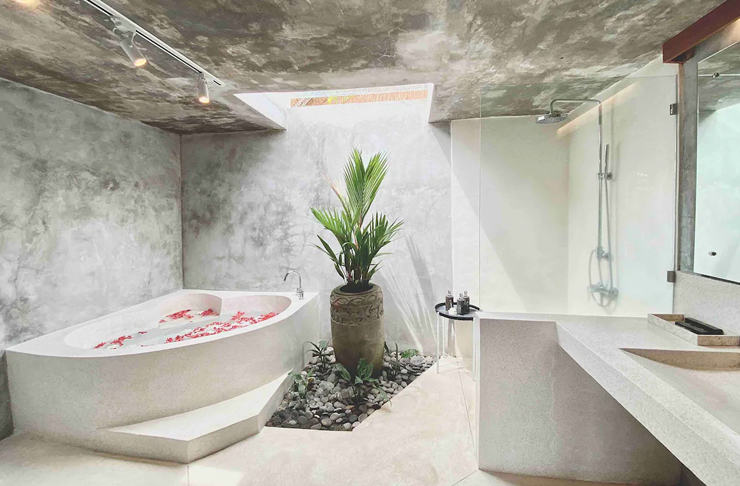 Let's be clear, not every Bali accommodation needs to be overwhelmingly grand, hidden deep within the mountains or require a big group to affordably split the cost. If you're looking for something simpler yet still beautiful and romantic for your couple's getaway–this little villa in Ubud might be ideal. Don't get us wrong, this one-bed is still bloody nice, with a private pool balcony overlooking the surrounding green rice fields. You're also nice and close to plenty of key holiday itinerary check-offs in Ubud. Book your stay here.
Volcano View Villa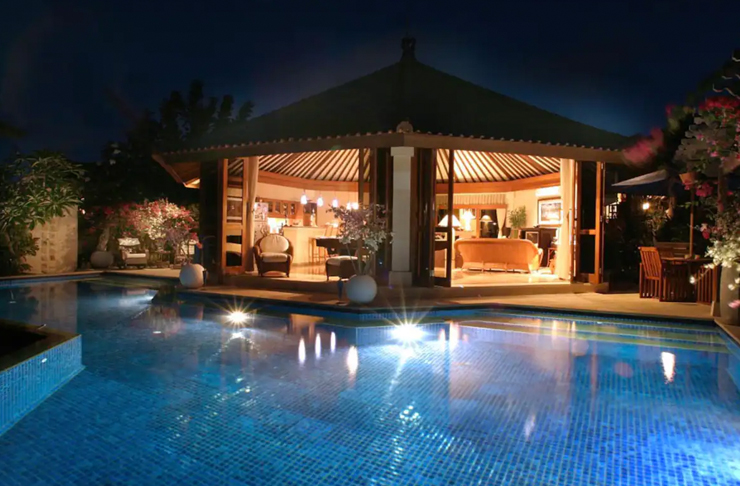 Couples retreat is definitely on with this magnificent two-bedroom villa in South Kuta. Anytime we think Bali is done delivering out of this world views and natural wonders, an Airbnb overlooking the ocean and some volcanoes comes across our radar. Not to mention you can enjoy that view from the wrap-around infinity pool, the cliff edge dining gazebo or while playing a game of pool. You'll enjoy privacy and seclusion, but still be within easy distance of shops and nearby restaurants. Book your stay here.
Soori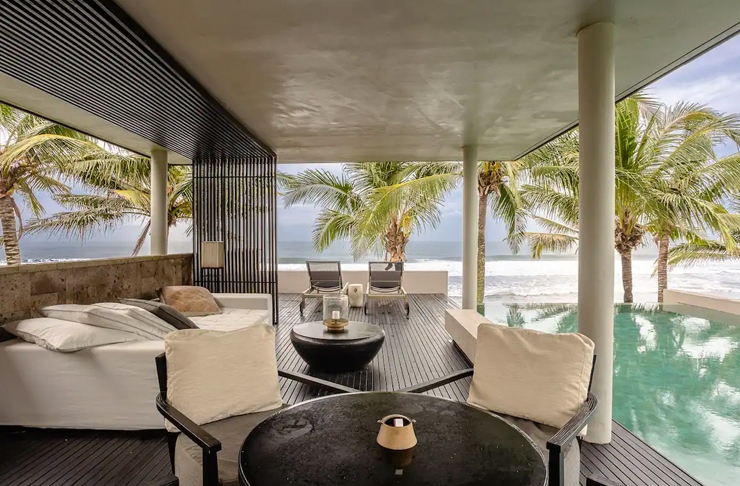 We couldn't help ourselves; we just had to throw in one last ridiculously luxe villa for good measure. This beachside six-bedder is located in Kerambitan in Bali's southwest. Of course, despite being a couple of metres from the ocean, it's rocking a gigantic infinity pool amongst tropical green gardens. Enjoy the modern interior or grab some outdoor deck space in view of Mount Batukaru. The master bedroom is also fitted with an ensuite terrazzo tub, so immediately shotgun that one. There are nearby tennis and golf courses if you can ever get up from your day bed and cocktail station. Book your stay here.
Villa Mimpi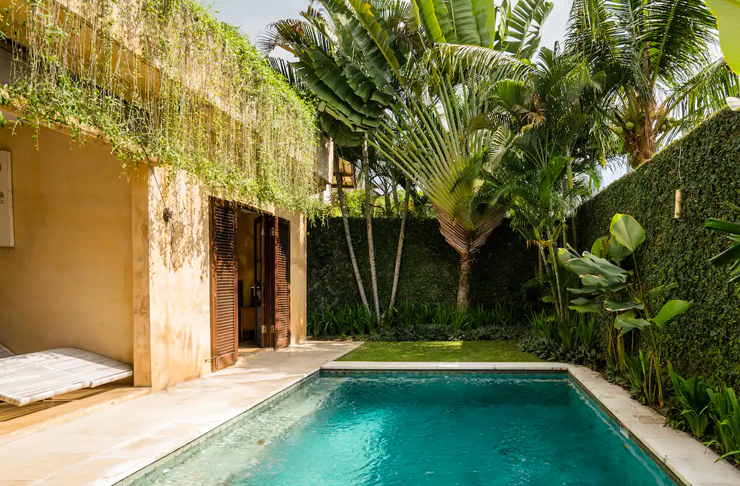 You're not imagining it, Villa Mimpi is a very real place you can stay in. You enter through green hand-carved (let that sink in for a hot second) into a private oasis centred on one of the most beautiful pools you'll probably ever be privy to. Everything about this stay just makes sense, including its affordable price. Book your stay here.
Just want to explore Australia? Check out the best Airbnbs in Australia instead.
Image credit: Airbnb
Editor's note: Urban List editors independently select and write about stuff we love and think you'll like too. Urban List has affiliate partnerships, so we get revenue from your purchases.