It's not all that often you come across a business willing to sacrifice their own interests in order to help others, but that's exactly what the owners of Gather Northbridge, formerly Little Bird, have done.
Back in December 2018 they made the decision to rebrand Little Bird; pivoting to a not-for-profit model and forming partnerships with the Ester Foundation and Bridge House under their new name. These causes do good things like help with drug and alcohol rehabilitation, offer support during times of crisis and education to help people in need get ahead (among other things). The generous team at Gather are now working alongside them both to provide funding via profits from the cafe, and also opportunities for hospitality training with their team. So yep, they're a nice bunch.
But these aren't the only changes you'll notice.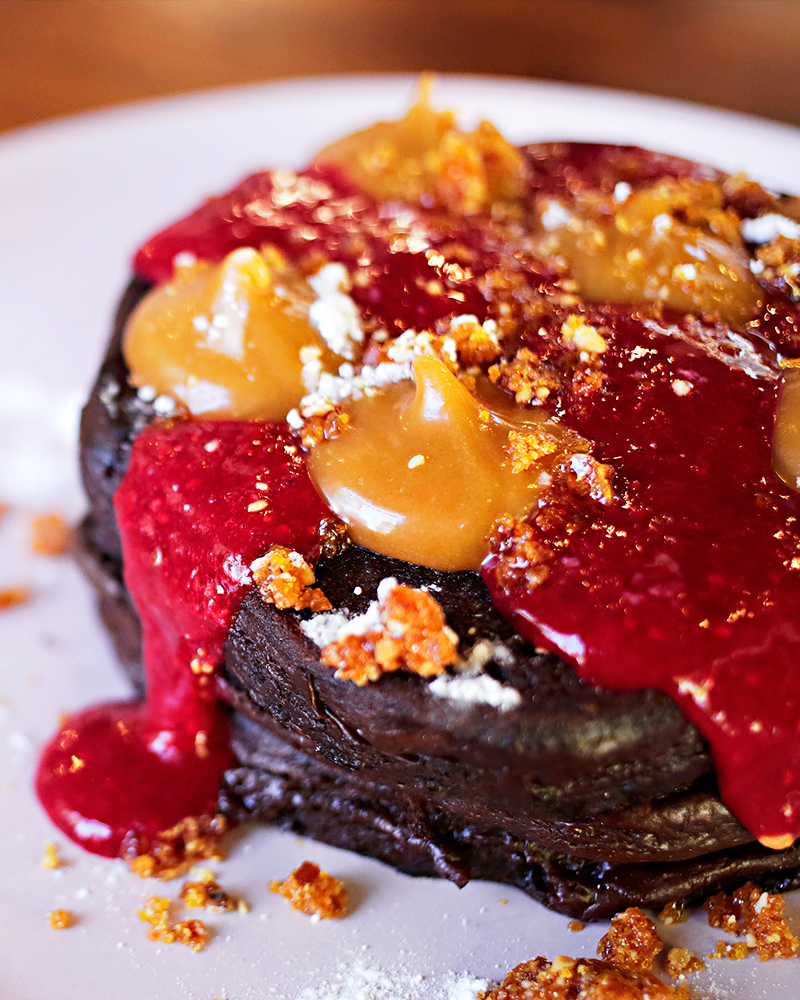 The interior has been opened up and given a complete refresh, and the finished result is light, airy and inviting. There's loads of seating available, so the choice is yours: grab a spot at one of the long communal tables, cosy up on the couch, or enjoy a bit of people-watching through the bi-fold windows.
The new menu is decidedly different, featuring a whole lot of vegan and vegetarian-friendly dishes you're unlikely to come across anywhere else. I couldn't resist the smoked tomato on sourdough, featuring homemade vegan 'mozzarella', dehydrated black olives, fresh basil, and the kicker ingredient: strawberries. I also added avocado, because avocado is the best. To be honest, I surprised myself by ordering this as I'm not normally someone who does sweet with savoury, but this dish might have just converted me. In fact, I think it would have felt like something was missing without a thoughtful touch of sweetness.
I was also lucky enough to have the lovely manager Danielle sit with me while I enjoyed my brekky, and she let me in on a few other crowd favourites, which so far include the chicken kimchi with scrambled eggs, fluffy chocolate pancakes, and a very decadent-looking cheeseburger with sweet potato fries.
If you're after takeaway there's plenty of fresh salads and ridiculously good sweet treats by The Vegan Baker available daily. Of course I had to try the peanut butter and brownie layer cake (and a sneaky salted choc chip cookie, no judgement please), and wow, they did not disappoint. Naturally I washed everything down with a coffee, and let me tell you, any barista who can make a double-shot soy flat white without the milk splitting gets an A+ from me. It was seriously good. I was on a roll by this point and figured I should also enjoy a fresh juice; opting for the Orange Time with orange, carrot and turmeric. Another big tick.
As you may have guessed by this point, I found it all too easy to fall in love with this cafe. The team are genuinely friendly and welcoming, the food is creative and absolutely delicious, and the overall vibe is super relaxed. Personally, I can't wait to go back, and highly recommend paying them a visit next time you're in Northbridge, or even if you're not.
Looking for more new openings in Perth? Check out Mel & Co Garden in Nedlands.
Image credit: Elle Borgward