After one visit to La Vida Urbana in Leederville, this Mexican joint flew right into my fave restaurants in Perth list. That doesn't happen very often, so when it does I get pretty excited.
The space is downright gorgeous—it's in the spot that used to be the Cinnamon Club on Carr Street, so it's huge, but that's where the similarities end. They've opened the front right up so sunlight floods in and brightens up the polished concrete floors, the bar takes centre stage in the middle of the venue—right where it deserves to be—and the mix of booths, high tables and bar stools means it's perfect for every occasion.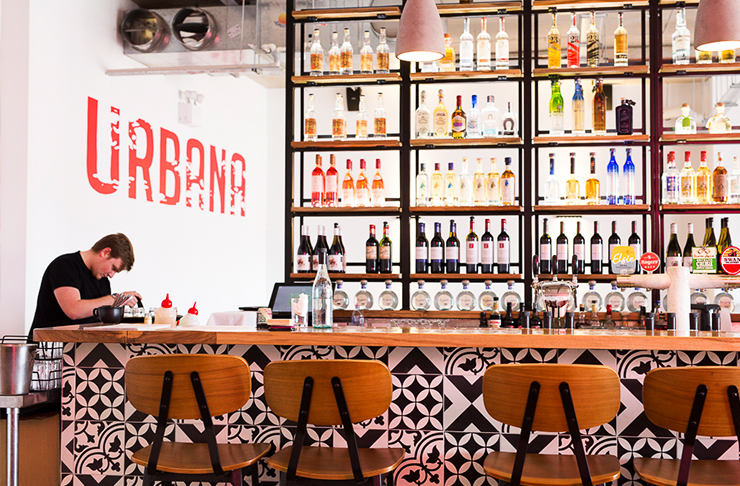 Little sister to el Publico, you'll see a lot of similarities on the menus—yep, you can get your good ol' Tommys Margarita or your cloudy apple juice with tequila, but if you're into Negronis, try theirs. It's super smoky, nice and strong, and 100% delicious.
Go ahead and peruse the food menu—there's plenty that will tickle your fancy—but no matter what happens, you need to order the nachos. The corn chips are huge and tastier than any corn chips I've ever tried, and they are covered with truckloads of cheese, drool-worthy beans and a very generous dose of guacamole, salsa and crema. The serving is huge, but even after everything else we ate, our group of three still managed to finish every last bite (and then proceeded to complain about how full we were for the rest of the afternoon, we're fun like that).
So, what else to try apart from the nachos? The kingfish aguachile comes with honeydew melon and mescal and is just as delicious as it sounds, while the Brussel sprouts are covered in cheese, so they're obviously a must try.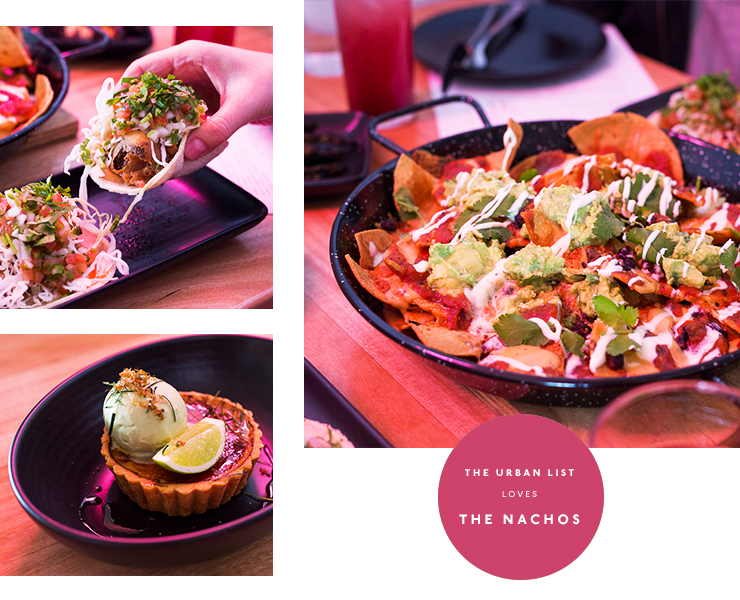 The tacos are all good, but the cauliflower taco is exceptional. The cauliflower is deep fried to crunchy perfection and served with cabbage chipotle mayo and pico de gallo.
The skirt steak is also very impressive. Cooked just the way it should be and served with not one but two delicious sauces, and if you want some greens to balance things out, the asparagus is next level thanks to the chipotle hollandaise.
After all that, we were convinced that we couldn't possibly fit in dessert, but alas, a citrus tart and the hibiscus meringue appeared (how'd that happen?!) and we managed to polish those off too. The citrus tart was the highlight for me—served with avocado sorbet, it was devilishly moreish—but my partner in crime is still raving about the meringue with vanilla cheesecake, so I guess you'll have to order both too and decide for yourself.

If you happen to be looking for a breakfast with a twist, you'll be pleased to hear that La Vida Urbana is also dishing up a mean breakfast. Less than a week after having lunch there, I cooked up an excuse for another visit to try a few out. The avo on toast with charred corn is exceptional and the big breakfast comes with eggs, chorizo, bacon, fried potatoes, mushies, beans and a neat little stack of tortillas. The chilaquiles—fried tortillas for those of you playing at home—are excellent and if you don't know what to get, just get eggs on toast and go to town on all of the sides. They also do some very refreshing juices and the coffee is spot on!

Image credit: Louise Coghill