Over the past few years, Perth's health and wellness scene has taken off and we are loving it! From the juice cleanse companies to the healthy cafes, from the wellness warriors to the hip yoga studios sprouting up all over town, Perth has got it going on.
To celebrate all of Perth's health magic, we've created a cool little health and wellness series which will allow you to gain insight into the lives of some of Perth's healthiest cool cats. They'll share their tips and tricks and a whole lot of inspiration to help you live the healthiest life ever. Yesss!
This week, we met with Lauren Howe, the brains behind The Little Wellness Co., a super cool lifestyle coaching business in Perth. Lauren is all about balance and is not afraid to let her hair down with a glass of wine every now and then. We took ten with Lauren to talk about her business, her top health tips and where she likes to go for that glass of wine.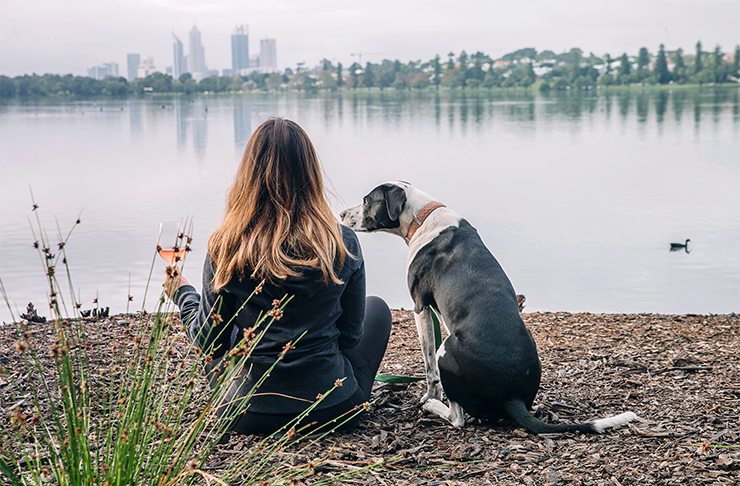 HEY LAUREN, TELL US A BIT ABOUT YOURSELF!
I am a total Perthian, born and raised by the coast. I have always enjoyed an active lifestyle but really started my wellness journey after experiencing infertility and being diagnosed with an auto-immune disease in my mid 20s. This was definitely a wake-up call for me and I soon realised that there was more to being 'healthy' than going to the gym a few days a week. I was completely neglecting my emotional and spiritual well-being, not to mention my nutritional health by living a life full of stress, negativity and a bit too much sugar!
Thankfully, with a thirst for knowledge and desire to make positive changes, I now live a much healthier and balanced life. While having children may not be a part of my future, I am so appreciative for the awakening and personal growth this journey has had, and continues to have, on me.
WHAT SPURRED YOU ON TO START YOUR BUSINESS?
Through my own experience I gained perspective into how hard making lifestyle changes can be, but also how enriching life is when you overcome challenges and begin to live a more conscious life that is deeply connected with your values. This spurred me on to undertake studies in wellness, after which I decided to take the plunge and create The Little Wellness Co. as a way to inspire other busy professionals to connect with what lies within and unlock their full potential to achieve a higher state of well-being. The key for me, is encouraging people to still enjoy the little pleasures in life as part of the whole wellness journey—because, let's be honest, life would be pretty ordinary without them!
HAVE YOU ALWAYS BEEN FIT AND HEALTHY?
In a physical sense, yes. I have always been very active and love setting myself goals and challenging myself physically. But I have not always looked after my emotional or nutritional health. After experiencing infertility and the effects of an autoimmune disease I have become much more proactive in maintaining a wholesome diet and regularly taking time to practice self-care.
WHAT'S A REGULAR DAY LOOK LIKE?
At the moment I balance two jobs. I have a full-time corporate job in the city and I also run The Little Wellness Co. in the evening and on weekends. However, I start most mornings walking the dogs down at City Beach, followed by my non-negotiable glass of apple cider vinegar and warm water and a home made green smoothie. If it is a day that I am lucky enough to solely focus on The Little Wellness Co., I will usually spend the day holding wellness life-styling sessions with clients, blog writing or catching up with my vino expert as we develop exciting content for my next Wellness and Wine evening. In the evenings, if I am not hosting a Wellness and Wine class, I usually head to hot yoga, cook a healthy dinner with my husband before watching the newest TV series we have become addicted to and hitting bed around 9:30pm.
BEST PART OF YOUR JOB?
It would have to be connecting with people and empowering them to discover and connect deeper with what lies within, supporting them to redesign their wellness to unlock their full potential and start living a healthier and more meaningful life. I also love hosting the Wellness and Wine nights! It is great to take people on a journey of self discovery in an uplifting and fun environment.
IF YOU WEREN'T DOING THIS, WHAT WOULD YOU BE DOING?
I am an avid traveler and a bit of an adventure seeker. After falling in love with the South Island in New Zealand a few years ago, I would love to eventually live there and run a wellness retreat that combined my passion for wellness, hiking and adventure.
FAVOURITE FORM OF EXERCISE?
I love getting outdoors and hiking. Not only do you get the benefits of exercising, but being out in nature has so many other health benefits such as increasing happiness levels, improving mental health and boosting your energy levels.
YOUR TOP HEALTH TIP?
You are the expert in knowing what you need to do to improve or maintain your health. Only you know your own personal circumstances and have the power within you to create the change you desire. By increasing your self-awareness and practicing mindfulness you will be better at identifying what your body and mind needs to flourish.
BEST PLACE TO GET A HEALTHY TREAT IN PERTH?
The Market Juicery in Leederville or Nature's Harvest in Cottesloe.
WHAT'S NEXT ON THE HORIZON FOR YOU?
I am looking forward to growing The Little Wellness Co. by hosting further Wellness and Wine evenings, running wellness life-styling consultations and supporting more corporate organisations in enhancing employee well-being both inside and outside the workplace.
In August I will be heading on a new adventure to hike the John Muir Trail which is a 340km wilderness trek through the Sierra Nevada mountain range in California. On my return I look forward to offering wellness hiking and wilderness therapies through The Little Wellness Co.

FAVE LOCAL PERTH SPOTS…
For a drink
For breakfast
For a coffee
For dinner
For shopping
Getting lost in Ottoman Empire and Lauder and Howard Antiques.
Want to know the best places to get healthy in Perth? Search Health in The Directory!
Image credit: Nancy Hanna
Want more of the best of Perth?
Sign up below to have the best delivered to your inbox each Thursday