Ron Swanson and any meat lover worth their weight in meat knows that the best way to serve meat is with a side of more meat.
So, like a pack of hungry hyenas, we've hunted down Perth's best charcuterie platters for your carnivorous pleasure.
Get ready for a meat injection to the soul… Here's where to find the best charcuterie boards in Perth.
Spritz Spizzicheria
Mount Hawthorn
Possibly the godfather of all the charcuterie platters in Perth, head to Mount Hawthorn Italian joint Spritz to kiss the ring of this almighty meat platter. They even throw a few olives in for good measure.
Must Wine Bar
Mount Lawley
Still one of the best charcuterie boards to be found in P-town, French style terrines are the name of the game at Must Wine Bar. Served with cornichons, crisp bread, honey nuts and fresh baguette.
Bivouac
Northbridge
Expect an ever-changing selection of meat served up with house-made pickles and toasted Turkish bread. The charcuterie at Bivouac is everything a good 'chuterie should be.
Shadow Wine Bar
Northbridge
Hidden in the depths of Shadow Wine Bar is a meat lovers paradise—a salumi and conserva plate so delicious that it leaves no doubt that the chef loves you. Hard. Choose your own selection or leave the decision to the experts.
Strange Company
Fremantle
Like a magical ride through all your favourite eatin' animals, the charcuterie selection at Freo favourite Strange Company ticks all boxes. And I do love me a charcuterie that's served with all of the pickle, condiment and carby options. Yessirr, I sure do.
The Cabin Small Bar
Mount Hawthorn
A rainbow-coloured smorgasbord of house-made pickles, mustard, mayo and house cured meats is served up on a platter for the lucky diners at Mount Hawthorn hangout The Cabin. Alas, bread is sold separately.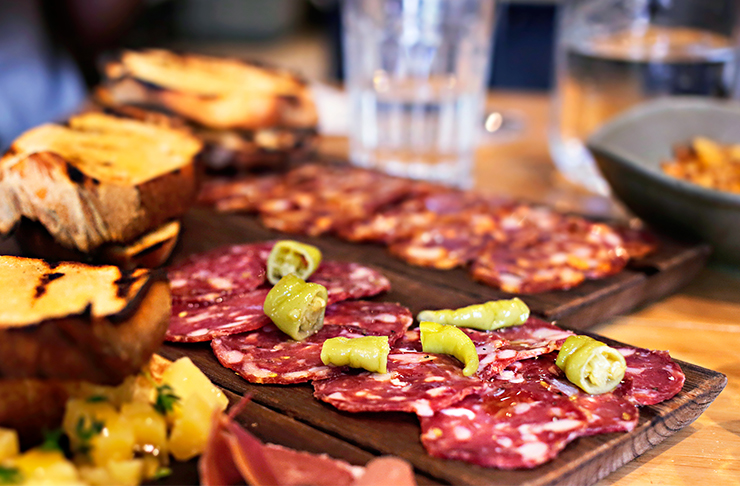 Budburst
Mount Hawthorn
Smoked pork hock with herb mayonnaise, chicken liver parfait with fruit chutney, duck, pancetta and pistachio terrine with cornichons, brioche and crisp bread—yes, yes, yes! Have a satisfying meat-gasm (eww) at Budburst.
Andaluz
Perth
The chef's selection charcuterie board at Andaluz doesn't mess around. Meat treats include Jamón Ibérico de Cebo, Morcon Ahumado Picante, Jamon Serrano, Chorizo de Pamplona and Morcon Ahumado Picante (did you get all of that?). All served with a generous helping of grilled bread and other meat-friendly accoutrements.
Young George
Fremantle
There's no better reason to own a house than to create house-made charcuterie. Head to Young George to sample theirs, a selection of duck prosciutto, parma ham, venison pastrami, nduja (spreadable spicy salami), coppacola, beef bresola and mutton cacciatori or zalzette air dried sausages.
Dominion League
Northbridge
Create your own meat board of wonderment down in the refined basement of Dominion League. Choose two to five (five, obviously) meats from a selection of lomo, serrano ham, fuet anis salchi bosque, capocollo and sopressa.
Lalla Rookh
Northbridge
Small or large, Lalla Rookh has a meat package to suit you (*girlish giggles*). Grab a large or small house selection of cured meats, cheese, olives, pickles and grissini.
Pappagallo
Leederville
There is no more meaningful an experience than sharing a hefty meat board with someone you love. Take your good-time guy or gal to the popular Pappagallo in Leederville for the Tagliere Tradizionale for two—with Italian meats, imported cheeses and homemade marinated vegetables.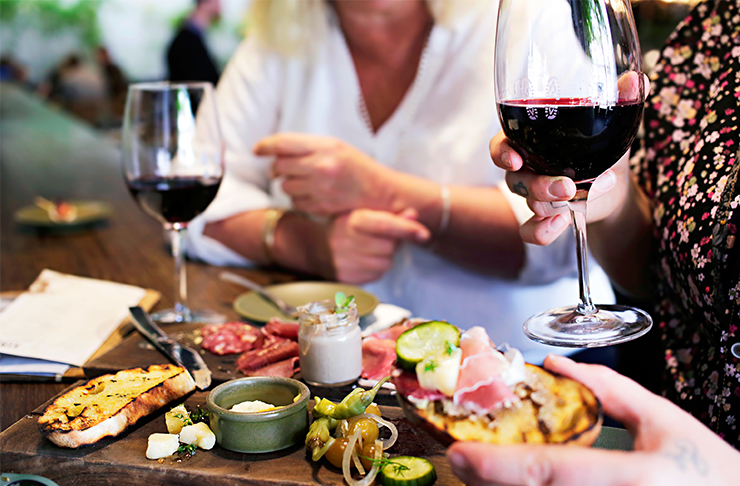 The Flour Factory
Perth
Celebrate Salami Saturday (#salamisaturday) at The Flour Factory with a G&T and a chef's selection of charcuterie—an impressive lineup of delicious local and imported meat with sourdough.
Five Bar
Mount Lawley
Five Bar's charcuterie board delivers duck liver parfait, pork chorizo terrine, serrano ham and duck rillettes with pickles and fresh bread straight to your sticky fingers.
The Standard
Northbridge
Though the crazy cats at The Standard have shaken up the charcuterie world with their seafood charcuterie (woah, whaaaat??) their standard charcuterie board is anything but—loaded up with jamon serrano, wagyu bresaola, butifarra blanca sausage, spiced chorizo, house made chutney, pickles and sourdough. And all for $29 dollarydoos!
Petition Kitchen And Petition Wine Bar & Merchant
Perth CBD
Enjoy a life-changing selection of charcuterie (and a pretty fine selection of wine to boot!) in the swanky surrounds of the state buildings—at Petition Kitchen and Petition Wine Bar & Merchant. Served with pickles, mustard and croute.
The Partisan
East Perth
Do you even Larder Board? Enjoy some delicious meat candy on the East Perth Waterfront at The Partisan—with rabbit and rosemary terrine, chorizo, prosciutto, marinated olives, fetta, lentils, ciabatta and croutons. Of course, there are plenty of other carnivorous options on their charcuterie menu.
If you love cheese as much as you love your meat, then check out Perth's best cheese boards here.
Strange Company | Image credit: Elle Borgward