A stroll down Albany Highway in Victoria Park is like going into IKEA—it is dangerous but oh so good. Bursting with delish eats from all over the globe, bars, boutiques and fitness finds to help you keep on top of all of that food—it's no secret that this 'burb is absolutely vibing.
Here's our pick of everything you should be eating, drinking, buying and doing in Victoria Park.

Antz In Ya Pantz
There is a reason Antz In Ya Pantz has locals lining up for their coffee like their life depended on it. Apart from their addictive coffee, the bagels are fresh and delicious AF. Get around the rosemary bagel with sundried tomato spread, you won't regret it.
Harvest Espresso
Harvest Espresso is home to some of Vic Park's finest coffee and is undoubtedly one of the best breakfasts in Perth—it's no wonder there are queues out the door every day. Walking in you'll be greeted with a warm smile and the scent of fresh coffee (AKA happiness). Their menu is seasonal and always amazing, so we recommend checking it out on the regs!
Hey Griller
Flaming steaks, char-grilled meats and epic desserts are just a few of the incredible eats you'll find at Asian fusion restaurant Hey Griller in Victoria Park. Sitting pretty on Albany Highway, Hey Griller blends traditional Asian flavours with modern Australian food in unexpected ways. Divided into entrees, salads, skewers and grilled sections, the menu is full of things you'll want to try, so go with a bunch of friends and share the lot!
Himalayan Nepalese Restaurant
Himalayan Nepalese Restaurant is one of those gems that you need to be told about, otherwise you'd probably drive straight past it. Luckily, we're more than happy to spread the word! The momos are an absolute must—choose from chicken, lamb or veg, they're all as good as each other—but there won't be much on the menu that you won't want to indulge in!
Kuza Urban Japanese Food
Kuza has nailed the twists and turns of Japanese fusion with their mouth watering eats! The wonderful staff will walk you through the menu if you're not really sure what's going on, but the dishes you just HAVE to try are the karaage chicken, assorted sashimi and eggplant misoyaki. You're welcome.
Neho Asian Tapas
Arriving at Neho Asian Tapas is as delightful as the neon lights and hilarious signs that do-but-don't make sense. Boasting a pretty impressive Asian fusion menu, it's hard to go here without wanting to order everything. The tea smoked duck, rendang short ribs and Hatyai fried chicken is a winning combo if you really need to narrow things down!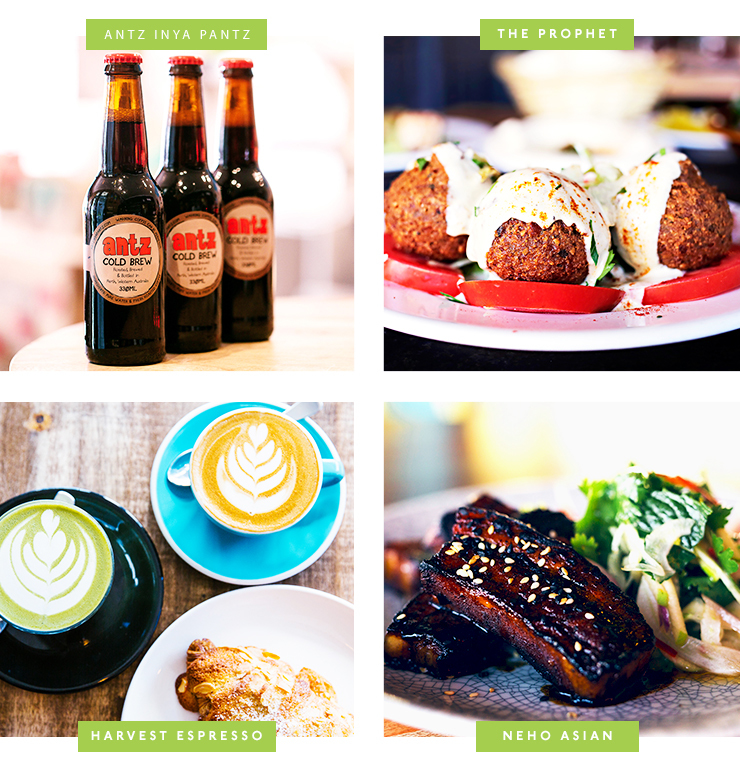 Red Basil
Arguably one of the best Thai restaurants in Perth, Red Basil is sitting pretty on bustling Albany Highway. The smell of fragrant Thai aromas will fill your nostrils and get those bellies rumbling. There are only a few tables and they will most likely be taken if you don't get there early. Unfortunately they don't do bookings so you'll either have to try your luck by walking in or just get takeaway—which is still just as good. Their chilli and basil pork belly is ridiculously mouth watering.
The Imp
Located in the heart of Vic Park, this beloved cafe is a fave amongst locals and has Perthies passing through for their caffeine fix. You can sit inside, outside or by the window—so it's absolutely perfect for people watching if you're into that kind of thing. The Imp's delightful breakfast menu will have you umming and ahhing about what to order, but everything's good so you really can't go wrong.
The Prophet Lebanese Cafe
If you're feeling slightly adventurous and wanting to try something different, The Prophet Lebanese Cafe will not disappoint. Small and cosy with a homely feel and a remarkable menu to match, there won't be much that you won't want to try. Give the falafel, ladies fingers, omelette, eggplant, hot fish and the cauliflower a try.
RoyAl's Burgers
Feeling like a fat feast? RoyAl's Chicken & Burgers is dishing up some dang fine American-style eats. This hot spot in Vic Park is dishing out the best burgers and wings for miles, not to mention some epic desserts! This gem is small and the lines can get a bit hectic so be prepared for the wait!

Dutch Trading Co
If craft beer is your thang, then this Vic Park bar will be right up your alley! Offering a wide selection of beers and decent feeds to line those tums, it's no wonder Dutch Trading Co has taken off. Providing great vibes, this place is ideal for small and big groups!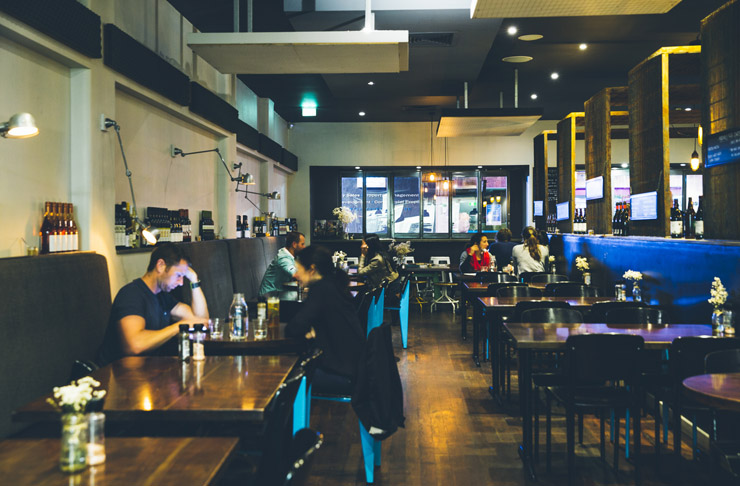 The Precinct
If you're looking for a date spot in Vic Park, The Precinct would probably be your best bet! The atmosphere is good, the staff are friendly, the food selection is great and the drinks list is impressive!

Crows Book Shop
One of our all time fave book stores, you could get lost in Crows Book Shop. Stacked with contemporary and alternative fiction and non-fiction, plus cute gift ideas—you'll be able to browse for hours!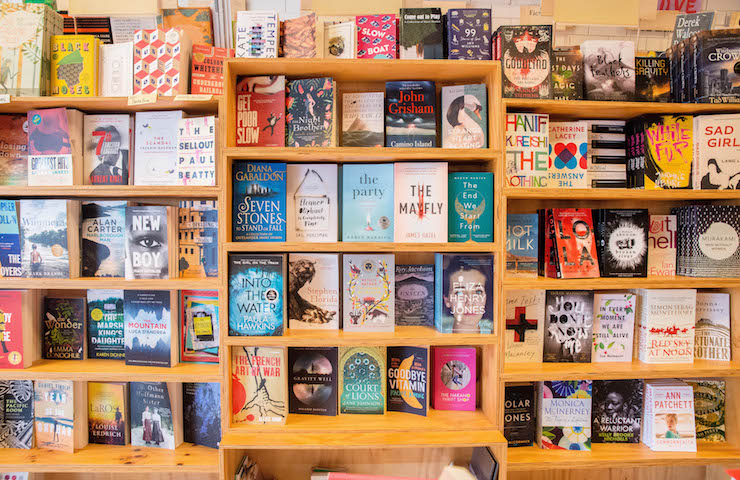 Miss Demeanour Boutique
This gorgeous little boutique is filled with plenty of pieces to add to your wardrobe ladies! Miss Demeanour Boutique also offers some seriously cute homeware items if you're wanting to add a bit of oomph into your abode!
The Goods Store
Filled with an awesome range of quirky goods, The Goods Store has you covered for all those nick nacks you'd just never think of (but absolutely need)! The super friendly staff here are more than happy to help you locate anything you're after.
Woven And Willow
Tucked away in a small corner, this cute little boutique stocks some seriously beautiful items. From everyday wear to evening wear, it'll be hard to walk out without purchasing something. Woven and Willow has got you sorted with delicious smelling candles and accessories to match!

Boxing For Fitness
Robbie and his amazing team will whip you into line if you're looking to kick-start that summer bod! There are HEAPS of benefits to boxing for fitness such as enhanced cardio health, improved total-body strength, better hand-eye coordination, decreased stress, improved body composition and it's just a fun way to work out! A little warning when it comes to Boxing For Fitness—swear or have your hands on your hips during the session and you can expect 10 push ups! There's no messing around here!
F45
If you haven't heard of the fitness phenomenon that is F45, we'll assume you've been living under a rock. F45 has studios popping up in almost every 'burb of WA and there's a dang good reason for it! With 27 different workout currently available and the chance to burn up to 1000 calories in just 45 minutes, you'll be addicted in no time. Pro tip: it's a high five at the end, not a hand shake!
Pilates Fitness Institute
The wonderful team at PFI are here to help Perthies with improved flexibility, increased muscle strength and tone! So if you like the idea of exercise that doesn't involve running or any heavy lifting, pop down and say hi to the team here.
Yoga Tree
If you're a busy bee and struggle to find a bit of me time, book yourself in for a yoga session with the beautiful team at Yoga Tree. Yoga develops strength, flexibility and balance, but it is also amazing for your mind and the team at Yoga Tree will have you feeling zen in no time.
Want more? Search Victoria Park in the directory.
RoyAl's | Image credit: Nancy Hanna, Louise Coghill