Martina Ivey was the brow queen of the South West for years before she started making waves in the city from her West Perth salon back in 2018, but it turns out she is also one of the very best when it comes to keeping your skin firm, fresh and glowing.
Offering everything from dermaplaning and peels to enzyme therapy and skin needling, I told Martina I wanted results and she told me to go straight for the skin needling using the MDerma™ Fractional Dermal Needling System.
If you haven't heard of skin needling, don't worry, it sounds much scarier than it is.
What Is Skin Needling?
Also known as electric collagen induction therapy, skin needling works by rolling fine needles over the skin to create micro-injuries to the dermis and epidermis of your skin. These injuries stimulate your body to create new collagen, and we all know collagen equals firm, youthful skin.
The needles are so fine that the epidermis heals almost instantly so there's no sign of damage to the skin from the outside, but the dermis will be hard at work 'repairing' your skin.
What Does Skin Needling Treat?
Skin needling is used to treat everything from skin elasticity, wrinkles and pigmentation to scarring, under-eye circles and sun damage. It's your one-stop shop to getting the skin of a 12-year-old.
It is only mildly uncomfortable and there's very little downtime. Martina recommends staying in the night after your treatment as you might be a bit red and you shouldn't wear makeup for 24 hours after your treatment. The feeling and look immediately after is a bit like sunburn and while everyone is different, that should have well and truly subsided within 24-48 hours.
What You Need To Know About Skin Needling
First things first, skin needling is far less painful than you might have imagined thanks to the numbing cream applied to your face beforehand. You need to purchase the numbing cream yourself, but the team at Martina Ivey will give you all the details when you book your initial appointment, and then they'll apply it for you when you get there.
You also need to know that while the results are nothing short of incredible, they aren't immediate and you'll get the best outcome if you do at least three sessions. So if you're hoping to get your skin into shape for a big event, you'll want to get a wriggle on.
As already mentioned, you might be a bit red for a day or two after your treatment and your skin might feel a little rough for a few days after (though it will look fine). It's not until about six or seven days after that you'll really notice you're glowing.
You might also get some small pimples or flaking depending on the condition of your skin beforehand. If you do get pimples, definitely don't squeeze them as it's more likely to result in scarring.
How Will The Appointment Go Down?
After you have said hello to the salon pooch, Hank, you'll be taken to a treatment room where Martina or one of the other superstar skin specialists will apply the numbing cream you've purchased to your face. While that works its magic they'll talk you through the process and the aftercare—more on that below.
They'll also use this time to have a chat with you about your main skin concerns so they can work more deeply on those areas.
After that initial half-hour of numbing time, the actual skin needling will start. It feels not too dissimilar from microdermabrasion and it only takes about 20 minutes, if that.
You'll be out of there before you know it, and my advice is to use your red face as an excuse to have a night in binging that Netflix series you've been meaning to watch for three weeks.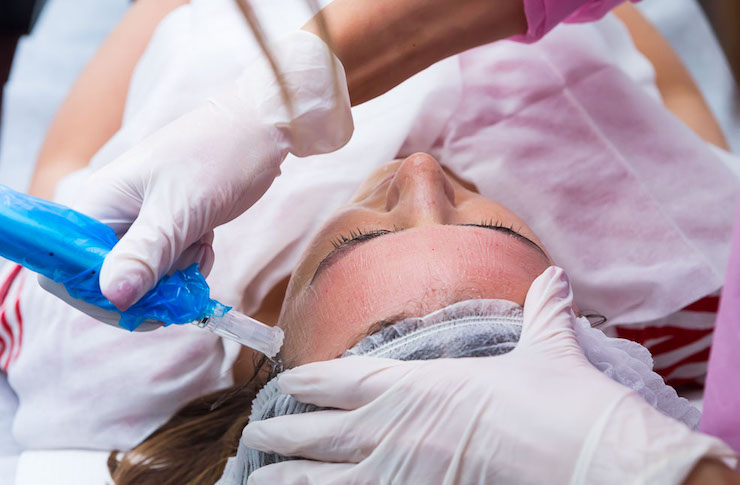 Skin Needling Aftercare
The aftercare is so simple you'll be laughing. The guys at Martina Ivey will supply you with sample sizes of the cream cleanser, serum, moisturiser and sunscreen if you don't already have appropriate products at home. These are all made specifically for post-treatment skin so you won't react to them, and they're all available to buy at the salon if you love them as much as I did.
Apart from that, be sure not to touch your face. You'll want to treat it like an open wound for at least 24 hours, only touching it to apply the provided skincare (and only after you've washed your hands).
You can't use any active products like retinol or AHAs for five days afterward and you'll want to use a sunscreen that's at least 30+ SPF (but you're already doing that, right?).
Finally, you shouldn't wear any makeup for at least 12 hours after your treatment, and from 12-72 hours after you should only wear mineral makeup and be sure to use sterilised brushes and beauty tools to apply any makeup.
The Results Of Skin Needling
For the next few days, your skin will feel a bit rough and you might wonder why on earth you've invested in this. You might also look a bit flushed for the first 24-48 hours. But push through the initial week and you'll be rewarded.
A week after my first appointment, my skin was glowing. I wasn't seeing any crazy results, but I was pretty pleased with how I looked each morning when I woke up.
A week after my second appointment I was seeing similar results and my skin kept getting better as more time passed. It's now been three weeks since my second appointment and my skin looks better each day. I've only worn make-up twice since then when I've been attending big events, and that in itself is a breath of fresh air.
Need to keep that skin protected? These are the best sunscreens on the market right now.
Image credit: Liliya Rodnikova