One does not holiday without looking at all the most glammed up properties first (obviously). To help you out on this journey, we've sourced the heavy-hitters of Airbnb in NSW—some are a short drive away and others let you make the most out of a cruise-worthy road trip.
We bring you the revamped farmhouses, the picture-perfect cottages, the infinity pools, the Palm Springs holiday mansions, the beachside beauties, and naturally, the cave and treehouse hideaway gems.
Pack your bags Sydney, here are the most beautiful Airbnb Properties in NSW.
Grounds Of Cabarita
Cabartita
It'd be impossible to cram more 'boho vibes' into one house if you tried. Say hello to a beautifully renovated 1960s bungalow on Cabarita beach that looks like it's been time-warped direct from your mid-century daydreams. We're talking six bedrooms for you and your mates, a dreamy pastel lap pool, outdoor fire pit, swaying palm trees and squishy king-sized beds. This one's a bit of a hoof from Sydney (about 8 hours in the car, plus or minus 30-minutes to pick up Doritos and slurpies) but who cares? Pick a long weekend and five of your closest buds and set off on an epic coastal roadtrip.
Paddock Hall
Tintenbar
Farmyard vibes—that's what we're about. Paddock Hall is a boutique, boho stay that has been handbuilt and consciously designed for recuperation and reconnection with big ol' Mother Nature. The Hall's open plan living space and exposed beam ceiling are made from sustainably sourced timber and the whole place is self-contained. There's a bespoke kitchen, open wood fireplace, large sunlit bathroom, and glass sliding doors to bring you back to simpler times.
The real standout here is the vintage claw foot bath which sits on the verandah and overlooks the paddock and a row of tallowwood trees. Here, you'll be able to soak in some salts while you watch the two pet sheep graze and Harper, the friendly goat, will no doubt be trying to get your attention too. You also have the option here to nab a catered breakfast with Newrybar's Harvest award-winning coffee and wood-fired sourdough. If you're here with your whole crew, we suggest you order the full catering for a dinner party-style feast.
Driving time from Sydney: 8 hours
Bellingen Tree House
BELLINGEN
When you're keen to pull away from the big smoke, Bellingen Tree House is the perfect sanctuary to sneak away to. This 13-hectare property has been built right in the middle of a rainforest and along the Never Never River, which, of course, looks as enchanted and magical as it sounds (and there's a pontoon to relax on). You'll be able to open up your bedroom wall and lap up all the intimate sounds of the surrounding rainforest plus swim in the property's freshwater front yard.
Driving time from Sydney: 6 hours
Jerrymara Farm
Kangaroo River
Jerrymara Farm is a beautiful rural estate like no other with not one, but two modern farmhouses (which means it can hold up to 14 guests). Jerrymara Farm looks over Gerringong Village, the Pacific Ocean and of course, its grounds are blessed with terraced walkways, a miniature lake, a tennis court, and naturally, a saltwater pool. With a sprawling 4-acre country garden and then another 52 acres of coastal farmland to explore beyond the garden gate, we're pretty sure you'll be set for some serious memories when you shack up here.
Driving time from Sydney: 2 hours
Eagle View Park
Foxground
Let's be honest, basically anything with an infinity pool is a major win. The Guest House at Eagle View Park (ideal for couples or a weekend away with your best mate) has a seriously awesome set-up and it totally won't break the bank either. Think: a circular timber and glass studio above the ground, sitting on top of a hill with sights of the valley and ocean in all directions. Boom.
Driving time from Sydney: 2 hours
The Shed
Kangaroo Valley
When there's a quiet country road that leads you all the way to a stunning farmyard property, you know you've hit the jackpot. The Shed is a converted farm shed that has been transformed using a heap of recycled materials and you'll be able to invite up to six other mates onto the grounds (plus any animal friends you're keen to bring along). You'll find spacious living areas, a wood fire, and a pizza oven that makes even the worst cooks somewhat impressive. And not to mention, it's set on Kangaroo River (so yes, spontaneous dips are necessary).
Driving time from Sydney: 2 hours
Kookawood
BLUE MOUNTAINS
First of all, there's a free-standing bath in the garden, overlooking the misty Blue Mountains National Park. If that doesn't spell the most romantic weekend away, we don't know what does.
Kookawood is reminiscent of a bygone era, filled with a collection of rich antique furniture, rustic bits-and-pieces, recycled timber beams, reclaimed windows, a fireplace, and an open plan dining and living area. Tucked away at the top of a 1km-long driveway off a quiet country road, you'll be in the perfect territory for a private country escape. At the same time, there's a Japanese bathhouse down the road if you're keen to treat yourself; Jannai Goats Cheese Dairy is nearby for all your romantic cheese platter needs, and the epic Rydal Pub is about five minutes away too.
Driving time from Sydney: 2.5 hours
Little Black Shack
Mackerel Beach
When people imagine pure hidden luxury, we imagine they concoct images of something along the lines of the Little Black Shack. This original timber and sandstone fisherman's cottage lies right on the water's edge of Mackeral Beach, and it will feel like you're living in a ginormous houseboat. Inside, this beachside hideaway is decked out in sea treasures and boasts a damn impressive open fireplace. Outside you'll find a number of separate levels, you know so you can keep those incredible water views varied, including a private sandstone terrace equipped with deckchairs overlooking Pittwater, and an undercover pergola with a pizza oven.
Driving time from Sydney: 1 hour
Keanu
Whale Beach
Stop everything. We're (unhealthily) obsessed with Keanu. Find 11 other friends because you need to road-trip yourselves here like, yesterday. Think beach house. Then think a big beach house. Then think an even bigger beach house and you're almost there. Located on the cliff tops of Whale Beach, this exquisite property delivers on all fronts: five bedrooms, panoramic ocean views, a pool and cabana. Did we mention how big this place is?
Driving time from Sydney: 1.5 hours
TreeHouse Blue Mountains
BILPIN
No doubt you'll end up completely speechless when you see what this Blue Mountains Tree House has in store for you. This property is pretty damn phenomenal and we guarantee time spent here will be the most peaceful and romantic time of your life. To reiterate, this is an actual treehouse, so think built into a tree and at a vantage point so perfect you'll feel like you're one with the beautiful natural surrounds of the bush.
Driving time from Sydney: 2 hours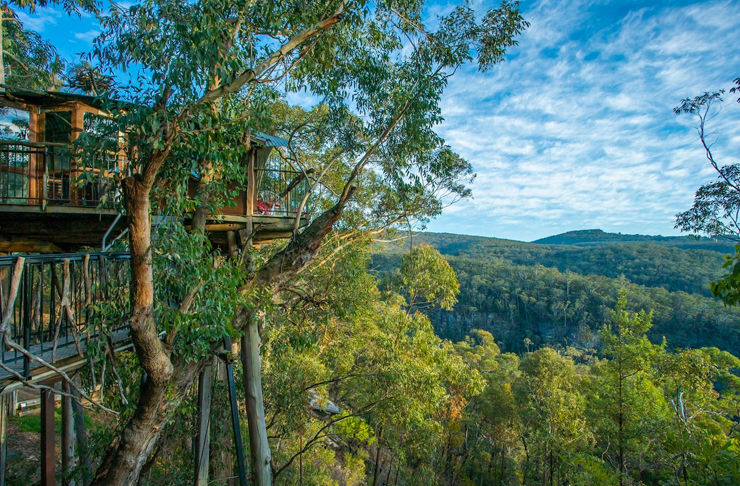 For more local escapes inspo, suss out our travel section.
Image credit: Airbnb