Denim is, without a doubt, everyone's fail-proof wardrobe staple—affordable, versatile and comfortable you seriously can't go wrong. In saying that, it can be easy to fall into the trap of simply donning your jeans with a top and never experimenting. This winter, dare to wear your denim a little differently and play with a few different cuts, crops and colourways.
Here, thanks to UNIQLO, we explore five denim trends that'll up your denim game this winter. From wide-legged jeans to the big, bold boiler suit, it's time to make your denim staple the centrepiece of your wardrobe.
Go Wide Or Go Home
Comfortability fans can all exhale a sweet sigh of relief because wide-leg jeans have made a triumphant return (and they're looking edgier than ever). Pulling on the nostalgia strings, wide-leg pants have stood the test of time and transcended a number of fashion eras. Not to be mistaken for flares, wide-leg pants in 2019 are a little less bohemian and slightly more sophisticated with an all-over, understated wide-leg. We recommend pairing it with sneakers for a casual appeal or stepping it up with boots and a bomber jacket. One thing's for sure, we're here for them.
'90s Nostalgia
A plethora of styles from the '90s have lingered over the years, but a style that's back with a vengeance and demanding our attention is the humble high-rise straight-leg. More relaxed than your average skinny-legs, high-rise straight-leg jeans are your everyday hero that go with practically everything. This is not a tricky cut to conquer—channel your favourites from 90210 or Friends and wear them in for the comfiest fit of all. For a contemporary approach, we recommend UNIQLO's high-rise cigarette jeans for a sharp silhouette and marrying it with a vibrant cropped jacket and a slogan tee.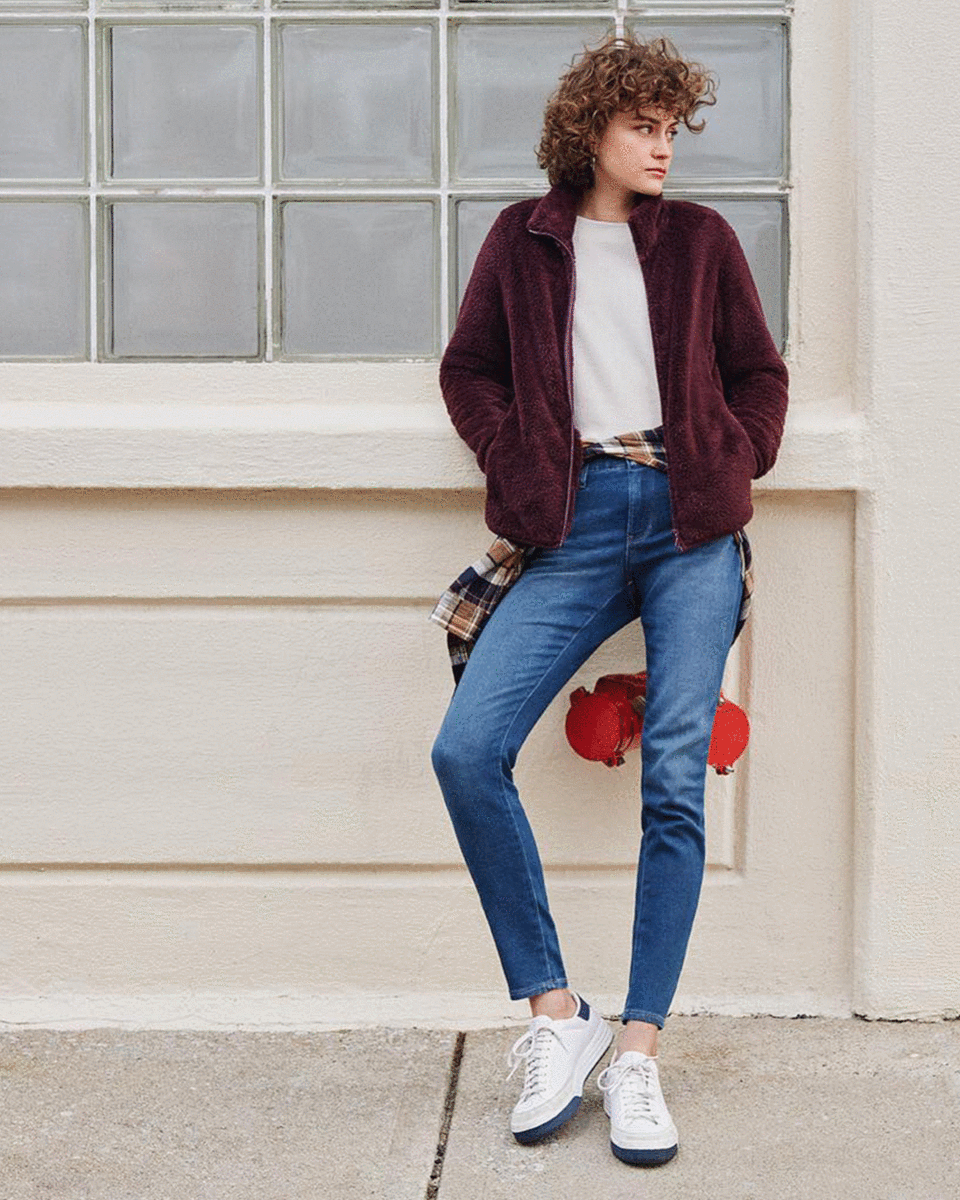 Go Bold In A Boilersuit
If you're keen to turn heads, a boilersuit is a surefire way to succeed—and a denim boilersuit packs a powerful punch. Spotted on the likes of Bella Hadid and Kanye, the boilersuit is an eye-catching mix of binaries: masculine yet feminine, relaxed yet sophisticated, statement yet everyday. Ultra-comfortable and fashion-forward, the only thing you need to pair a utilitarian, denim boilersuit with is confidence.
Embrace Embroidery
Personalisation and customisation is everything in 2019 and the embroidery trend lends itself perfectly to DIY. An homage to early '00s denim, embroidery is experiencing a resurgence and popping up everywhere from pockets and shoulders to seams and hems. Express yourself with embroidered accents like patterns or pop culture icons and reinvigorate a denim jacket or your staple jeans.
Tailored To A Tee
If you're looking for new power pants tailored denim is where it's at. Edgy enough for the weekend yet just enough sophistication for the office, tailored denim creates a striking silhouette and is anything but boring. The darker the denim, the more dapper the jeans so don't be shy to go dark. Belt or no belt, tailored jeans are the boss wardrobe staple you never knew you needed.
Whether you're after relaxed, skinny, tapered or stretch, UNIQLO's vast range of denim fuses tradition and innovation at an incredibly affordable price. And with free tailoring offered in store, you can walk out with the perfect pair every time.
Editor's note: This article is proudly sponsored by UNIQLO and endorsed by Urban List. Thank you for supporting the sponsors who make Urban List possible. Click here for more information on our editorial policy.