Wellness is one of our favourite words and one of the best places in Perth to get 'well' is the COMO Shambhala Urban Escape, nestled within the State Buildings in the CBD.
Combining a spa, yoga studio and an exclusive COMO Shambhala menu at everyone's favourite healthy hot spot, Post, this urban escape is the perfect spot for Perth peeps in need of some relaxation and pampering.
Fitting in a yoga class before, during or after work is a breeze, but we think you deserve to talk a half or whole day off and treat yourself to some quality wellness action. Here's your perfect day planned at Perth's ultimate wellness destination.
7AM—Salute The Sun With A Vinyasa Class
In our opinion, there's no better way to start the day than a yoga class. It stretches out your body's kinks from the previous day of work, lets you set your intention for the day and works a treat at de-stressing you. Led by some of Perth's best yogis, the vinyasa classes at COMO Shambhala's Urban Escape are a must for anyone looking to restore a little balance in their lives. Conveniently timed around working hours, COMO Shambhala also offers restorative, yin and one-on-one yoga classes as well as clinical Pilates and personal training.
8:30AM—Head To Post And Get Your Juice On
When you're all stretched out and your mind is still from an extra long savasana, slowly make your way to Post and order one of the COMO Shambhala juices. The blood builder, made with apple, beetroot, carrot and turmeric is a real winner and will give a much-needed boost to your circulation, immunity and mood.
10AM—Time To Get Blissed Out
The spa at the COMO Shambhala Urban Escape is easily one of the best in Perth. It's cosy, warm and oh-so luxurious. We recommend the signature COMO Shambhala massage topped up with an Indian head massage. During the signature massage, your therapist will work out all of your aches and pains in long, sweeping strokes from your neck to your ankles. It's one of the most heavenly things you'll ever experience. And don't even get us started on the Indian head massage. The 60-minute treatment focuses on relieving tension in the head, neck and shoulders and includes a gentle facial massage.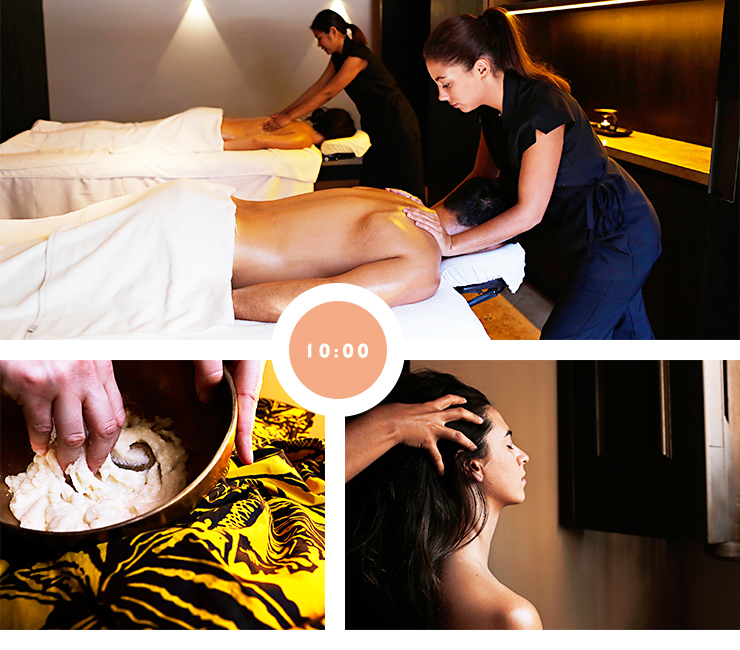 12:45PM—Fill Up On Healthy (But Delicious) Food At Post
Once you've woken up from your Indian head massage and had a relaxing rinse in the lavish bathrooms at the spa, wander over to Post for a nutritious and delicious lunch. Start with the quinoa spaghetti served with heirloom tomatoes, black olives and rocket, before tucking into dessert—a cacao, muscatel and almond slice with acai palm berry sorbet. And be sure to stop by again soon to try Post's delicious, and Shambhala-friendly, lemon scented pancakes with banana, berries and cashew maple cream or zucchini rosti with smoked salmon, dill and lemon scented cottage cheese.
2PM—Go Where The Road Takes You
If it's time to get to work be sure to brag to your colleagues about the blissful morning off you've had. But, if you've taken the entire day off or it's the weekend, the choice is yours as to whether you hop back to the spa for a nail treatment, hang around for the evening's yin yoga class or splash out on a night's stay in the hotel. Perhaps all of the above?
Image credit: Elle Borgward
Editor's note: This article is proudly sponsored by COMO Shambhala Urban Escape and endorsed by The Urban List. Thank you for supporting the sponsors who make The Urban List possible. Click here for more information on our editorial policy.