How do you rate the best breakfast in Melbourne? That's like picking your favourite colour of the rainbow, right? Melbourne pretty much invented breakfast (we haven't checked the history books on that one), and there are about 1001 dishes around town that could lay claim the Best Breakfast mantel. But these our are favourites. A little smashed av, a little house baked beans with saganaki.
We'll be updating this bad boy as new cafes come online and new brekkies blow our pants off. But for the moment, this is it—the best breakfasts in Melbourne. Enjoy, you big legends.
Barry | Northcote: One of our favourite northside brekkie haunts, with a healthy twist. We'd suggest the brekkie greens to cure any Sunday slumps.
Top Paddock | Richmond: Prepare for the queue, stay for the eggs benny (a Melbourne classic) and the beautiful interior. If savoury isn't your thing, the blueberry & ricotta hotcakes with seasonal berries and macadamias are banging.
Pillar of Salt | Richmond: One of our all-time faves. Try out the sunny courtyard out the back (if the weather is just right) or sit inside next to their cosy neon sign. We love their famous (and very Insta-worthy) pancakes and their chilli scrambled. Plus, their menu is seasonal, so you have an excuse to try their brekkie in every season.
Brighton Schoolhouse | Brighton: Popular with the Brighton Lululemon set (yes, it's a thing), this Melbourne café specialises in witty breakfasts like the 'Super Duper Grain Salad' and the 'Hangover Breaker Brekkie'. Count us in.
Two Birds One Stone | South Yarra: This beautifully designed, light and airy South Yarra café is another of the city's must-visits. Spanner. Crab. Omelette. 'Nuff said.
Terror Twilight | Collingwood: Voted one of the best cafes in the past years, this place does a hearty brekkie and brunch menu. Try out one of their BYO bowls with either a broth (ie: chicken broth or veggie miso broth) or rice. Top it off with some chicken, Angus beef, salmon and enough toppings to keep you hunger-free for the rest of the day.
Liar Liar | Hawthorn: This awesome corner Hawthorn café does some of Melbourne's best breakfasts, like the house baked beans with fried saganaki, pesto and pide soldiers. Also does a cracking cup of Joe.
Cru | Kew: A café-wine bar hybrid in Kew, this is a classy little spot for a Sunday morning feed. The Stop 80' is the perfect pick-up-and-go brekkie on the way to work: fried egg, bacon, tasty cheese and relish on a brioche bun. Plus, they have a super cute leafy courtyard.
Manchester Press | CBD: A cool, gritty laneway café in Melbourne CBD serves up some of the best bagels in town. We're a big fan of the smashed avo with vegemite. They were one of the trailblazers in the Vegemite field.
Hardware Societe | CBD: One of the best spots for breakfast in Melbourne CBD. The baked eggs here are pretty stellar, served in a little pot for one. Try out the French toast if you're feeling fancy.
Clubhouse | Malvern: If you've been to Tinker, Bentwood, Penta or MOB, these are the guys behind Clubhouse. Serving up a black forest pannacotta with cherry and dark choc, topped with the freshest berries and honeycomb. Nothing screams 'cheat day' quite as loud as that.
Crabapple Kitchen | Hawthorn: This Glenferrie Road café is toasty, cosy and well-travelled (the menu changes all the time). We're obsessed with their smashed avo on olive toast with chilli, mint and Meredith Dairy feta. Yuuuurm.
Three Bags Full | Abbotsford: We'll take three bags of their delicious food and coffee, thanks. Our top pick is the smashed avo (naturally) with Yarra Valley feta, radish and black sesame is one of the prettiest and darn tastiest breakfasts in Melbourne.
St Ali | South Melbourne: An Abbotsford classic (serving notably some of the best coffee in Melbs). If you haven't tried My Mexican Cousin (ie: their corn fritters dish) are you even from Melbourne?
Auction Rooms | North Melbourne: Head to Errol Street for one of Melbourne's most loved and lauded cafes. They even have free wifi, so you can work whilst you munch. We'd recommend the French Toast or their Chia Seed pudding. Mmmm...pudding.
Touchwood | Richmond: Located on Bridge Road, Touchwood is a super popular Melbourne café with Richmond locals. Take your pick: the grain salad for your mid-week healthy option, or munch on the buttermilk waffles with fresh berries and macadamia crumble.
Buenos Dias | Carlton North: Serving up authentic brunch from Chile, Colombia and Brazil, Buenos Dias is known for the most delectable brekkie bowl of all time (yep, you heard us right). Think house-made chorizo, pulled pork and mixed beans served over wild Spanish rice with perfectly fried eggs. It's called the Calentao Rolo.
Friends of Mine | Richmond: Bring yo' friends and your stretchy pants. We still love this rustic + homely café with their cheesy toast and their scrambled eggs. The Hungover brekky is our go-to after a big night.
Addict Food & Coffee | Fitzroy: We're addicted (hah, get it?) to this humble Fitzroy café. Try their potato hash and mushroom duxelles or their corn fritters for the perfect Saturday brunch session.
The Kettle Black | South Melbourne: Known as a staple for many Instagram photos, South Melbourne's Kettle Black is a staple on Melbourne's brekky scene. Try their massive hotcakes for size (either split them with a friend or order it yourself) or the Angus beef burger with a charcoal bun.
Industry Beans | Fitzroy: This Fitzroy café and roastery is in a class all of its own, with an award-winning fit-out, premium coffee and some of Melbourne's best breakfast dishes. The avo smash is a staple, but it's stuff like coconut crusted brioche with pineapple and coffee caviar (uh, yes please) that tingle our taste buds.
Kings and Knaves Espresso | CBD: Toast. Usually, the disregarded food of the brunch world. But trust us, this isn't just toast. It's Toast. More specifically, toast with Smoked Salmon, dolloped with St David's Dairy Crème Fraiche or the Vegan Hazelnut Spread on house-made sourdough with banana, sea salt and maple syrup.
Little Big Sugar Salt | Abbotsford: Nothing is Little about this café. Slinging some of the best brews (to satisfy that early morning grind) and they work wonders with their extensive menu, we'd recommend the pancakes and the acai from the more 'sugary' side of things, or the Turkish eggs if you're feeling savoury.
Union St Brewers | Brunswick: This cute little white-tiled, blue seated café in Brunswick has great coffee, and it's right next to Jewell Station. Try their home-made bagel special, served on their revolving brekkie menu.
Lucky Penny | South Yarra: Oh Boy, Oh Boy! We're lucky to have you, Lucky Penny. Escape the Chapel Street crowds and chow down on yumness like citrus cured salmon, potato and pea salad. Deeeelish!
Glovers Station | Elsternwick: This stunning café in Elsternwick lives in a refurbed heritage building and their top dishes include mushrooms on toast and baked beans...with a sophisticated twist (you got to try them out).
Common Galaxia | Seddon: Not only is the food some of the top rated in Melbs, their sleek and minimalist design is worth the trip over to Seddon. Try their French Toast with strawberry cheesecake filling (yes), strawberry jam (delicious) and ice-cream with cheesecake crumbles (count us in).
Hector's Deli | Richmond: If you're a schnitzel fan, this is the place to be. With a perfectly fried schnitty with a bap roll, shredded 'burg lettuce and spicy secret sauce. They sell out on weekends, so get in quick.
Axil Coffee Roasters | Hawthorn: A staple for many, this large industrial style café attracts the crowd with their sweet corn and halloumi fritters. And did we mention the red velvet hotcakes? Highly recommend.
Penny Farthing Espresso | Northcote: Serving up Industry Beans brews, this Penny Farthing in Northcote is a Melbourne café serving up pea and sage bruschetta, with pumpkin bread AND smoked salmon (hell yeaaaah).
Seven Seeds | Carlton: Go for the coffee, stay for the food. Known for their winning brew, but the nosh is just as good. Especially the green eggs and ham on English muffins with hollandaise. But their French toast and even the humble eggs on toast are all winners in our eyes.
Wide Open Road | Brunswick: Another TUL winner, Wide Open Road roast their own coffee (which can be seen at a multitude of other cafes) and their food is matched with deliciousness. Seriously, who could go past their thick-cut bacon sandwich or their poke bowl with fresh salmon?
Proud Mary | Collingwood: This Collingwood café has a cool, rockabilly vibe, great coffee and a smashing breakfast menu. Their avo on seed and sprout toast with chilli ricotta, and quinoa tabouleh is pretty epic.
STN | Northcote: You might think their outrageously pink take-away cups are the bomb, but sit down and try their poached eggs with rosemary-spiked potato hash lavished in béarnaise sauce. It's basically an eggs benny on steroids. Wash it down with a Vietnamese cold drip.
Good Egg | South Melbourne: Good Egg, you're a good egg. Don't take your vegan friends here—their bacon and egg roll is a must-have for the brekkie on the go, otherwise, take a look at their scotch egg. They're the ones who started the trend.
A Fan's Notes | Carlton North: We're a big fan of their vegan and veggo dishes, especially the white bean hummus with halloumi. It's everything you could dream of in veggie heaven. If veggie roasts take your fancy, they throw an epic one on a Thursday night.
The Spot | Coburg: The Burg' is bringing the goods in the form of a delectable chilli scramble, named "Here Be Dragonz" (very fitting for the fiery dish). It has a middle eastern vibe and is tucked away under a housing development. BRB, we movin' in.
Rustica Canteen | Hawthorn, CBD, Fitzroy: Take all three, the Rustica empire is slowly growing. You can either grab one of their bakery goods home (freshly made sourdough or a cheeky cronut), or if you're dining in, chow down on the yoghurt panna cotta with banana, strawbs and house-made granola. You got this.
Crate Speciality Coffee | Heidelberg West: A humble B&E roll is often overlooked, but this place makes the exception: Gamze Smokehouse bacon with a free-range egg, roquette (melty cheese goodness) and house-made relish. Gone and the days of the greasy B&E. Crate is bringing a touch of class.
Mr Wednesday | Fairfield: Brunch in the 'burbs with Mr Wednesday (perfect for any day of the week, IMHO). Try out the coconut and passionfruit chia seed pudding to really put a dent in the mid-week slump.
Denis The Menace | Cremorne: Nothing menacing about this place. With a large open courtyard and a minimalist interior, you can't go past their daily specials (think hearty fish dishes or soup for the winter months) as well as their everyday staples like the Chicken Katsu Curry. Yeeeerm.
El Atino & Co | Richmond: If you're feeling like you need a bit of spice in your life, try out the Mexican Drowned Eggs baked in Ranchero Salsa with Longanisa, Creamy Goats Cheese and Charraos.
Mammoth | Armadale: Presenting a killer menu, try out the cheeky Lobster Donut Burger with green mango, papaya slaw, cucumber jam and Siracha Kewpie mayo (never too early for lobster, a doughnut or getting your face dirty)
Brother Nancy | West Footscray: Homely café serving some of the best brunch in town. Brother Nancy's Green Eggs + Ham (with pork belly, poached egg and green pea puree) is the winner here.
The Vertue of the Coffee Drink | Carlton: Known to many as 'Vertue'. they roast their own beans in-house (which you can see) as well as having some of the cosiest interiors that make you want to sit and drink coffee aaaaaall day. Go for their Breakfast Pasta with speck, parmesan and a poached egg or try out their sugary 'Waffle On' Waffles with raspberry, chocolate soil, popping candy and mascarpone.
Archie's All Day | Fitzroy: Nothing like having a good ol' cook-off for brekkie or dinner. Try out the poached eggs and daikon kimchi, enoki mushrooms and sesame dressing. Delish!
Square and Compass | East Melbourne: Known for their killer gram game, Square and Compass has some of the best chilli scrambled in town, loaded with bacon, parmesan, spring onion and of course, toast. You've been warned.
Kitty Burns | Abbotsford: We go time and time again for their smoked pea and garden mint pannacotta with bacon crumbs, 63-degree egg, potato popcorn, house seared salmon.
Lolo & Wren | Brunswick West: Light, but hearty brekkies are what they're known for – their crispy corn and zucchini fritters are to dieeee for. They're loaded with pepperonata, goat's cheese, avo and Chilean salsa. You're getting the real deal here.
South of Johnston | Collingwood: Veggie lovers, rejoice! This place is the bomb for all things vegetarian. Try out their mushrooms, ladled with juicy cubes of beetroot and silky fetta. They even have an open fire, so you can cosy up and drink your coffee in the chilly morn'.
Good Times Milk Bar | Bentleigh: This Instagrammable heaven features leafy plants, a pastel interior and some of the best brunch around. Our top picks are their salted caramel panna cotta with fig and spiced nut granola or the ricotta hotcakes with meringue crumb.
Miss Jackson | St. Kilda: This is fo' real—you defs won't make a hash of ordering with the Leek and Potato Hash, served up with a poached egg, smashed mint peas and smoked trout.
Giddiup | South Melbourne: On the corner of Coventry and Francis Street, Giddiup is sure to make you hit the ground running with your weekly tasks. Try out their mushroom + gruyere pita toasties and wash it all down with a cold-pressed juice.
The Botanical | South Yarra: If you're feeling a bit worse for wear this weekend, have a detox with the Warm Coconut and Chia Pudding at The Botanical. The Chia Seeds are soaked in coconut milk with raw cacao, spices and palm sugar. It's then dolloped with rhubarb, roasted buckwheat, almonds, goji berries and cacao nibs.
Code Black Coffee Roasters | Brunswick: This place looks unsuspecting, with its inevitably slick interior. Don't be fooled, their brunch won't disappoint. Try their crispy duck leg and potato waffle sandwich or their spanner crab omelette with fennel, orange and chilli.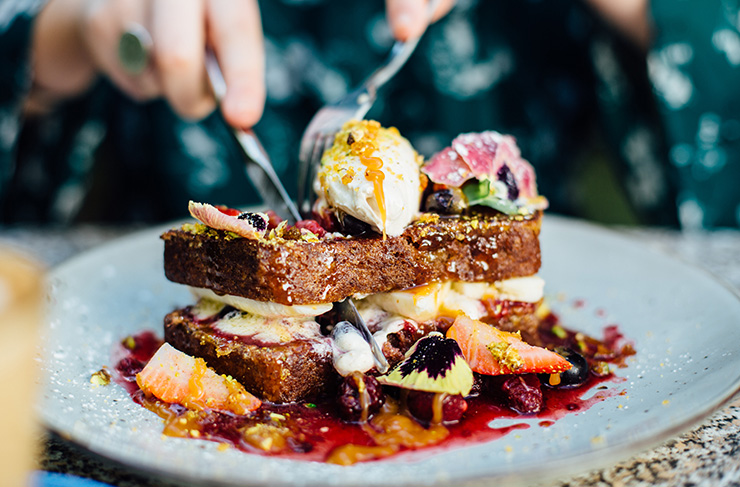 Fledgling Espresso | Carlton North: This family-friendly café is one for the Carlton locals with hearty dishes such as the Mexican Salad, Beef Burg' and the classical chilli scrambled. Our pick though? The Banana Bread French Toast. Honestly, one of our favourite plates in town.
Plain Sailing | Elwood: This place slings some of the best brekkie in Elwood, with their house blend by Niccolo Coffee. Try the Fried Peanut Butter Cookies & Cream Bao with Vanilla Mascarpone or their Banana + Cacao Smoothie Bowl with Wild Buckini Crumble. If you're feeling a little healthier, go for the Brekky Board with muesli, acai yoghurt and seasonal fruit.
Hiatus | Kew: This place has an interesting choice for brekkie options—it's inspired by dinner. The top picks for us? The crumpets with strawberries and poppy seeds and the smashed beetroot topped with oat crisps. Delicious stuff.
Upsy Daisy | Glen Huntley: Serving fresh brew and wholesome food (like their Upsy Bowls, which are tofu/chicken/falafels laying upon a bed of brown rice), this place is the best for takeaway brekkie.
Bentwood | Fitzroy: Similar to the above, Bentwood in Napier Street serves up a sweet timber interior with ultra-mod influences. Our faves are the fluffy hotcakes with raspberry coulis which are to dieee for.
St Charly | Carlton: One of the new kids on the block, don't let the pastel pink interior fool you, this place serves a killer brunch. It's slinging Euro-Asian brekkies: think chilli scramble with house-made sambal or the potato and caraway rosti with smoked trout and caper hollandaise.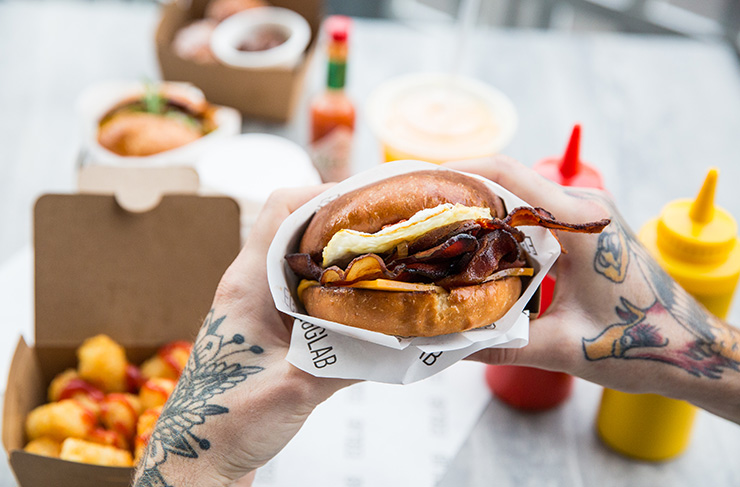 Egglab | Collingwood: Egg fans, listen up. Egglab is THE best place to go for all your egg needs. Whether it be fried, sandwiched between a roll or just on its own (runny, just how we like it). It's modelled on the cult Eggslut in the US.
Sloane Ranger | Richmond: This place has the hype for their grab and go options (especially their takeaway creamy brew) as well as their sit-down meals. Our picks are the scrambled eggs with fetta and bacon as well as the Ranger Bowl: salmon, pickled cabbage, beans, avo, and nori.
Image credit: Annika Kafcaloudis