Road trips are the all the rage right now. And it's a trend we're going to see stick around well into 2021.
With coronavirus putting a dampener on any overseas trips you had planned, it's likely you're on the hunt for a new adventure to take its place.
Enter: the campervan. Or more specifically, the custom-made campervan. Because if we're going to rent a house on wheels, we want all the mod cons our tent lacks.
Keep reading for three local businesses who are making Queensland campervan hire a cinch, and dishing up cosy interiors perfect for all the Instagram content you're going to be putting up.
Drifters Campervans
Sunshine Coast
Holidaying in a van doesn't need to be disorganised, ugly or uncomfortable—just look at the goods being dished up by Sunshine Coast business, Drifters Campervans. With two campervans for rent—going by the names of Huey and Hendrix—these custom-built spaces have been finished with the finest materials and packed with awesome local products. Expect to roll open the doors to find hotel-quality bedding, coffee by Noosa roastery, Padre, built-in power outlets, camping furniture, stovetop and fridge. There's no limit to how many kms you can travel, insurance is included and the only requirement is that you pick up and drop off the vans on the Sunshine Coast, which doesn't sound too hard at all. Prices start at $99 and you can find out more here.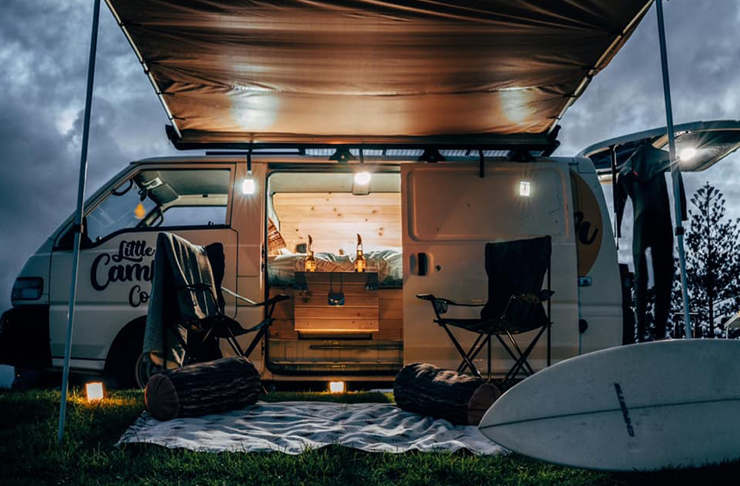 Little Camper Co.
Gold Coast
If you're on the hunt for cheap campervan hire in Queensland, off-the-grid company Little Camper Co. is your go-to. Perfect for loading up with your favourite road tripping partner and travelling anywhere your wanderlusting heart takes you, these vans are like teeny tiny cabins you can take with you. Complete with a fully-functional kitchen—including sink, fresh water, pots and pans—and a self-sustainable solar power system, if a night in the middle of nowhere under the stars is right up your alley, consider your accommodation and transport, sorted! Prices start at just $79 per night and you can find out more here.
Cosy Campers
Brisbane
For all the city-slickers who are ready to escape the lights for a long weekend drive, Brisbane campervan hire company Cosy Campers has just the thing. Upping the ante on what comes to mind when you think of campervans, Cosy Campers offer super-stylish accommodation thanks to their Mercedes camper conversion. Channelling a chilled Southern Californian vibe, you'll appreciate the reclaimed timber details and high-end linen when you're living and sleeping in such a small space. Whether you want to hunt down secluded national parks or some of Queensland best camping spots, this home away from home is about as comfy as they come. Prices start at $190 per day and you can find out more here.
Ventured Campers
Brisbane
What's better than a cosy vintage campervan? A dog-friendly cosy vintage campervan. All furry friends are welcome in Ventured Campers lodgings on wheels, and while they've only got one available at the moment, there's two more currently being kitted out that will coming online soon. For now though, you can rumble off in Bilbo, their 1988 Nissan Urvan, that's been given a millenial-worthy makeover using upcycled materials with a fully equiped (and even tiled) kitchen, a queen bed that transforms into a cosy table, a 22" TV and inbuilt bluetooth speaker system. The van is totally self-sufficient, with solar panels,100L fresh water capacity and grey water tank, a toilet and an en-suite shower tent. They've even thrown in some board games, so all you have to do is pack the snacks. Prices start at $99 a day and you can find out more here.
Not ready to venture too far off the beaten track? Check out Australia's best caravan parks.
Image credit: Drifters Campers, Little Camper Co., Cosy Campers, Ventured Campers