10. Watchability
Anyone who tells you they have only seen this movie once is either A. Lying. or B. Doesn't have a soul. Due to the expertly woven, multiple plot lines and enduringly loveable motely crew of characters, this movie has infinite watchability. INFINITE.
9. All I Want For Christmas...
When the little girl sings 'All I Want for Christmas Is You' better than Mariah, and then Hugh Grant and tree-trunk thighs make out. That's the spirit of Christmas, right there.
8. Snape
Alan Rickman's voice. Yes, this movie includes the very, very low vocal stylings of Alan Rickman, aka Snape, aka 'three balls', as my Dad calls him.
7. Uuncle Jamie
This bit, when Colin Firth busts in to his family Christmas with loads of Christmas presents, and everyone is all like 'Uncle Jamie!', and then busts out again to go and propose to his cleaning lady/love-of-his-life, and the little girl is all like 'oh, I hate Uncle Jamie!'.
6. The Turtlenecks
The many, many turtlenecks.
5. Colin Frissell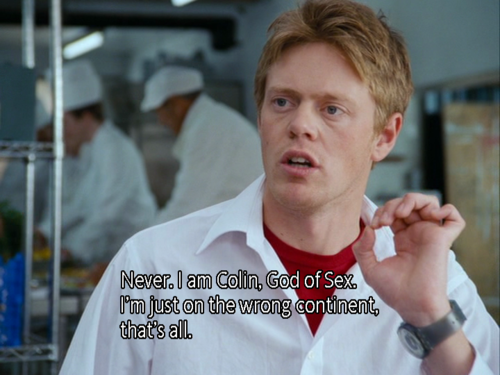 Colin's gross, it's true, but you are totally rooting for him to get the girl(s) regardless.
4. Lobster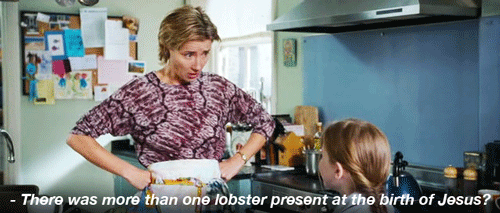 "I'm the lobster!"
3. Jump
I wonder if it bothers Hugh Grant that this will be the defining moment of his entire career? Besides his monobrow, that is.
2. This Guy
WHO IS HE?
1. THE Octopus Kid
Speaks for itself.
And with that we bid you a very, very Merry Christmas Urban Listers. We hope you are drinking Champagne and wearing a new pair of pjs, surrounded by Ferrero Rocher wrappers, like all normal people.
Image credit: Cinema, Buzz Feed, Geek Mom, Geek Mom, Imgur, Time Inc