Hair by Dale Delaporte Prema Editorial Team; Photography by Steven Popovich

Blonde, brunette, red, noir, pink, purple or green; colouring one's hair is de rigueur these days. Whether it be streaks, tips, roots or an all-over job—a trusted and skilled colourist is key to a 'happy hair' outcome.
In order to help you obtain the perfect hue, just for you, here are the five best colourists across Sydney that can be trusted to transform your locks. Now, we know this is just the tip of the iceberg and we would love to hear your favourite colourists and why, fill us in below if you wish.
Oscar Oscar

'Pastel Romance' by Paloma Rose Garcia, Oscar Oscar
Happily situated in the heart of Paddington on Oxford Street, this gorgeous salon is constantly abuzz with stylish guys and gals passing through its doors. Owned and operated by twice-awarded Australian Hairdresser of the Year Oscar Cullinan, the team at Oscar Oscar is at the top of their game, regularly working with Australian Fashion Week and frequently involved in creating editorial for Australia's leading fashion magazines. It is a real indulgence heading into Oscar Oscar.
Wild Life Hair

Hair by Principle Stylist Ali Holmes, SoGo Wild Life Hair
Principle colourist Davina, and Premier colourists Brandan and Heather, lead the talented colour team at Wild Life Hair's Origin salon in Milsons Point. With a combined experience of 44 years between them, you can sit back, relax and know you are in safe hands, all whilst taking in stunning views of the harbour and bridge. Across the waterways and down the road is the Surry Hills Wild Life SoGo salon, where Principle colourist Jenima, and Premier colourist Rosie, backup a combined experience of 22 years with awards to boot.

Brad Ngarta

Hair by Brad Ngata, of Brad Ngata salons
Brad Ngata is the go-to hair stylist for Sydney's social and celebrity movers and shakers. From actors Abbie Cornish and Portia de Rossi, to models Miranda Kerr, Jenifer Hawkins and Alexandra Agoston, and Sydney identities Sneaky Sound System's Miss Connie and Pip Edwards—Brad Ngata has been charged with caring for their all-important locks. Brad, who is a L'Oreal Professional Ambassador, and his highly skilled team have won countless accolades, which has led to extensive editorial and Fashion Week work. The mantra of the salon is "… you are the star, sweetheart!" and the team go out of their way to make you feel just so. You can visit either the Surry Hills- or ivy CBD-based salons.
Prema

Hair by Alan White, Prema Editorial Director; Photography by Will Davidson; 'Vogue Australia' April 2013
In the words of Prema Company Director Francesco Ruggerino, "over 60,000 client visits in the last year alone, more than 200 editorial shoots, work published in top fashion publications, countless educational seminars in our school and externally, and more collaborations on the horizon . . ."—Prema salons in Bondi and Surry Hills are certainly hair powerhouses. With an impressive stable of local talent, the 'Prema Family' features some of Australia's top hairdressers. This, combined with a focus on education and collaboration, means Prema's services are constantly evolving and creatively growing. Whether it be semi permanent, permanent colour, tinting, or foil highlights, you will be in capable hands.
Noddy's on King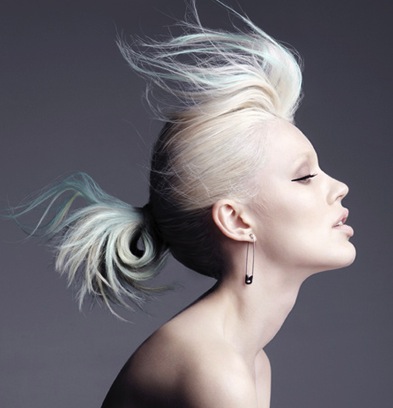 Hair styled by the team at Noddys On King salon
The team at Noddy's On King has garnered a serious reputation when it comes to colour. Led by Phillip Galbraith and Shane Henning, the 25-strong staff has won many local accolades, including: Schwarzkopf Professional Hair Expo Awards Hall of Fame; Australian Hairdresser of the Year; and Australian Salon Team of the Year. The salon regularly contributes to Australian and international fashion weeks and fashion editorial. With a focus on the KMS and Goldwell ranges, you can even enjoy a complimentary glass of vino while your colour sets.