Mike and Gayle Quarmby's story is an inspiring and important one. Twelve years ago, after the tragic loss of their 20-year-old son, Mike and Gayle chose to channel their grief into a positive journey and founded Outback Pride.
This amazing produce venture cultivates Australian natives for the wholesale and retail food industries, the entire operation has been funded by Mike and Gayle and is a not-for-profit organisation. Mike and Gayle work with Aboriginal communities located across central Australia, supplying them with the horticultural skills, supplies and education required to cultivate and harvest Australian natives for commercial production.

Outback Pride then purchases the produce back and on-sells it commercially, this not only provides employment to around 3,000 Indigenous people, but more importantly it creates a sense of respect within, and to, these communities and offers them independence. Since 2001 the Quarmbys have planted over 500,000 bush food plants on Aboriginal community sites.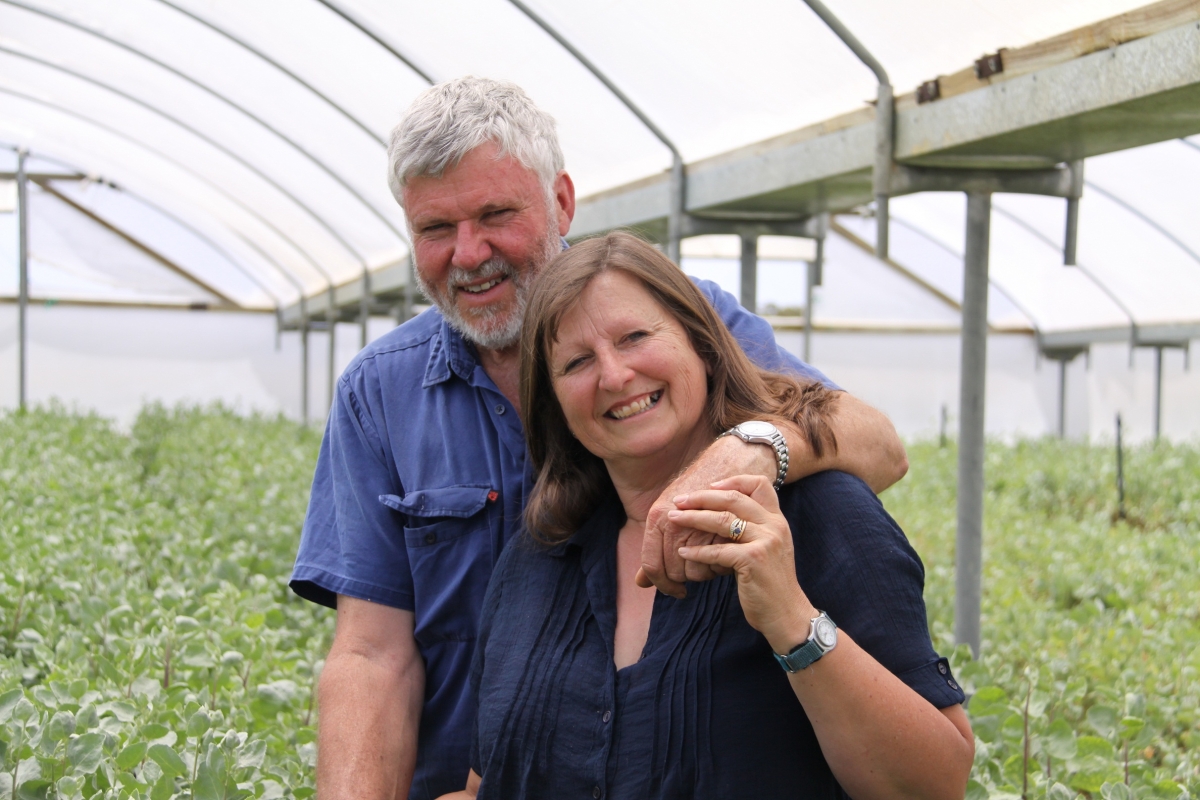 Focusing on cultivation rather than wild harvesting means the operation is sustainable, organic and commercially viable. Along with the community-based garden co-op network, which supplies the dried produce, the Quarmbys run their Reedy Creek Nursery, the nursery supplies the fresh leaves and fruit produce and funds Outback Pride. Reedy Creek Nursery is one of the largest wholesale native plant nurseries in South Australia.
Aside from the employment and sustainability benefits of the Outback Pride operation, the bush food plants cultivated contain nutritional values that are "off the graph" according to Mike. Unlike food plants that are a result of 5,000 years of Western horticulture, native plants have not lost their nutritional values.
"There's over 2,500 Indigenous food plants in Australia, which is probably the largest number of identifiable native plants on any continent that still remain intact," explains Mike. "And what we're finding, with all the testing on these plants when we get them into commercial production, testing with the CSIRO is showing that the nutritional value is right off the graph. It's fantastic!
"No nutritional change is happening, so things like the bush tomatoes, that we grow out in the bush, have up to 10 times the vitamin C of an orange and are very high in minerals like potassium and iron, and it's only a tiny little thing about a centimetre across."
It is not only the health conscious embracing these ancient, yet newly discovered bush super foods, leading chefs from around Australia are utilising native bush tucker in their fine dining restaurants. Kylie Kwong, Neil Perry, Peter Gilmore, Mark Best, Matt Moran, George Calombaris, to name a few, have wholeheartedly embraced Outback Pride's organic and flavoursome native produce, including: Saltbush, Samphire, Sea Parsely, Native Thyme, Munyeroo, River Mint, Lemon Aspen, Magenta Lilli Pilly and Dessert Limes.
Head chefs Tamas Parmer and Julien Pouteau of Café Opera, at Sydney's InterContinental, have been so impressed by the unique flavours and diverse range of Outback Pride's products, they have dedicated their October degustation menu to the native food suppliers. Throughout the month of October, nightly from 6pm, you can enjoy the 'A Taste of Native Bush Tucker with Outback Pride' menu, which will feature a modern take on traditional Australian favourites. The menu includes: yabby, lemon myrtle damper and native spinach; macadamia crusted kangaroo fillet with native apple chutney, Quandong bread and Rosella flower jus; and Wattleseed Pavlova with ivory chocolate crémeux and strawberry.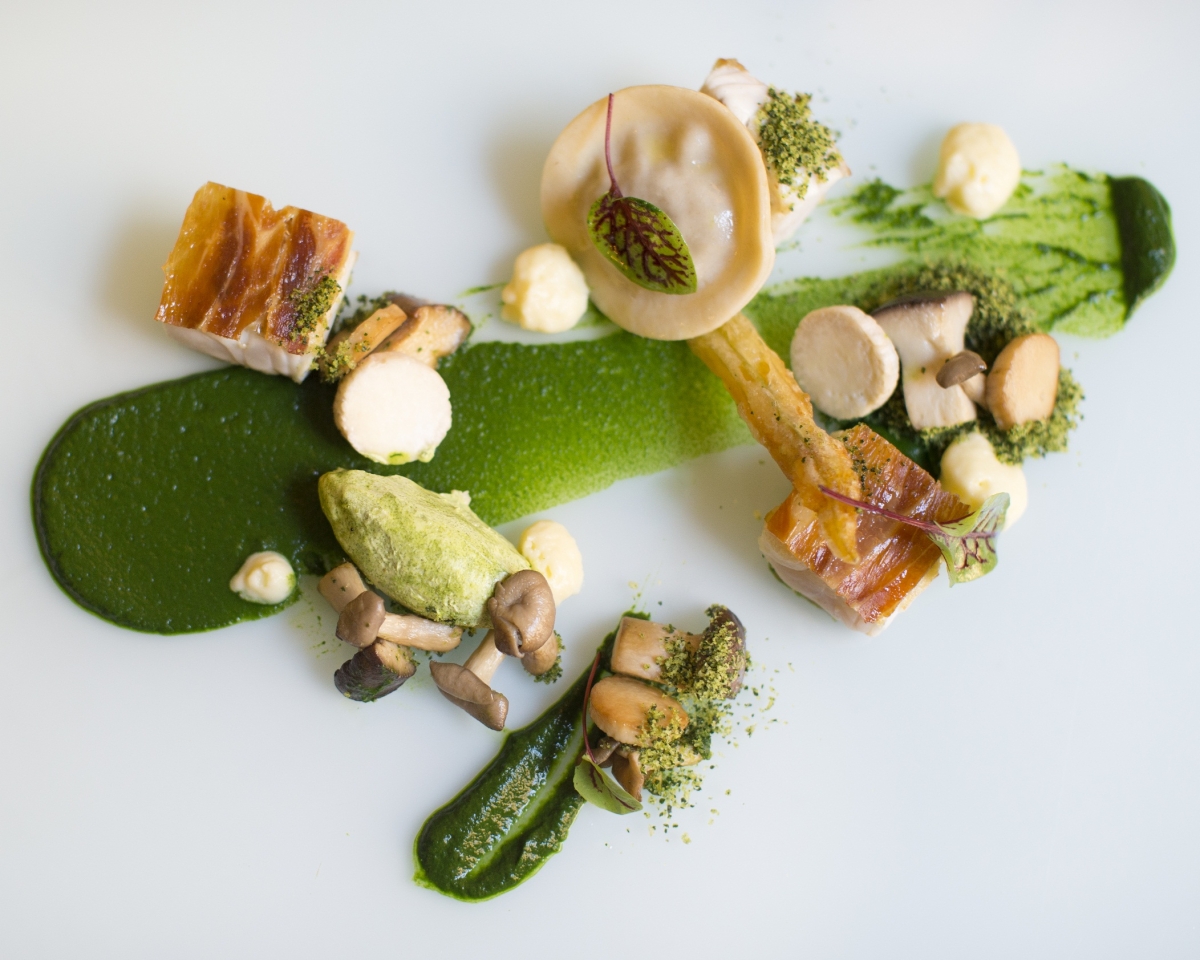 Bookings are essential, so to enjoy this special Outback Pride-inspired menu head to the InterContinental website or phone 02 9240 1396. If all this is not temptation enough—check out the Mountain Pepper leaf flathead with abalone ravioli, King Brown mushroom and Saltbush butter, pictured above.
Along with wholesale fresh and frozen produce, Outback Pride supplies wholesale native bush sauces and preserves, and dried herbs and spices. Retail products available for your very own pantry include: dried herbs and pickles; relishes and spreads; dukkas; sauces and dressing; and cordials. For suppliers of Outback Pride's retail and wholesale products head to the website.
We caught up with Mike and Gayle Quarmby to learn more about their unique native bush food journey.
TUL: Is spring a busy time for you?
Mike: Yes, lots of hard work, we work a seven-day week, very rewarding though. Spring is when all the crops go ballistic, it's good to see after the long, cold, wet winter. We've expanded the fresh native leaf and vegetable production by 100% over the last 12 months, which has entailed a lot of building and planting, and it is all just coming into fruition. So the market is expanding rapidly, particularly Sydney, Brisbane and Melbourne.
TUL: Outback Pride is a very admirable operation, you do amazing work.
Gayle: No, not at all, we're just ordinary people out in the bush, we live in a little farmhouse out in the middle of nowhere, and we travel into the outback—for me it's like going home.
Mike is an absolute genius. He doesn't have university degrees but he does have a huge amount of practical skill and natural, creative ability, to look at a plant and taste the earth, and acknowledge the environment. And then to be able to turn that into a whole new industry. It's just incredibly serendipitous, the two of us just kind of fell on each other!
TUL: It is a very respectful way of conducting business, the fact you're giving these communities the tools to produce food and then buying the produce back.
Gayle: All we did was take my Dad's model of significant mentorship [Gayle's father, Rex Batterbee, worked as a mentoring artist in the outback settlement of Hermannsburg, which resulted in the Hermannsburg Watercolour movement], of giving people in those areas the skills to act as an industry, because they don't want to leave their community and they don't want to leave their families.
I have what is called 'skin kinship.' I'm not Indigenous, but I've been given a name, which gives me access to old traditional communities. A lot of people can't access these lands, and so, that has been a really, really important thing in engaging these bush people.
We've pushed for the use of traditional food all along, it's not that we want to be white fellas taking over, we want to bring traditional communities with us. That's why we called it Outback Pride, to put the pride back in the bush, because when I was a kid, out there with them, the communities were stronger.
TUL: What is the most rewarding aspect of running Outback Pride?
Gayle: We are not in this for the money. We can't change the world, but when times are tough we have to remind ourselves, well we've engaged at least 3000 people, and shown them respect for their food, and that is a very big thing.
Mike: To me, to arrive at a community and it's all hugs and smiles, and all that warmth and friendship we get—is the reward. And it has been really wonderful to be able to work with Aboriginal people and getting recognition for these native foods.
TUL: Is there a particular native bush food product that is a favourite of yours to cook with?
Mike: Saltbush is probably the greatest winner. They're fresh Saltbush leaves we have developed or selected, in conjunction with the Aboriginal people. Super Saltbush, which has leaves big enough to actually wrap fillets of lamb in etcetera. It is going out in large, large quantities.
InterContinental has been using our Saltbush for about 12 months now and it can be stir fried, prepared as tempura or just used as leaf in a salad. It's incredibly useful and is 21% protein and it's full of magnesium, iron, calcium and antioxidants. So it's a super vegetable.
TUL: What is next for Outback Pride?
Gayle: Well, Mike is nearly 70 so we've kind of trained the grandchildren up. It has been 12 years since we had a day off! It has been a long journey, yes.
Café Opera InterContinental Sydney
'A Taste of Native Bush Tucker with Outback Pride'
Available from 6pm each night, $85 per person or $115 per person with matching wines.
Bookings are essential.
Ph: 02 9240 1396
Email: [email protected]