For our globe trotting amigos this one's for you – our selection of the best Aussie cafés around the globe. We definitely understand there is nothing (with an emphasis on nothing) like a good, strong Aussie cup of coffee and tasty home inspired bites to beat away that pesky jet lag and pep you up for a day of sightseeing and cultural imbuement. Perhaps we're biased, but we think Australia is definitely home to the world's best coffee and café culture, so when you're off jet setting and lukewarm, coffee flavoured dish water just isn't cutting it, don't worry, we've got you covered!
We've sent out our internationally living counterparts to scout out the best Aussie joints from the four corners of the world and we're pleased to present to you the following list… You're most welcome!
WORKSHOP COFFEE | LONDON
Originally named St. Ali Café after its older sibling in Melbourne, the London crew decided to blaze their own trail and renamed this wonder spot Workshop Coffee. Masters of roasting, brewing and coffee drinking it is no wonder Workshop Coffee now boasts a handsome collection of cafes scattered across London's coolest hot spots. The different, tailor made locations mean you will never be too far away from a good brew, a hearty and healthy meal or a much needed fine drop. Over the last few years these guys have picked up more than their fair share of awards, from Best Independent Café in Europe to Best Vegetarian Breakfast and pretty much everything in between. In short, this place is really, really good!

Visit their website.
KAFFEINE | LONDON
Independently owned by Australians and Kiwis, Kaffeine, in the heart of Fitzrovia, is one of the UK's leading cafés with an emphasis on top-notch coffee, food and service. Having spent the last few years perfecting the art of the coffee making we can safely say they've nailed it! Their weekly menu is inspired by the local markets where they scout for local and independent producers in order to provide healthy food and a happy lifestyle to Londoners by filling their plates with fresh, seasonal, colourful and irresistible food. The way to our hearts is most definitely through our stomachs and this fun sized café has us coming back for more!

Visit their website.
CARAVAN | LONDON
Behind the simple street façade, Caravan's got a super trendy interior with a restored, airy, warehouse-like space complete with wood and industrial style finishings. With breakfast, brunch, lunch, snacks and dinner menus, we've decided we're going to stay all day and just munch our way through it all. Pair an onsite roasted, 100% Arabica bean, ethically sourced coffee with one of Caravan's fry ups, featuring eggs, bacon, mushrooms, and tomato and pepper ragout. For our fellow sweet tooths, we like the coconut bread with strawberries and lemon curd cream cheese, the blueberry friand or the honey roasted organic oat muesli and stewed pear combo – tastes as good as it sounds! Lunch has us drooling with an Australian style, eclectic mix of plates featuring touches of borrowed flavours from Australia's ever-growing, multicultural food scene. From falafels featuring apple and pepper relish with tahini and coriander to steamed mussels in green Thai coconut curry to Sichuan salt and pepper pork belly with tofu and gooseberry salad, Caravan's menu is as diverse as Australia.

Visit their website.
CAFÉ COUTUME | PARIS
A Frenchman and an Aussie have got together to combine French flavours with an Australian flair and in doing so they've created the sophisticated and trendy Café Coutume. This coffee goldmine is located ideally in the heart of Paris on the chic Left Bank in the 7th arrondissement. Embodying the third wave coffee revolution, Café Coutume is a major player on both the French and international coffee scene, with 3 locations in Paris and as a supplier of roasted coffee beans to over 60 cafes and bars it can even be found in Tokyo! Coffee is prepared with scientific precision and the wide variety of dishes available for breakfast and lunch makes this an ideal place to stop and take a well-deserved break!

47 Rue de Babylone, 75007 Paris, France
KB COFFEE SHOP | PARIS
Previously known as the Kooka Borra Café, this street corner gem tucked under the hill of Montmartre attracts fussy foreigners aka Aussies and Parisians who know their coffee. Owned by a well-travelled Frenchman who worked as a Sydney barista before opening up shop back home in Paris, it's safe to say this man knows his coffee! Melange Aussie café culture with Parisian regardant les gens (people watching) with the picturesque backdrop of Sacre Coeur and you've got yourself a pretty good combo to while away any day. We feel back at home with quality coffee, freshly made sandwiches, quiches, salads, cakes and Aussie style banana bread – trust us, it's a life saver!

Visit their Facebook page.
BRONZED AUSSIE | LOS ANGELES
Personifying the best Australian stereotypes - bronzed beach babes, meat pies and coffee, the Bronzed Aussie in L.A. gets our thumbs up of approval and makes our mouths water. The Australian team behind the brand include entrepreneur Samantha Bryan and Michelin Star trained Australian executive chef, Lincoln Smith. Whilst sipping on a much needed, good coffee in L.A., you may as well get your quality Aussie pie fix, with choices of lean ground or chunky beef, pepper steak or a medley of other variations - you won't be disappointed! Be sure to fulfil your bacon and egg roll cravings, sausage roll needs and better yet, lamingtons, caramel slice and Anzac cookies (we always have room for dessert).

Visit their website.
TOBY'S ESTATE | BROOKLYN
Toby and his legendary coffee making capabilities have hit the shores of America and in short, is any Aussie in New York's lifesaver. Boasting a working roaster and cupping room, Toby's serves the best and widest selection of ethically sourced specialty coffees and tea in New York City. Located in a bright and airy former meatpacking factory, Toby's Estate is a neat, cool, socialising hub for all types. For those feeling a little homesick, head on in for a good flat white and a slice of vegemite on toast.

Visit their website.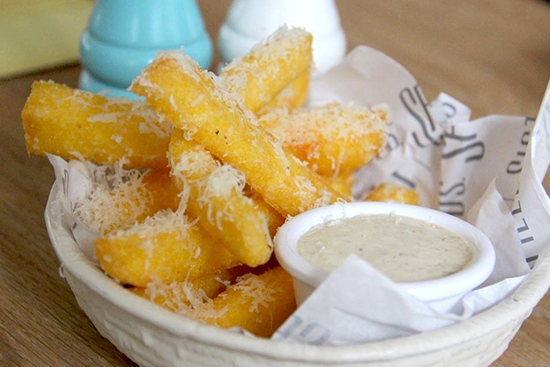 BLUESTONE LANE | NEW YORK
Influenced by Melbourne's iconic coffee and café scene, Bluestone Lane in New York City has well and truly lived up to its claim of offering artisanal coffee and food with first-class service. Each of their locations offer a calm oasis from the hustle and bustle that is New York; the city that never sleeps. When you're in need of a caffeine fix just to keep up with the happenings of this vibrant city, Bluestone will definitely lend a helping hand! You'll be right as rain with the brilliant coffees and yummy, unique menu created by Melbourne's renowned restaurateur, Sappho Hatzis, who specialises in gluten free and natural, yet sophisticated fare. Start your day right with an avo smash paired with tahini, heirloom tomatoes, sprouts, fetta and lemon topped with a poached egg or go or the buckwheat banana bread topped with mascarpone, blueberries, pistachios and cacao nibs. If you're not already drooling you're clearly not human!

Visit their website.
BILLS | TOKYO, JAPAN
A good brunch isn't that easy to come by in Tokyo. Fortunately, iconic Australian café, bills, opened up a number of branches in Japan. The most centrally located one for Tokyoites is in Omotesando (the suburb right next to the famed Harajuku). Serving up their classic ricotta pancakes, organic scrambled eggs and a fantastic coffee, your homesick brunch blues will be quelled with a trip to bills.

Visit their website.
SISTERFIELDS | SEMINYAK, BALI
Sisterfields is the grooviest new kid on the block offering up a healthy, fresh selection of juices, sandwiches, salads, great coffees and yummy pastries. With its all day breakfast, lunch and dinner menu, it's hard not to fall in love with this cool, secluded space with an inbuilt sandwich bar serving fresh, crunchy breads, rolls and croissants! Sit back, relax and feel the serenity at Sisterfields idyllically located in Bali's gorgeous Seminyak.

Visit their website.
REVOLVER | SEMINYAK, BALI
Step behind Seminyak's boutique lined streets and into the ambient Aussie café, Revolver. Declared by its many guests to offer the best coffee in Bali, Revolver definitely earns its spot on our list of fave Aussie cafes around the globe. The smoothies and brekkie options are high up on our list as the best way to start our mornings and we just can't help but keep coming back for more!

Visit their website.
ANTIPODEAN | KUALA LUMPUR, MALAYSIA
Whilst technically owned by a Kiwi, we're adding Antipodean to our list of Aussie cafes abroad due to the name, vibes and brekkie menu (apparently we steal everything good that ever came out of New Zealand – Russel Crowe, pavlova and now Antipodean). Yep, we went there… More importantly though, the coffee is fussy expatriate Aussie approved and the tucker is moreish. The quality selection of coffee is home roasted by Indonesia's Merdeka Coffee using coffee beans purchased directly from smallholding producers. Food wise, the banana pancakes with butterscotch is divine - we can understand why Jack Johnson wrote a song about these puffy little clouds of yum! Tuck into some delish egg plates served with whatever you fancy and if you're up for something a little lighter the muesli with honey, yoghurt and fruit salad goes down a treat!

Visit their website.
TOBY'S ESTATE | SINGAPORE
The infamous Woolloomooloo coffee god has set up shop a short hop, skip and a jump across the pond in Singapore. When visiting this petite island we stop by Toby's Estate housed in a cool, renovated warehouse located along the Singapore River. As a renowned mecca for coffee and food lovers, this Singapore hot spot is just as dedicated as the original flagship to serving the finest specialty coffee, which is roasted on the premises. Toby's Breakfast with light, fluffy scrambled eggs, sautéed mushrooms, bacon and toast or the eggs benedict has us asking for more.

Visit their website.
CAFFEINE | DANSHUI LU, SHANGHAI
Set up by a Chinese-Australian duo who brought a little bit of Melbourne back with them to Shanghai, Caffeine is the love child result of Aussie café culture mixed with the rapidly gentrifying, urban cool Danshui Lu in Shanghai. Single origin beans from Ethiopia, Guatemala and Kenya are available to take home or to drink on the premises in one of their strictly Australian coffees. Despite erring slightly on the more expensive side, lattes and flat whites taste just like they do back home and their iced coffee is a specialty – imagine melting ice blocks dripping onto coffee grounds for eight hours to ensure that you're sipping on the best iced coffee around – don't mind if we do!

Visit their website.

Image credit: Sisterfields, Bluestone Lane