It's that time of year again. Bust out the Mariah, slap on a (seasonally inappropriate) Christmas sweater, load up on eggnog and mince pies and pause your cheesy Christmas movie binge-fest courtesy of Netflix, because it's time to head out for some Christmas lights.
This year, with COVID-19 and all, things are a little different. To comply with social distancing guidelines, some houses are keeping their Christmas lights in their boxes to keep you safe and of course, the listings below are subject to change.
But whatever suburb you're in, however far you're keen to travel (or not), there's still a street packed with blinking LED goodness ready for your gawking.
Here are the best places, streets, and suburbs to see Christmas lights in Sydney this year.
Reckon your Christmas light display needs to be on this list? Get in touch with us.
The Best Christmas Lights In Sydney's CBD
St Mary's Cathedral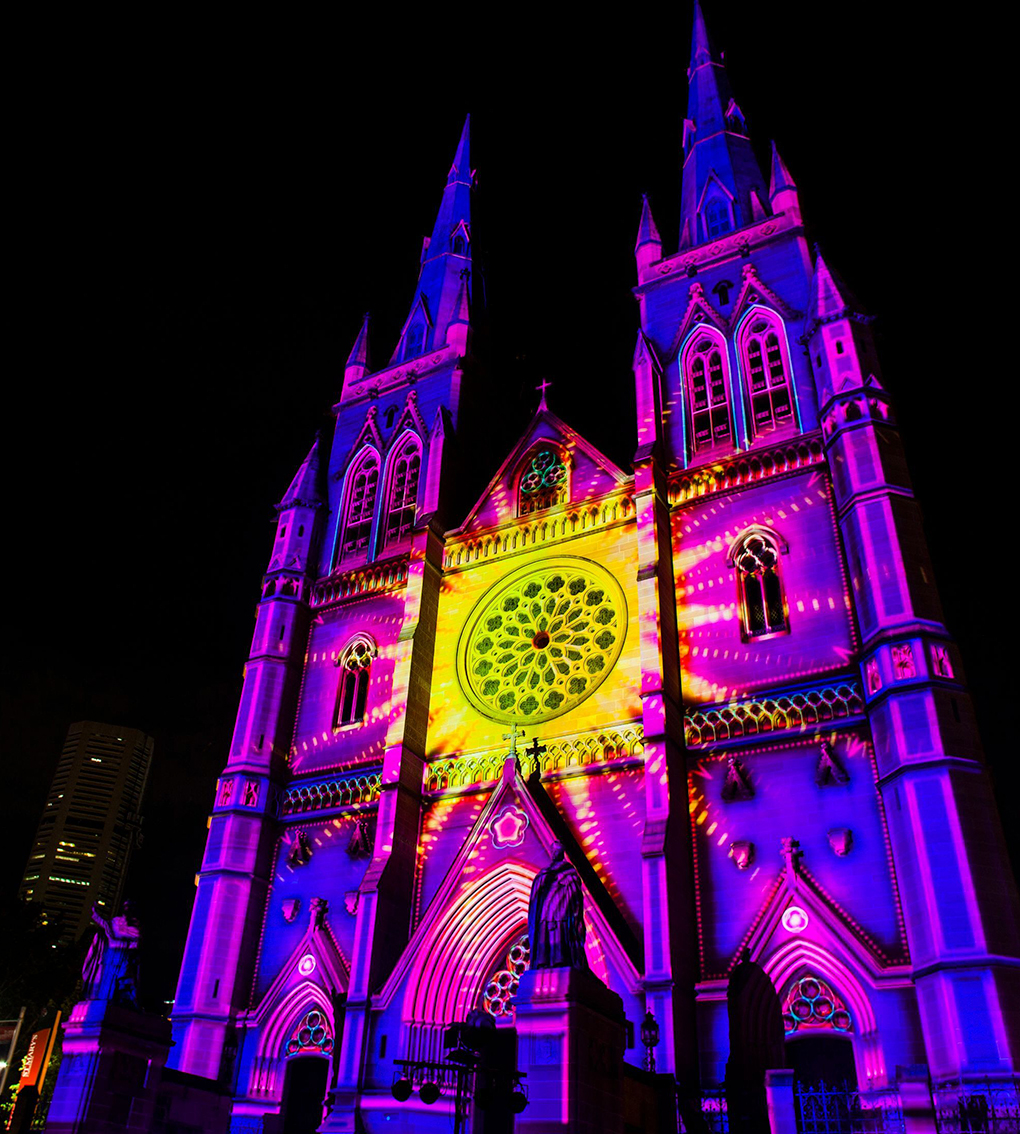 The beating heart of the city's Christmas festivities, St Mary's Cathedral will have you feeling pretty Santa-mental. Starting from 9 December and going until 25 December, these light shows are absolutely stellar. The lights switch on at 7.30pm.
Pitt Street
Once again, Pitt Street Mall will light up underneath a canopy of Christmas trees. Expect thousands of LEDs and nothing short of an extravaganza of photo opportunities.
Martin Place
With a jewelled light installation, bring the group chat down to see thousands of twinkling lights that adorn NSW's tallest Christmas tree. It'll be decorated with more than 110,000 LEDs, a 3.4 metre star (which changes colours) and a casual 330 shining baubles.
The QVB
The QVB is known for its massive indoor Christmas tree—a stellar spot to take a few snaps and of course, take in all the lights. This year's tree is Wollemi Pine and is decorated with over 130 ornaments. The main entrance at The QVB will also be pinned with 7000 lightbulbs.
The Best Christmas Lights In Sydney's North
Kinsellas Drive
Winner of the 'Best Street Lights in Lane Cove' award, these guys are back and bigger for 2021! The owners have started early and installed additional lighting, with the display to keep growing until 12th Dec when it beome its full form. Park at the end of the street, walk down the lane and enjoy the vibe. Runs to midnight throughout December.
Farmhouse Ave
A magic (and massive) Christmas lights display with over 50,000 LEDs, interactive snow play and loads of colour. This is one is guaranteed to impress Christmas lovers of all ages plus raises money for Lights for Kids and the Sydney Children's Hospital.
Ryan Ave
A cheerful display layered in over 12,000 lights, featuring a sparkling four-metre Christmas tree, grazing reindeer and driveway laser lights. Tastefully created and a great stop to add to your Christmas lights trail.
Kanini Close
Dressed top to bottom in Christmas cheer and sprouting some massive decorations, you'll find a six-metre tall Santa and an even bigger inflatable Christmas tree. Creative blue waterfall effects throughout accompany colourful lawn displays and more. This home is situated in a cul-de-sac and the other homes here are often lit up too.
Lockwood Street
A brilliant Christmas light show awaits at the end of Lockwood Street, with thousands of strands of lights pumping sparkles up the house and down the front lawn. Admire the performance as the LED's dance to the tunes, and you might even feel like having a little dance yourself! Keep your eyes out for the three 'Lego Men ' on the side fence, as well as the lightbulbs that love to have a sing-a-long.
Magic Grove
Shoot your attention over to 2 Magic Grove, Mosman. This mega light display has inflatables up-and-about during the day and the biggest Santa in town (pending wind) at night. There's music, festive contraptions, bubble machines, and lasers. This one starts at 6.00pm and goes until 10.30pm.
Baulkham Hills
Make your way over to 10 Boyne Place for some of Sydney's best Christmas lights. Lights and inflatables will be flailing and sparkling strong from 7.30pm to 9.30pm every night until the end of December. The COVID rules for this one mean you'll have to view this spectacular setting from your car only.
Excelsior Avenue
The famed Excelsior Avenue might look a little less bright this year to comply with COVID regulations but there's still a solid suite of houses throwing it down on the Christmas light side of things. House number 136 is set to be going bigger and better than ever with an entirely decorated roof, walk-in display, Christmas statues and a guarantee of over 30,000 lights. This one will shining from 7.30pm to 11.30pm until the end of December.
Poplar Court
Nearby, you'll also find Poplar Court (just off Cecil Avenue), which will see another series of homes get into the Christmas spirit. The Christmas lights here will be ready to go from 7pm to 10.30pm every night.
Arthur Whitling Park
Bring back the best of your childhood Arthur Whitling Park this December. Here, you'll get to lap up a light-filled Christmas tree forest with swirly candy cane shrubs which lead you all the way to a multi-coloured "Joy Tree" surrounded by chromatic polar bears. These lights will stick around until Tuesday 5 January, 2021.
The Best Christmas Lights In Sydney's East
Waratah Street
This year, 5 Waratah Street is turning things up so head in this way expecting English village displays, a Christmas archway, firecracker icicles, inflatable kangaroos, illuminated trains, sleighs—the light show limit really does not exist. These lights are burning bright until 28 December and start at 7.30pm until 10.30pm every night.
Avoca Street
It's the street that put Bondi on the map for banging Christmas lights in Sydney and it does not disappoint. There's really no other street in Sydney that epitomises the festive spirit like Avoca so brace yourself a street entirely lit-up in colourful lights, surprise Santa visits, jumping castles and all the music.
The Best Christmas Lights In Sydney's South
Mt Annan
Nothing can prepare you for the kaleidoscopic light overload at 8 Lochview Crescent. This light installation means synchronised music and lights, interactive displays and a very decorated roof. The light show kicks off a little earlier here, so make sure you get here at 6.30pm (lights out at 10.30pm).
Padstow
Featuring a gigantic blow-up Santa Clause, LED candy canes and an endless display of fairy lights, this house is one to hit on your nighttime Christmas light safari. This light display is a little different from the others as it's a Christmas light appeal where you can donate to The Cure Brain Cancer Foundation. If you're keen, you'll just need to message the owner for the details here.
Holt Road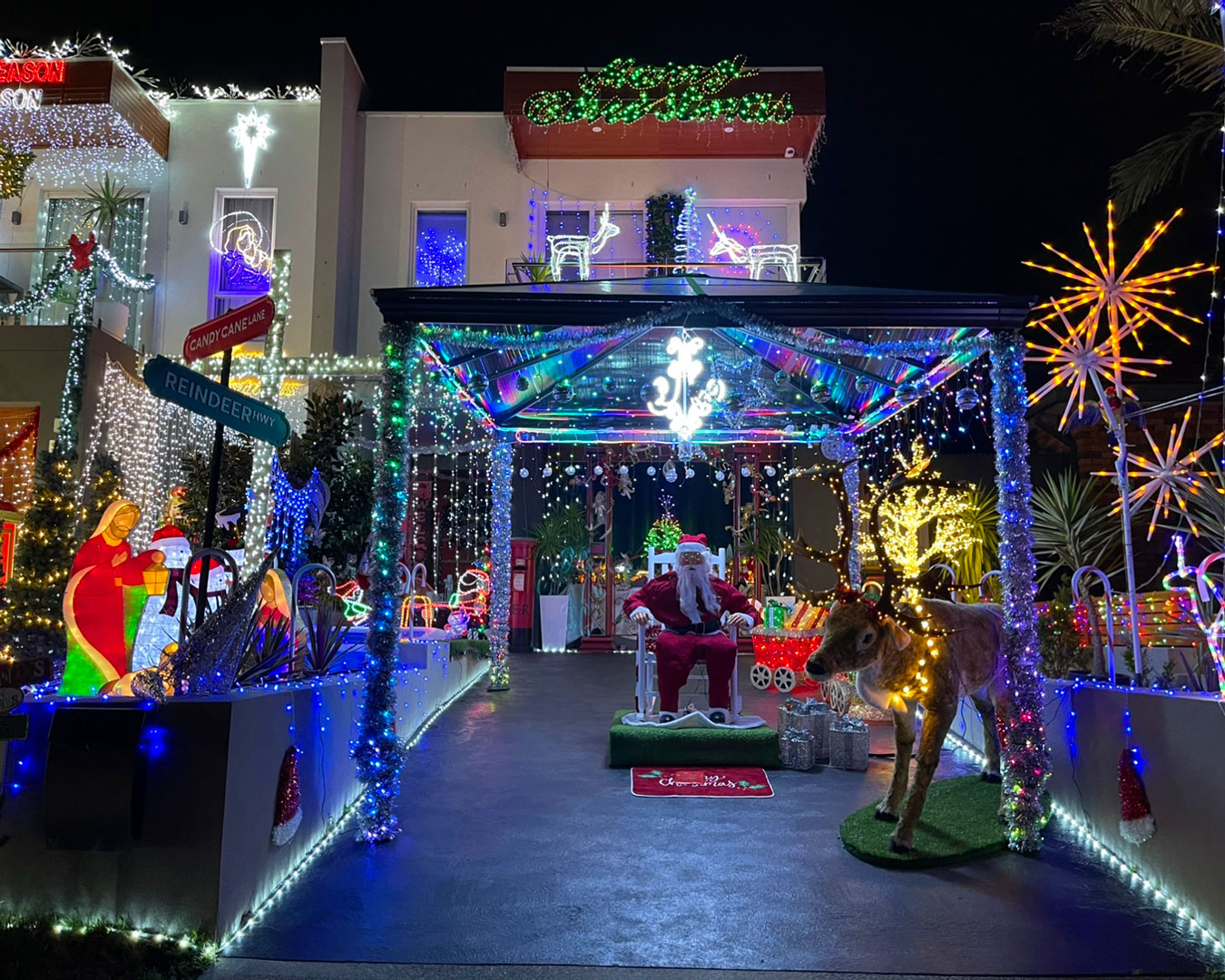 One of Sydney's best Christmas light displays can definitely be found at 162 Holt Road in Taren Point. You'll find music, moving features, a decorated roof, walk-in displays, bubble, and smoke machines and yes—those are laser beams. There's a whole lot of photo opportunities, a snow pool and life-size Santa too.
Walseley Crescent
Consisting of moving features, inflatables, decorated roofs, lasers, projections and Christmas statues, this place has it all. The Christmas lights kick off here at 7pm and go until 11pm.
South Circuit
Head to 248 South Circuit in Oran Park for some more of the best Christmas lights in Sydney. This one features all the festive light trimmings in massive display and kicks off at 7pm every night (stopping at 11.30pm).
Jubilee Avenue
At 101 Jubilee Avenue in Beverley Park, you'll be in for a whole lot of Christmas light chaos (in the best way possible). With music, moving parts, interactive displays, roof decorations and all the bubble, smoke, and snow machines. The light show here kicks off at 8pm every night and stops at 10.30pm (and will continue to 25 December).
The Best Christmas Lights In Sydney's West
Palena Cres
This house in Saint Clair sure is a feast for the eyes! Lights and decorations covering the front lawn, wrapping around trees and slithering up the house. The owners have spared nothing here with Nativity scenes, moving characters and music.
South Street
You'll find memorable lights and decorations here at this house in Tempe. Running every night throughout December with extra action on the weekend (Friday, Saturday, and Sunday night) when laser, fog, bubble and snow machines make an appearance.
Bishop Street
If you're looking for a street with multiple displays then we recommend Bishop Street where many householders are getting into the Christmas spirit for 2021. Our favourite house here has their lights synchronised to music.
Cumberland Road
There's only one place you'll need to look at here and it's 72 Cumberland Road. This house sports a medium-light display with nativity scenes, roof decorations and window displays. The Christmas lights here start at 8.30pm and go until 11pm.
Planning Chrissie lunch? Here's our top pick of all the restaurants open on Christmas Day so you don't have to cook.
Image credit: Lachlan Kennedy and Christmaslightsearch.com