There's no better to celebrate the weekend or cure your Sunday blues than with a long and leisurely lunch with your mates and, lucky for us, Sydney knows how to do a long lunch well.
This list includes a little of everything from harbourside rooftops, fancy seaside dining with all the ocean views, a revamped poolside spot, and a few bucket list venues too.
So what are you waiting for? Here are all the best spots for a long lunch in Sydney.
Ucello
CBD

Merivale's pretty poolside restaurant Ucello has a brand-new chef and a whole new vibe. Nigel Ward (ex Sagra) will be bringing a little of the Amalfi Coast to Ucello, using old school techniques he picked up on his travels through Italy.
Ward is super passionate about local produce and flavours and, wielding the restaurant's wood-fired oven and charcoal barbeque, his menu includes the likes of Burraduc Valley buffalo mozzarella with Violetta artichokes and Cantabrian anchovies, Cape Morton scarlet prawns with native finger lime, spaghetti alla chitarra, chilli and bottarga, and Ulladulla ruby snapper in cartoccio, served with mussels, fennel, and salsa verde.
Cafe Sydney
CBD
This is one of those Sydney bucket list spots that everyone needs to visit at least once. In 2019, they kicked off weekend lunch service—and yes, it's a real treat. Perched on the top floor and terrace of the historic Customs House at Circular Quay, your lunch will feature a breathtaking view of the Bridge, Opera House and sparkly Sydney Harbour. Make sure you book a table on the balcony, settle in with a spritz or an espresso martini or indulge in a plateful of Cafe Sydney's extra-fresh Sydney Rock oysters. The menu is polished modern Australian, and ticks off things like tuna tartare with smoked trout roe, ricotta gnocchi, braised beef cheek and roasted pork belly.
Sean's Panorama
Bondi Beach
Sean's is one of those spots that is simply so quintessentially Sydney, if you're a local and you haven't been, it's almost considered a crime. While it is a stone's throw from the sparkly sand of Bondi Beach, don't expect glitz, glamour, or anything pretentious. Award-winning chef Sean Moran is all about fresh, seasonal produce, most of which is plucked from his Blue Mountains farm. The menu changes regularly, but your best bet is to let Moran do the talking with his Chef's Choice five-course tasting menu with matched wines.
Pilu
Freshwater Beach
Built into a stunning, sprawling weatherboard cottage on Freshwater Beach, Pilu is an absolute must for anyone wanting to experience the very best of Sydney's dining with a side of fresh, seaside air. Pilu has two chef hats—a culinary title that is well deserved. The menu is inspired by owner Giovanni Pilu's Italian home, Sardinia, but champions local produce. The hero of the menu has to be the crisp-skinned suckling pig for two with rosemary potatoes, but we're also very into the refined desserts on offer.
Icebergs Dining Room And Bar
Bondi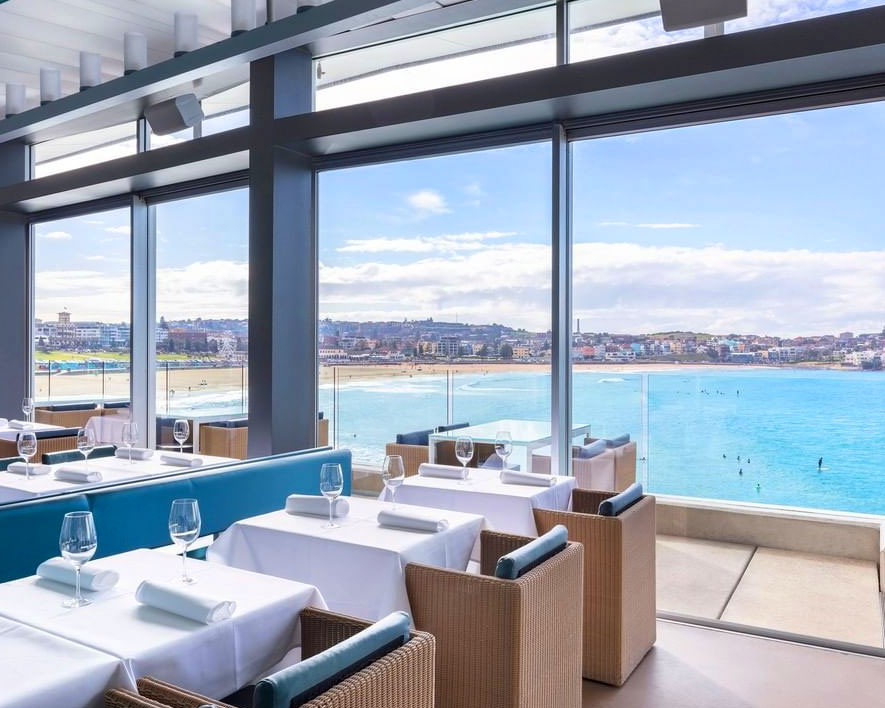 It's true that some beachside restaurants with jaw-dropping ocean views tend to rely a little too heavily on their location. Icebergs is not one of those venues. As well as having a postcard-perfect vantage to watch the waves of one of the world's most iconic beaches, Icebergs delivers with a flawless Italian-inspired menu, a sleek modern interior designed to match the turquoise ocean, polished, cool service, and just the right amount of Bondi glamour. It's headed up by Maurice Terzini, who's taken Sydney by storm since opening Icebergs Dining Room and Bar back in 2002 (his latest is CicciaBella, also in Bondi).
The Winery
Surry Hills
We'd probably be remiss to not include this inner-city staple. Since this pretty garden wine bar opened, many locals have been known to get lost here for a few hours of lunchtime feasting. As its name suggests, The Winery has a hefty wine list to get stuck into, which covers off a nice curation of bubbles, whites, pinks, and reds. To eat, you've got modern Australian-style share plates and snacks like porcini arancini, sausage rolls, and smoked lamb meatballs. Larger plates include a lamb shank and pinot pie and mussels cooked in a riesling cream sauce and served with garlic bread. Look, it's boujee—but sometimes a pop-up prosecco fountain is just what you need.
Bert's
Newport
The dining room at Bert's might be one of Sydney's most beautiful. Designed by Akin Creative's Kelvin Ho alongside regular Merivale-collaborator Amanda Talbot and Merivale boss Justin Hemmes, it's a total Great Gatsby-era dream. As well as plush booths, soft lighting, and a view across Pittwater, there are raw bars dressed in caviar, lobsters, and oysters. The vibe is all things Mediterranean, with Merivale's Jordan Toft at the helm as executive chef and Sam Kane leading the way in the kitchen as head chef. And if all that's not enough to keep you there, take a plunge into Bert's 750-strong wine list created by Master Sommelier Franck Moreau.
mimi's
Coogee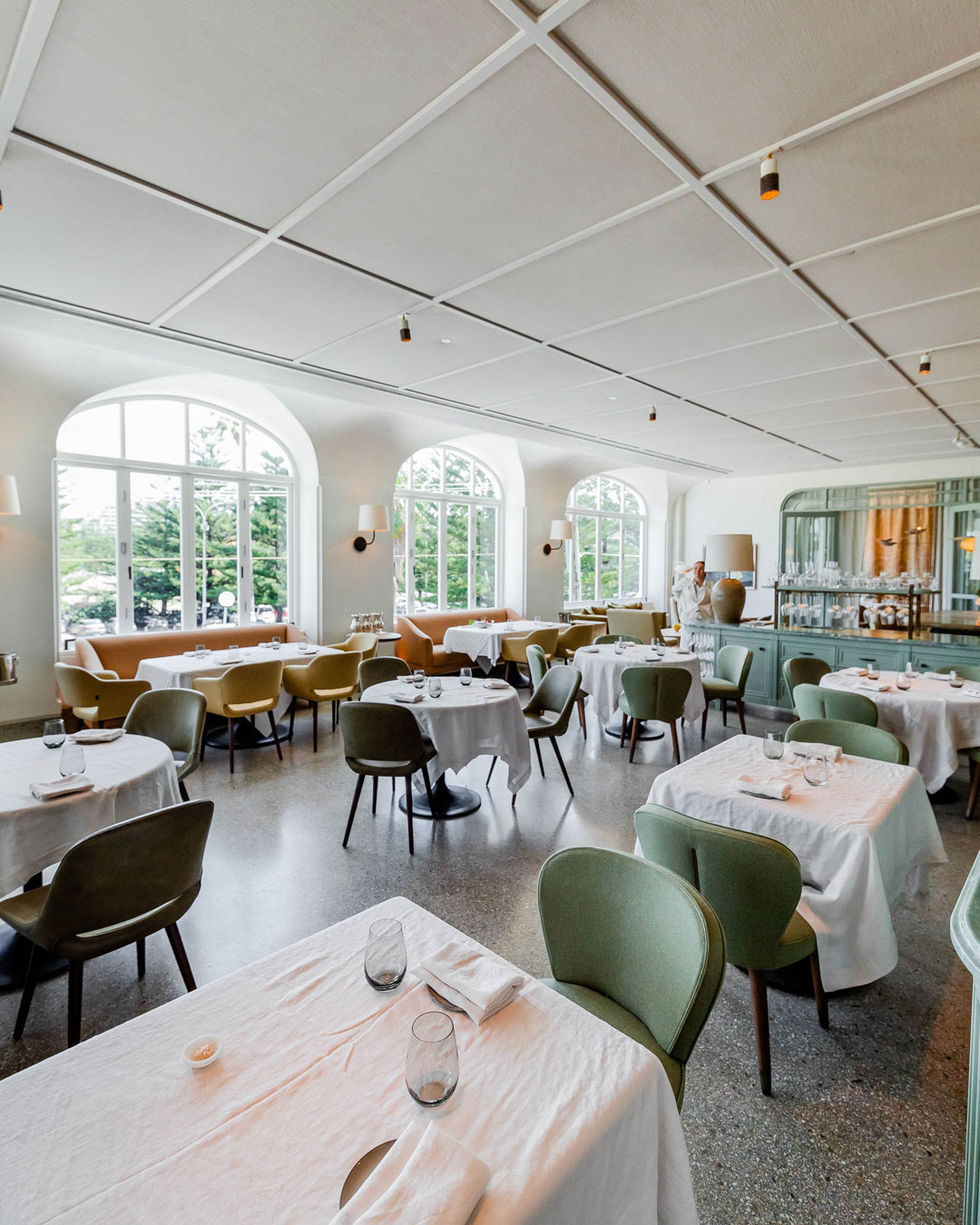 Speaking of chef Jordan Toft—mimi's is another must for your long lunch hitlist. This stunning spot was a part of this year's highly anticipated Coogee Pavillion Middle Level re-opening. Mimi's is all martini hues—olive green, bone-coloured linens, warm lighting, and an enormous open kitchen with wide, oyster-stacked marble benches.
Toft is still doing his Mediterranean thing and it is very, very good. On the menu are things like barbecued black abalone skewers, puff pastry arlettes with warm d'affinois, charred Murray cod with lemon thyme and coriander seed, and a grilled wagyu flatiron #9 with bullhorn pepper. Chablis is the star of the 600-strong wine list too—a drop that's quietly trending in Australia right now.
The Collaroy
Collaroy
We have to admit, Merivale really knows how to do a good long lunch. Also from the hospitality group's library of Sydney venues, The Collaroy is a beachfront hotel spread over two levels: the ground floor serves up breakfast pizza, healthy bowls for lunch, and home-style dinners once the sun goes down. Meanwhile, upstairs it's seafood galore, and you'll also have your choice between two bars. It's the perfect place to chill out and cruise through a long lunch after a dip at the beach.
North Bondi Fish
Bondi
A fool-proof combination of sea breeze, the freshest seafood, boozy popsicles, and an almost alarming selection of rosé will have you lunching again and again at North Bondi Fish. Intrigued? You should be. Located on Bondi Beach, North Bondi Fish strikes the perfect balance between being completely relaxed and a little bit fancy. So get the squad together and head down for a leisurely lunch and a glass of rosé (or three).
NOLA Smokehouse And Bar
Barangaroo
Inspired by the iconic food culture of New Orleans and Louisiana, NOLA is a sweet spot for a lunchtime feast with views out across Barangaroo and Darling Harbour. The Smokehouse has you covered for top-cut meats cooked to perfection with southern-style roasting. Think dry-aged beef brisket, smoked and pulled pork shoulder, and spit-roasted lamb served with simple slaw or BBQ spiced garlic corn on the side. Hit the French Quarter after your meal—a secret room dedicated to premium whisky.
Jonah's
Whale Beach
A Sydney institution for a reason, Jonah's at beautiful Whale Beach will instantly give you those first-day-of-holidays warm and fuzzies. With an unbeatable view, it would be wrong to stay for only an hour, so settle in and let them do the hard work by ordering from the set menu of two, three or four courses. Add on the paired wine option, because you deserve it.
Want to make a day of it? Here's our fresh guide to all the best eats and drinks in Manly right now.
Image credit: Rocket Weijers, Steven Woodburn, Cafe Sydney, Pilu, Icebergs, Caitlin Hicks, Rocket Weijers, North Bondi Fish, NOLA