2020 has been a stone-cold shocker and the less said about the previous 12 months, the better. It was a year that rocked almost every industry on the planet, but few were hit harder than hospitality. Lockdowns across the country forced some of our favourite businesses into survival mode and many didn't make it out the other side. We pour some out for our fallen faves.
However, the speed and the dexterity with which many establishments pivoted to the new and ever-changing rules was nothing short of remarkable. When we couldn't sit in, takeaway took hold and restaurants who never would have considered boxing up their meals suddenly found themselves catering to a captive audience as home delivery became the norm. We all have our delivery riders to thank for keeping many of us fed and in business.
Yet despite all of the change, or in some cases, because of it, new restaurants continued to pop up across our fair city like street flowers that refuse to let the pavement get in their way.
Here we pay tribute to the newcomers who triumphed through adversity in a (by no means definitive) list of our top restaurant openings of 2020.
Esteban
CBD
The second venture from the team behind Tequila Mockingbird is a wonderful Mexican-inspired experiment in finery. The intimate bar and restaurant split feels like you're dining in the belly of some giant ship bound for the new world. It features a three-metre plus char grill where the food is cooked in front of you and an authentic Guadalajaran tortilla press. Esteban is a meaty fiesta with a 1kg wagyu Delmonico rib eye and a wattle-seed rubbed duck breast as the main showstoppers but the king oyster mushroom ceviche and charred sweet potato are also excellent. And don't get us started on the mezcal margaritas.
Little Lagos
Enmore
Little Lagos started life as a pop-up at Earl's Juke Joint and found a permanent home on Enmore Road right at the start of lockdown. It's Sydney's only Nigerian restaurant—a fact that sounds unbelievable in 2020—and serves the kind of authentic Nigerian cuisine ex-pats have been pining for. Prepare to try local dishes like jollof rice, goat stew, and ewa agonyi, expertly cooked by culinary fanatic Ade Adeniyi. It's like being in the real place, as attested to by the city-wide fanbase of the African diaspora and Afrophiles alike.
Lonely Mouth
Newtown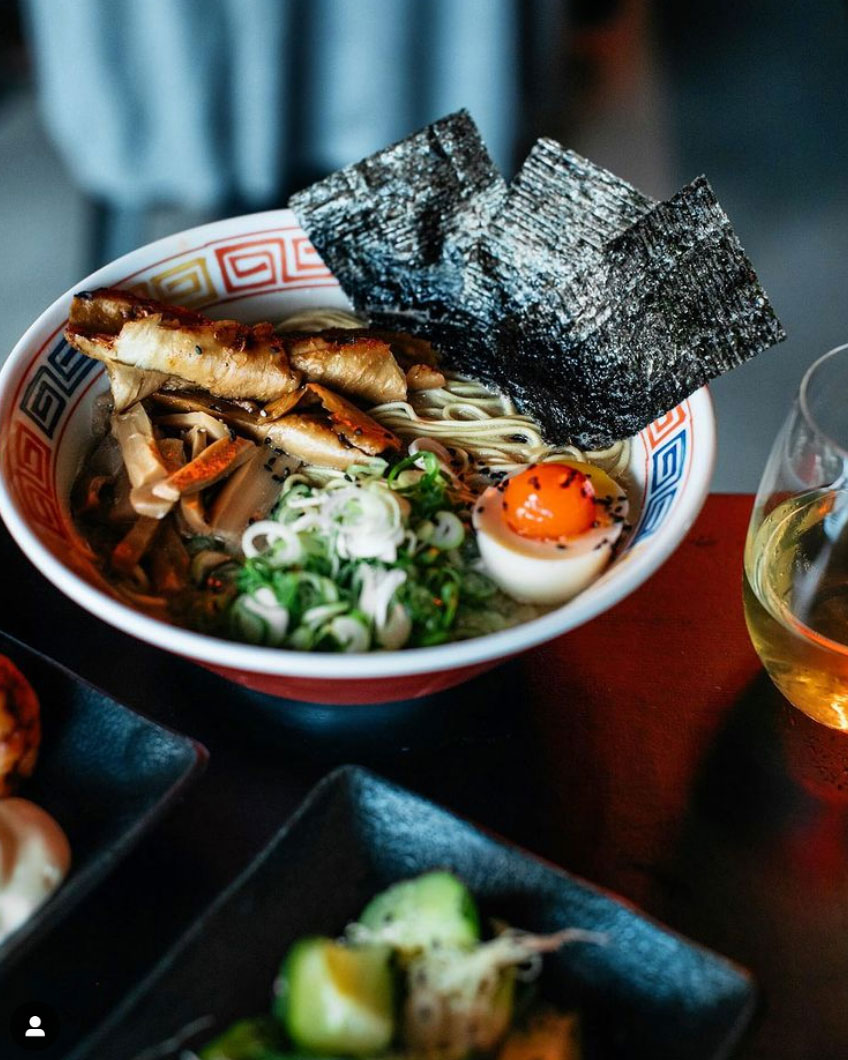 This tiny ramen-ya down a King Street alleyway started out as the vegan offshoot of Redfern legends RaRa Ramen but quickly took a whole new life of its own. Lonely Mouth only serves three dishes along with their sides but all of them are legendary in their own right. The vegan soy miso is the one that started it all as a popular menu item at the big sister venue, but the tantanmen and the sunflower and hemp seed bowls are equally worthy counterparts. Lonely Mouth soared in part due to the lockdown as ramen flavours tend to travel well and are perfect for midweek sofa-side nourishment.
mimi's
Coogee
Merivale's latest offering transformed the middle floor of the famous Coogee Pavilion into a sleek modern eatery with views of the surrounding coastline. Head Chef Jordan Toft has been brought down from the Northern Beaches to curate the menu at mimi's, which features strong coastal vibes with a distinctly Mediterranean flair. Think 'nduja calamari, garum chicken, and barbecued abalone plated up on impressive tableware and surrounded by plush leather and linen decor. It's like you've pulled into port at a lux Amalfi coast eatery and it's well worth splashing out for.
Restaurant Leo
CBD
Restaurant Leo is a new venture produced from the melding of minds from the twin powerhouses behind Newtown's former Oscillate Wildly and Darling Harbour's LuMi. Tucked down Angel Place's cobbled laneway in the CBD, it draws inspiration from both of these heritages while managing to be something entirely new. Hyper-seasonal fare with Mediterranean leanings, it's a slick wooden-furnished endeavour that caters to the end of week-long lunch or knock-off-work Negroni, but pulls it all off with exceptional style and flair.
Calita
Bondi
Calita is a very new beach-front mezcal bar and taqueria from the team who brought you such instant classics as Carbon, Sonora, and Taquiza. Seafood is the name of the game here and the food is sourced locally and cooked up with memories and inspiration from Mexico's Baja Peninsula. While the heavenly tacos and fresh crustaceans are the highlights, the small-batch, locally sourced Oaxacan smoked mezcal is the real reason for a visit. Food is also prepped for takeaway to enjoy on the big beach right across the road from this "little beach".
Lilymu
Parramatta
The final restaurant on the list is an investment in, and signifier of, the future of Parramatta. With the bright minds from Nour and Mr Wong at the helm, Lilymu is a modern pan-Asian dining experience that skews South Asian in flavour and freshness. It's the jewel in the crown of the up-and-coming second CBD's new dining precinct which serves spicy margs, crunchy wok-fried Asian greens, and vibrant dumplings bursting with flavour. The black garlic mi goreng topped with egg yolk is a real winner while the bespoke cocktail list will ensure a long sipping session to make the pilgrimage out west more than worth it.
Coming Soon
Sammy Junior, a petite CBD cafe and cocktail concept from the award-winning Maybe Sammy and Maybe Frank crew
RE, a boundary-pushing zero-waste bar from Matt Whiley (Scout) and Maurice Terzini (Icebergs Dining Room & Bar and CicciaBella)
And since you're here, why not plan your next brunch with this list of Sydney's best cafes.
Image credit: Steven Woodburn, Steven Woodburn, Little Lagos, Lonely Mouth, Rocket Weijers, Kitti Gould, Lilymu