Dive on into summer the right way because Sydney has just dropped a tonne of new openings for you to sink your teeth into. And you'll just have to naturally work your way through this entire list. It'd be rude not to.
Here are all the new restaurant openings to pop into this December.
Toppi
CBD
Named after chef and owner Paola Toppi (just the genius brain behind iconic Bar M), Toppi is your Italian ristorante escape when you want to hide away from the bustle of Sydney's CBD. And we'll cut right to the chase, your first port-of-call here is the elevated pasta-bar that churns out housemade dishes of the carby stuff. Standouts include the signature duck ravioli with sage, browned butter and duck jus and the blue swimmer crab and tagliatelle sciue sciue with king prawns, cherry tomatoes and a dash of chilli. These guys are prepped right in front of you, which basically means you're in for all the theatrics.
Vizio Caffé E Cucina
Woolloomoolloo
So she's not entirely a new kid on the block but this one has just transformed in Sydney's first grappa bar and we're very excited. For those of you unacquainted with the Italian digestif, let us explain. For starters, it's one of Italy's oldest and most widely enjoyed spirits. It falls into the brandy category, a pomace brandy to be precise. If you're keen to step outside the staple spirits and start sipping a few more under-the-radar drops, you've come to the right place.
As for what's to eat, Vizio Caffe e Cucina has all guns blazing for breakfast, lunch and dinner. If you're here in the morning, you can dig into everything from an earthy green bowl to "scraffle eggs"—a drool-worthy combo of parmesan, black truffle, scrambled eggs, chives and sourdough.
Kuro
CBD
Housed within a heritage-listed hall on Kent Street, Kuro is divvied up into different moods: a brew bar for early morning risers, a bar to watch and sip Japanese mixology at its finest, a dining room for dinner à la carte, and Teramoto by Kuro—a 10-seat only degustation experience where you'll watch chef and co-owner Taka Teramoto (previously at Michelin-starred Restaurant Pages, Paris and Florilège, Tokyo; Waqu, Sydney) work his magic in the kitchen.
For lunch and dinner, The à la carte menu has been created by Head Chef Nobu Maruyama (Bar H) and Teramoto with innovation and sustainability front of mind. Elements of traditional Japanese cooking are made unique with Australian ingredients and fresh, innovative ideas.
Sonora
Potts Point
The team behind Bondi's Taqiza and Carbon have kicked off another Mexican mecca in the heart of Potts Point. Compared to her older siblings, Sonora preaches a dedicated focus to all things fine-dining (think deconstructed tacos) and, the spirit of the moment: mezcal. Leading the way in the kitchen is head chef Juan Carlos (who you know previously from Three Blue Ducks), and just like The Ducks, he's charging up dishes with sustainably sourced ingredients.
Here, you'll want to make sure you go hard on the tacos but don't expect your usual pulled-pork and cabbage affair. Instead, you'll find tortillas made fresh in-house and combos like lamb brocheta with oyster mushroom, bullhorn peppers, cumin crema and beetroot relish; wagyu pastrami burrito with cabbage, coriander sauerkraut, chipotle mustard and black bean; and even quail and grilled octopus.
The Grumpy Baker
Coogee
This gem is the famed Sydney bakery's eighth outpost. They're known for churning out epic coffee, freshly baked goods, breakfast and a heap of lunch feeds. Along with all the classic takeaway options, you'll also be able to also dine in, and get stuck into a Middle Eastern-inspired menu including traditional dishes like Shakshuka, hummus spreads, falafels and saffron marinated chicken with tahini.
As for the vibe, this newbie kicks things up a notch, saying goodbye to The Grumpy Baker's staple rustic interiors and hello to a completely new and fresh coastal aesthetic. That means white interiors, pistachio leather seating and sleek zinc tables.
El Jannah Express
Newtown
El Jannah Express on King Street is the seventh El Jannah outlet to open in Sydney after the fateful day when the very first El Jannah sprung onto the scene in Granville in 1998. The best part? This is El Jannah's first takeaway-style shop, which means more convenience and stacks of the juicy good stuff for you.
At this venue, seating is limited so your best bet is to order (everything on the menu) at the counter to carry away with you. On the foodie side of things, the crew here is plating up southern-style fried chicken, up to 10-piece meals, butterflied and charcoal chicken with honey mustard and all the sweet-and-spicy sauce to amp up your chicken escapades too.
The Gidley
CBD
You'll find The Gidley in a basement spot on the corner of King and Elizabeth streets. It takes its name from Governor Philip Gidley King (the third governor of NSW), and it is a classic steak house, inspired by the world's greatest grill restaurants.
Brought to you by the Bistecca crew, it's similarly opulent in style and service—think herringbone floors, moody stone benches, olive green velvet banquettes and candlelight. There's also a private dining room complete with its own bar that seats up to 20. Unlike Bistecca, The Gidley also does an American-style burger made from chuck and brisket, because, well, we love a good burger here in Sydney. The Gidley Burger is a double beef pattie with cheddar and pickle and the option of bacon and egg.
---
November Openings
NOMAD Up The Road
Surry Hills
When word broke back in September of a devastating fire at Surry Hills Meditteranean-inspired restaurant and cellar door, NOMAD, we were left feeling pretty heavy-hearted. The restaurant has become an absolute cornerstone of the Surry Hills restaurant scene, boasting a unique sustainable approach, a wine list that heroes Australian wine-making talent, and a one-in-a-million bottomless rosé brunch on weekends.
But these legends aren't letting anyone down. They're back in the game as of November 1, 2019, with a temporary set up that's equally as beautiful as their OG Foster Street digs. Called NOMAD Up The Road, you can expect the very best of NOMAD (even those CJ Hendry sketches), with a few new additions thrown into the mix. Head chef Jacqui Challinor has forged an updated menu focussing on smaller shared plates and incorporating a number of new eats. But fear not, notable dishes have been carried over from NOMAD: the kingfish ceviche, zucchini flowers and, thankfully, the duck mortadella and olive oil ice-cream sandwich.
Shwarmama
Surry Hills
Ester's Mat Lindsay is easily one of Sydney's most exciting chefs. He's done a wine bar, and he does room service to perfection for one of Sydney's sweetest design hotels. Shwarmama is his latest venture—a slick standing-room-only kebab shop that breaks a few rules of the traditional kebab shop set up, and ups the ante on taste. The Reservoir Street spot has been designed by the same team that designed Poly and Ester, so expect lashings of polished concrete and bright red accents over fluorescent lights, plastic chairs and garish photos of rotisserie meats.
There are six items to choose from, including a spiced marinated lamb kebab, a felafel kebab, a hummus plate, a breakfast sandwich with fried eggplant and boiled egg, a hummus plate and a non-Halal snack pack. And for when you're a regular or a big-time fan, there's also some pretty sweet merch to shop too.
Cuckoo
Newtown
Cuckoo has taken over the top floor of The Marly in Newtown, with a fresh fit-out inspired by Germany's underground youth scenes. A little bit wild, weird and wacky, here, you can expect everything from schnitzel through to pimped out pretzels, bee sting cake schnapps, strudel, a rock-climbing wall and glow in the dark ping pong. You're also in for a full range of schnitties and fluffy pretzels with—wait for it—an entire Condiment Kingdom to dress your plate in pretty much any sauce and flavour imaginable.
Lotus
Potts Point
The new Lotus will pay homage to the past, with the return of cult classics like chef Dan Hong's famous hot fudge sundae and the Lotus Cheeseburger. This time around, the burger will up the ante with brisket, chuck steak and dry-aged beef fat thrown in the mix. New dishes reflect the chef Hong is today: "A little more mature, but with the same approachability, fun and flavour," he says. There'll be hand-cut noodles with Scarlet prawn and XO, black truffle grilled cheese toasties and smoked anchovies with cultured cream and scallion bread. And Hong has doubled down on the nostalgic, throwback vibe with a Frosty Fruit granita that's plated up with coconut sorbet.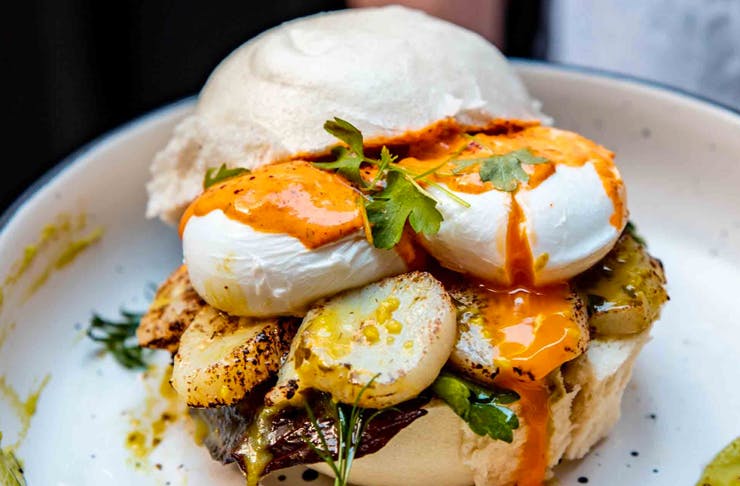 St. Aubaine
Pyrmont
With Anna Wang at the helm of all things interior design here; you can thank this legend for the floral walls, hanging plants and lush garden canopy. The foodie line-up features just eight brunch dishes but that just means you can spend more time bringing on a glorious food coma. The signature dish at St. Aubaine is the ruby rose panna cotta loaded with berry mascarpone, chocolate crumble, berries, popping candy and rose syrup. You can also get around a banana brûlée granola, slow-cooked chicken with crushed green pea and Kyoto gravy and Moroccan-spiced pulled pork packed with labneh, dukkah, herb oils and shallots.
Cafe Paci
Newtown
You'll find the new Cafe Paci on King Street in Newtown. This time around chef Pasi Petänen has ditched the five-course set menu vibe in favour of a friendlier a la carte set up, filled with dishes that follow his signature European sensibilities. Head in for a cocktail and a snack, or stick around for a full night of feasting—Petänen wants to meet Sydney diners wherever they're at. There's even a lunch service on Saturdays if you're after a spot for a dreamy long lunch.
Colombo Social
Enmore
Draw your attention to Colombo Social, a socially conscious restaurant churning out some of the best damn feeds Sydney has to offer. The cafe is committed to making a difference through supporting Sri Lankan asylum seekers and their integration into Australia—providing these new Sydneysiders with employment opportunities as they settle into their new city. Alongside this, Colombo Social boasts a menu that champions bold flavours from the region with an ethos based on inclusivity and embracing all backgrounds.
As for the menu, it's next level Sri Lankan goodness. Head chef Chamara Pathiranage leads the foodie antics here, and you can expect a range of modern fusion dishes including soft shell crab roti tacos with buttery roti, spiced crab, mango salsa and fried curry leaves and then more traditional feeds such as kothu roti, deviled potatoes and Ama's famous house vegetable curry. There's also a cocktail list to get around which keeps zesty concoctions like "The Invisible Mango Lassi", a clarified milk punch featuring Ceylon arrack, Sri Lankan tea, mango, citrus and custard.
---

October Openings
Stanley's Bar
Darlinghurst
The crew behind S.A.S.H and Sly Fox have taken over Darlinghurst Bar, Stanley's, and revived it with a hot new Miami-Vice themed makeover. Paying homage to the sunsets and statement blazers of the 80s cult-classic TV show, Stanley's is fully decked out with pinks and teals. Leaning into disco-house vibes where locals can embrace their inner-diva, Friday and Saturday nights will feature a roster of killer local and international acts while Thursdays are BYO Record Nights and will be reserved for budding talent, meaning if you're a DJ in the making, you can book a spot on the decks.
Goobne
Darling Square
This joint falls under the Chatime Group, who has confirmed its first Australian store opening up in Sydney's newest food precinct, Darling Square. This gem will be one of the first Korean oven-roasted chicken bars and restaurants in Sydney, and it's set to be one of the most interactive feasting joints around—no biggie. In essence, Goobne is bringing to town a K-Food concept, packed to the rafters with K-Pop, Korean heritage and loads of karaoke to get around. You'll also be able to order directly from your phone to your table.
Copper & Cocoa
North Rocks
Copper & Cocoa is a patisserie sensation. It first made a name for itself with their iconic cakes but, since making it big in the wide world of pastry, it has transformed from a bakery into an all-day cafe, serving up French-inspired treats. From traditional croissants to a French ploughman's board featuring duck liver parfait, Branston pickles, baguette and a choice of camembert, vintage cheddar or blue vein cheese—this place is authentic and well worth a visit.
Johnny Gio's
Bondi
Jonathan Faro has earned himself a rep for giving Sydney some pretty epic pizzas. First up was Society Pizza—a Bondi neighbourhood favourite, sporting Faro family recipes and Neapolitan classics. The latest is Johhny Gio's, Faro's fast-paced, pint-sized pizza joint on Bondi Road with platefuls of character. It has the vibe of a New York City-style takeaway joint, but, Faro assures us, all the best parts and pieces of proper Italian pizza. Expect crispy bases and big flavours.
CicciaBella
Bondi
Picking up where Da Orazio left off, CicciaBella is headlined by Mitch Orr (ACME) and the legendary Maurice Terzini (Icebergs, The Dolphin and one of our favourite fashion labels, Ten Pieces).
Inspired by the dreamy southern coast of Italy, the CicciaBella menu lets you eat as you wish—whether that means share-style, or going in hard on the flavour-packed antipasti menu, or a select of woodfired snacks. We recommend drawing your attention to the insanely delicious garlic bread. This bad boy is prepared with CicciaBella's pizza dough and meant to be paired with everything on the antipasti line-up (it's also a generous sponge to wipe your plate clean). Try it with the bone marrow with gremolata, the blistered cherry tomatoes, or the smoky eggplant.
DOPA Donburi And Milk Bar
Darling Square
Nestled on the new Darling Square strip known as Little Hay Street, DOPA Donburi and Milk Bar is concept store brought to you by the Devon team. This gem has been inspired by all things Tokyo, which means the menu is packed with more than 20 variations of Japanese donburi (rice bowls) like teriyaki chicken, cheeseburger wagyu, beef tongue, katsu pork and a whole heap more. The milk bar feels are also very real here with classic milkshakes, parfaits, puddings and cheesecakes up for grabs. However, there's also a sling of Japanese desserts that reimagine the old-school miruku bar including loaded kakigori shaved ice desserts, the iconic brick toast and giant matcha cookies.
XOPP
Darling Square
From the Golden Century family, XOPP is a polished version of what we've come to expect from one of Sydney's most iconic Chinese eateries, fronted by second-generation Golden Century restauranteur, Billy Wong. Expect contemporary Cantonese along with private dining spaces, a separate bar area with an edited menu and a 250-strong wine list.
You'll find XOPP on the mezzanine level of the stunning Kengo Kuma-designed, timber-wrapped Exchange building at Darling Square. The interior design has been kept in the family too—Billy's brother Alex, head of Hong Kong-based Paring Onions Design, is responsible for the fit-out. Custom lighting featuring bright Chiang Mai dragon-patterned fabric complements emerald Mila chairs by Magis, and orange glassware and chopsticks. There's also a stunning installation by Sydney-based artist Nike Savvas.
Aesop Sydney
CBD
The latest in the legendary skincare label's retail arsenal is a little larger than the neat-sized stores we've come to know and love from Aesop. Aesop Sydney is the largest Aesop store to date—featuring an immense, glossy stainless steel counter, a little amphitheatre and a wall dedicated to a rotating curation of digital art. The store replaces the previous Level 4 Westfield shop—and though it's larger than usual and located centre stage in Pitt Street Mall, it's still very much a serene, calming experience.
Mary's Pitt Street
CBD
At Mary's surprise new outpost, the wine list is a heavy-hitter having been curated by Mary's wine director Caitlyn Rees. It features over 30 varieties to get excited about. On the cocktail front, it's all things rum-based leading the line-up, but you can still find staples like a spicy margarita and espresso martini. Unlike its older siblings, Mary's Pitt Street actually has the option to takeaway, dine-in, or book a table for a party of 8-60 people so you can start locking in any imminent carb-loading fests with your mates. You'll also be in for all the padded seating and enough blues and rock 'n' rock to really get the chandeliers swinging.

---
September Openings
Bake Bar
Rose Bay
One of the best bakeries in Sydney has just opened its fourth outpost which means you're in for all the sourdough and tasty baked goods. Bake Bar has just opened in Rose Bay and in true form will house a heap of organic breads, pastries and cakes. This gem specialises in gluten free and organic feeds and for the early-risers, will be open from 6am on weekdays and Saturday.
Coogee Wine Room
Coogee
Locals of the Eastern Suburbs have something to really celebrate this year—a brand new wine room featuring over 400 bottles representing nearly every key wine region across the world. This Euro-inspired neighbourhood hub is locked to be the ultimate spot to wander in for a glass of crisp, fruity rose post-beach antics in summer, or the ultimate joint to laze around for a long, boozy lunch. The wine list has been curated by venue manager Brooke Adey (who you know from Bea, Chiswick and Yellow) and co-owner Tom Hardwick, and includes 30 wines by the glass and showcases over 50 wine varietals. You'll also be in the midst of a collection of limited edition and hard-to-find vintage bottles.
Eden
Bondi Beach
Eden is Bondi's answer to intimate courtyard vibes and plant-based eating. With interior designer Edward De Simone at the helm, this restaurant seats 80 and is flooded with all the beachside natural light you could ever need. In terms of food, the menu has been created by former Alibi juggernaut Claudia Pantoja and is packed with the likes of popcorn cauliflower, watermelon poke, pickled jalapeno sliders, truffle fries, salt and pepper squid, as well as classic bento bowls and pizzas.
Fjällräven
CBD
Bringing a little Swedish heritage to Sydney, the brand new Fjällräven CBD concept store is packed with all the durable gear you could need. Crafted in classic Scandinavian design, expect a whole lot of sustainable materials like recycled wool, recycled polyester and PFC-free waterproofing. This store will also include outdoor clothing and accessories for men and women, as well as all the label's iconic backpacks, tents and sleeping bags for your daily adventure needs.
Thirsty Bird
Newtown
The team behind Sydney's infamous Mr Crackles has opened a second (and bigger) version of their fried chicken mecca, Thirsty Bird, so the people of Sydney can keep getting their spicy southern fried chicken on in the tastiest way possible. That means you're in for a continuation of Thirsty Bird's no-frills approach to the crispy good stuff, with this venue keeping true to its takeaway roots but switching things up a gear or two by also churning out beer and wine.
Prince Of York
CBD
Inspired by the late-night culture of 70s and 80s era Berlin, Prince of York boasts all things electric and—it's full of surprises. Slotted inside the CBD's former John Solomon Building (the buzzing heritage-listed warehouse on York Street), this all-day wine bar gives a whole new meaning to "business up front, party in the back". Here, the ground level is a dedicated brasserie churning out snacks from a "cheese, meats and tins" menu, that features things like fontina, buffalo curd, mortadella and mackerel. Head downstairs to dance on tables well into the night, because hey—the lockout laws are set to be no more in the CBD.
Hello Auntie
Darling Square
Originally setting up shop in Marrickville, Hello Auntie's second outpost has landed in Darling Square. Compared to its sister venue, this Vietnamese joint will preach a more bar-heavy vibe, which means you'll want to make sure you work your way through the slew of cocktails and wine available. Darling Square's Hello Auntie also has a secret food and drinks menu, which is only available upon request and—only visible by using a UV light.
Little Felix
CBD
Little Felix is the newest addition to Merivale's Ivy precinct, the very first in a set of new openings as part of an Ash Street refresh, and an extension of Merivale's very charming French gem, Felix. At Little Felix, you'll step back in time to the roaring 20s—the Hemingway, Fitzgerald, T.S. Eliot, Picasso and Dali days. It's The Ritz and Harry's New York Bar, Louis Armstrong and the birthplace of all of your favourite classic cocktails. Designed by ACME and Merivale interior stylist Amanda Talbot, the interior is dark and moody with emerald green walls, a hefty marble bar, leather booths and amber-coloured lampshades.
Isabel
Bondi
Traditionally a pint-sized bar where people sipped sake while standing—the izakaya has had a few modern interpretations since its earliest life in Tokyo. The latest spin on the classic Japanese bar concept is Isabel in Bondi. It's helmed by a group of Sydney dining pros—Geraint Coles and Mitchell Slattery of nearby Panama House, Michael Riley of Milkbox Tuckshop and Baja Mexican and multi-award-winning bartender and mixologist, Kate McGraw.

---
August Openings
Bush Cafe
Redfern
If you're a hardcore fan of no-frills dining, you need to lap up the outback and camping-inspired feeds happening here. The menu at Bush is short and sweet and is made up of hearty bites like Kangaroo curry pies and what could well be one of the best new cheeseburgers on the block (that can also be made vegan). As for the fit-out, it's all out low-key or nothing. That means sandstone on the exterior, wooden table tops sourced straight from the outback and a backyard dining area featuring rustic corrugated iron. You're also encouraged to BYO paints and have a crack at some wall art out the back.
Vicki Lee
Surry Hills
Enter Sydney based painter Vicki Lee's eponymous two-storey gallery space and get ready for a sweet sensory experience. Known for her powerful, painterly experiments—it's here that you'll get to experience her large, emotive canvases up close and personal. Breathe in her affecting abstract work that's pieced together with mirrored perspex and layered with acrylic, resin and oils.
Scout Pilates
St Peters
Sydney's newest Pilates studio stands out from the crowd because, well—all of these things it is not. Created by nutritionist, Pilates instructor and design grad Lucy Beaumont, Scout Pilates has more of a fun and inclusive community feel, set within a beautifully designed converted warehouse space at the south end of King Street.
Hearth & Soul
Newtown
The fit-out at Hearth & Soul is worthy of any plant-lovers dream, with suspended ferns dangling over long communal feasting tables and an open courtyard featuring a full herb garden and fairy lights. There's also a custom-designed kitchen and a cosy lounge room complete with a collection of vintage sofas, fresh flowers, candles and all sorts of trinkets. And brace yourselves for boozy concoctions like a crimson snow apple and wild orange mimosas. There's also a specially curated collection of wines and beers to get around too.
The Fenwick
Balmain
Brought to you by Sydney Restaurant Group, the same hospitality clan that pulled together hatted restaurants Ormeggio and LuMI Dining, this heritage boat store-turned-prime dining venue preaches all things classic and modern Australian on the food side of things. Throughout the day, you can hit up The Fenwick for bites like the moreish herb bread and butter, oysters, burrata with prosciutto, fried Brussel sprouts and pickled sardines served with Spanish onion and sultanas. For a solid feast, you'll want to go for the hefty lamb rump cordon blue or potato gnocchi with wild mushrooms and truffle.
Quick Brown Fox
Pyrmont
You'll find Quick Brown Fox in a bright, breezy sandstone cottage on a quiet corner in Pyrmont—and despite its close proximity to The Star, this street seems like a historic extract from Northern England; a slither of the city that glossy harbourside developments have yet to conquer. Many elements are made in house, from pickles to house-poached salmon, ice cream and triple cooked hand-cut chips. Everything else has been kept local and considered—Highland organic eggs from Goulbourn, focaccia from Pyrmont's Pioik bakery and dairy products from Saint David Dairy in Gippsland.
El Camino Cantina
Miranda
Your favourite Tex-Mex joint is about to hit Sydney's South so hold on to your sombreros for mammoth margaritas, loud music and of course, fresh tacos and handmade tortillas. The 280-seat restaurant will bear everything from a stage for live music and a panoramic outdoor terrace to old-school slushie machines, so you can top up on all the boozy, frozen concoctions you so desire. In true El Camino form, this gem is also home to a bunch of local and international beers, mezcal and tequilas, plus every one of your go-to Mexican feeds likes buffalo wings, fajitas and loaded burritos.
Franca Brasserie
Potts Point
You'll find Franca in the spot where Fratelli Fresh Potts Point left off, though the interior is vastly different. Designed by Sydney architect Dirk Anderson and interior designers at Steel and Stitch, you can expect a little Parisian charm that doesn't detract from the building's original Art Deco roots. Cherry red velvet chairs are contrasted with bold green leather booths, lashings of marble, parquetry flooring and brass accents—it's opulent, without being uninviting.
The Cumberland
Manly
Hidden in the heart of Manly, The Cumberland is a brand new underground speakeasy with a Spanish twist. Inspired by the prohibition era, this drinking den can only be accessed through an inconspicuous 1920s fridge door and winding spiral staircase that descends into a basement bar. Inside, the hidden bar features ornate and vintage furnishings including marble benchtops, hand-carved sandstone blocks, clay brickwork, reclaimed timber and a series of antique brass and copper accents. A handmade leather banquette seat wraps the walls of the 70-seater venue and you'll find an original set of 1902 brass beer taps behind the bar.
Innisfree
CBD
This emporium has shipped across the seas more than 650 products, spanning skincare, makeup, body care, hair care, beauty tools and home fragrances. It also boasts all-natural ingredients, which are sourced from the volcanic Jeju Island in Korea (meaning no nasties in any liquid, spray or powder). And the best thing about this gem is that you won't have to pull out a loan for any product in the store, with its iconic sheet masks sitting at a casual two bucks.
---
July Openings
Dulcet
Haymarket
Cue all the pillowy desserts because Burwood's iconic Dulcet has landed in Haymarket. The flavours you'll find here feature Asian favourites, from matcha and black sesame to taro and red bean. These guys are slinging out a mixture of treats for you to get around including soft serves, signature lattes, tarts, cheesecakes and mousses (specifically the galaxy chocolate mousse). As for the more experimental side, just brave it and try the dumplings made with yoghurt mousse and black sticky rice, you won't regret it.
Flyover Fritterie
Sydney
Coming straight at you from a 10-metre hole in the wall is Flyover Fritterie. Delivering all their dishes with big, fresh flavours and bonus, it's entirely plant-based. Bring Sydneysiders flavours direct from the streets of Northern India, they specialise in the ever-popular Indian fritter, traditionally known as pakora. Another speciality from this stand is the perfectly delicious hot and cold chai. Freshly brewed in small batches and made with Bonsoy, this all-vegan spicy chai is definitely the highlight.
Milky Lane
Kings Cross
Milky Lane has opened its doors at their seventh location in Kings Cross. Wanting to bring back the roaring nightlife of the area, these folks have packed the venue with signature Milky Lane and wide space for you to throw it down to epic beats. These guys have got all the fixings for a true experience, but it'd be an injustice to not order up the "Milky Cheat" platter. Choose any burger and down it along with mac and cheese croquettes, loaded fries, popcorn chicken and a thick shake to share with that special someone.
Chuuka
Pyrmont
From the legendary chef Chase Kojima (Sokyo, Gojima) comes his latest venture, Chuuka. Opening up on the pier of Pyrmont's Jones Bay Wharf, this dining establishment will be like non-other. Bringing together both Japan and China, two very distinctive cultures in one plate. With insane views of the Sydney Harbour, munch on the freshest local seafood produces around. Each dish is balancing the intense Szechuan flavour with a strong Japanese influence.
Babylon
Sydney
The latest addition to Westfield Pitt Street's dining scene is Babylon. This 800-seat rooftop bar and restaurant has been transformed into an ancient dining metropolis. Boasting a huge liquor menu with over 250 whiskeys, 400 Aussie spirits and 300 bottles of wine, you're going to need a moment to take your pick. Food-wise, Babylon's head chef Arman Uz (Efendy) is slinging out meze, gozleme and pide that will have you salivating while reading the menu. Chicken wings with harissa marinade, Turkish tabbouleh and mint yoghurt is a favourite among the crowd.
L'Olio La Gnoccheria
Smithfield
Enter L'Olio La Gnoccheria, an Italian spot created to indulge your undying love of the pillowy good stuff. L'Olio has run as an Italian eatery for over ten years, but founder and executive chef Melissa Canclini wanted to evolve the restaurant's concept and focus specifically on one of her great passions: gnocchi. As for what variants of gnocchi are on offer, you can go for traditional styles like potato gnocchi Napolitana and the hefty, cheesy favourite gorgonzola. Or, branch out with pork and veal gnocchi bolognese, a porcini mushroom gnocchi with sage and garlic butter, or squid ink gnocchi mare with prawn, calamari and crab.
---
June Openings
Luho
Crows Nest
The new South-East Asian inspired eatery Luho is bringing all hawker-styled dishes and delicious cocktails to the North Shore dining scene. The menu is jam-packed with Malaysian heritage and mod-Asian delights. Hit up the prawn and wonton tacos topped with mango and chilli and pair it with a Quandong Spritz from the bar.
Marrickville Hotel
Marrickville
Opening up in the space of the classic Smart Dollar, the Marrickville Hotel is your answer to a solid night out. It's a perfect retreat from the hustle of Marrickville Road with a courtyard outback dappled in all the fairy light vibes. Grab a beer from one of their six taps and chill out with your mates on their lounge and while you're at it, order up a meat platter and cheesy toastie.
Bar Clementine
Pyrmont
The main features on Bar Clementine's menu are cheese and charcuterie platters, but delve deeper and you'll find a more creative take on the regular. From the king oyster mushrooms with bordelaise to egg with gochujang and picked mushrooms, their wine menu reels it in with a whole range of global bottles and their foreword to the list is "I do not believe in cheap wine". To be honest, same.
Wings And Tins
Dee Why
Your favourite fried chicken and tinnie institution is spreading the love, opening a new outpost in the Northern Beaches. The dive bar stocks over 50 types of tinnies as well as the craziest loaded fries you've ever tried. Order up the triple sauce BBQ wings sprinkled with parmesan, dry rubbed with Tennessee smokehouse and served with a blue cheese dipping sauce. For our plant-based friends, their cauliflower and broccoli tempura wings are just as finger-licking good.
Mary's Underground
Circular Quay
Champions of Sydney culture, nightlife, music and fried food, Mary's founders Jake Smyth and Kenny Graham have opened Mary's Underground—their fresh refurb of iconic live music venue The Basement. Mary's Underground is set to pick up where The Basement left off, reinvigorating the iconic Sydney venue's roster of eclectic live music—and adding a big kick of Mary's unbeatable late night and loud party essence.
Bodylove Pilates
Woollahra
To work off this insane foodie binge you're constantly journeying through, just hit up Bodylove Pilates for an epic work out. Bringing a holistic approach to your average fitness ways, try the state-of-the-art equipment in this architecturally designed studio for a mindful burn. There's a whole list of classes to choose from, including the ever-popular reformer, yoga and barre.
Punjabi Fusion
Millers Point
Punjabi Fusion is boasting a dining experience that'll engage every single sense. Created with a focus on molecular gastronomy, you'll witness levitating plates, cold and hot smoking, liquid nitrogen presentations. Lift your jaws off the ground and order up their butter chicken with activated charcoal garlic naan for a mouth-watering meal.
Bar Ombré
Circular Quay
Get ready to rejoice because the folks from Salt Meats Cheese have opened up a rooftop bar and donned it Bar Ombré. Located on the top of The Gateway in Circular Quay, expect charcuterie boards with house-stretched cheeses and plates of fried calamari and grilled eggplant. But most importantly, grab yourself an Aperol Spritz in carafe form for a wild night ahead.
---
May Openings
Page Two
Randwick
This cosy café in Randwick is giving us all kinds of sunny vibes. Page Two is Sydney's latest addition to the Instagram foodie scene. With all the décor inspired by the streets of old town San Juan Puerto Rico, these folks are serving up all our favourite dishes from acai bowls to dukkah eggs, and their aromatic espresso definitely won't help with kicking that coffee addiction.
Forty Licks
CBD
Deep down underground is Forty Licks, a Vietnamese bar and eatery that is soon to become your latest obsession. Moving away from the classic pho and rice paper rolls, they're heading into a traditional menu serving up braised eggplant and tofu with turmeric, sizzling kingfish and noodles and steaming bowls of bún bò huế. Or even hit up their cocktail list for the Hanoi Sour, stacked with bourbon, ginger liqueur, Chichi Morada, lemon and pecan bitters.
Spritz Bar
Chippendale
In a takeover of Olio Terrace comes the Spritz Bar, created by Grant Collins. You know, that genius behind Gin Lane? On the food front, the bites menu looks divine with arancini stuffed with pecorino cheese and saffron or hit up their Italian cheese board. And of course, the spritz is not to be passed up with 22 handcrafted cocktails that have been carefully devised to match their menu.
Ambarvale Hotel
Ambarvale
Fresh off of a 12-month renovation, the Ambarvale Hotel is reopening its dining areas to the public and is quickly becoming the South-West Sydney hot-spot destination. The main areas have all been upgraded massively, which means you'll be walking into the Greenhouse's beautiful oasis to grab an afternoon aperitif, heading into the Bistro for their extensive menu of classic pub eats and a whole lot more.
Industry Beans
CBD
Industry Beans is your number one go-to for all things caffeinated. Bringing you an awesome cup of java straight from state-of-the-art machines along with an all-day brunch session, grab the cinnamon dusted brioche, pumped with tonka bean ice-cream, blackberry coulis, raspberry dust and their iconic coffee caviar.
B. Lucky And Sons
Moore Park
The latest addition to the hidden adults-only arcade bar scene is B Lucky and Sons. Hailing from Brisbane and central Melbourne, Sydney is blessed to have these folks open their doors in Moore Park's Entertainment Quarter. Hit up the Mario Kart and Walking Dead Zombie machines while sipping on some boozy bubble cups and munching on a stone baked pizza. This one officially opens May 17.
Mary's Circular Quay
Circular Quay
Our beloved grungy, rock-style burger joint Mary's has opened up yet another city location located in Circular Quay. Hosting a venue full of eclectic live music and late-night party vibes, their classic menu is back on board, but this time offering up plant-based options for everything, and the team can guarantee that they'll still taste damn good.
Jounieh
Walsh Bay
This Lebanese eatery is located right across from the Harbour Bridge along Dawes Point. Jounieh brings Sydney-siders classic Middle Eastern dishes with a modern flair—the Old Souk vibes come off strong with all the dishes covered in rare spices. Grab a bespoke cocktail from their extensive menu, as the Spicy Sunset is a crowd pleaser, mixed with za'atar infused gin, cinnamon and chilli. Looking over at the foodie side, the fresh local produce is the highlight, from their house-made traditional dips of hummus, baba ganoush and labne to their kibbi nayeh and their signature shawarma.
Wilde & Co
Darlinghurst
The latest addition to the health scene in Sydney is Wild & Co. A nutritious, urban spot for the inner CBD local. This place is a sanctuary away from the bustling streets, for patrons to retreat to for their daily recharge. An all-day brekkie menu is on the cards, along with Allpress organic coffee beans to satisfy your pre-work pit-stop. Order up the pea and ricotta fritter with pistachio nuts, pickled beetroots, purple kale salad and red wine dressing, this baby is the talk of the menu.
---
April Openings
The Glebe Hotel
Glebe
Following an extensive refurbishment, this heritage-listed public bar is set to be your new watering hole. The Glebe Hotel now hosts a striking mezzanine loft, a gaming room named after its former brothel life and a gastro-pub menu with all the trimmings. Small plates look like Cloudy Bay clams and seared scallops while hearty mains include lamb rump, pork shoulder ragu, Guinness pie and a traditional Sunday roast.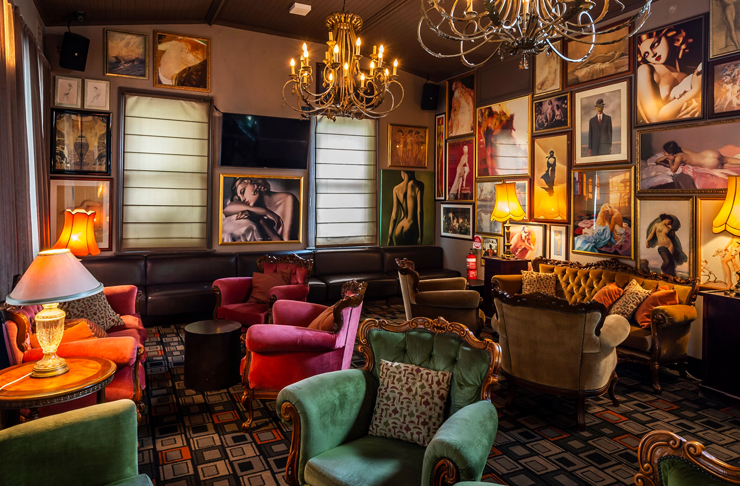 Green Moustache
North Sydney
This greenhouse-style rooftop restaurant and bar sits smack-dab in the middle of North Sydney providing patrons with drop-dead stunning views. Green Moustache is filled with lush palms, ceiling plants, wicker chairs and tiled tabletops. Head over for dinner and order up a plate of fresh blue-swimmer crab pasta with chilli lemon and parmesan.
QVB Reign
CBD
This champagne bar has settled itself within the Queen Victoria Building and brings all sorts of regal feels. While perusing the nibbles menu, you'll find duck liver mousse, steak tartar and even spicy wagyu pot stickers. Wash it all down with a glass of Laurent-Perrier La Cuvée bubbly to be even more extra.
QVB Esquire
CBD
Esquire is one level up from Reign and is here for our late night eats and drinks with the gang. From wagyu cheeseburgers to squid ink maccheroni, these dishes are the definition of fancy comfort food. This newbie is open until 2am so you've got the whole night to stuff your face full of gruyere de comté jaffles fries.
Betty's Burgers And Concrete Co.
Bondi Junction
This Aussie-famed 1950s burger joint is opening up on Sydney's eastern shores. Offering their signature concrete old school ice-cream made from frozen custard and a mixture of sweet ingredients (hint, M&Ms and Nutella), Betty's has all the standard burgers to get your mouth salivating.
Chica Bonita
CBD
Sydney's brand-new Mexican restaurant is Chica Bonita. Serving up chilli fries and chimichangas with an insane amount of guacamole, you'll be lining up for gem's signature tacos, burritos and the iconic jalapeno and orange margarita.
Mapo Gelato
Newtown
Mapo Gelato is like no other. Serving staple flavours, this one also goes that extra mile and churns out a delicious range of seasonal fruit gelato. That means you can expect icy towers of nectarine, red plum and honeydew
Industry Beans
CBD
These guys are bringing the java with an all-day brunch menu straight into the heart of the Sydney CBD. Industry Beans is located right along the bustling highway of York Street, this should be a regular stop for any office-worker on the grind. Snatch up the chilli jam pumped breakfast roll (with bacon and fried egg) or hit the cinnamon dusted brioche loaded with tonka bean ice-cream, blackberry coulis, raspberry dust and coffee caviar for a 3pm pick-me-up.
Cottonmouth Records
Enmore
Vinyl have made a huge comeback recently and if you're all about turning back time, Cottonmouth Records is the place to be on a Friday night. Record store by day, dive bar by night, for those epic throwback tunes, grab a whisky sour and settle in for all the local DJs.
---
March Openings
Scout Sydney
Surry Hills
It seems Sydney has become a magnet for specialised spinoffs of bars from the coveted World's 50 Best list. First, we got our very own version of Employees Only. This month, Scout, which placed 28th on the list in 2018, has appeared in Surry Hills. Led by Matt Whiley (The Talented Mr Fox, European Mixologist of the Year, and the brains behind Scout), Scout Sydney is a cocktail experience like no other.
Housed in a hidden room above The Dolphin Hotel (kind of like a very cool, stylish attic), the menu includes 10 original cocktails made from only native and local ingredients and Whiley's special ferments too (banana wine, for example). You'll also find classics like a vodka soda and an espresso martini, all with an elegant Scout-style twist.
Cantina OK!
CBD
We did say that 2019 would be a big year for mezcal. It seems the cool people at Tio's Cervecerua are also onto a good thing, as they have very quietly opened a hole-in-the-wall style bar dedicated to tequila's smokier sibling: mezcal. With room for just 20, Cantina OK! is tiny, but really packs a punch with mezcal sours, margaritas and a lot of good vibes.
Salt Meats Cheese
Dee Why
The Salts Meats Cheese legends have opened yet another venue and this time around, it's Sydney's North Shore that has been blessed with the best. The latest venture is the Italian chain's seventh installment, reiterating their credibility for serving up some of Sydney's best pizza, pasta and antipasti. The iconic wood-fired pizzas are of course a standout. Signatures include the slow-cooked lamb calzone stuffed with buffalo ricotta, spinach and chilli. Pair it with a wild-berry spritz for maximum vibes.
Golden Grapes
Glebe
Golden Grapes is a new vegan restaurant with iconic wood-fired pizzas providing Glebe locals and plant-based diners the perfect spot to indulge in all of the cruelty-free treats. Tuck into pulled shroom burgers, falafel wraps and some of the best vegan pizzas around–without the guilt.
4 Pines
Manly
A microbrewery on Manly's iconic wharf? Doesn't get much better. Sip on a few craft ales and tuck into juicy burgers at this waterfront beer and burger bar. Wrap your hands around a classic chook burger with corn-flake crunch, buttermilk fried chicken, chilli and peanut butter, pickled cabbage, carrot, sriracha and naturally wash it all down with one of 4 Pine's signature brews.
Portal Cafe
Martin Place
Sister venue to Folonomo and Grazia, Portal Cafe is a not-for-profit eatery dedicated to raising money for charity and providing training and employment to refugees. Dine in the knowledge that you've done your bit for the greater good as 100 per cent of profits are donated to your choice of either Rural Aid, Blue Dragon and Eat Up. Philanthropy aside, food is seasonal and sourced from local suppliers. Donate to the cause by tucking into a sago coconut pudding with kafir lime and caramelised pineapple for breakfast or brisket pastrami loaded Reuben on your lunch break.
Went To See The Gypsy
Alexandria
A new local favourite, Went to See Gypsy is a coffee-addict's dream. With a state of the art coffee brew bar in full view, customers can get a glimpse of the brewing process – seeing the progression of single origins from start to finish. Play it safe and sip on your usual flat-white or opt for The Bob Dylan – a speciality brew with salted pistachio, caramelised nuts and expresso. Menu curated by ex-Cho Cho San head chef Bryan Loong means a chicken katsu sandwich with shaved cabbage, mint slaw, fried shallots, tonkatsu and kimchi mayo.
Canton! Canton!
Sydney CBD
Landing in the sight of the world's cheapest Michelin star restaurant, Tim Ho Wan, is the new Hong Kong inspired diner, Canton! Canton!. Diner's need not despair at the loss of a legend as Canton! Canton! has managed to pilfer themselves Tim Ho San's head chef, Jacky Chan – popularly known as the Dim Sum master. You'll be able to load up on their signature BBQ Pork Buns, Dumplings (naturally), premium congee or choose from a range of BBQ roast meats from the roast station.
---
February Openings
The Gardens
Darling Harbour
The dumpling legends from Lotus are opening up shop in The Chinese Garden of Friendship. Officially opening on February 1, they have revamped the traditional tea house to create their modern interpretation of Chinese high tea in the space. You'll also find a weekend Yum Cha menu and a localised spicy Sichuan food line-up at night.
Sunset Diner
Avalon
It's a burger restaurant with sweet summer vibes providing Avalon locals and beach dreamers alike with the perfect spot to kick back and indulge in home-style American-inspired burgers and shakes. Chef Ben Varela, who has worked in iconic Sydney venues such as The Collaroy, Bistro Moncur and Paddington's Four in Hand has drawn on his extensive experience to create his own Miami-inspired venue.
General Chao
Chatswood
It's all modern Australian-Asian dining at General Chao. They've got all the fixings for a mouth-watering seating, from prawn laksa to a 24-hour braised pork belly and of course, their namesake dish, 'The General's fried chicken'. And just so you know, there's a super next level XO sauce made with abalone, truffle and gold leaf.
Field Blend
Balmain
Ever heard of wine club? The latest craze that we hope stays has popped up in Balmain. The Field Blend Wine & Cheese Store is everything we need in life. If you have a passion for all things wine and cheese, then this needs to be on the top of your list. With grazing tables filled with fresh Australian cheeses and cold cuts, we'll be drooling in our dreams.
Valet
Cabramatta
Brought to you by the guys that brought us matcha brick toast (thanks V Lounge), Valet is Cabramatta's latest addition bearing liquid nitrogen infused ice-cream and mochi doughnut beach balls made from sweet potato, edible 'sand' and flower custard. In other words, you'll want to pop this on your to-do list stat.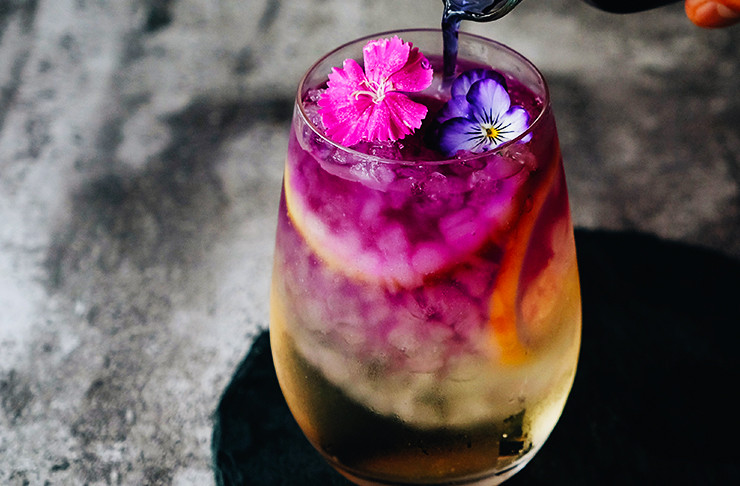 ---
January Openings
SoBar
Potts Point
The newest addition to Sydney's fusion scene, SoBar is serving up wood-fired pizza, pasta, arancini — layered with Japanese-style trimmings. It has all the sex appeal of a 90s era European nightclub, with a fiery pizza oven and an unapologetic Campari candy red glow. With a menu led by chef Matteo Corno, there's green tea spaghetti and (our favourite) Tako-yaki arancini – made with squid ink octopus.
Maybe Sammy
The Rocks
Maybe Sammy is the newest brain baby behind the team that brought us Maybe Frank. The venue has a capacity of 70 with seating split between pink velvet banquets and leather-clad stools and seats, but you'll find the Hollywood Regency cross Palm Spring vibes really come to life with the huge marble bar topped with gold lamps. The bar team here whip up a string of signature cocktails a little left of centre (in the best way possible) so expect a Thunderbird with Aperol, Americano Cocchi wine, Becherovka, jasmine kombucha and grape rocks. Or if your taste steers more towards the sweeter side, head towards the Flamingo Capri, mixed with Barsol pisco, aquavit, rhubarb, citrus and bitters.
4 Pines
Surry Hills
This Surry Hills burger bar is the fourth establishment for the 4 Pines Brewing Company. They're plating up snacks, sides and the full range of 4 Pines (as expected) and a small selection of wines, cocktails and spirits. Expect the vibes to be chilled and laid back, so you can grab their cornflake-crunch buttermilk chicken burger, sip on a summer ale and let the good times roll in.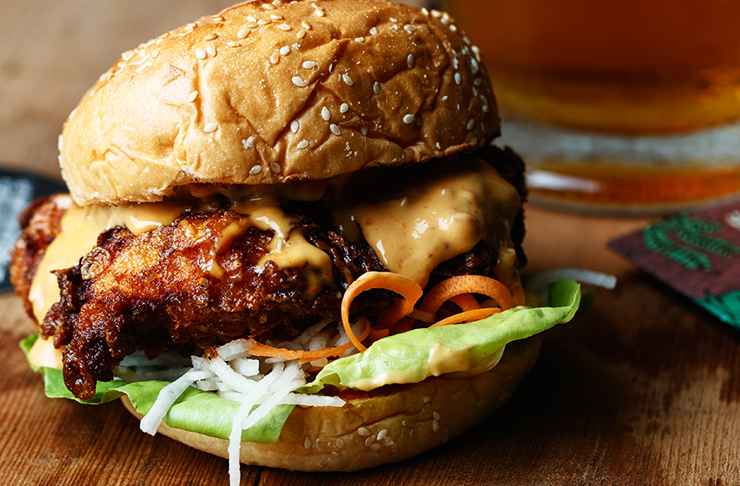 Totti's
Bondi
Merivale's latest venture, Totti's is coming in to rival Sydney's best Italian joints. Mike Eggert and Khan Danis have set us up for some of the best woodfire meals around. The charcuterie board of your dreams with prosciutto, salami and creamy burrata resides here as does a retro Neopolitan ice-cream sandwich. Located within The Royal on Bondi Road, this place has been revamped to become surrounded by tall olive trees in the courtyard.
SHUK
Elizabeth Bay
Bondi's Israeli/Middle Eastern institution known as SHUK is expanding again (having already jumped the pond to kickstart its Chatswood cafe) which means more shakshuka, hummus and freshly baked Challah for the folks of Sydney. The relaxed vibes will remain but unlike its Bondi venue, dinner here will be a major focus and you can expect some wholesome family recipes from the team behind this Sydney favourite.
June's Shoppe
CBD
If you caught wind of the 1940s-inspired haunt that opened in the CBD last year called Bopp & Tone, there's good news ahead. Applejack Hospitality (the crew behind said new restaurant) have kicked off another city stop worthy of your time. June's Shoppe is small nook all about coffee and toast (or a maple bacon and egg roll) which means your pre-work food antics are sorted.
Altum
Milson's Point
Previously known as The Deck, Sydney's newest harbourside venue Altum has solid views of the city from just about every aspect. The food here boasts Mediterranean flavours and focuses on keeping things simple and tasty. Dishes here look like Moreton Bay bugs with grilled citrus and chargrilled beef packed with sheep's cheese and black garlic.
The Daring Squire
Wollongong
Taking up residence next to the iconic North Wollongong Hotel, James Squire's The Daring Squire (and 10th brewhouse) preaches everything contemporary with a beer hall stripped back to original brickwork and donned with copper, timber and black metal. You'll find a heap of gourmet share plates (shout out to the hefty lamb rump and duck fate potatoes) and pizza here plus a bunch of ales like One Fifty Lashes and Close Shave.
And here's where to find Sydney's most over the top burgers.
Image credit: Bar Toppi