Call it what you will. Plodding, strutting, even jaunting, walking is the good stuff. After all, exercise gives you endorphins and endorphins make you happy so why not squeeze a quick walk in to your daily routine?
To get you moving, here are our favourite walks from the Northern Beaches.
Heart Of Manly Heritage Walk
The Heart of Manly Heritage Walk is an outlier compared to most on this list: it's located smack-dab in the middle of Manly aka city streets and 7-Elevens. More of a tourist trample or family weekend activity than hardcore exercise loop, this walk takes punters through Manly's local history in a clockwise direction around The Corso. You'll learn about everything from European settlement, to the history of Spit Bridge and even find out a little bit about Manly's most iconic structures.
Narrabeen Lagoon Bush Trail Walk
There mightn't be a single exercise fanatic who hasn't done a loop or two of Narrabeen Lagoon but we'll list it here anyway; it's too good to exclude. An 8.4km circuit, the Narrabeen Lagoon bush trail is one of those 'fun for the whole family' places with room for walkers, runners, cyclists and doggos. Completed in 2015, the circuit is broken up into five sections so while 8.4km is a worthy goal, you can totally play around with different lengths. It's also randomly a favourite for model boat enthusiasts, but there's no need to join in their fun. You've got some walkin' to do after all.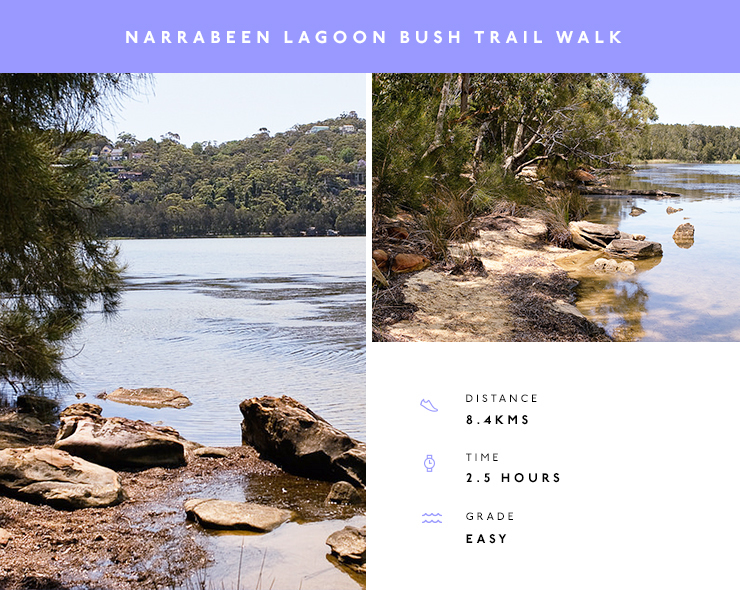 Manly To Shelly Beach
Manly to Shelly Beach is ideal for the casual walker. Starting at the Manly surf club and ending at Shelly Beach (who'd a thunk?), this walk is idyllic, with great views and despite being yes, a little busy at times, it's a Sydney classic that's not to be missed. You'll score bonus points if you hit up The Boathouse for a 'job well done' treat. P.S. If you go early enough you'll see the Bold and Beautiful Swim Squad as they take on the 1.5km distance in, what can only be freezing, water. They're out there everyday at 7am sharp.
Curl Curl Beach To Freshwater Beach
Cards on the table, we have an obsession with Freshwater Beach ("Freshie, mate!"). It just has that je ne sais quoi, you know? The Curl Curl Beach to Freshwater Beach walk is for those who prefer a short trail—you'll knock it out in under an hour—with a side of ocean views. It's also a boardwalk trail so there's no need to fear sand in your socks or the wayward bugs of a bushwalk. You can start at many points but we recommended the corner of Griffin and Pitt Road.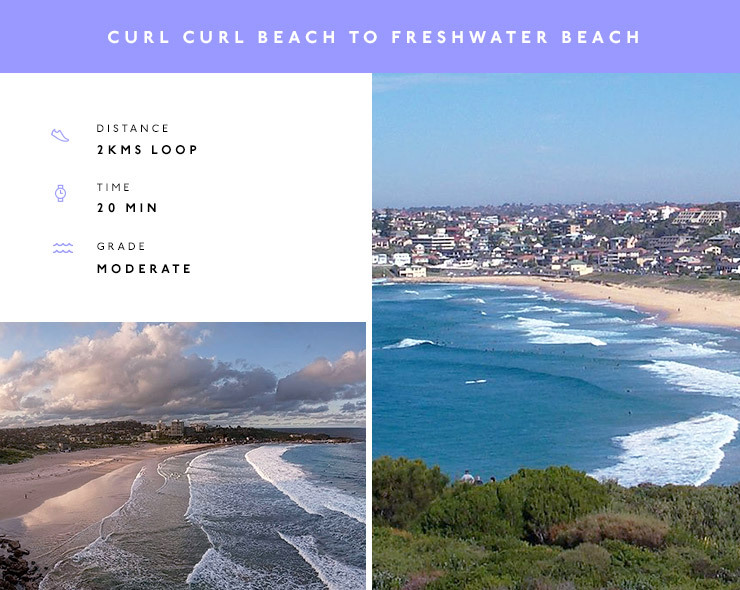 Manly To Spit Bridge Scenic Walkway
A whole 10km for the Manly to Spit Bridge Scenic Walkway sounds long, and arguably, it kind of is, but it's just so damn pretty you won't notice. Trust us. It'll take about three or four hours to complete (depending on how distracted you get by said beauty) and while you're in the area, we recommend taking a detour to visit the Aboriginal rock engravings at Grotto Point Lighthouse. There are also some pretty top-notch views both there, and at the Arabanoo Lookout.
Palm Beach To Barrenjoey Lighthouse
Fancy an ocean view with a side of activewear? We've got you friend. Or rather, the Palm Beach to Barrenjoey Lighthouse does. This 2.2km loop will take you anywhere from an hour, to an hour and a half, and falls somewhere between easy and moderate difficulty. If you can strap on a backpack, we highly recommend stopping off and having a picnic once you reach the top. If you're walking between May and November, you may even see some whales.

Fairfax Walk To North Head
This one goes out to the casual exerciser looking for something more akin to a stroll than pavement pounding (so, that would be us). The Fairfax walk is an easy 1km (that's about 30 minutes) and is rated 'gentle' for 'yes, bring a coffee with you' but is absolutely worth the time if you value postcard-worthy lookouts. Those with a bit more fuel in the tank can walk up to North Head and enjoy a panoramic ocean view.
Eastern Hill Heritage Walk
This Eastern Hill Heritage Walk will guide you through the Eastern Hill area of Manly with the option of visiting the beaches on its fringes (seriously pack some togs, so pretty and worth a dip). Once again, this walk features multiple places to stop and picnic so those with upper body strength should strap on a pack (and also, teach us your strong arm ways).

North Harbour Reserve To Forty Baskets Beach
Sidestepping the fact 'Forty Baskets' is the weirdest name for a beach we've ever heard, this walk is a must-do for Sydney-siders if not for the great view, than the historical significance (Captain Phillip first arrived here in 1788). Technically known as stops 13 and 14 on the Spit to Manly Walk, this snippet is perfect for those who scoff at the idea of a four-hour walking sesh and like to bring their dog with them. Make sure to pack your swimmers 'cause there's a damn cute cove along the way (or ocean swim if that's more your thang).
Long Reef Coastal Walk
Fair warning, there's a pretty good chance you'll get sidetracked and plonk yourself down on the beach with this one. If you do manage to complete the walk, you'll enjoy a 3km loop of formed trail with gentle hills (and some steps, but nothing drastic). It'll take you about an hour depending on how quickly you hoof it. Don't expect the trail to ever be totally isolated though; there's always at least one fisherman, child and/or golfer around (especially on the weekend). Not that it matters though, 'cause you're dedicated to exercise… right?
Here are the best walks in the Hills District.
Image Credit: James Donaldson