Weddings are more than Funniest Home Videos fodder folks. Occasionally, they're magical, romantic and even make you believe in love. True story.
From glamping to fairy gardens and converted warehouses, we've compiled some of the best venues from around NSW for you and your upcoming nuptials. Or, you know, for you to passive-aggressively call out your beau on FB.
The Grounds Of Alexandria
Alexandria
There's a reason the car park is always full at The Grounds of Alexandria and it's not just because of Kevin Bacon (the pig). Or at least, not solely. The Grounds are a multitude of well-designed, well-run spaces that practically scream, "we're verdant AF and you should get hitched here!" There are a number of wedding spaces to choose from but we love The Grounds Garden, consisting of the Gazebo, Arbour and Patio. The latter of which has a fairy light arch Urban Outfitters could only dream of. Big ticket items like florist and caterer can be arranged on-site (we've written sonnets to The Grounds Florals by Silva) and whether you're getting hitched or not, we recommend checking out their menu packages. The words 'doughnut station' are mentioned for crying out loud.
Seclusions
Blue Mountains
Wedding venues are probably the only place you can use the word 'rustic' and get away with it. And we're cool with that. Rustic, romantic and with a mountainous background that's the envy of stylists the world over, Seclusions is for the couple who want to say 'I do' in serenity. You'll enjoy an amphitheatre ceremony area, reno'd barn for reception and pavilion with, once again, stunning views. There's also a vintage caravan bar, luxury spa cabins and bridal preparation room. Not bad for 2.5 hours from Sydney.
Blue Wren
Mudgee
Welcome to your wedding venue folks. Seriously.
Located in Mudgee, Blue Wren is the epitome of over-achievers; they have wineries, farms, and raise their own chooks, geese, ducks and bees. They also host some truly b-e-a-utiful weddings, nbd. Receptions are held in Wisteria Hall, so named because of the one million or so flowers hanging from the roof, and vows go down a treat in the Ceremony Garden. You'll be spoilt with catering from Chef's Kitchen and exceptional wine from the vineyards' Shiraz, Verdelho and Merlot varietals.
The Blue Wren Farmhouse is fresh from a 2016 renovation and is relaxing and modern with elevated deck and pool. It's set as five bedrooms with communal hang space or as a whole house. Actively looking for a venue? You better hop to it, 'cause we'll marry any Tom, Dick or Harry just to get a taste of this one.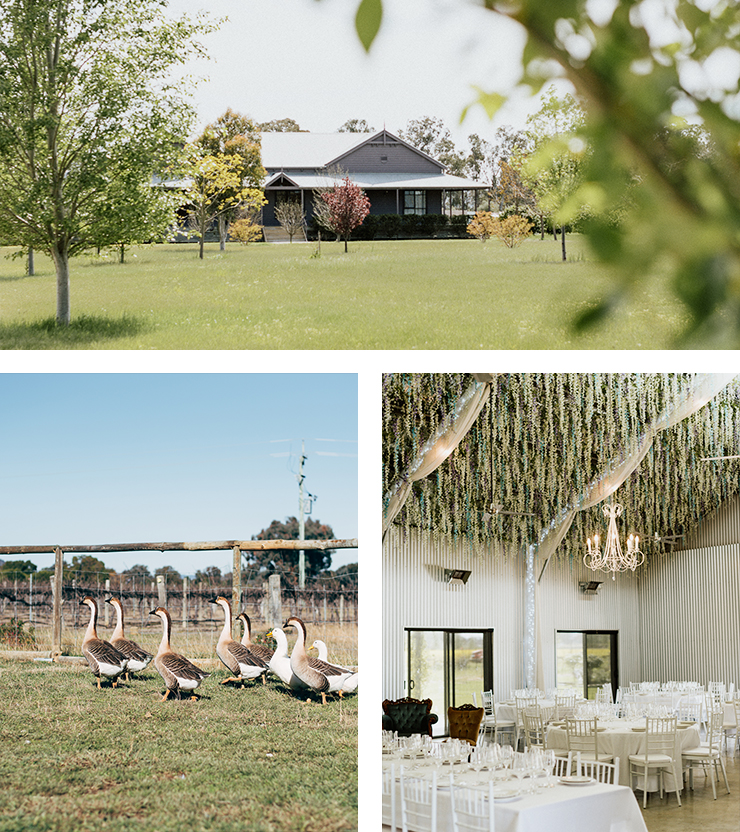 Three Blue Ducks
Rosebery
Are you a converted warehouse lover who thinks rooves under four metres are plain ol' scum? We got you friend. Everyone knows about the beauty that is the Three Blue Ducks restaurant but, in a brilliant case of having your sustainably sourced cake and eating it too, these clever folk also put on weddings. Smart. Relaxed and modern, the space works well for brides in search of a contemporary wedding with a little less froufrou and a little more choice tucker. Oh, and an exposed brick feature wall for posin'.
BoxGrove
Blue Mountains
If there's one thing we know to be true, it's that the Blue Mountains really deliver when it comes to wedding venues. Thankfully, BoxGrove make the choice easy (cheers guys!) thanks to a 170-acre family farm with panoramic views, flourishing gardens and a number of ceremony options. Select from The Deck, The Grove or The Rose Garden for your ceremony before enjoying a reception in The Barn. They've even got an on-site salon so you can look your best at all times. Accommodation suits up to 40 people, so mum and dad don't have to jet off immediately (unless, you know… you want them to).
48 Watt St
Newcastle
Vaulted timber ceilings, hanging pendants and no long drive into the country. Yup, 48 Watt Street have all the old-world charm you love without needing a full tank of petrol. Smack bang in the heart of Newcastle, 48 Watt Street is the church wedding that won't seem too 'churchy', best suiting modern couples in search of a quietly eclectic venue. In fact, the main hall when all dressed up, looks like something out of Harry Potter. Now, pass the butterbeer will ya?
National Art School
Darlinghurst
This one goes out to brides and grooms who are unabashedly ~extra~. In fact, the Cell Block Theatre at the National Art School might just be the grand and historic venue of your dreams. The space, which used to be the women's wing of the Darlinghurst Gaol, is adaptable as anything with 10-metre high sandstone walls and adjacent courtyards that give it a cathedral feel. Listen up if you're big on flowers, the Cell Block Theatre is ideal for those looking to 'go hard or go home' with arrangements. We're talking BIG. Need pointers? Here are some of our favs.
Dennarque Estate
Mount Wilson
Dennarque Estate is for the bride and groom who want a little less pomp in their 'Pomp and Circumstance', but still want a beautiful day. Located in the Blue Mountains, the estate has rare and exotic gardens within which you can say your vows and even dine under the stars. So, like, still totes romantic. Whether you bring your own wedding bits and bobs or allow them to create a bespoke package, one thing's for sure, you'll find yourself plotting planning a vow renewal just so you can have another go 'round.
The Springs
Newcastle/Hunter Valley Region
Hand hung lights, industrial furnishings and farm-to-plate menu. Hooked yet? The Springs is 40 minutes from Wahroonga, an hour from Newcastle and definitely worth every minute (even those spent listening to So Fresh 2008). Nestled between the farms of Peats Ridge, The Springs caters for anything from 20 to 300 guests and offers grazing stations, shared platters or elegant sit-down dinners. Whether you're after a small, intimate wedding or big scale to-do, The Springs has you sorted.
Weddings In The Wilde
Southern Highlands
We'll forgive you if you thought Weddings in the Wilde was in Byron Bay. It just has that vibe you know? Might have something to do with their bush chapel/faerie cabin but we'll get back to you. Weddings in the Wilde host weddings across three sites, a log chapel, verdant green fields and bohemian wedding tent. A large commercial kitchen is available for on-site catering and they have dormitory-style cabins for the extended fam, but as the chill venue they are, it's totes fine to BYO. Regardless of your choice, one thing's for sure, you'll send your Insta into meltdown with a single #wildewedding pic. And not just from all the Kim Wilde fans.
St Josephs Guesthouse
Macdonald Valley
Just 90 minutes from Sydney, this converted church is perfect for bride and grooms with family they wouldn't mind spending a few nights with. The St Josephs Guesthouse practically begs for a three or four night stay after all. The church, originally built in the 1800s, was restored and renovated in 2014 to become a five-bedroom retreat (complete with kitchen, laundry and outdoor deck) and host intimate, daytime weddings. Grassy, tiered levels, modern reno and towering walls of sandstone from which to say 'I do'? Where do we sign?
More interested in the world's best glamping spots? Read this.
Image credit: Blue Wren