Each year, our fair city celebrates Lunar New Year with epic banquets, luminous lanterns and cultural performances galore—and you can expect the Year of the Tiger to bring all this and more to Sydney's streets.
The tiger is known as the king of beasts in China and, according to Chinese myth, it's the third of all zodiac animals, symbolising great power, strength and bravery. If you're a believer, the forthcoming Year of the Water Tiger is said to be one of positive change—no doubt something we're pretty happy to welcome after the past two years.
So, hit the pavement and celebrate the New Year with everything Sydney has to offer—from adorable edible tiger buns and fortune cookie-inspired lamingtons to side-splitting comedy performances and outdoor movie sessions by the harbour.
Here are the very best Lunar New Year eats and events happening in Sydney for the Year of the Tiger 2022.
Lunar New Year Eats
Aria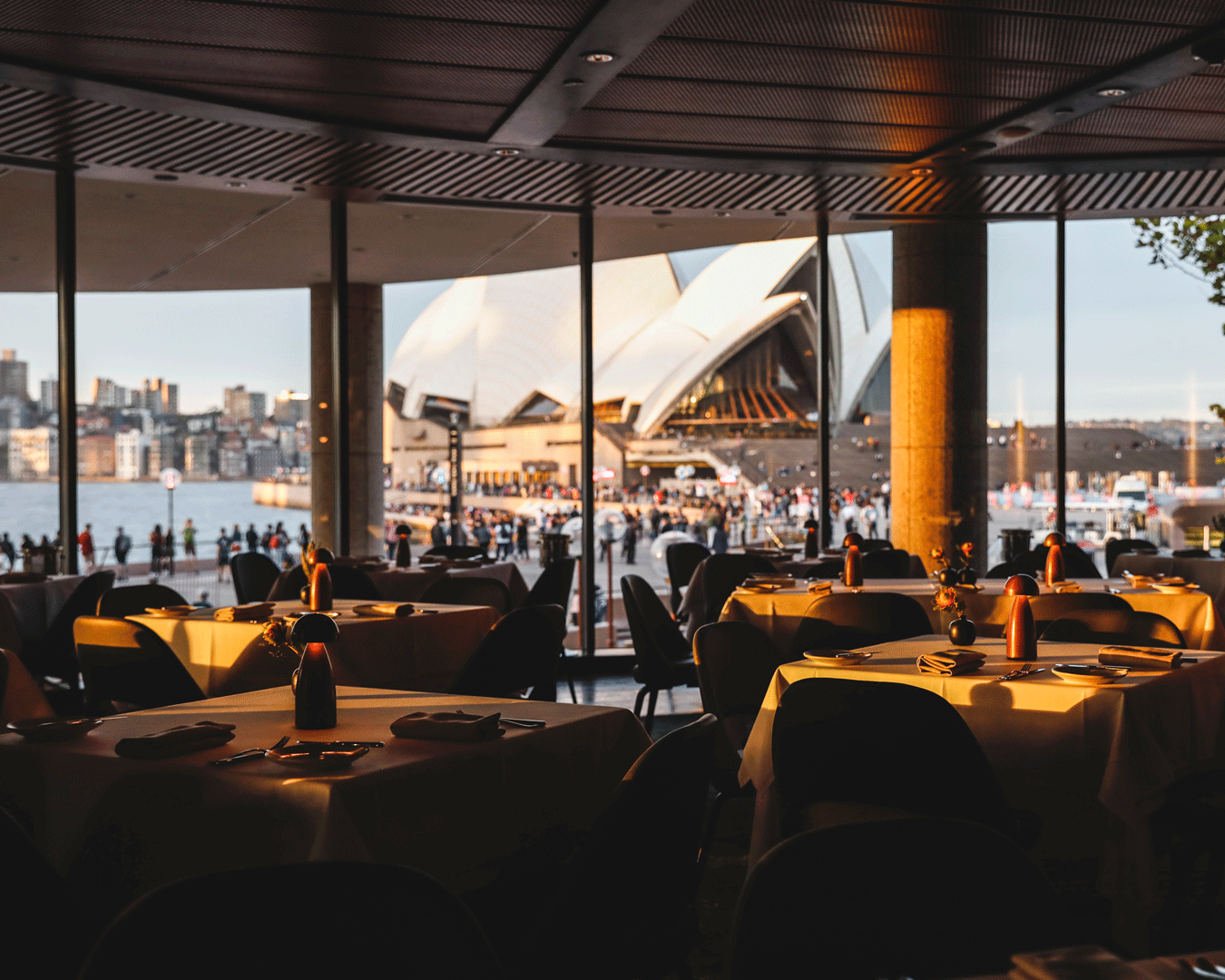 Want to kick off the Lunar New Year with a bang? Make tracks to top fine diner Aria for a decadent, six-course Lunar New Year tasting menu. Yes, it'll set you back a cool $248 per person but, if you like to celebrate with fancy feasts, you can't really top this experience. Only on offer from Wednesday 2 February till Saturday 5 February, the one-off menu features elegant dishes such as murray cod with XO, eggplant, and green garlic; Peking duck consommé with abalone and shiitake; and a dessert of white chocolate, raspberry, and lychee. Not to mention your feast will be backdopped by unparalleled views of Sydney Opera House and the surrounding harbour.
Book a spot for Aria's Lunar New Year degustation via the website.
Sokyo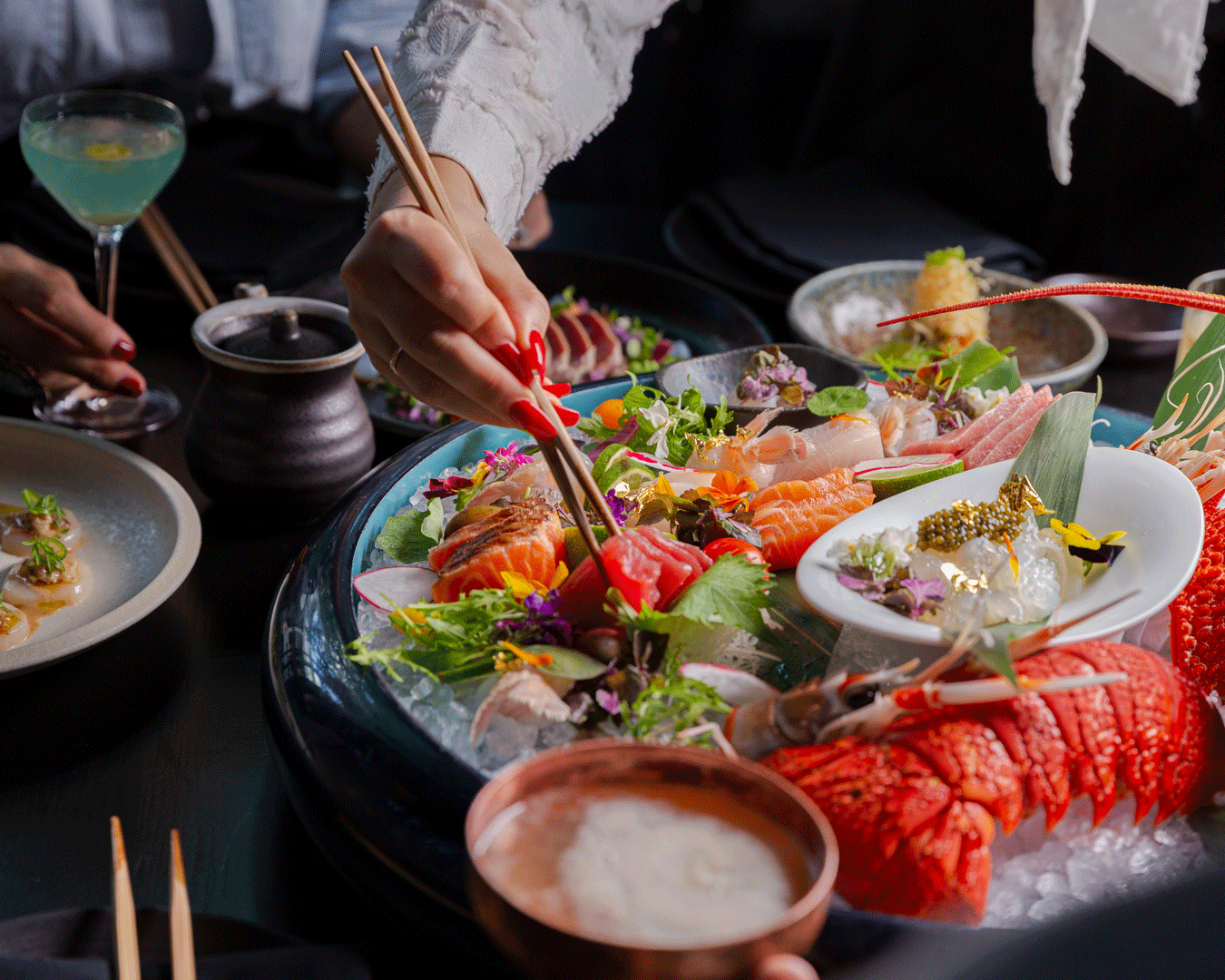 Consider yourself a sashimi fiend? Well, we may have found the perfect way for you to ring in the Year of the Tiger—with an OTT sashimi platter at Sokyo. The sashimi plate in question will set you back a whopping $688.80, but it sure is a fine way to ring in a year of prosperity, health, happiness, and good fortune. You'll be tucking into everything from Tasmanian lobster, caviar, toro and scampi to Japanese tuna belly, ocean trout, scallop, kingfish and snapper. Sweet sashimi dreams are made of these.
Book a table at Sokyo via the website.
Epicurean
For anyone who loves the ever-abundant food offerings that a buffet brings, you'll want to visit Epicurean for a lunchtime feast that'll have you rolling out of there. The restaurant is offering two special buffet lunches to mark the Year of the Tiger, with a heavily Cantonese-skewed menu of dishes such as XO lobster, dumplings, char siu pork, roast duck, chicken feet, spiced tofu, and a lengthy list of desserts. The best part is that you can always go back for seconds (or thirds!).
Epicurean's Lunar New Year buffet is available for lunch only on Monday 31 January and Tuesday 1 February. Book a table via the website.
Butter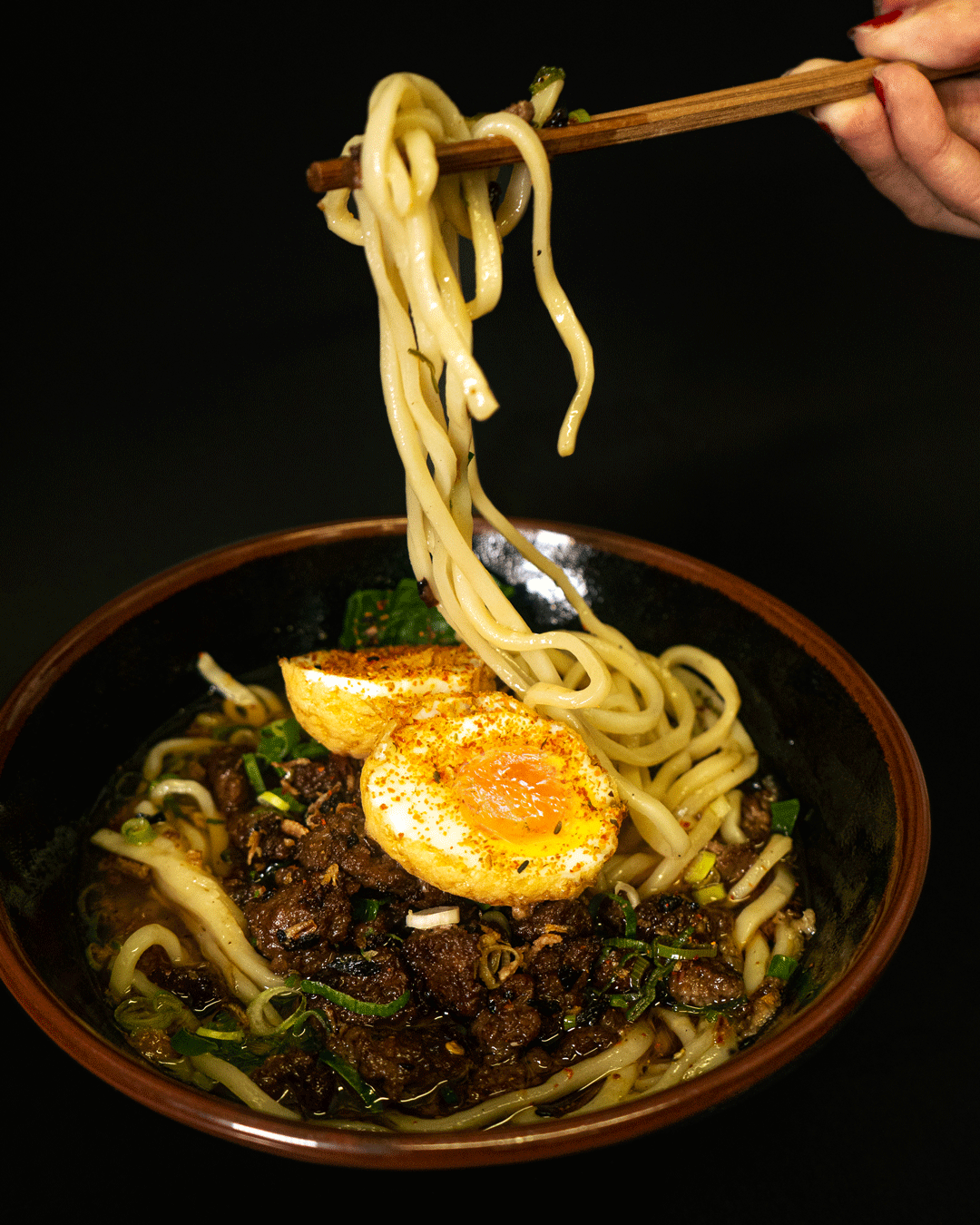 Love noods? Butter has announced a special menu item and it's kicking off in time for Lunar New Year. Launching on Thursday 3 February, the all-vegetarian Chinese-style noodle soup is sure to satisfy those hunger pangs—even if you're a carnivore. Dubbed Chinese Hot and Numbing Impossible Beef Noodle Soup, the dish consists of Szechuan chilli, plant-based Impossible Beef, vegetarian broth, Chinese broccoli, pickled shiitake and sesame. On top of the epic noodle situation, you can pick up some sweet Lunar New Year merch, with Butter's website slinging fun LNY-themed tees and socks (with tigers on them, naturally).
Head to any Butter location for the noodle special, or you can get it at Butter's stall at The Rocks Lunar Markets, which is running Friday–Sunday from 4–13 February. For Butter's new merch, head in-store or order via the website.
Providoor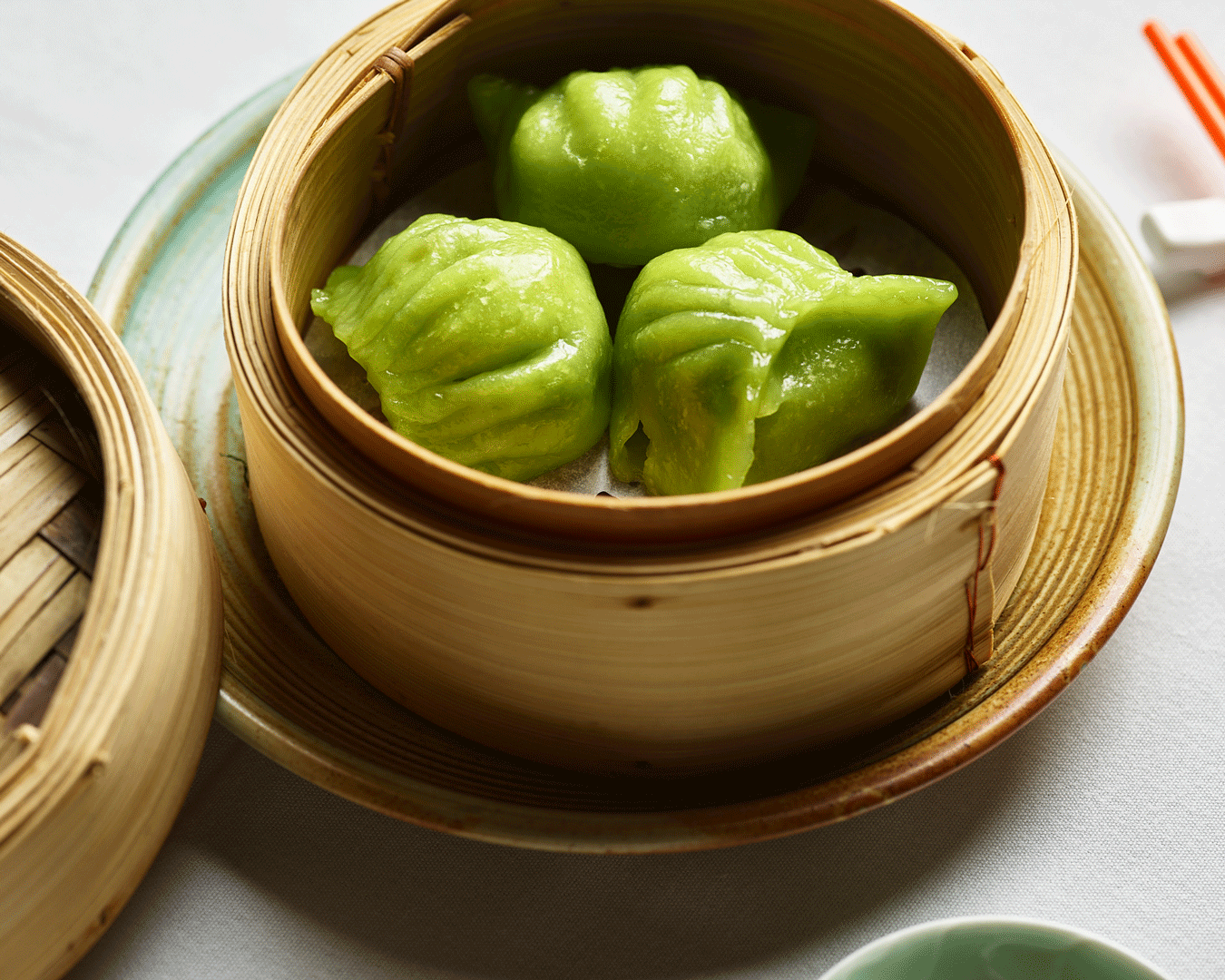 For one weekend only (4–5 February), you can get your dumpling fix from some of Sydney's most-loved Asian diners in the comfort of your own home. Finish-at-home food delivery service Providoor is bringing the likes of China Doll, Lotus, XOPP, Ho Jiak and Golden Century into your kitchen with its Lunar New Year dumpling boxes. The $139 box will be packed with a total of 28 dumplings. In short, it's the ideal way to celebrate Lunar New Year from your couch.
Pre-order a Lunar New Year dumpling box via Providoor for delivery on 4–5 February.
Tokyo Lamington x Lotus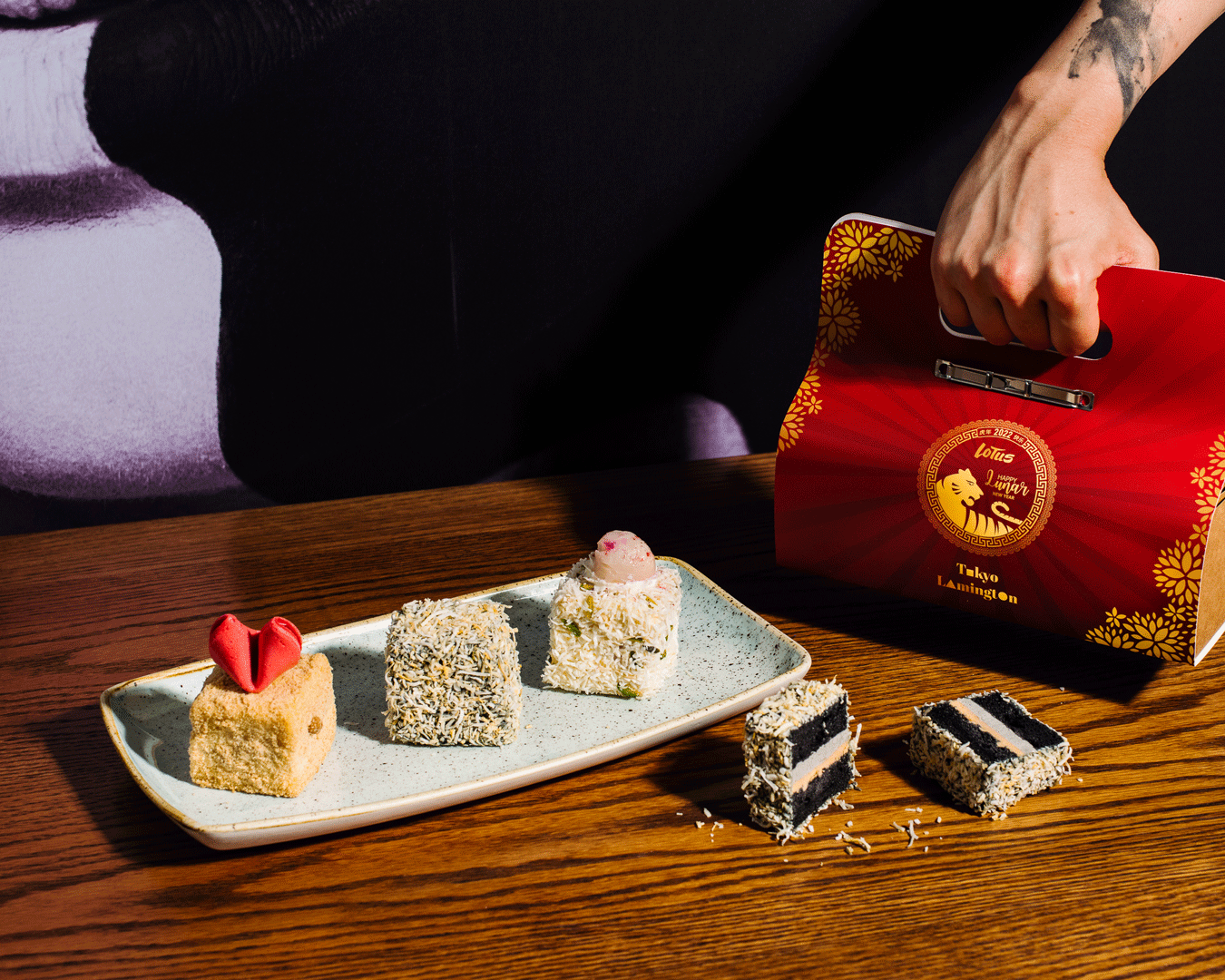 Top of our Lunar New Year-inspired sweet treats list is the Lotus Dining Group x Tokyo Lamington collab. In the mix is a fortune cookie lamington made with vanilla sponge and a crushed fortune cookie, a lychee lamo filled with lychee jelly cream, and a tiger lamington made with a stripey yuzu, sesame cream, and orange curd centre. Drooling yet?
Tokyo Lamington x Lotus creations are available at Lotus venues and on Providoor till 13 February.
Din Tai Fung
Another top choice of Lunar New Year desserts are these super-cute tiger buns. Famed Tawainese dumpling chain Din Tai Fung has created these limited-edition dessert buns to celebrate Lunar New Year—adorned with tiger faces, no less. The soft, sweet steamed buns are filled with molten chocolate and Lotus Biscoff filling, making them as decadent as they are adorable. They're not the only special menu items, either, with Din Tai Fung also offering pork and scallop 'gold fortune' dumplings, a 'prosperity toss' salad made with 15 lucky ingredients topped with a plum sauce, and a frozen hamper (serves 3–4 people) for those wanting to feast at home.
Din Tai Fung's tiger buns are now available at all Din Tai Fung Sydney locations, as well as for frozen delivery, till 15 February.
Teahouse
It's not all dumplings and desserts, with Crown Sydney's playful Chinese teahouse-inspired lounge bar—aptly named Teahouse— offering 12 specialty cocktails to mark the occasion. Each cocktail is inspired by a zodiac animal, which means you'll likely want to get the ferocious feline-inspired Prosperity Tiger tipple made of whisky, chartreuse, lemon, cinnamon syrup and gold flakes, of course. Teahouse is also offering an epic high tea, served with either tea, cocktails, or champagne, on Saturdays and Sundays from 2–5pm till 14 February.
Book a table at Teahouse via the website.
Lunar New Year Events
Lunar Lanterns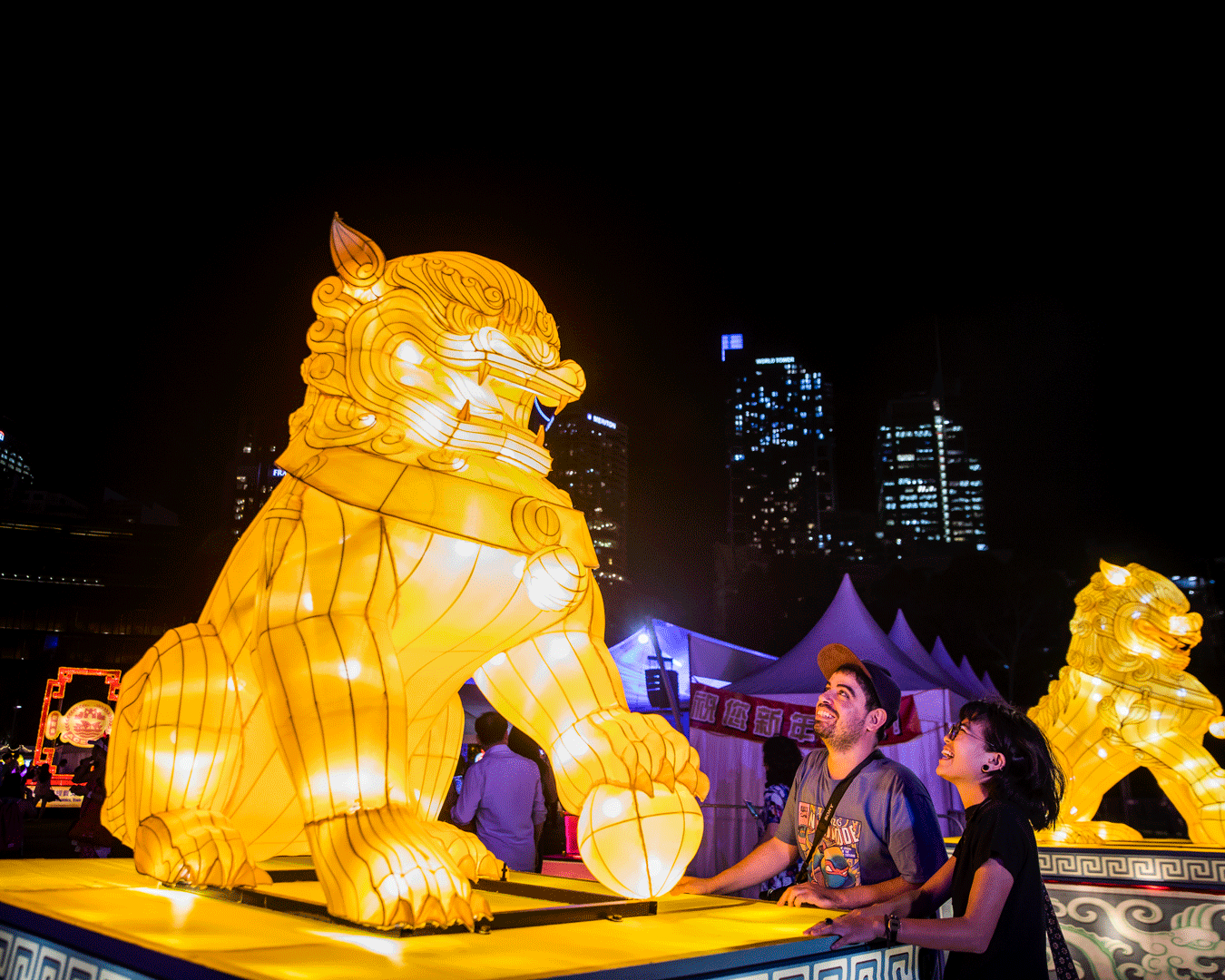 Once again, Sydney is lighting up for Lunar New Year with huge, luminous lantern installations of the 12 zodiac animals. The lanterns have popped up on George Street in the CBD, and are grouped along four blocks between King and Goulburn Streets. So, you can check them out after a dumpling feast or make a trip to the city just to see them in all their glowy glory. You can also take a self-guided tour of them using the Lunar Tour on the Sydney Culture Walks app.
You can catch the 12 zodiac lanterns along George Street from 29 January–13 February.
Lion Dancing at Darling Harbour
It wouldn't be a Lunar New Year celebration without traditional lion dancing. And, thankfully, you can catch a heap of such performances roaming Darling Harbour between 29 January and 13 February. Moving to the beat of a drum and snaking its way through crowds, the ornately decorated lion brings good fortune for the forthcoming year.
You can catch Darling Harbour lion dancing performances at 6pm on Tuesday 1 February; 1pm and 7pm on Saturday 5 February; 1pm and 6pm on Sunday 6 February; 1pm and 7pm Saturday 12 February; and 12pm and 7pm on Sunday 13 February.
Lunar New Year Comedy Festival
Keen to ring in the Year of the Tiger with a roar of laughter? Head to Chatswood's The Concourse for a night of side-splitting comedy on Saturday 12 February. The Lunar New Year Comedy Festival promises a night of hilarity with shows from the likes of ​​Alex Lee, Lawrence Leung, Michael Hing, Diana Nguyen, and Suraj Kolarkar. Before and after the show, you can grab a drink from the Chatswood Tiger Beats Bar by Archie Rose pop-up and kick back to live music, too.
Lunar New Year Comedy Festival starts at 7pm on 12 Febraury. Tickets cost $49 ($39 per person for groups of 10) and can be bought via the website.
Lunar Nights at Tumbalong Park
To celebrate the New Year, Darling Harbour's Tumbalong Park is transforming into a free outdoor cinema for two nights only. There are two sessions per day, with family-friendly flick Kung Fu Panda and award-winning title The Farewell showing on Friday 4 February at 5pm and 7pm, respectively. While on Saturday 5 February, you can watch Shaolin Soccer and Crazy Rich Asians.
Lunar Nights is free to attend and is showing movies at 5pm and 7pm on Friday 4 and Saturday 5 February.
Aqualume at The Star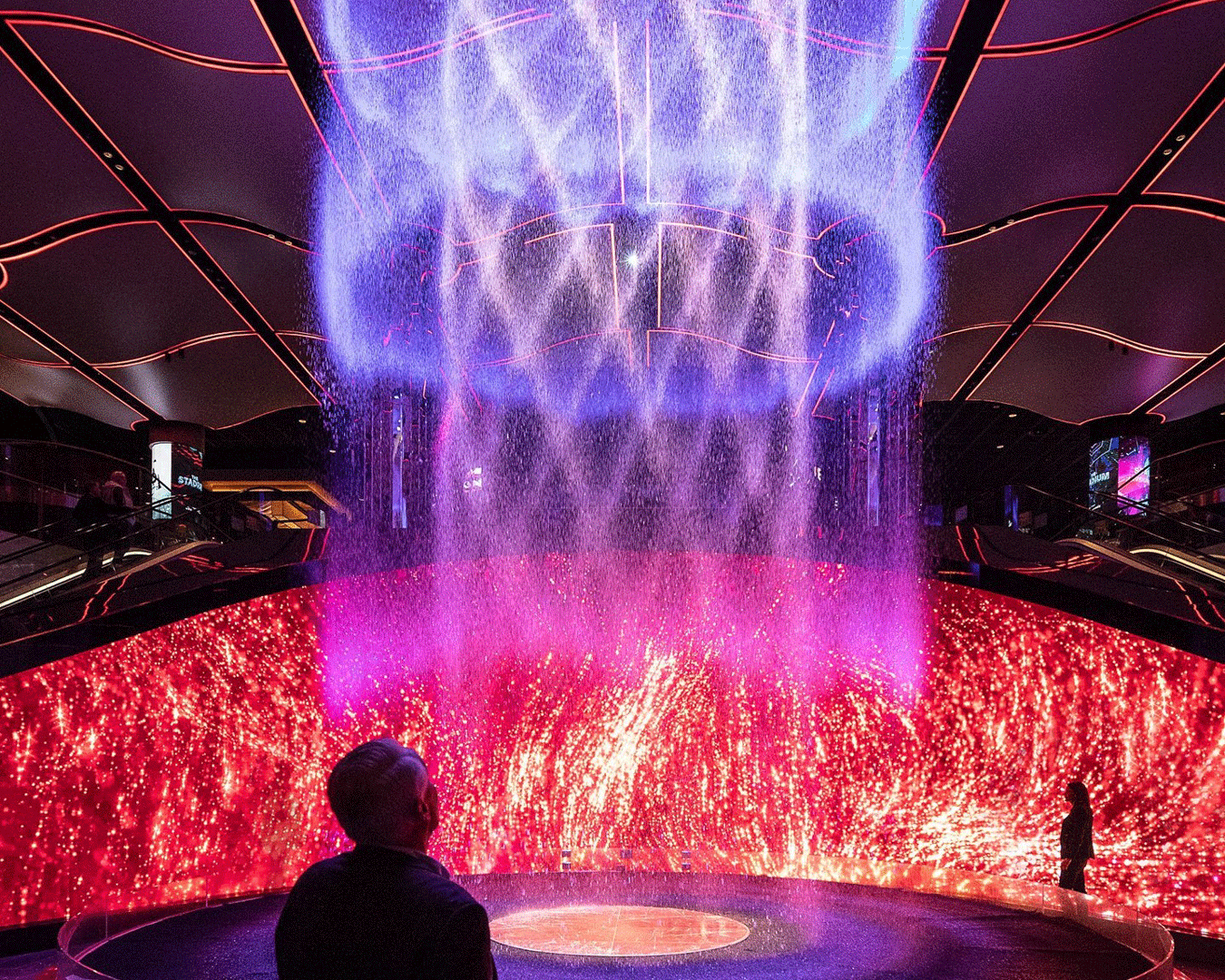 You might not know it, but The Star houses an impressive installation in its Grand Foyer. Pitted as "the world's largest permanent multi-sensory art experience", Aqualume combines lasers, water, digital art and live performance on a gigantic scale. For Lunar New Year, the live performance component of this spectacular experiential artwork will happen at 8.30pm, 10.15pm, and 11.15pm across 12 days over the two-week period. Best of all, it's completely free.
Aqualume's Lunar New Year live performances will run at 8.30pm, 10.15pm, and 11.15pm on 31 January–1 February, 3–6 February, and 10–15 February.
Lotus at The Gardens Dumpling Masterclass
If you missed the opportunity to become a dumpling master during all lockdowns, then now could be your chance to skill up in the kitchen. On Saturday 5 February, Lotus at The Gardens is hosting a two-hour Lunar New Year dumpling masterclass. In the hands-on workshop, you'll learn how to make three different types of dumplings (including a special LNY one), and you can opt to add on bottomless rose, so you can sip as you whip up a frenzy. The session costs $130 per person, and includes a cocktail, recipe cards, an apron, tea tin, take-home dumpling kit, and the masterclass, of course. If you're going for the free-flowing rosé, it'll cost an additional $30.
Lotus's LNY dumpling masterclass runs from 1–3pm on Saturday 5 February. To book tickets, head to the website.
Watercolour Painting at the Chinese Garden of Friendship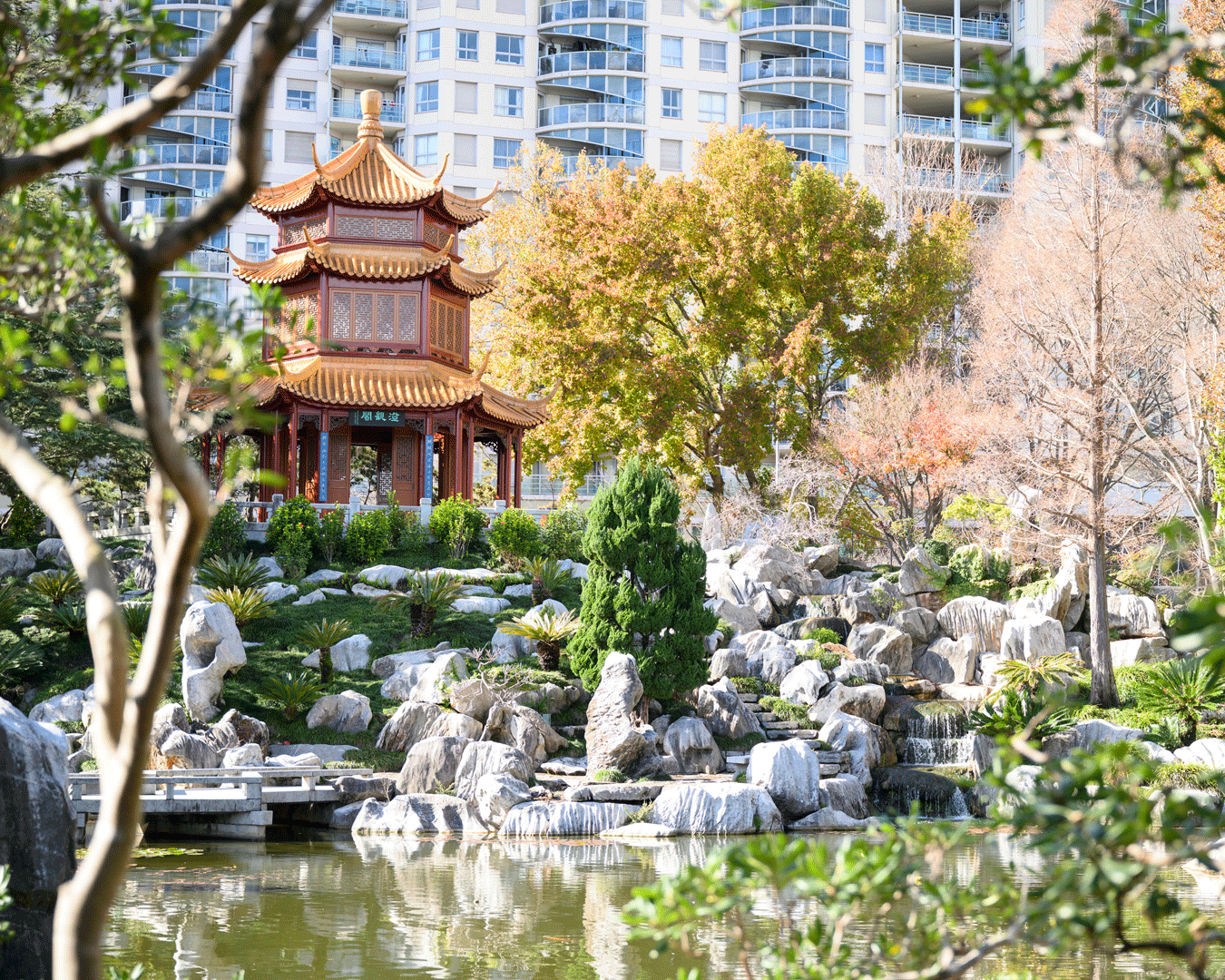 Keen to flex your creativity while surrounded by tranquil gardens? The Chinese Garden of Friendship is hosting a watercolour painting session within its stunning grounds for three Saturdays across the Lunar New Year period. For $23, you'll get watercolour paints and canvas provided for your guided art class where you'll paint a beautiful garden vista. Spaces are limited, so get in quick.
Also happening within the Chinese Garden of Friendship walls are ten-minute private fortune readings, traditional tea ceremonies, traditional Chinese music performances, Qi Gong meditation classes. For more information, head to the website.
Book a watercolour painting workshop at the Chinese Garden of Friendship over here.
The Rocks Lunar Markets
Every Friday to Sunday till 13 February, The Rocks is coming alive with a bustling Lunar New Year market. Expect it to be packed with food stalls, so you can get your fix of Asian dishes. Or, you can pick up homewares, art and textiles from local makers and join in free calligraphy demonstrations and Chinese zodiac readings. The vibrant markets will also have live music and be decked out with red lanterns and festoon lighting. Result!
The Rocks Lunar Markets are running from 5–10pm on Fridays, 10am–10pm on Saturdays and 10am–5pm on Sundays till 13 February.
For more Chinese New Year feasting, check out Sydney's best dumplings and our hitlist of Sydney's best Chinese restaurants.
Image credit: Getty, Steven Woodburn, Samantha Rose, Jazel Jozic, Alana Dimou, Destination NSW, The Star Sydney