According to myth, the rat is the first of all the Chinese zodiac animals. He's the cheeky little guy that tricked the ox into giving him a ride just to jump over the line at the last second, making him the first to arrive at the Emperor's party.
The rat has come to symbolise wealth, surplus, new beginnings and overall positive vibes. Here in Sydney, we're celebrating the super special spectacle of Chinese New Year with markets, classes, over the top banquets and all-out feasting. Celebrations begin as of Saturday 25 January and run for 15 days, which means ample time for indulging.
Behold, the very best Lunar New Year events to soak up this year.
Free Bubble Tea At Burwood Chinatown
Burwood
Nothing says good fortune quite like free artisan bubble tea—so if you count yourself among Sydney's many (many) bubble tea-aholics, you'll want to drop into Burwood Chinatown across Chinese New Year. Here, the festivities will include dragon and lion dances, food trucks, ping pong games, live music, cocktail demos and, yep, literally thousands of free cups of bubble tea to slurp your way into the fortuitous Year of the Rat.
The free bubble tea will be available in set sessions on Friday 31 January and Friday 7 February, from the bubble tea pros at Chatime, Cha Ball, King Tea, Milk Flower, The Burwood Hotel or The Whale Tea.
And, you'll be able to match your bubble tea with snacks and treats from food trucks like Demochi Donut (Sydney's first mochi doughnut), Dirty Bird, Duo Duo Ice Cream and 2 Smokin Arabs. More details are here.
When: Saturday 25 January - Sunday 8 February
Where: Burwood Chinatown, Burwood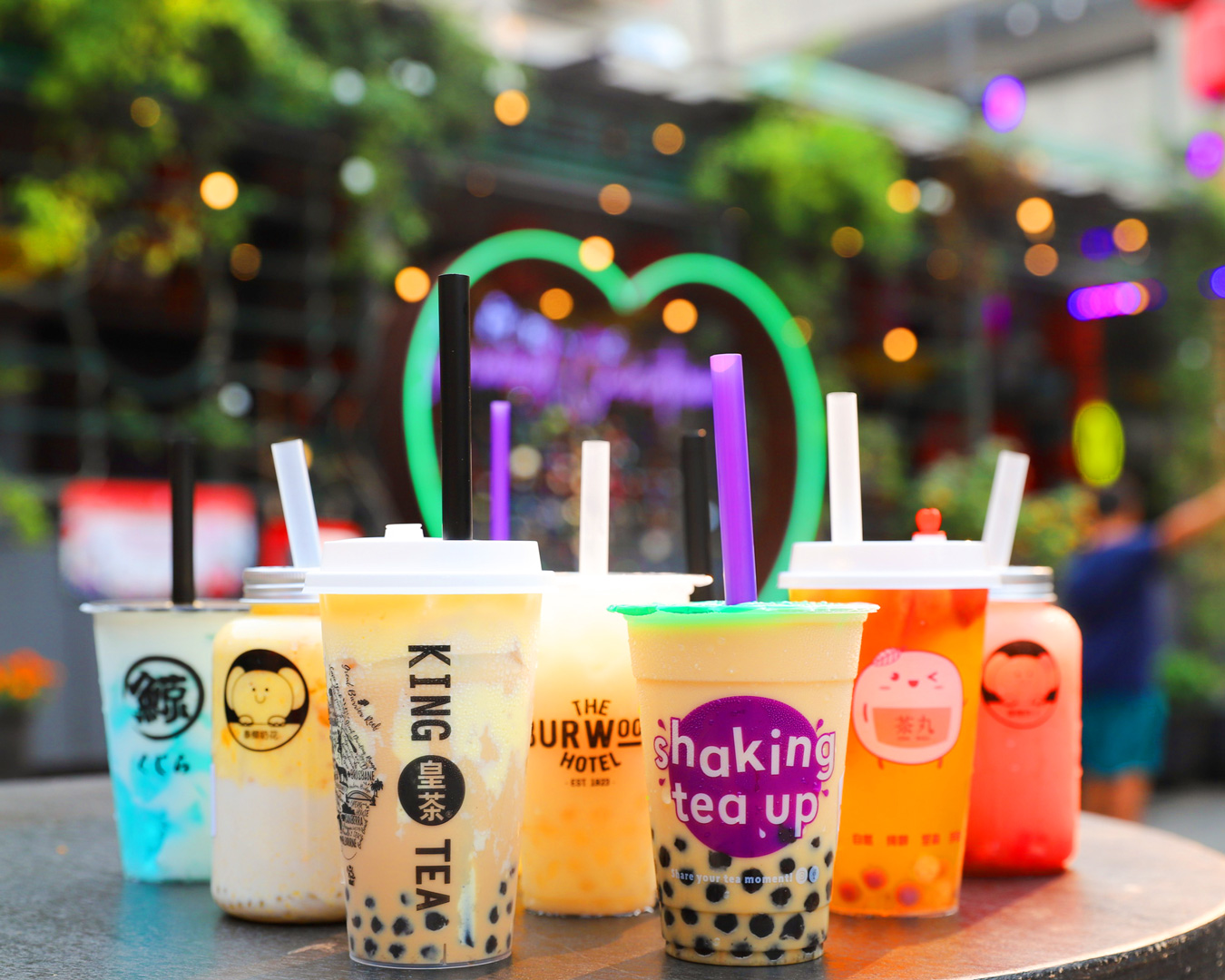 Lunar New Year At The Fullerton Hotel
CBD
This five-star hotel is all about luxury come to life, making it the perfect place to celebrate the prosperity linked to this Lunar New Year's celebration. There are plenty of ways to get in the celebratory mood at the Fullerton. The Lunar New Year Afternoon Tea is available in the light-filled atrium of the hotel. Priced at $58 including coffee or tea, $68 per person with a signature Fullerton Sydney Sling cocktail, or $78 for a very fancy flute of R de Ruinart Champagne. The menu features savoury dishes like steamed dumplings and duck rillettes in a sesame bun, then sweet treats like red bean macaron and matcha and strawberry tart.
The Fullerton Bar is also serving a selection of five custom Lunar New Year-themed cocktails. Our pick? The "Firecracker" with tequila, Cointreau, blood orange juice, pomegranate, sugar, prosecco and soda. The Fullerton's mixologists have also created two custom mocktails on the theme, a Green Tea Lychee Virgin Mojito and a Lemon Apple Iced Tea. Lunar New Year's bar snacks are also on offer including pork belly buns, popcorn chicken and more. A speciality drink paired with the Lunar New Years menu item will set you back $28.
Where: The Fullerton Hotel, Sydney
When: Daily until Saturday 8 February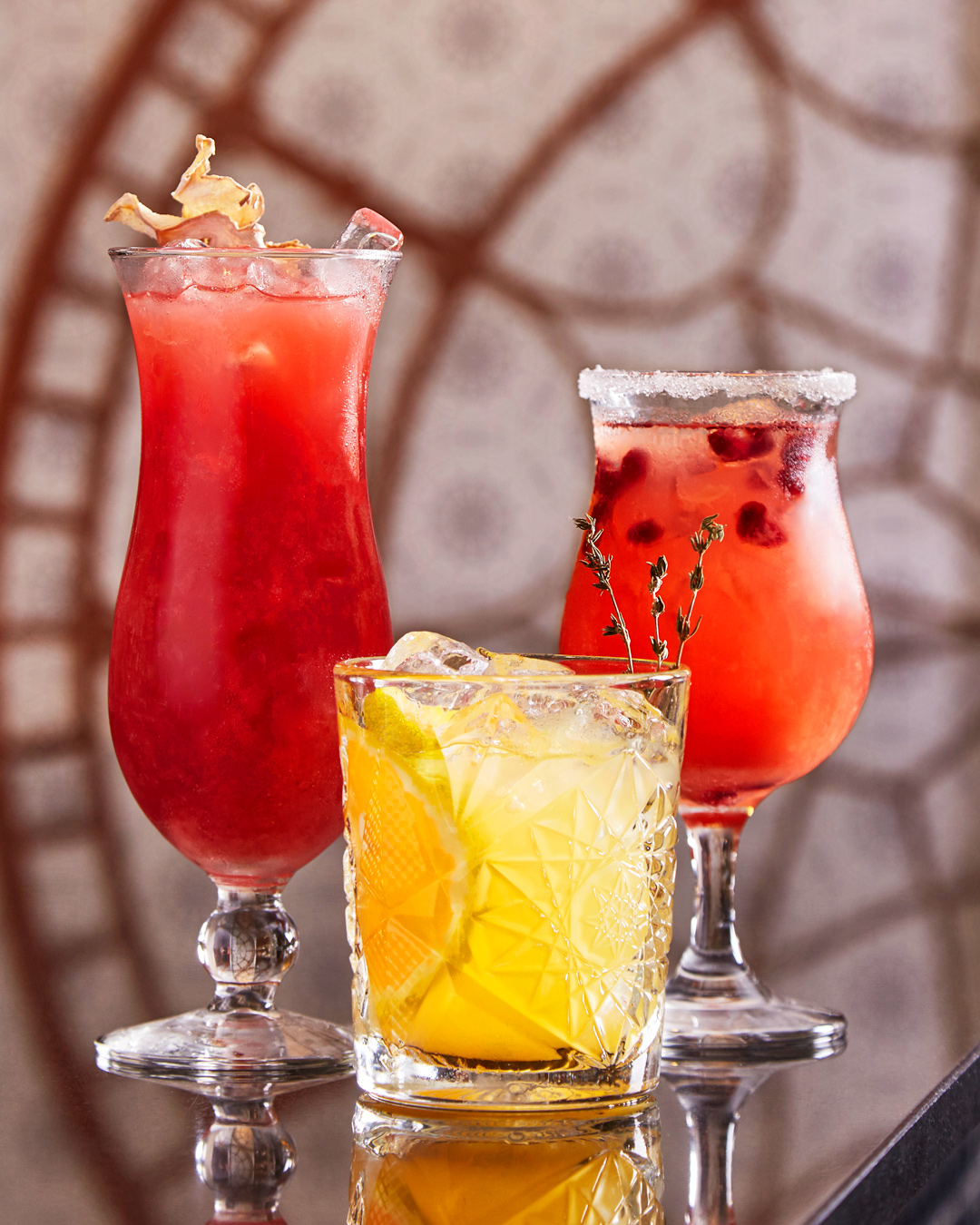 Chatswood Year Of The Rat Festival
CHATSWOOD
Chatswood is pulling out all the stops to ring in the Year of the Rat with their massive annual Lunar New Year festival. Expect regular lion dances from the kick-off of Chinese New Year (that's this Saturday 25 January), as well as exhibitions and markets galore. Their Golden Market will be open every Thursday and Friday during the festival and will be selling celebratory delicacies, flowers and bamboo, as well as playing host to aforementioned lion dances and K-Pop performances. Where It Shines, a beautiful street photography exhibition by Grace Sui, will be on display at the Incinerator Art Space, while David Cubby's Everyday Dignity collection of portraits will be on show at The Concourse. More info is here.
When: Monday 20 January - Saturday 8 February
Where: Various locations in Chatswood
Lunar New Year Buffet At Kitchens On Kent
The Rocks
Kitchens on Kent is a very luxury spin on the classic hotel buffet—making it one of the absolute best buffets in Sydney. Think chocolate fountains, made-to-order pasta, chef-helmed sashimi stations and piping hot naan cooked in a tandoor in front of you while you wait—this place is the real deal.
Across Lunar New Year, the buffet will get more of a Chinese spin with unlimited house-made Peking duck pancakes, bao buns with crispy pork belly, Chinese egg fried rice and barramundi with coconut and bok choi. Dessert will cover off things like Cantonese-style meringue tarts, horseshoe cake, coconut milk cake and mango pudding. You'll also score a lucky red envelope and fortune cookies. If you want to feast this Lunar New Year—Kitchens on Kent is absolutely where it's at. More details are here.
When: Lunch and dinner bookings, Monday 20 January - Sunday 2 February
Where: Kitchens on Kent, The Langham Hotel, The Rocks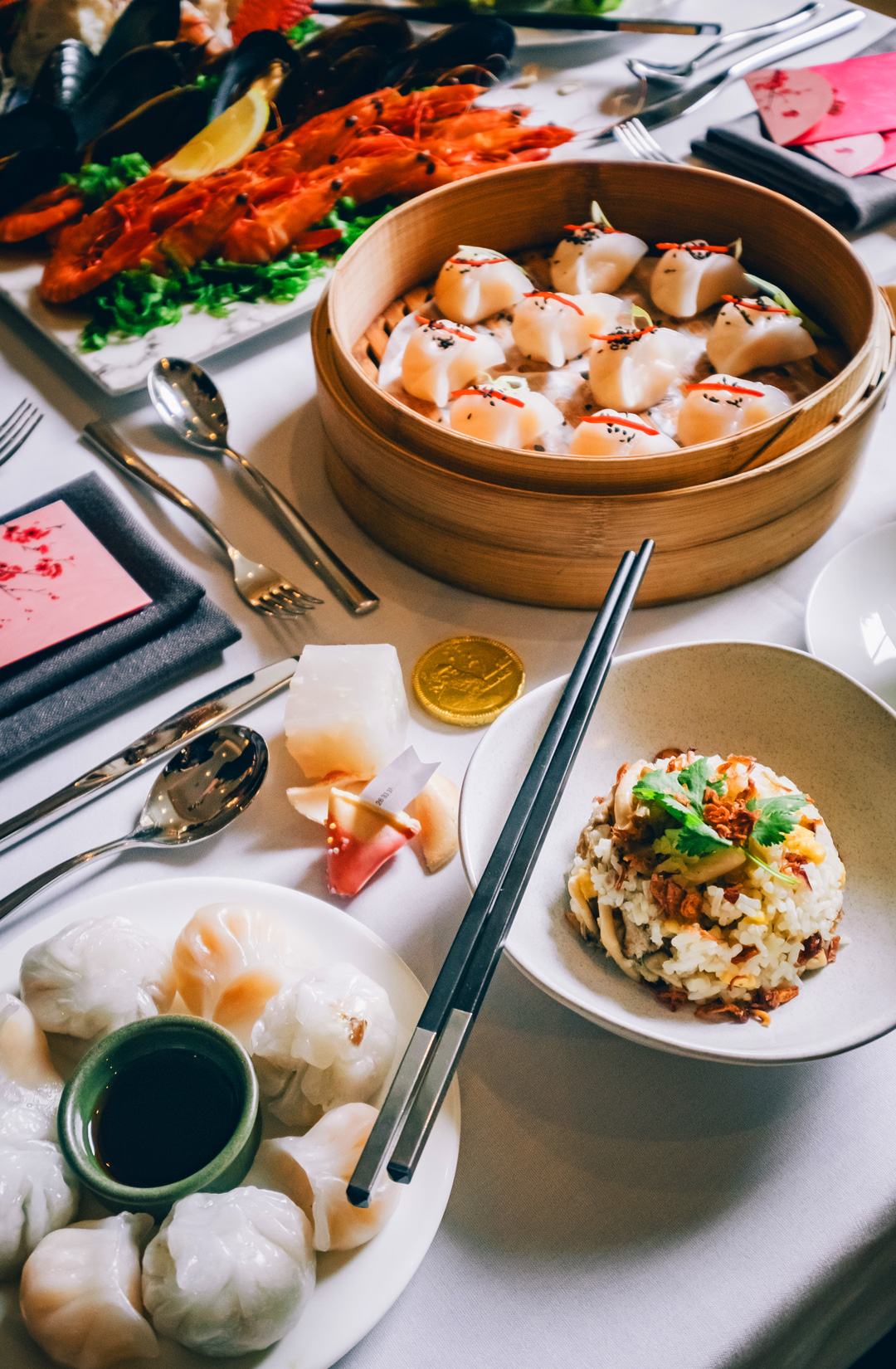 CHUUKA
Pyrmont
Led by award-winning chefs and culinary and creative legends, Chase Kojima and Victor Liong, CHUUKA is Sydney's two-level Chinese-Japanese restaurant with tonnes of personality. They are embracing the vibe of Lunar New Year with a unique spin on the traditional "prosperity toss"—a fresh, vibrant salad made to be tossed by the whole family as they whisper wishes of wellness for the new year. CHUUKA's version is called the Loh Sang salad, and marries up Chinese flavour with Japanese precision, fusing salmon, kingfish and Hokkaido scallops. You're invited to get messy as you toss, and remember—the higher you toss, the more luck you bring! Bookings can be made here.
When: Saturday 18 January - Sunday 9 February
Where: CHUUKA, Pyrmont
KOI Dessert Bar
CHIPPENDALE
Sydney's coolest mother and son dessert operation, KOI Dessert Bar, fronted by Reynold Poernomo of Masterchef fame, is releasing two amazing limited edition cakes. Paying tribute to the symbolically prosperous and wealthy Year of the Rat, KOI is introducing their "Wealthy" cake with pomegranate, hibiscus, vanilla, cherry and hints of gold. Koi's second Year of The Rat cake focuses on a more literal depiction of this year's lucky animal, with coconut, jasmine, strawberry and almond flavours (and 'grammable ears, nose and a tail!)
When: Tuesday 21 January - Sunday 9 February
Where: Koi Dessert Bar, Chippendale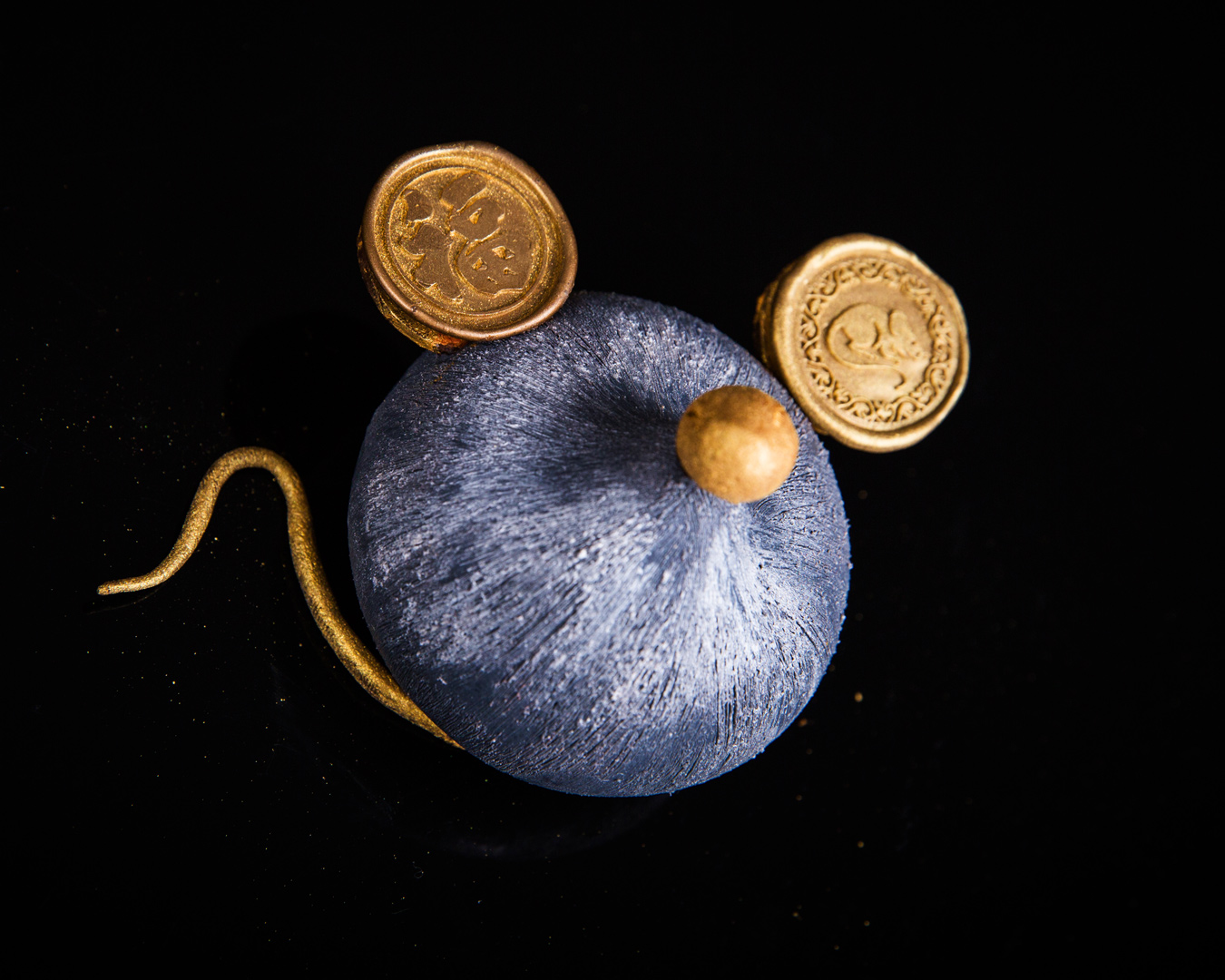 Lunar New Year All-You-Can-Eat Dumplings With The Koalas
DARLING HARBOUR
If a bottomless dumpling feast on a koala rooftop at sunset sounds like something you'd generally be into, listen up. In partnership with the dumpling experts at New Shanghai, WILD LIFE Sydney Zoo is celebrating Lunar New Year with all-you-can-eat dumplings at twilight and after-hours access to the zoo.
Every day of the Lunar New Year period, the Koala Rooftop at WILD LIFE Sydney Zoo will be transformed into a Chinese dumpling kingdom where you can fill your plate with New Shanghai specialties. Think prawn and pork wontons, chicken and celery as well as a range of vegetarian dumplings and xiao long bao. Before the twilight dumpling session, visitors will be able to enjoy exclusive after-hour access to the zoo. Plus to show our love to our Aussie animals, $5 from each ticket will go towards supporting wildlife charities helping injured animals affected by the bushfires. Book your spot here.
When: Wednesday 22 January - Thursday 30 January
Where: WILD LIFE Sydney Zoo, Darling Harbour
Limited-Edition Good Fortune Dumplings At Din Tai Fung
Various Locations
To celebrate Chinese New Year, the dumpling gods at Din Tai Fung are releasing an indulgent and Instagrammable limited edition red and gold "Good Fortune Dumpling". The red coloured jiaozi dumplings are filled with decadent wagyu beef and black truffle, and topped with a delicate dusting of gold leaf.
Din Tai Fung has also pledged $10,000 to support Australian bushfire victims and are encouraging their customers to donate to FOODBANK Australia. To thank donors, they will be entered into a draw to win one of three dumpling masterclasses featuring the iconic "Good Fortune Dumpling." So get donating!
When: Thursday 23 January - Sunday 9 February
Where: Check out Din Tai Fung's full list of locations here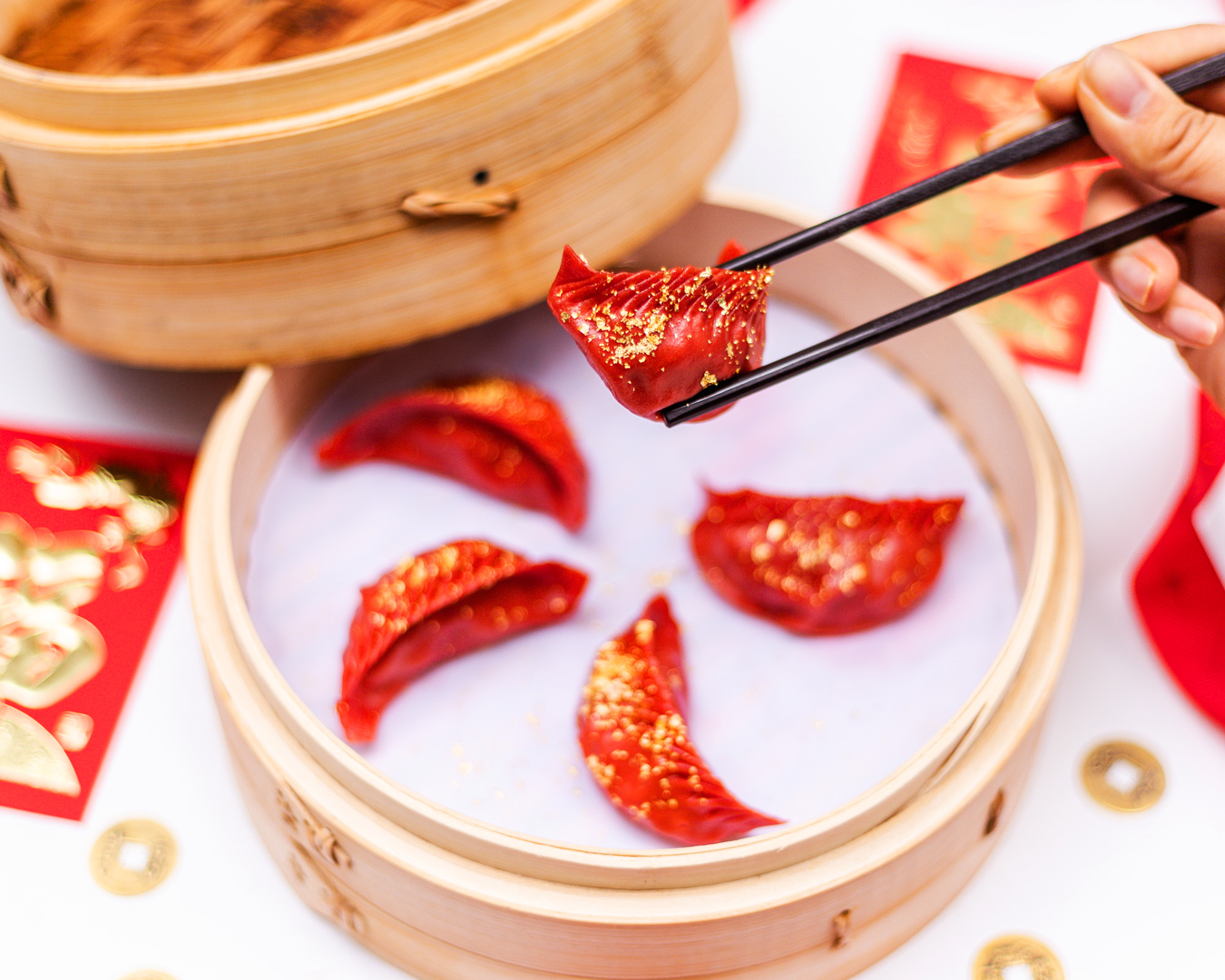 Chinese New Year At Duck & Rice
CBD
Duck & Rice, located on the rooftop level of Westfield Sydney Pitt Street, has created a special Chinese New Year banquet menu which will certainly have you feeling lucky. The menu of nine dishes includes assorted dim sum, crispy eggplant in sticky caramelised sauce, steamed Queensland coral trout with soy and ginger dressing, and Cantonese roast duck. The menu is available for both lunch and dinner (Saturday 25 January, Friday 31 January and Saturday 1 February will enjoy live lion dance performances as an added bonus). Chinese New Year is all about feasting with friends and family—so this menu is only available for groups of four or more. Check it out here.
When: Lunch and Dinner Friday 24 January - Sunday 9 February
Where: Duck and Rice, CBD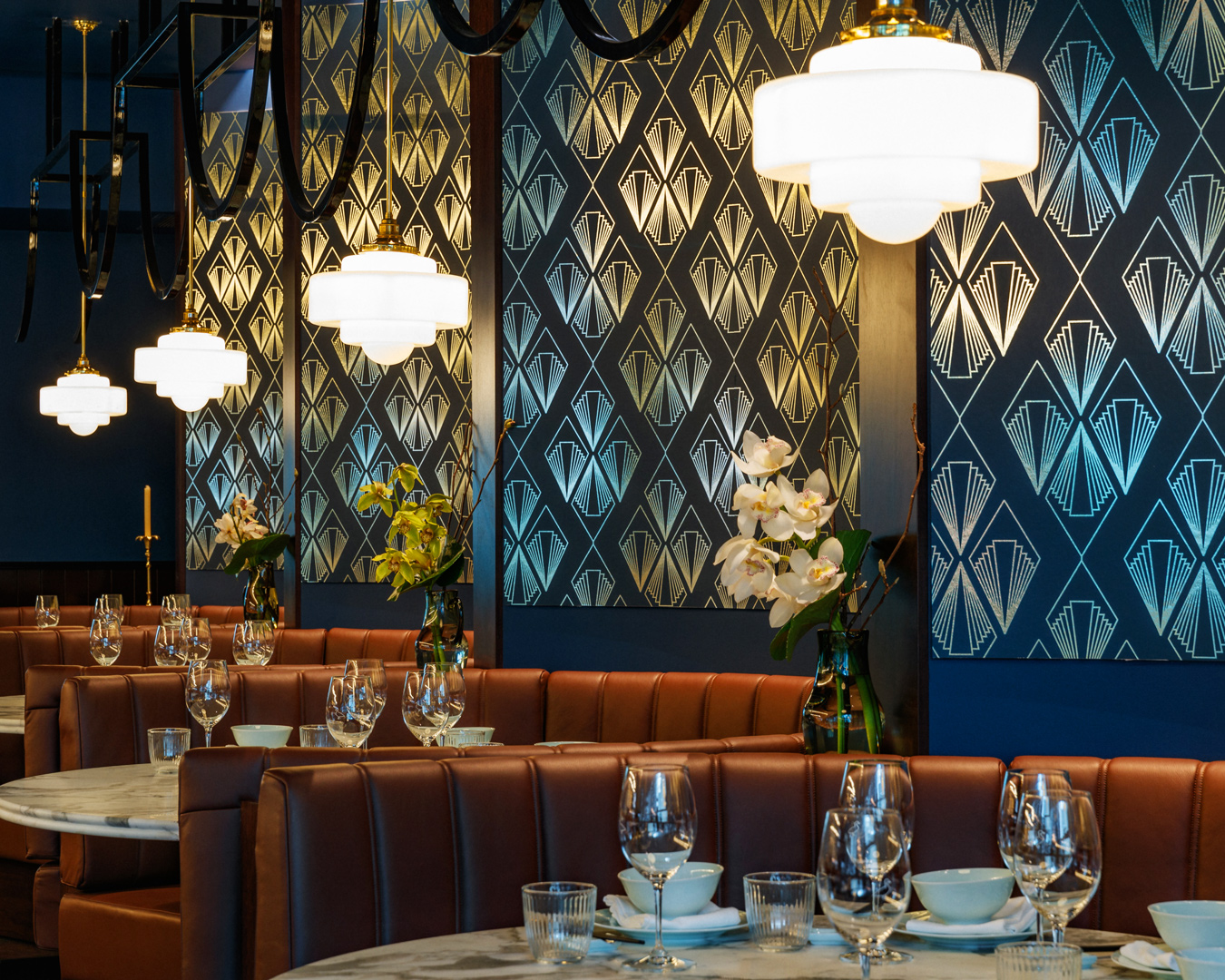 The Rocks Lunar Markets
THE ROCKS
The Rocks will also be ringing in the Year of the Rat with dedicated Lunar New Year markets. Beneath hundreds of glowing red lanterns, you'll be treated to Chinese street food and sweet treats, as well as all the shopping ops The Rocks Markets are known for: gifts, jewellery, textiles and homewares. More info is here.
When: Thursday 30 January - Sunday 9 February, 10am - 9pm
Where: George Street, The Rocks
Astronomy, Star Gazing And Chinese Astrology
CBD
This Lunar New Year, we're directing our energy towards the stars. Head to the Calyx in the heart of the Botanic Gardens to hear astronomer presenters talk all things space, from dark energy to space volcanoes. This special edition will also focus on Chinese astrology (yes, astronomy and astrology in one!), meaning there will be plenty to learn before you stroll onto the lawns to view the night sky through telescopes. And as an added bonus, a complimentary glass of wine is included with each ticket. More details are here.
When: Tuesday 4 February, 7. 30 -10.30pm
Where: The Calyx, The Royal Botanic Garden, CBD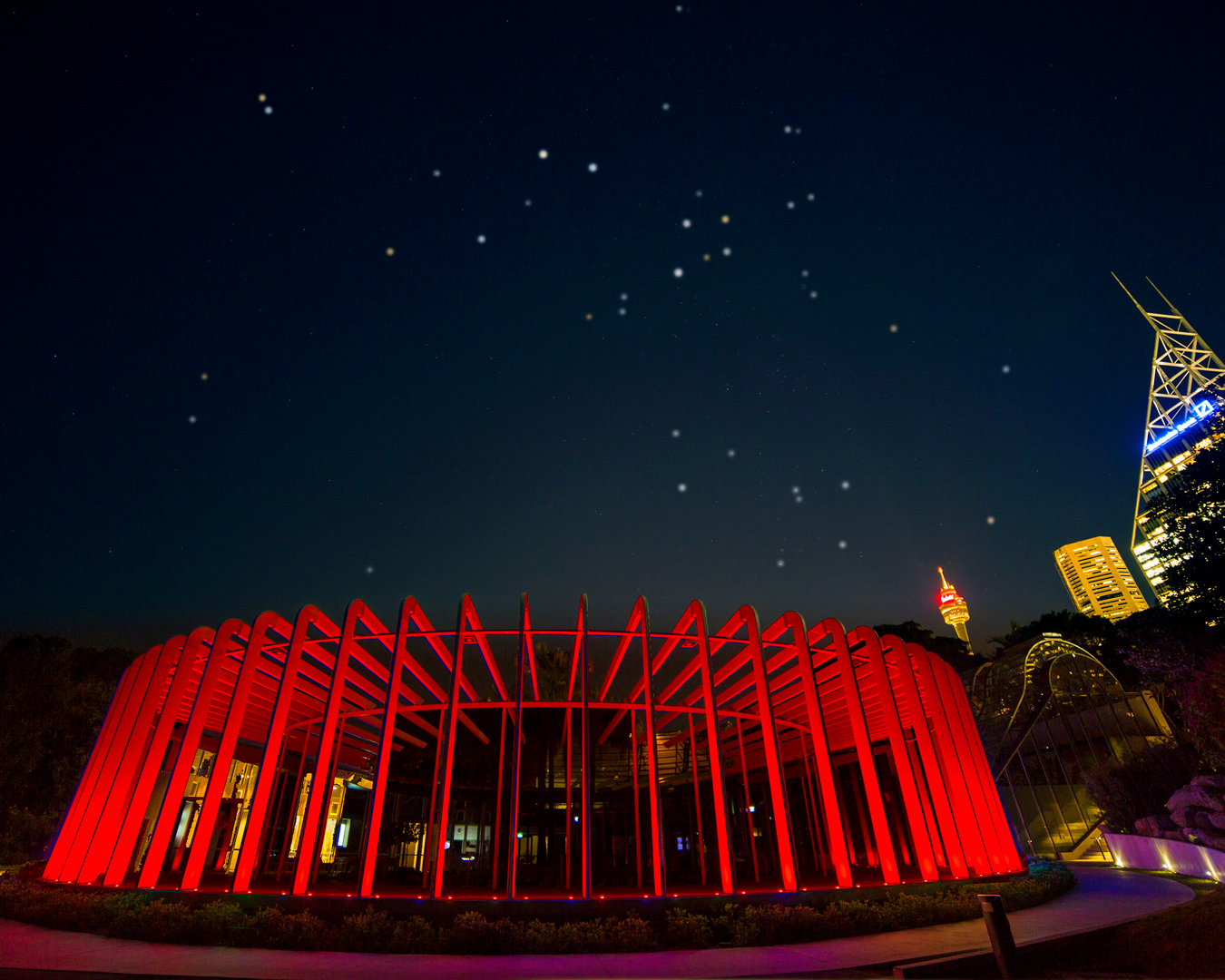 Lunar New Year At Scenic World
Blue Mountains
Thanks to the absolute heroes at the NSW Rural Fire Service, the Blue Mountains treasure known as Scenic World was saved from this season's devasting bushfires. With the Bells Line of Road now well and truly open for business, why not take your Lunar New Year celebrations on the road and visit beautiful Bilpin. Across Lunar New Year, Scenic World's main forecourt will be transformed into a jianzi arena—and you're invited to get in the ring and test your skills (for the unacquainted, it's like shuttlecock or hackysack but with a feathered disc).
There'll also be a special lion dance ceremony on Saturday 1 February, and it's a great op to test your fear of heights on Scenic World's Scenic Railway (the steepest in the world), Scenic Skyway and Scenic Cableway. More details are here.
When: Saturday 25 January - Sunday 8 February
Where: Scenic World, Blue Mountains
Check Out The Lunar New Year Celebrations At World Square
cbd
Following the success of their 'Three (not so little) Piggies' installation for Lunar New Year 2019, the team at World Square is stepping it up with eight 2.5m high rat sculptures. These sculptures, depicting rat acrobats, are going to be known as the, you guessed it, Ratrobats! These Ratrobats will also come to life via an interactive augmented reality installation. To keep the Lunar New Year celebrations going check out some of World Squares top-notch food offerings. Hit up the banquet at Gami Chicken and Beer for banquets suitable for two, four and six guests. This banquet is a hit in our book because they all include a healthy amount of fried chicken. Continue to treat yourself with a limited-edition White Lotus Seed ice-cream from Oh Matcha.
When: Until Sunday 16 February
Where: World Square
Vietnamese BBQ At Hello Auntie
Darling Square
While Lunar New Year is a Chinese tradition, all kinds of feasting are accepted—and Hello Auntie's nostalgic throw-back Vietnamese BBQ is absolutely worth adding to your calendar. Expect a traditional BBQ cart loaded with BBQ chicken wings, sugarcane prawn skewers, pork skewers, grilled banh mi with honey oil and chicken Maryland or, a half chicken served with lettuce, pickles and banh hoi.
As for the sweet feeds on the line-up, we bear good news. There's a baked corn cheesecake with corn crumble and vanilla ice-cream. Plus, to really amp things up, there's a sentimental "Red Pocket" cocktail worth getting around packed with watermelon, lime, mint and vodka. More info is here.
When: Saturday 25 January
Where: Hello Auntie, Darling Square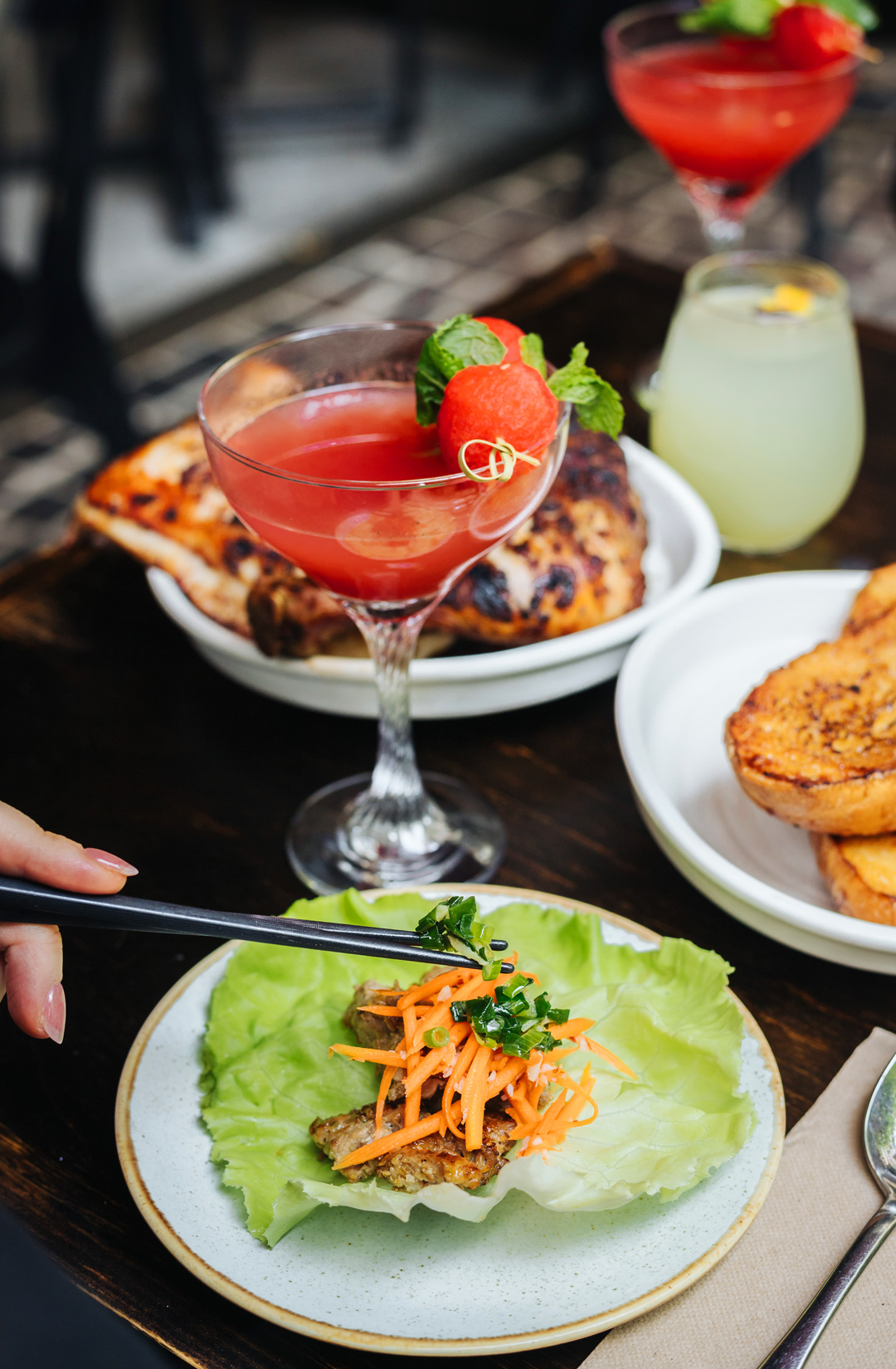 Vegan Lunar New Year At Bodhi
CBD
"Chinese New Year is more than just a fun holiday and celebration," says Heaven Leigh, the owner of one of Sydney's most established vegan hubs, Bodhi. "It's an incredibly important time to take stock of the year past, the year to come and the people we have in our lives." This is a message Leigh thinks is super important in the wake of Australia's devastating bushfire season. All proceeds from their special Lunar New Year banquet will be donated to WIRES, and there'll be a donation box too, with Bodhi matching the total amount dollar-for-dollar.
As for what to expect, there'll be a special lion dance at 7.30pm and every guest will get a lucky "hungbao" fortune packet, which could contain anything from sage advice to a $200 restaurant voucher. Bookings are available here.
When: Wednesday 29 January
Where: Bodhi, CBD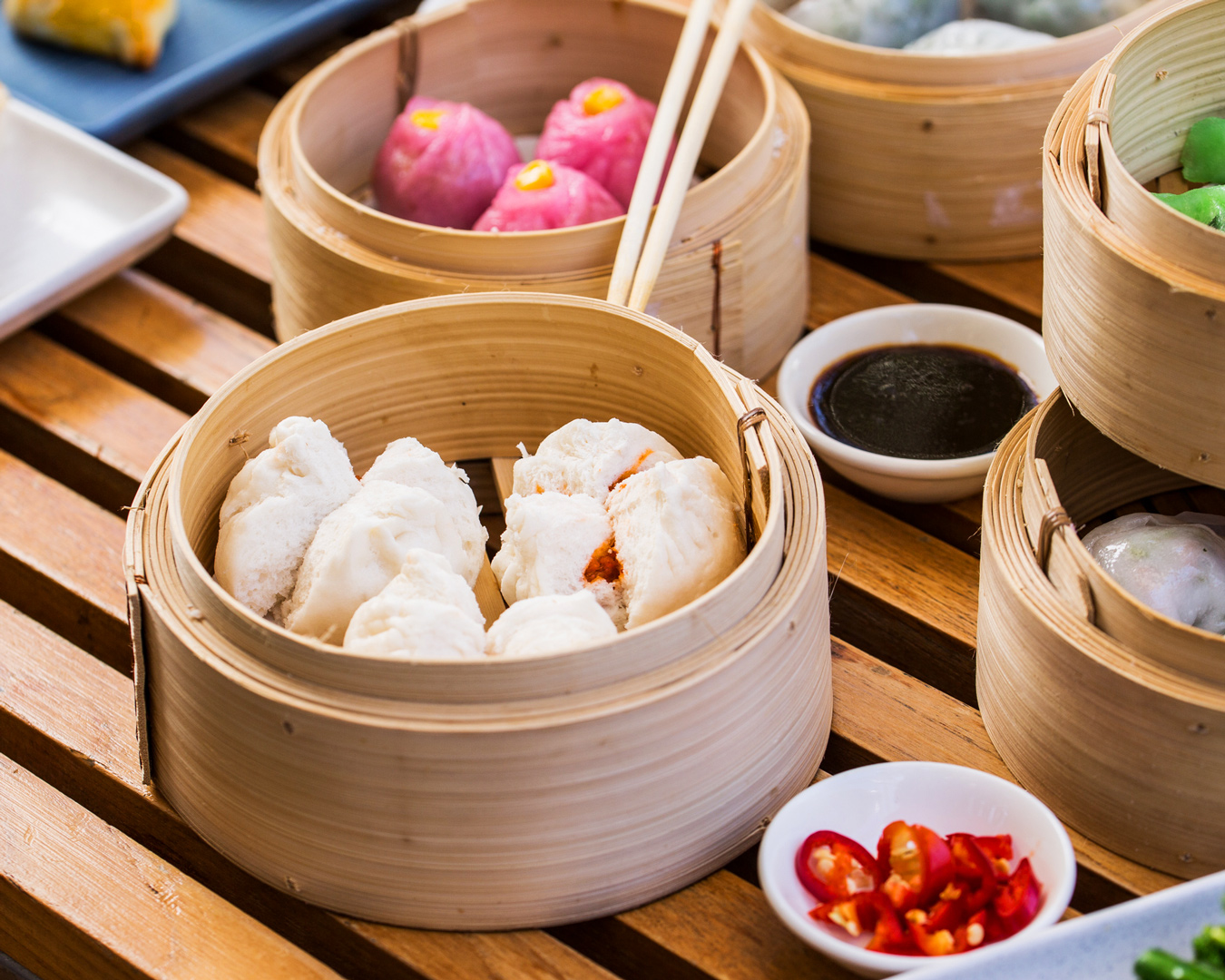 For more Chinese New Year feasting, check out Sydney's best yum cha.
Image credit: Getty, Burwood Chinatown, The Fullerton Hotel, Kitchens on Kent, Koi Dessert Bar, Din Tai Fung, Steven Woodburn, Royal Botanic Garden, Hello Auntie, Bodhi