Let's be real, if you weren't at Diner En Blanc last year, you most likely had your Insta feed absolutely clogged with epic white party content and died of FOMO. If that was you, don't fret, as the world's biggest white party is returning to Sydney and it's everything you've ever dreamed of and more.
Our pals at Marriott know a good party when they see one, so this year they've partnered up with Dîner en Blanc to help get the party started.
So, What Is It?
Well, we're glad you asked, cause it's not just a regular "white party", no, no, no. Dîner En Blanc all started 30 years ago when François Pasquier was hosting a picnic with a huge crew and asked them to wear white so they could all be easily identified.
Fast forward and this innocent picnic now spans over six continents, with over 120,000 attendees in cities like New York, London, Milan and Tokyo, just to name a few (of the 80).
But wait, it gets better. The location is only revealed at the very last minute. Once the location is revealed, the white-wearing masses flock to the location and the world's biggest and most luxe picnic begins.
Scoring An Invite
We wish we could tell you it's as easy as buying a ticket online, but unfortunately it ain't. After all, the best parties are always the hardest to get into, right?
You'll need to make sure you're a member of Le Diner en Blanc to automatically receive an invite, or you'll need to get a member to sponsor you; otherwise, it's onto the waitlist for you! The waitlist is served on a first in, best dressed basis, so either get in super early, or scout out an existing member to be your new best friend.
What To Bring
You're going to need all the gear for posh alfresco dining. A square table (strictly no larger than 80cm), plates, napkins, bottle opener, garbage bags, ice buckets, cutlery and any nice decorations you might want, to help make your table setting look worthy of an Instagram post.
What's great is that if you're lazy like us, you can pre-purchase catering and pick it up once you arrive at the secret venue OR if you're the organised type, you can bring your own snacks and goodies.
The Rules
We hate being the party pooper, but we thought we should fill you in on some very important rules. As the name would suggest, you've got to wear white and only white. That means no cream, no beige, no black or brown belts. Just. White.
Your table's gotta be square and a maximum of 80cm. They've got to fit 5,000 people in at this party, so don't even try to push it! There's also strictly no BYO booze allowed, but don't worry, there's plenty of delish bevvies there to purchase.
And finally, because we care about the environment and no one likes a mess, all of your cups, plates and cutlery have to be non-disposable.
The Details
When: Saturday 17th of November
Where: TBA at the eleventh hour
Cost: $62 (this includes transport to the secret location)
Image credit: Dîner En Blanc - Joe Cavallini
Can't Make It?
Missing out sucks, but never fear as Marriott have extended the festivities, fun and deliciousness to all with the help from their skilled Mixologists and Chefs. To well and truly get into the spirit of Dîner En Blanc, Marriott have created cocktails and culinary dishes inspired by this global phenomenon.
They're sprinkled around the CBD in a handful of Marriott hotels including Pier One Sydney Harbour (STET), The Westin Sydney, Sheraton Grand Sydney Hyde Park, Sydney Harbour Marriott at Circular Quay and Four Points by Sheraton Sydney, Central Park. With these delectable creations just a hop, skip and a jump away from each other, you can even go on your very own Dîner en Blanc foodie trail to try them all! Expect to tantalise your taste buds with epic creations like the White Miso Glazed Fish Burger with Kohlrabi and Miso Mayo (Pier One) and Honey Beer Poached Scallops with Braised Berkshire Pork Belly (Four Points).
Our fave? The totally gram-worthy Blanc Delice at The Westin, complete with white chocolate raspberry mousse, raspberry coulis and hazelnut dacquoise (drool). But don't dilly dally, they're only available for a limited time!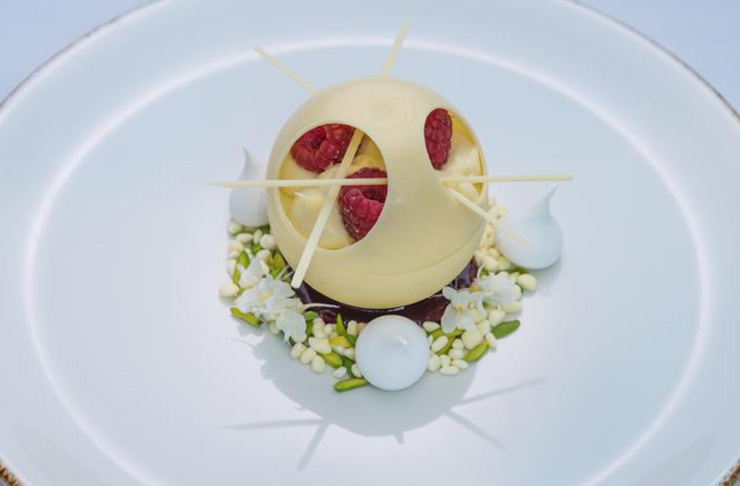 Editor's note: This article is sponsored by Marriott and proudly endorsed by The Urban List. Thank you for supporting the sponsors who make The Urban List possible. Click here for more information on our editorial policy.