Whether you are a serious runner attempting to beat last year's PB or a 'back of the pack dweller', the feeling of exhilaration when crossing the line is the same. By the end of it, blistered, burnt and buggered, medal in hand—the sense of achievement reigns supreme.

Now in its 43rd year, the City2Surf is the world's largest run. This year a record 85, 000 people entered, 69, 225 actually participated, all contributing to the $4million plus charity goal. Though winner Ben Moreau had finished before most had begun, the atmosphere was electric as entrants (serious about speed or fun), wound their way from College Street, Sydney, to Campbell Parade, Bondi Beach.


Contributions to charities were great and small. From the grassroots 'Citrus to Surf', where Yahli Karsh and Ariella Hyams (pictured with lemonade below) quenched the thirst of many a racer with their homemade lemonade, to larger organised groups. 'Walk for Whit' walked to raise money for bone marrow research in memory of their friend Whitney Lane.


Fourteen kilometres is no small feat, and it was especially inspiring to see those participants with a disability taking it all in their stride. Dennis Dalton (pictured below), with his support worker Sharon, were competing for the second year in a row to beat last year's time. A blind runner who, with assistance, completed the race in just over three-and-a-half hours, silenced any complaints about blisters.


Not even Heartbreak Hill could dampen the spirits of those in the 'Back of the Pack'. The last group out of the City was an eclectic mix; from pram parties to superheros, aliens to gangsters, it was one big jogging party. At Rose Bay, the 'City2Smurfs', scantily clad and bright blue, entertained the crowd with their raucous gesticulating and techno beats.


By kilometre 12 things had quietened down considerably. The two-manned '333 Bus' had seen better days, the gorillas' heads were off, limps were starting to appear. But fatigue only brought out the best, as people pitched-in to assist a woman push her wheelchair-bound husband up that last unexpected hill.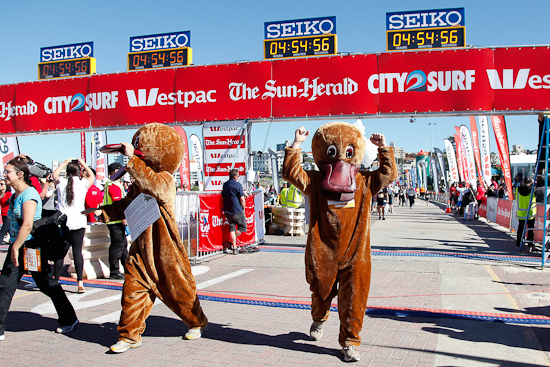 The City2Surf, while a triumph of the individual, is also a community victory. Sydney was at her best yesterday.
[token node gallery]
Images: Anastasia Nielsen