If you like to think yourself as a regular on the farmers' market scene, but prefer to sip your coffee in a cosy café, this one's for you. Fable Coffee is the newest café to join the Darlinghurst ranks and it needs to hop into your regular rotation ASAP. It's just further proof that this inner city suburb is the foodie gift that keeps on giving.
The galley-style cafe is prime people (and puppy) watching real estate in the heart of Darlinghurst, with steel-lined floor-to-ceiling windows running the length of the space. Enter through one end of the cafe (the coffee machine end FYI) and settle in for the long haul (trust us).
Owners Jessica and Phil are all over the food scene in Sydney. Phil was formerly a fine dining chef, and the couple even had a successful market stall, where they were slinging Mexican street food week-to-week. Now that they've set up shop in Darlinghurst, it's all about local produce—they even sell a selection of goodies in the café.
Once seated, I immediately got down to business and ordered my coffee (soy flat white—I know you were wondering). With life's biggest issue out of the way, I turned my attention to the menu. It's concise, with seasonal offerings that change every few weeks.
This is when things got interesting. With hot coffee in hand (and soon to be in belly) I made a snap decision and ordered the Blessed Morning Bowl before forcing my brunch date to order the Zucchini Rosti. At this point, he's used to my bossiness and don't you dare feel sorry for him.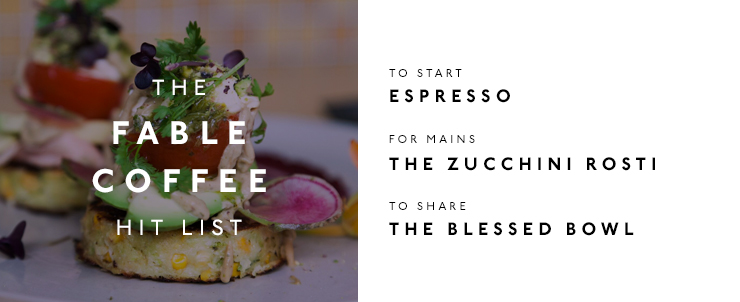 The Zucchini Rosti is gluten-free, which is just an added bonus since it's also topped with avocado and tomato, a house-made creamy sauce and fresh herbs. The Blessed Morning Bowl is a pleasant surprise, with a salad of winter leaves, broccoli, sprouts and house-made heirloom beetroot puree topped with fruits like blueberry and apple. For a bit of substance, they've also thrown in organic quinoa and seeds, so trust me when I say it fed me for breakfast and lunch. No kidding.
Fable Coffee is the café you wish was sitting at your front door. Head here for an epic (and nourishing) brunch or delicious coffee—or, let's face it, both.
In other news, Sydney's bed cinema is coming to the city!
Image credit: Federica Portentoso