What's not to love about Malaysian food? From the sambal and satay to the tamarind based curries and sweetened-condensed milk desserts—this little Southeast Asian country has got a lot to offer in the food department.
Thankfully, Sydneysiders don't have to travel too far to get a hit of Malay goodness, especially with the new PappaRich Express CBD location opening today in Pitt Street Mall. With a menu designed to suit the fast-paced city life, PappaRich Express will be serving up tasty noodle and rice dishes, as well as their cult favourite chicken skins, Malaysian refreshments and more.
Plus, on Friday April 22nd PappaRich Express will be giving away FREE lunchtime nasi lemaks to their first 50 customers—be sure to get on down from 11:30am for some tasty (and free) nasi lemak!
In celebration of the new opening (and to get tummies rumbling) we've rounded up five of our fave Malay eats.
Nasi Lemak
They say variety is the spice of life, and that's exactly what you get with nasi lemak. Traditionally a breakfast dish, nasi lemak is made up of fragrant rice, served with fried anchovies, peanuts, sambal, a boiled egg and cucumber. Often accompanied by a curry (think: beef rendang), whether you mix it all together or eat everything separately it's a Malay flavour sensation!
Satay
Originating in Indonesia, there's no surprise as to why Malaysia adopted this delicious, nutty dish as one of its own. Whether you like to dip or drown your skewered meat in sauce, there's no right or wrong way to eat satay, so long as every last drop of sauce ends up in your mouth.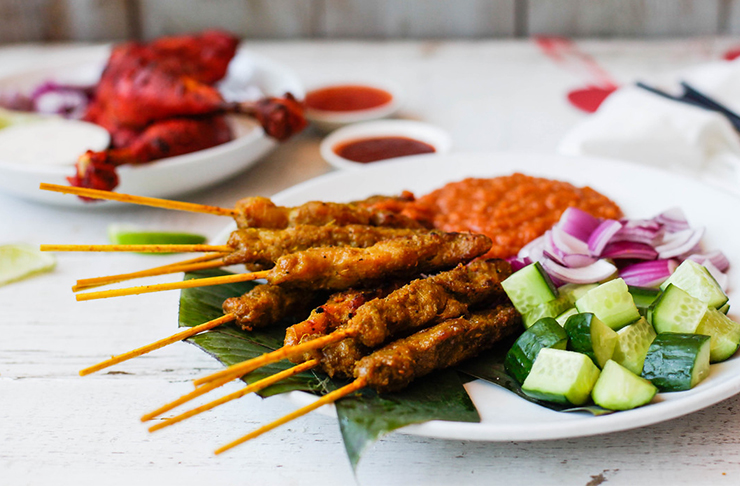 Kaya Toast
The Malaysian breakfast food of champions, as far as we're concerned if you haven't tried kaya toast you haven't lived. Think thick-cut white toast served with lashings of butter and a generous spreading of kaya jam—a mixture of coconut milk, sugar and eggs. Wash it down with a cup of Malay teh tarik (milk tea) or kopi (coffee), and to make things even more authentic, grab some half-boiled eggs to dip into. Trust us, it's delicious!
Laksa
There is nothing better than a big, steaming bowl of laksa, especially in the cooler months. Whether it's the asam (tamarind) or the curry variety, it doesn't really matter to us, so long as there are loads of noodles and plenty of spice.
Roti Canai
The perfect balance between doughy and crispy, roti canai is delicious on its own or dipped into curries and sauces. This tasty flat bread is possibly one of the most versatile Malay dishes—it can be eaten as an entree, main or even dessert—which is probably why we like it so much!
PappaRich CBD is located at LP04, Sydney Central Plaza, Westfield Sydney and will be open from Monday to Sunday. Click here for their opening hours.
Editor's note: This article is proudly sponsored by PappaRich Express and endorsed by The Urban List. Thank you for supporting the sponsors who make The Urban List possible. Click here for more information on our editorial policy.
Image credit: Wasamedia